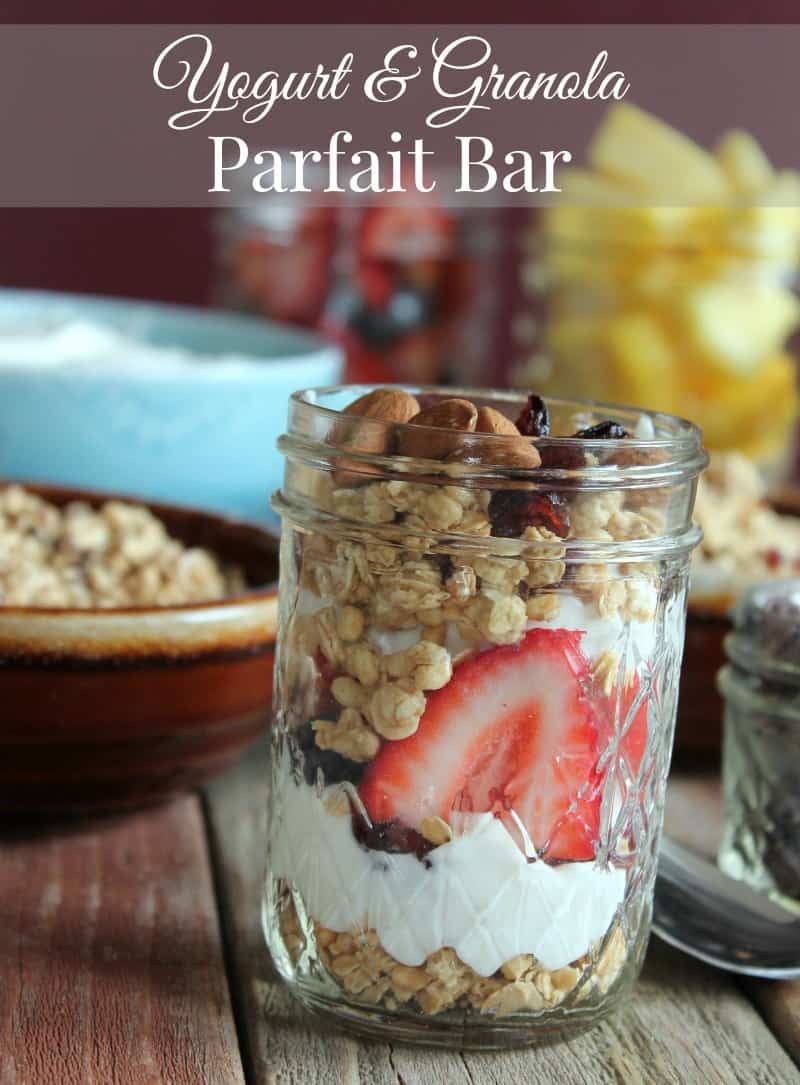 When I worked an office "9-5" job it was common to have professional development. Oh the professional development days. If you ever had to sit in a "professional development" day then you understand when I say those days –  while important – can be long and borderline painful. Unless there was some well documented life emergency there really was no way to get around sitting there for 8 hours straight.
Good thing professional development days also equaled potluck. This was my favorite part and made the long days bearable. Not only did I love bringing in a dish to share but I also loved tasting all the goodies my co-workers brought in. However, this posed a problem too. If you work in an office environment then you know there is never a shortage of donuts, pastries, and other sugary sweets. Well all of these delicious treats showed up in full force on professional development day. Of course there was also a breakfast pizza to balance things out but I am not sure if that was a good thing or bad. Those breakfast pizzas were the bomb and I can never eat just one slice.
The best way to survive a professional development day, and also keep your food in check, is to be the responsible one and bring a dish of substance to share. Yes I know grabbing a box of donuts is easy and oh so tasty. But trust me your colleagues will appreciate food that will pull them through hours of training instead of causing them to come crashing down. Personnaly, I know if I did not start the day with a hearty breakfast I would be hurting by 10:00am. Same for lunch. I need to have a protein packed lunch or I can guarantee a mid afternoon crash will be in my future. A crash during professional development would not end well. Actually, it would end with one of my co-workers kicking me under the table trying to keep me awake. Trust me, I know. So do yourself a favor and bring food that will keep you satisfied and full of energy all day.
If you don't have time to cook or prepare anything then consider bringing ingredients for a yogurt and granola parfait bar. This can be used for breakfast, lunch, or snack time. Actually, if memory serves the first time I brought in parfait ingredients we enjoyed them for breakfast and then snack on the rest all day long. It was a hit.
All the ingredients can be bought the night before work or even on the way. This is what you will need.
A container or two of yogurt – Greek yogurt is my favorite.
Variety of fresh fruit, dried fruit, nuts, and chocolate chips. I think chocolate chips are fun to add to parfaits because it's chocolate and who doesn't like a little chocolate mixed in? Plus everything in moderation.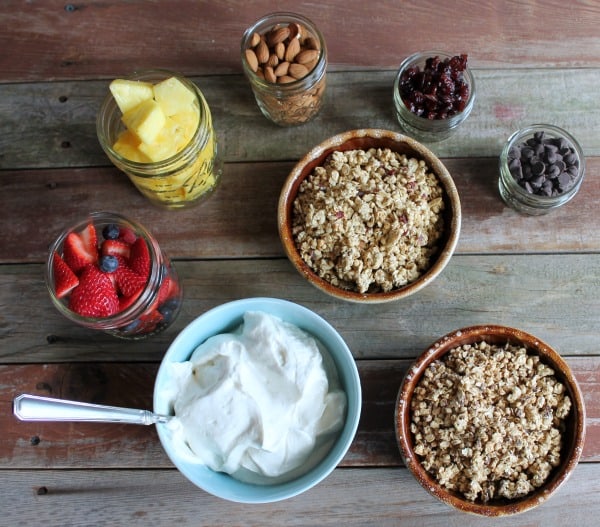 A few bags of granola. Again, grab a variety because people like choices. Nature Valley® sent me a nice variety of their Nature Valley® Protein Granola. This is perfect for a "potluck" yogurt and granola parfait bar. They have a great variety. The different flavors include Peanut Butter 'N Dark Chocolate, Oats N' Honey, Cranberry Almond, Oats N' Dark Chocolate, and Peanut Butter. Each one is delicious and goes great mixed in a parfait. You can read more about Nature Valley® Protein Granola here. Or visit their Facebook Page, Twitter, or Instagram for more information and recipe ideas.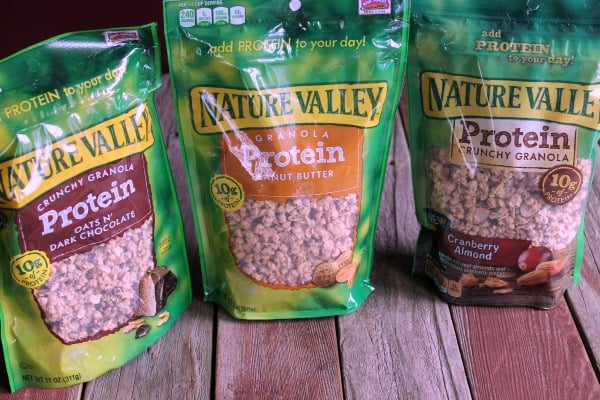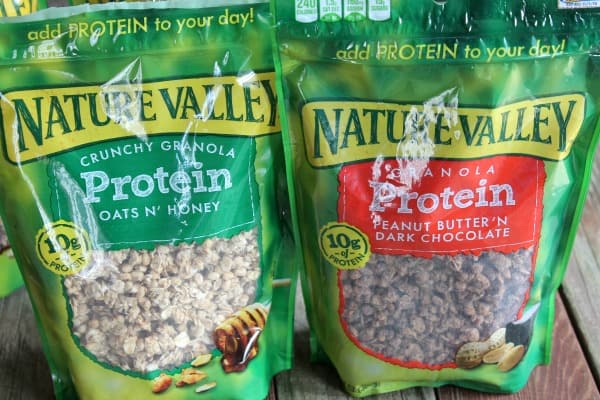 When I set up the granola and yogurt parfait bar at work I provided clear short plastic cups to serve it in. This worked well because it was easy. I didn't have to worry about transporting glass. Second, using a clear cup allowed for all the pretty layers to shine through. People like to get creative and even something simple as layering granola, yogurt, and fruit can get the creative juices flowing. My colleagues loved it.
I recently set up a granola and yogurt parfait bar for my kids at snack time. I used small mason jars to hold and store the ingredients. This makes popping ingredients in and out of the refrigerator very easy.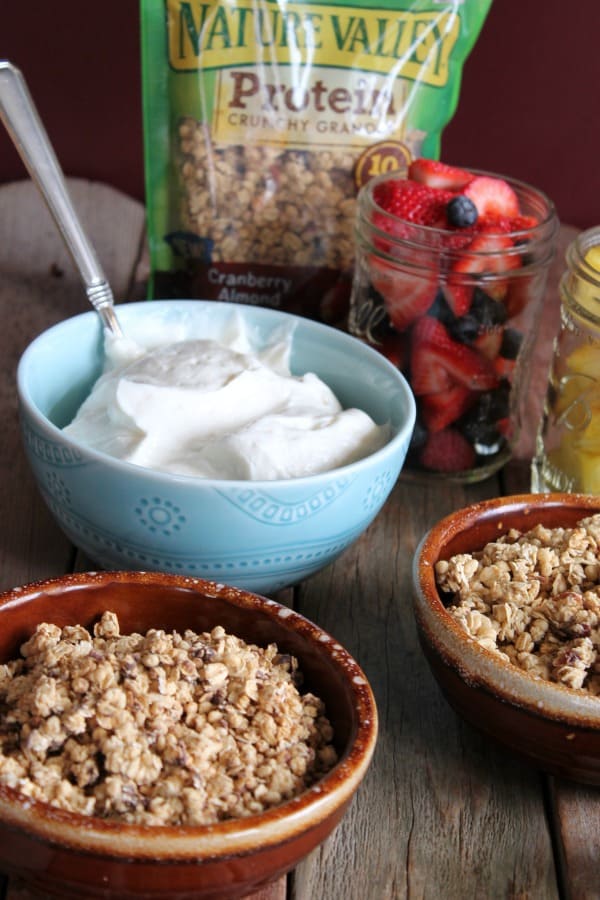 I also let them use mason jars to layer their parfaits. They loved it and had so much fun creating their own delicious parfaits. Mason jars come in a variety of sizes so you can make any size parfait you like. I love using them because you can see the beautiful layers of fruit, yogurt, and granola perfectly.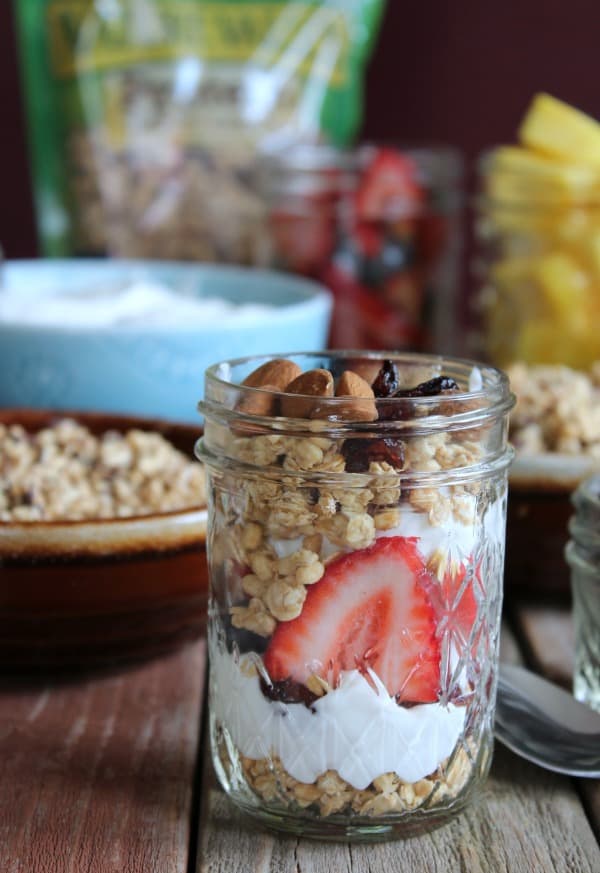 Next time you need to bring a dish for a breakfast or lunch potluck considering bringing ingredients for a yogurt and granola parfait bar. It is a nice break from the heavy pastries, egg bakes, desserts, casseroles and traditional foods found at a potluck. The guests will most likely welcome and appreciate a lighter option.
Or keep all these ingredients on hand for an easy fun snack or breakfast at home.
This is a sponsored conversation written by me on behalf of Nature Valley Protein Granola via Burst Media. The opinions and text are all mine.