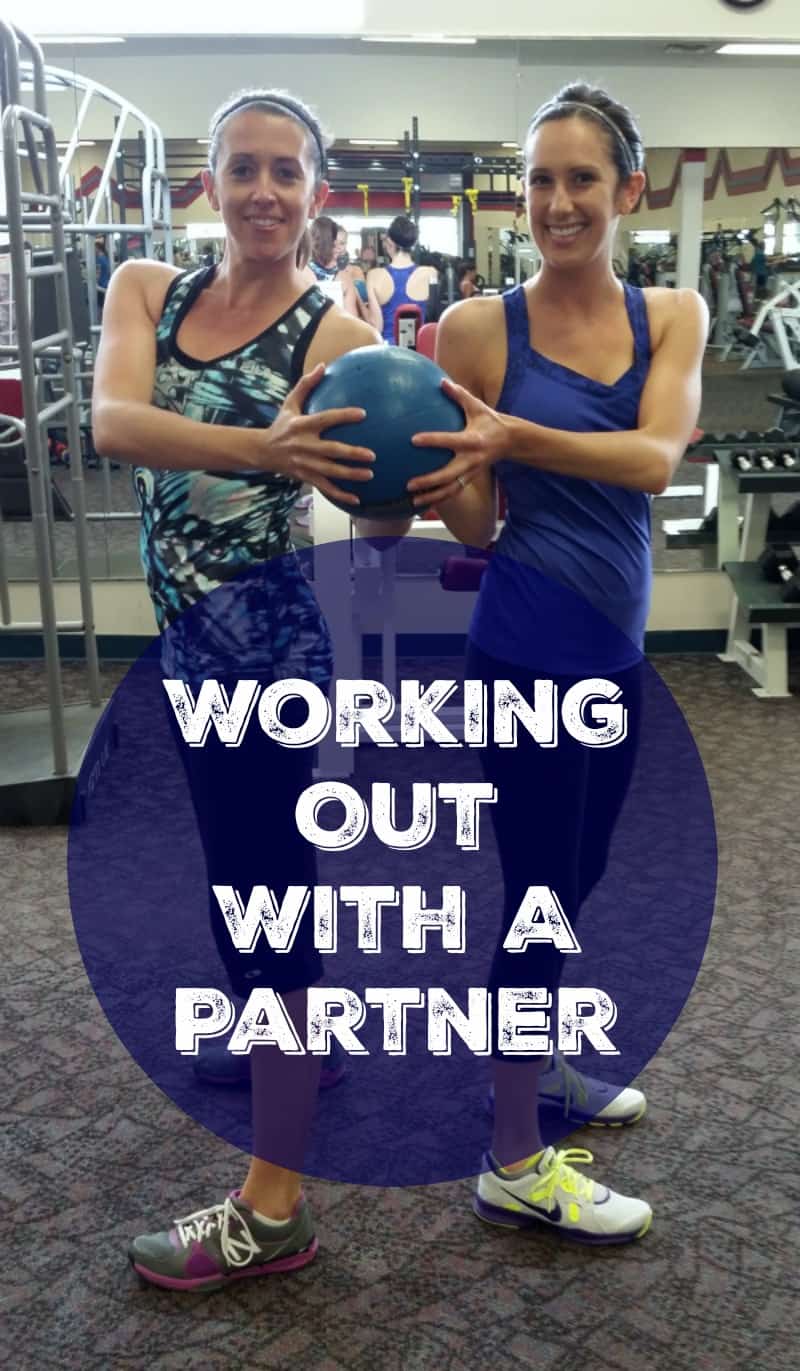 Some people love working out alone because it's their time to do something for themselves. When you work out alone, you can focus on your form more and just get in the zone. This is great for some people and works well when you need to get done quickly. However, many people struggle with staying motivated to exercise regularly. Working out with a partner can be a game changer. If you've never recruited a partner before to work out with you, there are many benefits that you could be missing out on. Ask your husband/wife, boyfriend/girlfriend, best friend, co-worker, cousin, sister, uncle, neighbor, etc. to join you for your next workout. Read on for the benefits and some ideas for how to work out with another person.
Partner Benefit #1 – Accountability
When you make plans to go for a jog with your neighbor the next day at 6am, you would feel pretty bad if you blew her off, right? Having this other person depending on you being there forces you to be held more accountable for your exercise plans. It's easy to blow yourself off and just sleep in more, but you wouldn't want to do that if you know someone is waiting for you. Sometimes we all need a little more accountability, especially when it comes to exercise. You may not feel like going to jog with your neighbor, but when you are done, you most likely will not regret it and you will feel great.
Partner Benefit #2 – Socialization
I don't know about you, but now that I have a family with two kids, my opportunities to socialize with other adults are few and far between. Making workout dates is a great way to multitask. Not only do you get your workout in, but you get to catch up with an adult who you may not have had time to talk to much lately. This is so important for our mental well-being. You need to share your time with your kids, your friends and other adults, and yourself. If you ever feel guilty about taking time away from your kids, and choose not to exercise or visit with other adults for this reason, then try a partner workout and kill two birds with one stone. Nothing to feel guilty about! Plus when you're talking to your best friend about work and kids and life, time will fly by so much faster. Just make sure you are still working.
Partner Benefit #3 – Motivation
If you and your partner are working out together and you start to get a little lazy or want to give up, most likely your partner will encourage you to keep going and try harder. That's what I love about group exercise classes…everyone motivates each other to work harder. But you don't need a crowded gym class to get this benefit. Just exercising with one other person can do the trick. I'm sure you will find yourself doing the same for your partner if she starts to fall off a bit.
There are so many ways you can partner up with someone to exercise. Some easy ones include:
Go for a brisk walk together.
Go for a jog/run together.
Take a bike ride together.
Take a hike together.
Rollerblade together.
Take a gym class together.
Hit the gym floor and do cardio and/or strength training together.
If you are looking for some moves that you and you partner can do in the comfort of your own home, then try the three moves below together. The moves call for a medicine ball, but any type of ball would be fine if you don't have one.
Move #1 – Squat and Twist
For this move you can use a medicine ball, dumbbell, or even a jug of water, anything that adds weight. One person starts holding the ball. Stand back to back and both of you squat down low. Come out of the squat as you twist and hand off the ball to your partner. Then you both squat back down, come up, and your partner twists the other way and hands the ball back to you. Keep going like this for 2 minutes. You are going to work your butt and legs with the squat, and your core and arms as you twist and hand off the ball.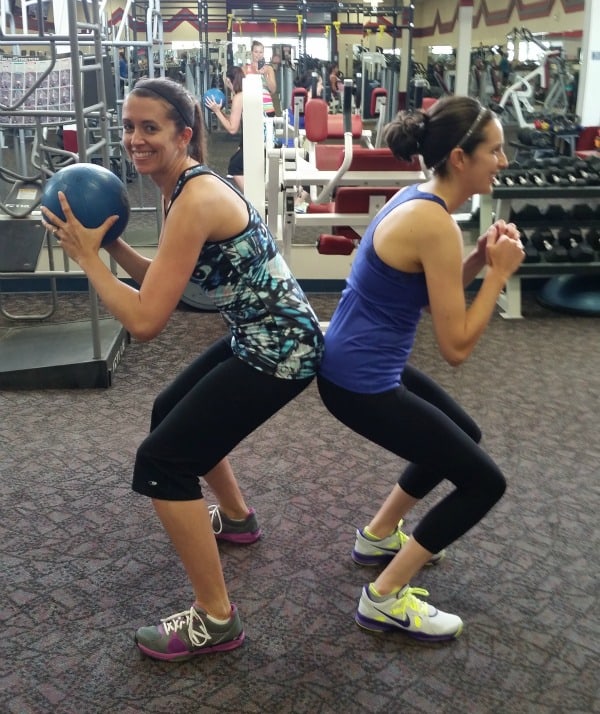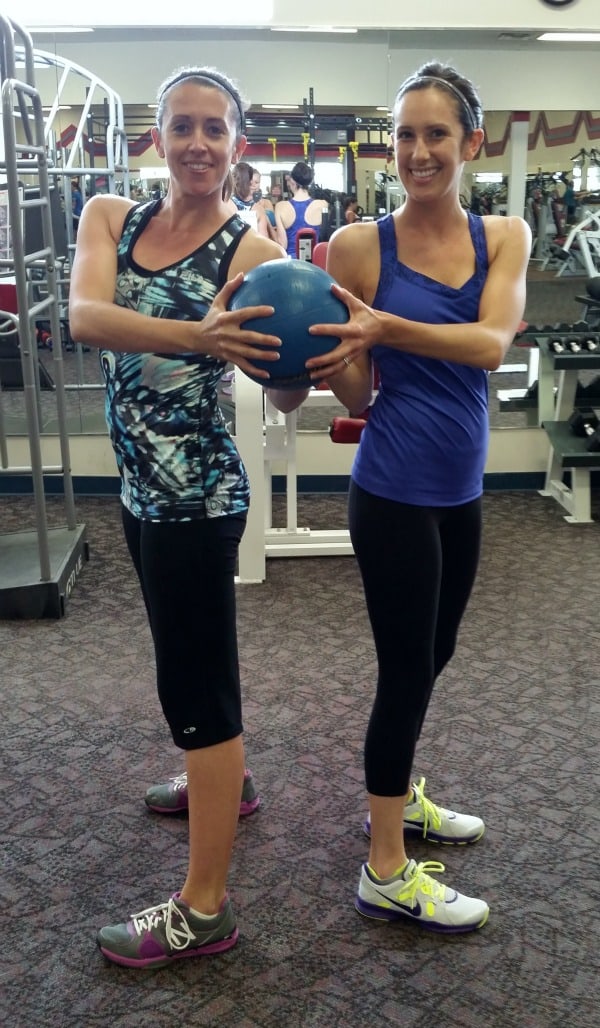 Move #2 – Sit Up and Toss
Both of you lie down in sit up position so that your feet are touching. One person starts by holding a medicine ball. Both of you sit up. The person with the ball tosses it to the other person and you both go back down to the floor. Then both sit up again and the other person tosses the ball. Keep going for 2 minutes. You are going to seriously work your abs with the addition of the medicine ball and the tossing motion.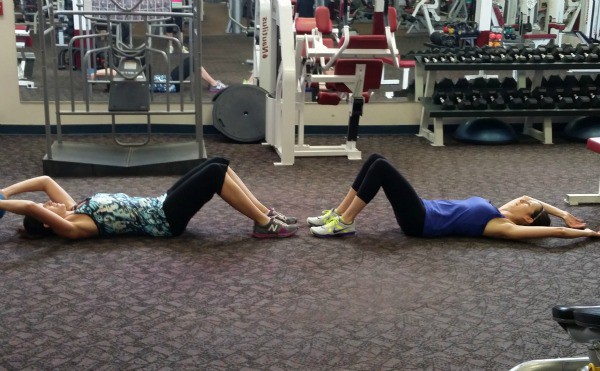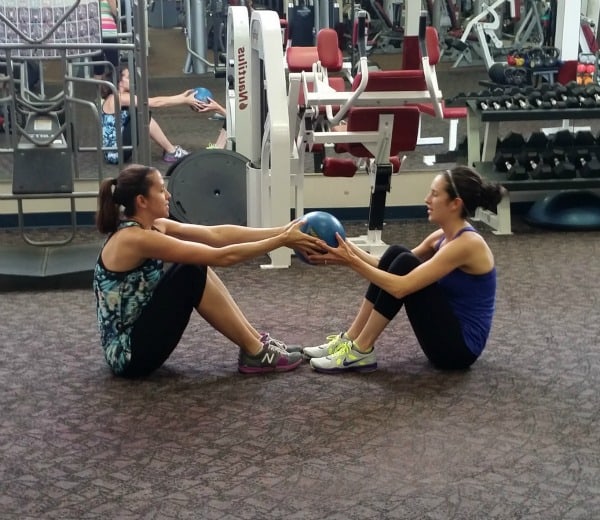 Move #3 – Lunge and Toss
Stand facing each other with one person holding a medicine ball. Both of you lunge forward on your right foot, hold the lunge and the ball is tossed to the other person. Step back to starting. Then lunge forward on your left foot and the ball is tossed back to the other person. Keep going like this for 2 minutes. You are going to work your legs, core, arms and back here.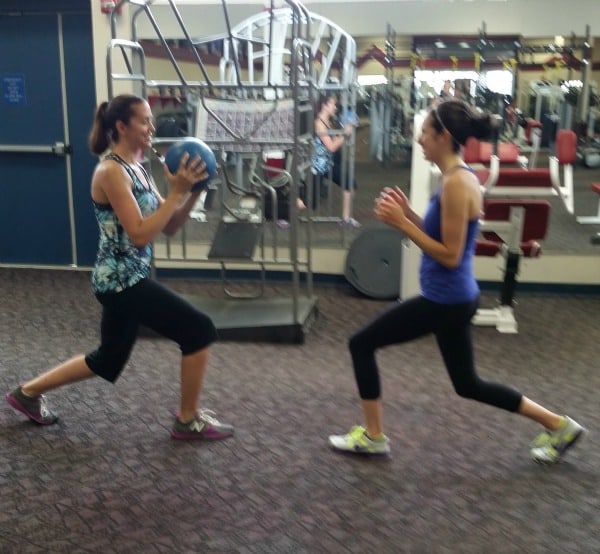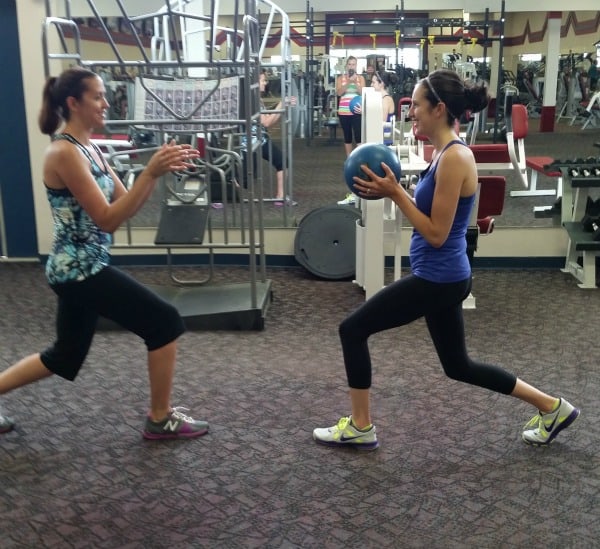 See more home exercises here.