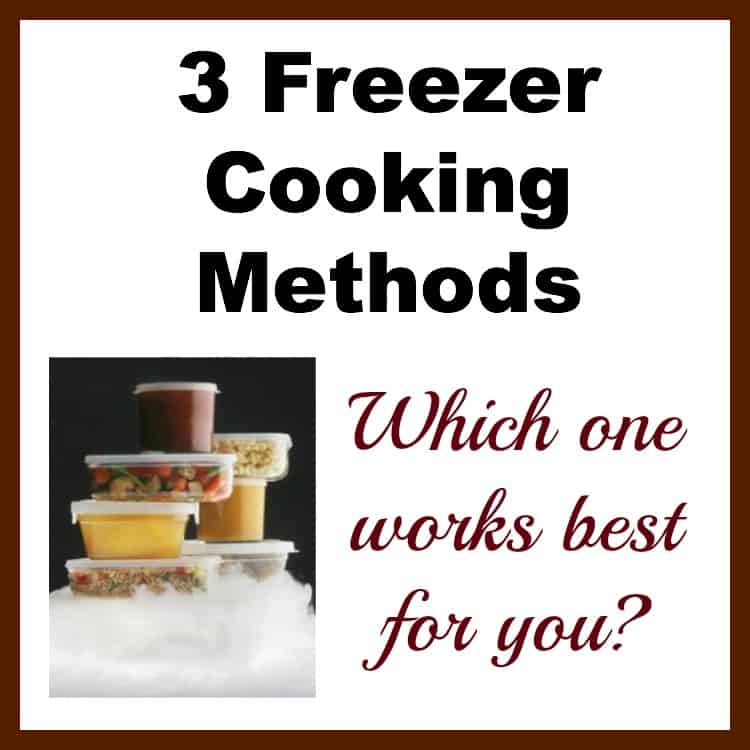 Freezer cooking is one of my main weight loss strategies. It allows me to effectively prepare and have ready healthy home cooked meals for myself and family everyday. Freezer cooking can seem really overwhelming at first. Initial impressions might lead you to imagine a stove filled with boiled over pots, an oven bursting at the seams with fatty casseroles and a kitchen in complete disarray.  Not to mention spending hours upon hours in your kitchen.  That may be what it is like for some but not for me.  If that were the case I would have given up on freezer cooking a long time ago.  My life is pretty crazy and I prefer to keep the chaos under control as much as possible.  I can promise you one thing; I would never do anything that is going to chip away at my sanity even more.
Freezer cooking is not a one size fits all strategy.  There are primarily three freezer cooking methods.  Depending on your personality, schedule, and life circumstances there is sure to be a method that works best for you.  Also, once you get the hang of the basic methods you can adjust them as needed. These methods serve as the foundation to get you started with freezer cooking.
Here are the three different methods to choose from:
Once a month cooking or bulk cooking. This method requires the most planning, time, and stamina.  The benefit is that once you are done, you don't have to cook from scratch until the next month or so.  This method typically takes about two days to complete.  One day of shopping and prepping the ingredients and one day for cooking.  Personally, I have found this to be the method that I prefer. This is due mainly because I don't have to spend everyday or weekend cooking meals.  With two kids, a husband, and a full-time job, I could think of much better ways to spend my weekends.
Once a week cooking. With this method, you can prepare meals for the week in one day.  Depending on what you are making you can spend a couple hours or the whole day shopping for and preparing meals.  This is a good method when you are just getting started with freezer cooking or if you don't mind cooking in bulk every weekend.  The downside is that you must carve out time every weekend to cook and you never know what might "pop up" during the weekend that can get in the way of preparing the meals.  Also, as a working mom I like to spend as much time as possible on the weekends with my family.  Even though they love helping in the kitchen, I think spending hours every weekend would be pushing it.
Double batch cooking. This method will allow you to stock up on meals gradually without having to spend large chunks of time on the weekend cooking.  Most recipes, whether you are making one or two batches, take the same amount of effort to cook. Therefore, if you are already making linguini and clam sauce go ahead and double the recipe and put the rest in the freezer for a future meal.  Initially, you may feel like you are cooking all the time but soon you will have a freezer full of meals.  This will allow you to take a break from the weekday rush of cooking dinner for a hungry family.  This method can also be good for someone new to freezer cooking to test the waters before jumping in.
As you can see, freezer cooking can fit into anyone's busy life once you pick the method that will work for you and your family.  I assure you, once you reap the rewards of having a healthy home cooked meal ready after a long exhausting day, you will make it a priority to integrate freezer cooking into your life!
If you are looking for a book or additional resource on freezer cooking check out the 30 Day Gourmet's BIG Book of Freezer Cooking
. I bought this book/manual about a month or so ago. It is filled with information on freezer cooking from setting up your freezer day to how to calculate recipes for larger batches. They have tons of worksheets and check off lists that will help you organize the entire freezer cooking process. I was freezer cooking long before I bought this book but still found it really useful as I work to fine tune my freezer cooking skills. It is selling right now  for only $13.57 on Amazon and to me that is a steal for the amount of information and recipes you get.
What freezer cooking method do you prefer?