WW Blue Apron offers a Weight Watchers WW menu options. I gave the WW recipes a try and this is my honest Blue Apron review of their Weight Watchers meal delivery option.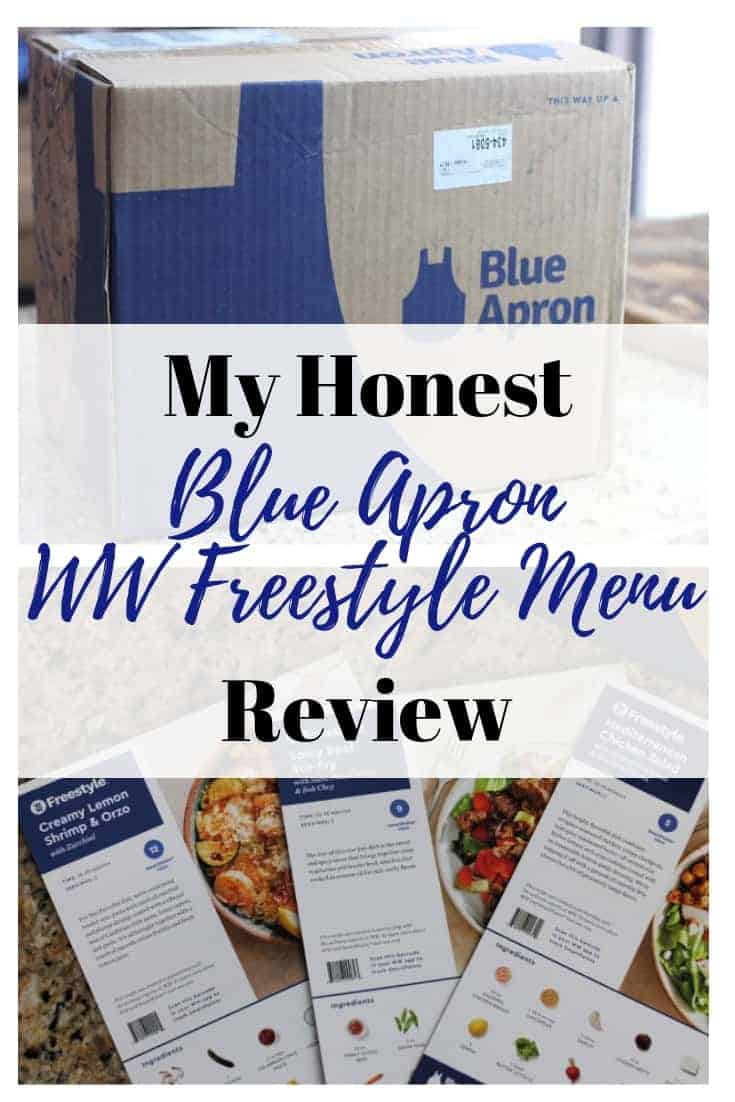 **This post contains affiliate links. I will receive a small commission if you decide to subscribe to Blue Apron. However, this is my completely honest review and you're by no means obligated to use my links. If you do, thanks so much for supporting my site.
In full disclosure, I've never been on Weight Watchers (which is now WW reimagined). My weight loss strategy of choice has always been to simply track calories and watch portions. However, I'm very familiar with the basics of WW and learned to cook healthy using MANY of the Weight Watchers cookbooks. Also, many of my readers use WW so I do try to stay "in the know" of the trends going on in the WW world.
With that said, Blue Apron now offers a WW Freestyle Menu option. Considering all the loyal WW fans out there I thought this was a very smart direction for Blue Apron to take. Offering a Weight Watchers meal delivery service could meet the needs of many people.
Last year Blue Apron offered Whole30 menu options and then toyed around with other "healthy offerings" but in my opinion wasn't very consistent. So, if you were turning to a meal kit delivery company to help create healthier eating habits, Blue Apron wasn't the one I'd recommend. However, with their new WW menu, I'm changing my mind – at least for those who use the WW Freestyle Program.
In this Blue Apron review, I'm going to talk about my thoughts and experiences with their new WW Freestyle menu. If you want to learn more about Blue Apron then consider checking out my original Blue Apron review.
Okay, let's get to it.
If you don't want to read my full review and are ready to try Weight Watchers meal delivery, then here's $110 across your first 5 boxes.
How does the Blue Apron WW Freestyle Menu Work?
Blue Apron paired up with Weight Watchers to provide, every week, 6 WW Freestyle recipe options. Each recipe includes the points along with the other nutritional information. The points show in the right corner of the recipe option making it very easy to decide on the number of points you'd like to have for dinner.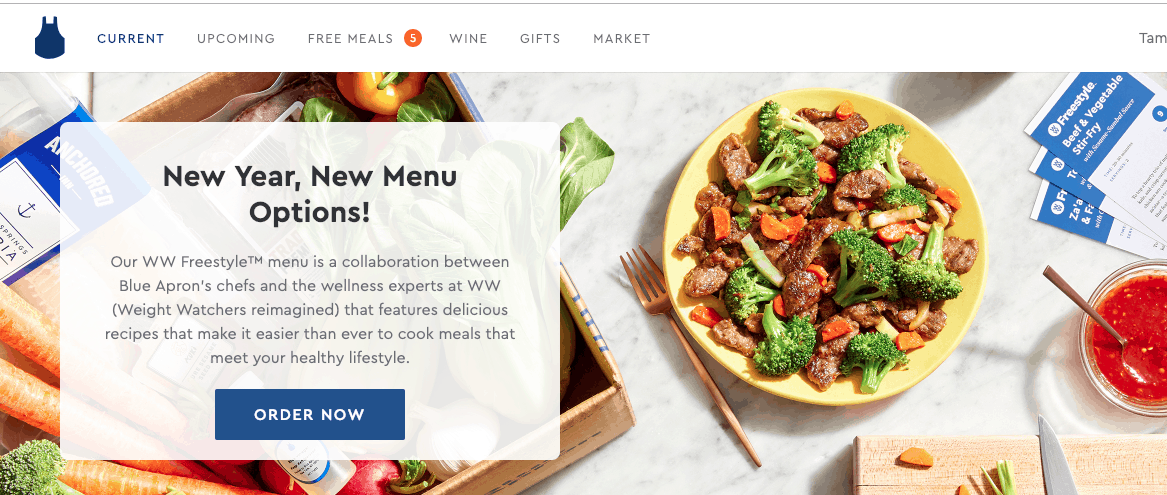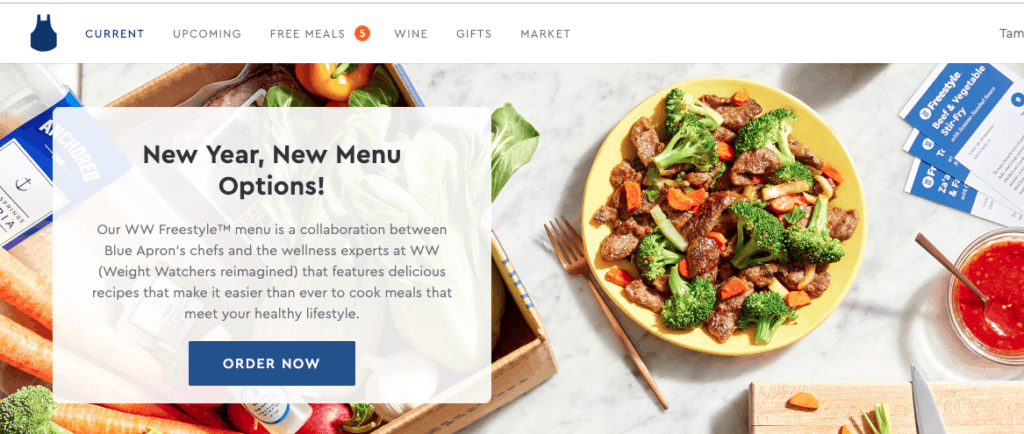 If you already have a Blue Apron subscription then you can switch over to the WW Freestyle menu simply by clicking on the menu on the right and changing your option. If you'd like to permanently change your selections to the WW Freestyle menu then you'd need to do that in the profile section.
One thing that could potentially be an issue is you can't mix Signature menu recipes with WW Freestyle recipes. You can only order from one or the other. So if you want a WW Freestyle recipe but your husband wants something from the signature menu that'll be an issue. The good news is the WW Freestyle recipes all look fantastic so there, most likely, will be a compromise.
Another issue is you can only order 2 servings of the WW Freestyle recipes. Of course, this might work for you but if you want to feed the family WW Freestyle recipes that won't work. However, if it's just you then this might work just fine. something to keep in mind.
The WW Freestyle menu works the same as the signature menu with ordering. If you want to change the recipes you simply click "change recipes" and pick the ones you want. If you want to skip a week then click on "manage delivery" and choose skip week. Of course, both of these need to be done by your cut-off time which can be found by clicking the button next to "manage delivery".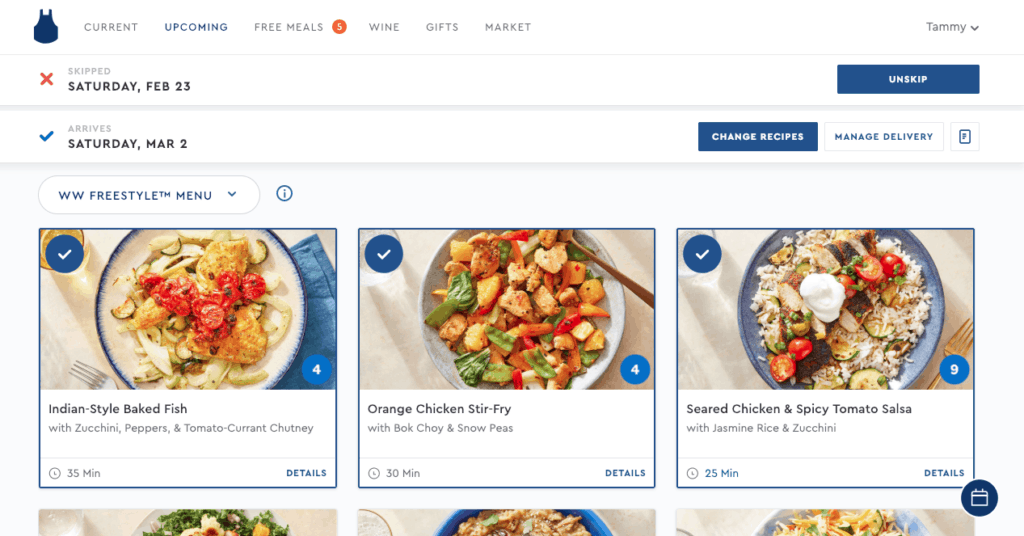 How much is the Blue Apron WW Freestyle Menu?
The new WW Freestyle menu cost the same as their 2 person signature menu – $59.94 and that includes shipping. So, that's 3 recipes (2 servings each) coming to around $9.99 a meal.
Now a huge complaint with all meal kit delivery companies, not just Blue Apron, is that they are too expensive and you can easily go to the grocery store and get all the items for much less.
Here's my response to that…
Yes, of course, you can go to the store and get everything for less. Just like you can make homemade pizza for less than buying it, make the same dinner at home for cheaper than a restaurant, brew coffee cheaper than buying it.
However, meal kit delivery services are not in the business of saving you money. They are in the business of providing you with convenience. These companies create the recipes, put together meal plans. and then mail all the ingredients to your door. This is so you can easily prepare homemade food without doing any of the leg work.
We live in a different time now where convenience is a priority. We can get anything we want with a click and a few days later it's at our doorstep. Groceries are no different. Meal kit delivery companies are making it easier for people to eat healthier foods – that's what many people want.
If you order out, or dine at restaurants, quite often then a meal kit delivery company will save you money. If you already meal plan, purchase your own groceries, search out deals, and cook at home more often than not then you won't see a cost savings by using any meal kit delivery company. However, you might see the benefits in other ways which I'll go over in a minute.
Blue Apron is the least expensive of all the meal kit delivery companies I've tried and their ingredients are high quality. So, I think Blue Apron is actually a good deal considering. You can even get a better deal with the coupons they offer.
So, basically, my overall thoughts are that some people will see value in the convenience and some won't. If you think getting WW Freestyle recipes delivered your door is going to help you stay on track then it'll work for you.
Blue Apron WW Freestyle Recipes
The first thing I want to mention is you can choose recipes between 4 – 15 WW Freestyle points, this is a really nice variety. So, if you eat most of your points during the day you can choose a 4 point salad and if you're looking for something a little heartier then there are 12-15 point pasta or rice options.
This is actually one of the things I like about Weight Watchers. You're allowed to eat whatever you like as long as you stay within points. Obviously, some foods are better than others but on Weight Watchers it's not about removing whole food groups or depriving yourself – that's the reason so maybe people succeed with it.
Anyway, Blue Apron has it set up nicely to meet everyone's point needs.
Another thing I liked about the Blue Apron WW Freestyle menu is the recipes are classic-style. They don't seem to be very exotic with many eclectic flavors. Some of the other healthy meal kit delivery services seem to use more eclectic flavors that I feel the average person might not like. Not saying they wouldn't like it but I think people will appreciate classic recipe options – that's just my opinion.
When someone is focusing on changing their eating habits it could be difficult to dive into flavors they're not comfortable with. Starting with familiar recipes, but with a healthier twist, I feel will help someone stick with new healthier eating habits. Those are the type of recipes I saw (and experienced) with the Blue Apron WW Freestyle Menu.
If you don't want to read my full review and are ready to try Weight Watchers meal delivery using the new Blue Apron Freestyle Menu, then here's $110 off your first 5 boxes.
Okay, let's talk about the recipes I tried.
Just like other Blue Apron recipes everything came insulated in a sturdy box. Not that I had to worry about anything staying cold considering it was -30 degrees here in Buffalo this week!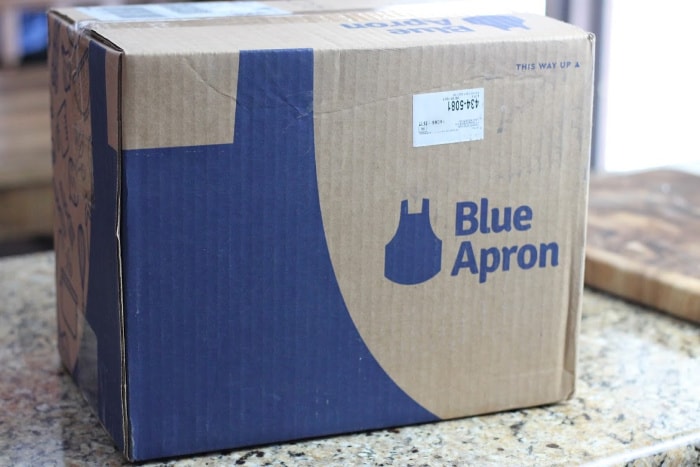 When I opened the box all the ingredients were organized into bags with the bigger produce items on top. Meat and shrimp were on the bottom on top of the ice packs. This is standard with all of the meal kit companies I've used.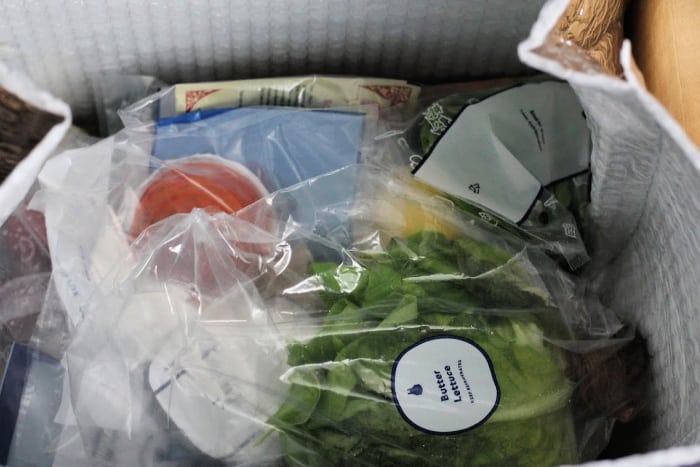 The 3 Blue Apron WW Freestyle recipes I received were Creamy Lemon Shrimp & Orzo (12 points), Spicy Beef Stir-fry (9 points) and Mediterranean Chicken Salad (5 points)
Each recipe card came with clear instructions, points listed, and a description.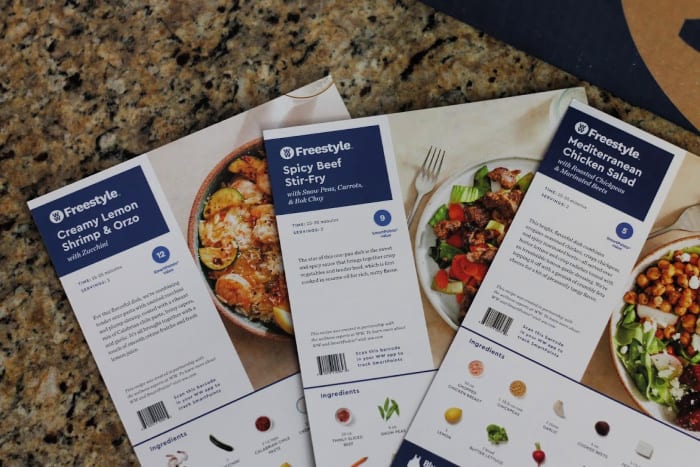 The first recipe I made was the Creamy Lemon Shrimp & Orzo. This is my kind of meal!!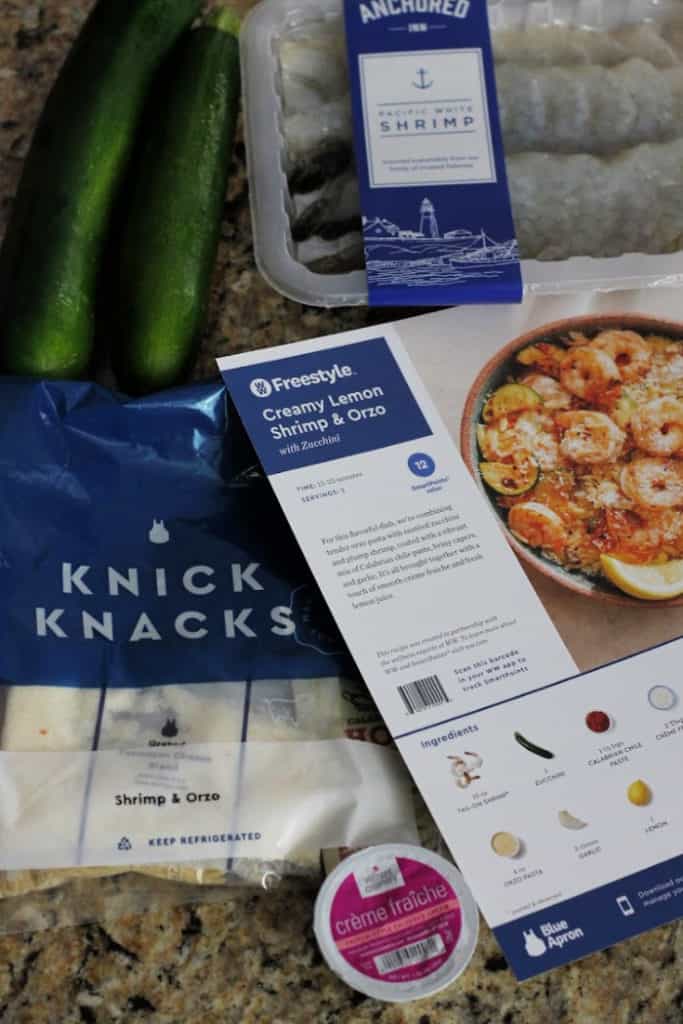 First, it was basically one-pot which is my favorite type of meal. It was so easy to prepare and came together in about 25-minutes. Second, it had shrimp and I love shrimp! By the way, I should mention the shrimp is sourced from sustainable sources. Also, the shrimp was cleaned which I found super helpful, I didn't have to waste any time cleaning "the veins" out. Yuck!
Third, it was creamy and lemony which, again, is one of my favorite type of meals. This recipe had great flavor but wasn't eclectic. I feel most people would like this classic one-pot meal.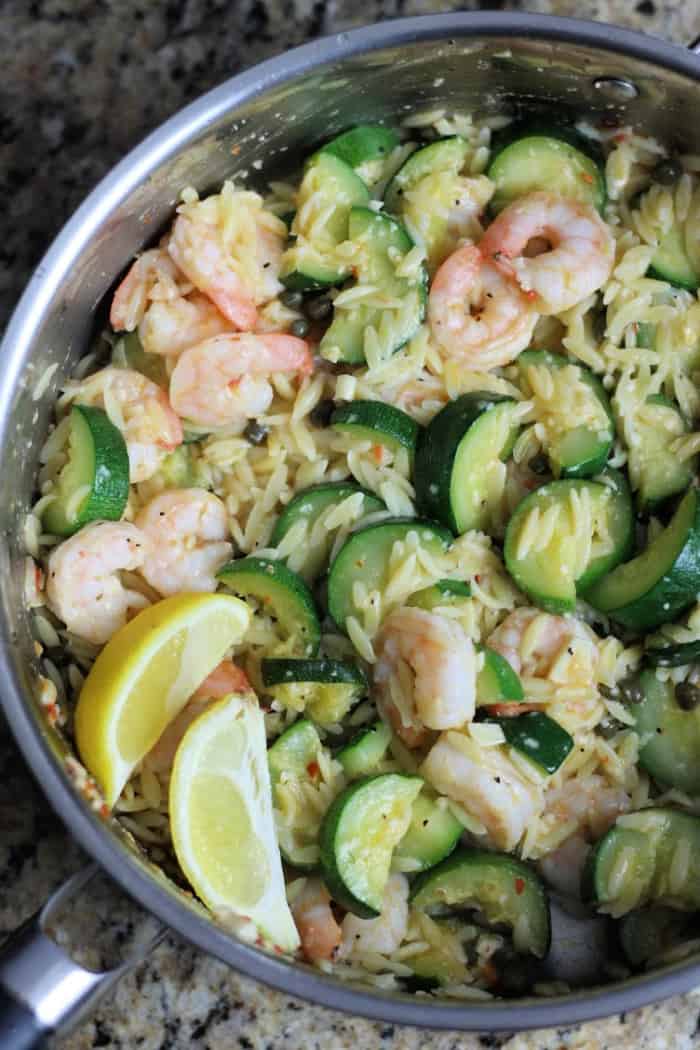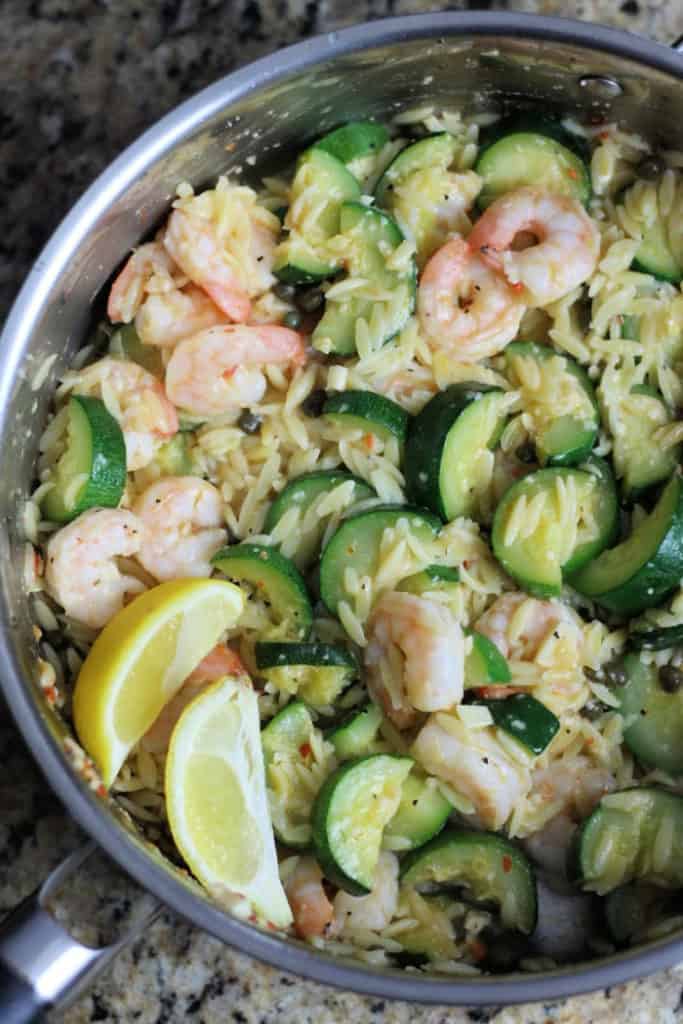 Of course, this recipe was the highest in points but I knew that when I ordered it. The great thing about knowing the points ahead of time is you can plan your other meals accordingly.
Last, this recipe served 2 people and I felt we got good hearty portions. If you're eating this alone you can easily bring the leftovers for lunch the next day or save for a second dinner.
The second recipe I tried was the Spicy Beef Stir-Fry. This recipe was 9 WW Freestyle points. Again, this was my type of recipe. I love Asian-inspired food and one-pot meals so again, this meal, fits the bill.
Something I love about Blue Apron is they double bag the meat so I don't need to worry about it leaking during transport. This is huge because I know many of my readers have expressed this being an issue with other meal kit companies.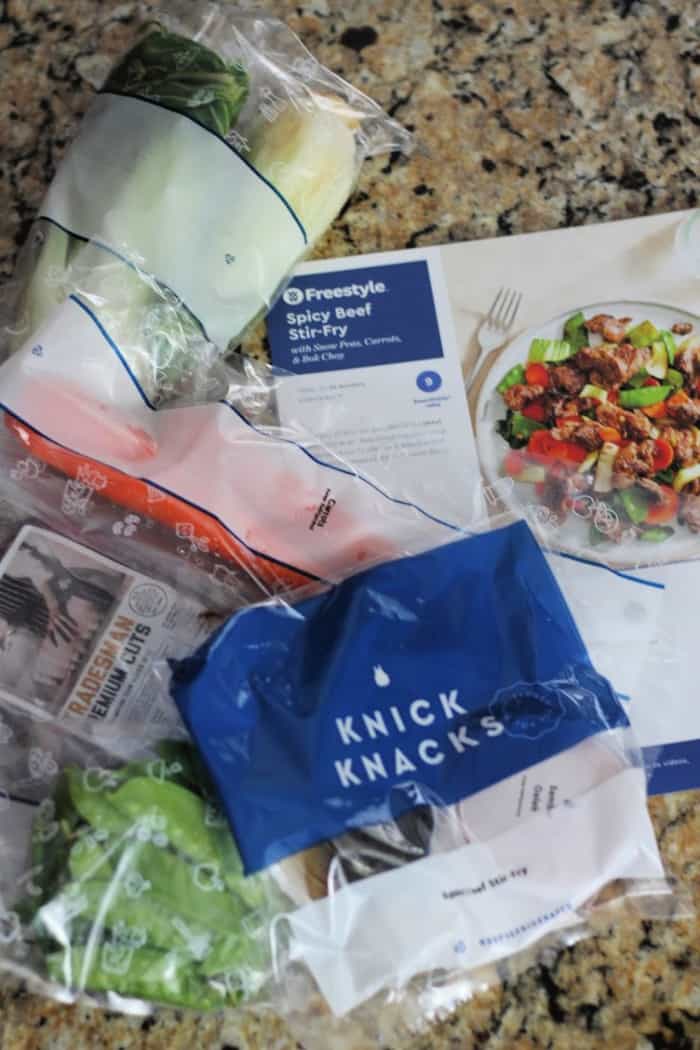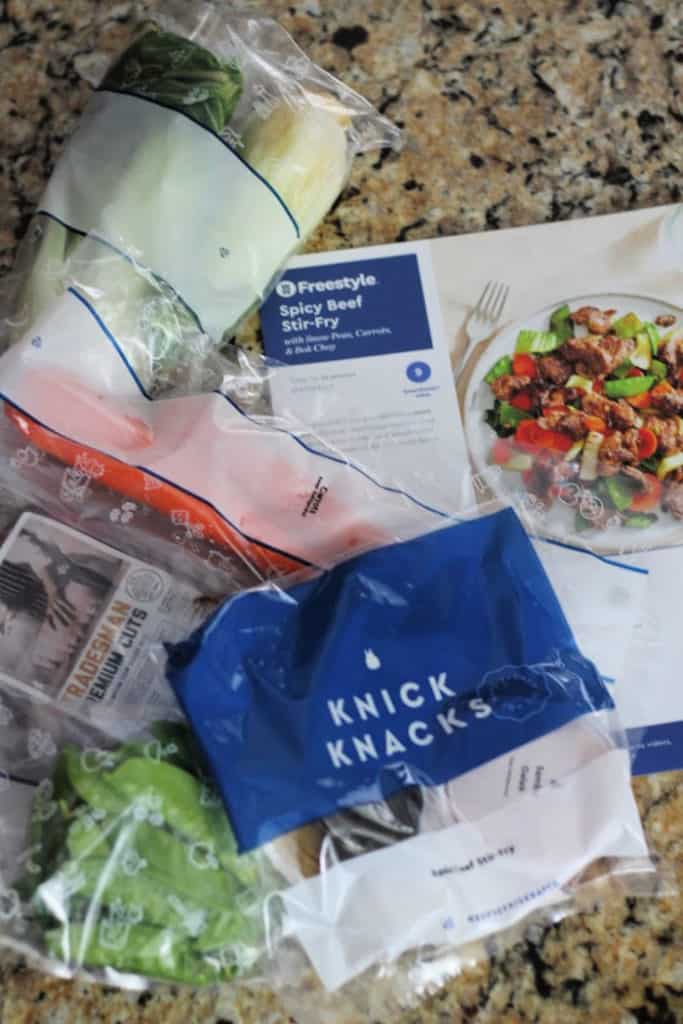 Another bonus point Blue Apron gets with this recipe is they send pre-cut beef. Most other meal kit companies don't do this. I wouldn't say this is a deal-breaker but I definitely find it super helpful when I'm trying to save time in the kitchen. If I needed to slice the beef for this recipe I would've had to dirty a cutting board and spend extra time preparing the beef. Instead, I just open the package and dumped the beef into the pan.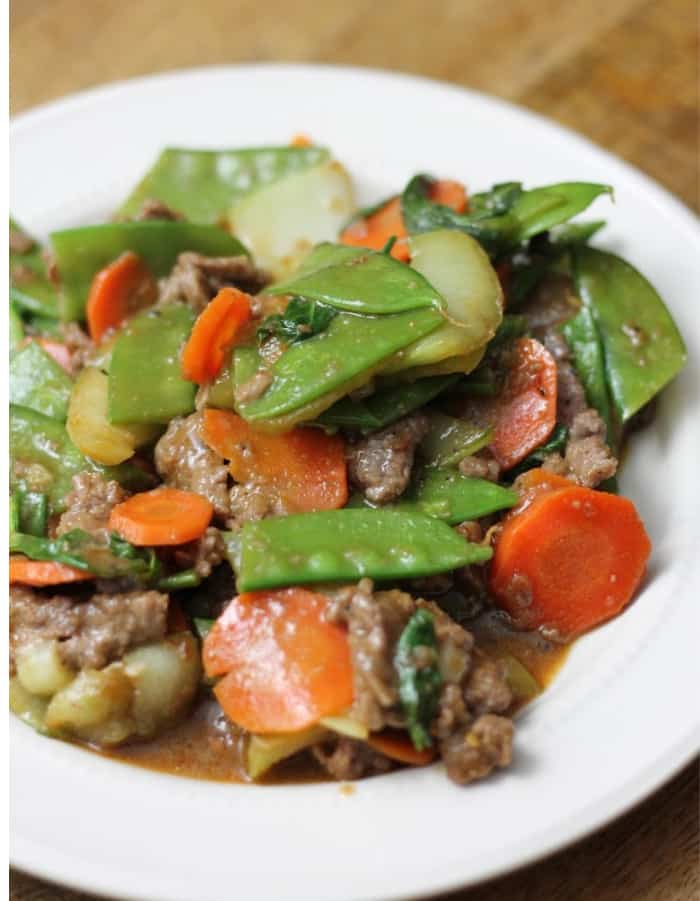 Something to point out with this recipe is its 9 points because it doesn't include any rice or carbs. I thought this recipe was very tasty but I kind of missed the rice that would typically go with a recipe like this. Regardless, it was very good and I guess it's just one of those things we need to get used to when trying to eat healthy 🙂
However, I will say this, this Spicy Beef Stir-fry is filled with protein and veggies so I felt full and satisfied after eating my portion. Speaking of portions I found that all portions were generous. Not over the top portions but enough that you feel you're eating a meal.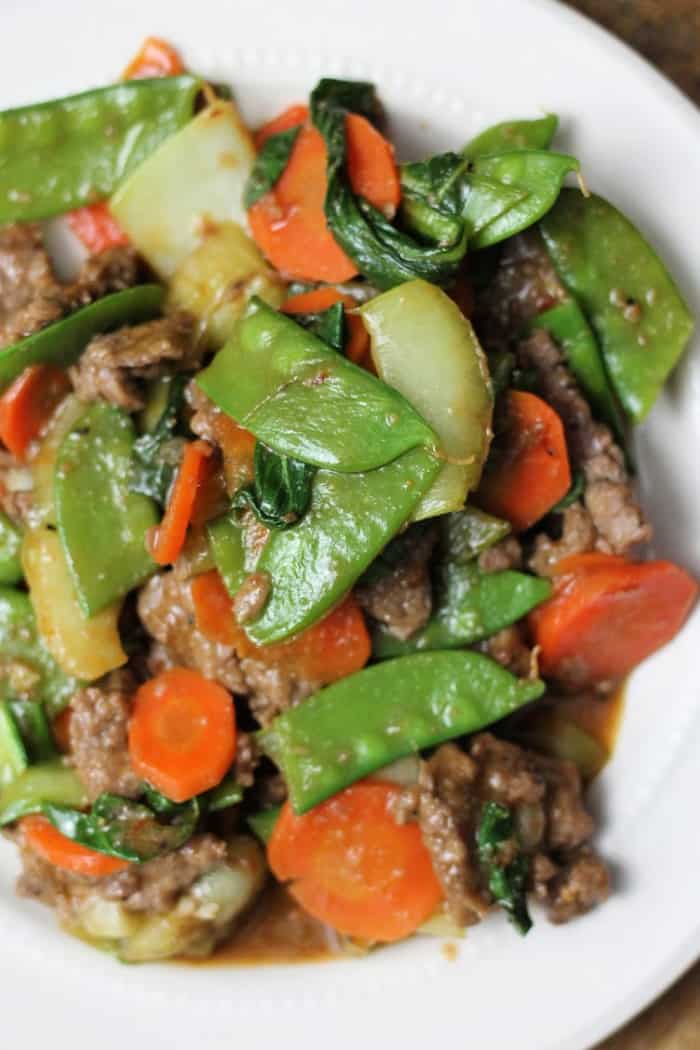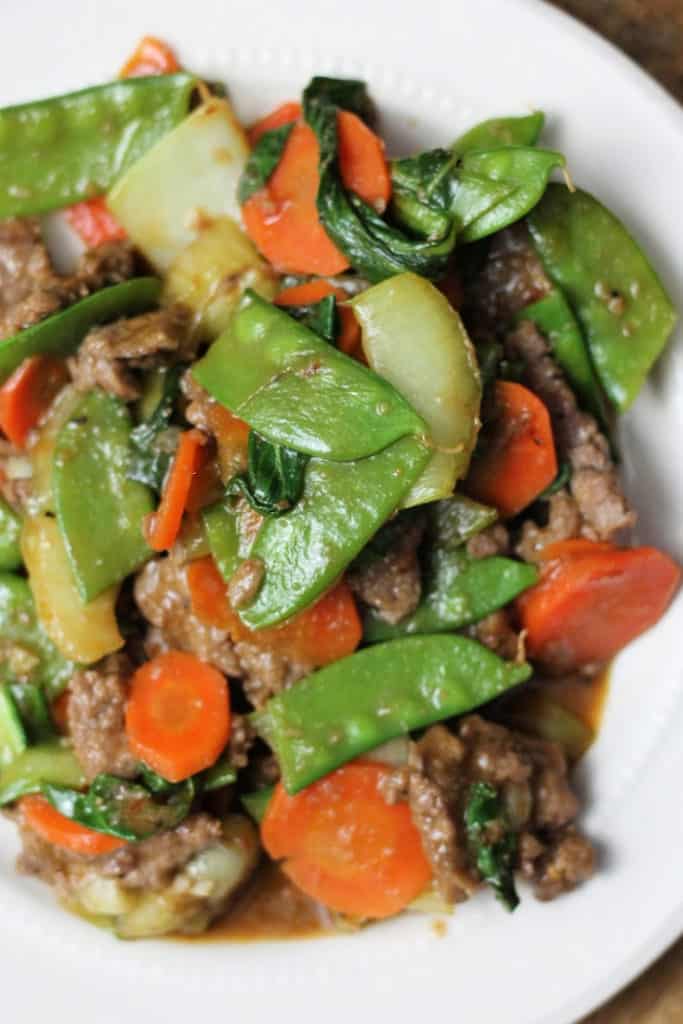 The last recipe I made was a Mediterranean Chicken Salad. Normally, I wouldn't order a salad, because I eat a mason jar salad every day for lunch, but I wanted to give it a try.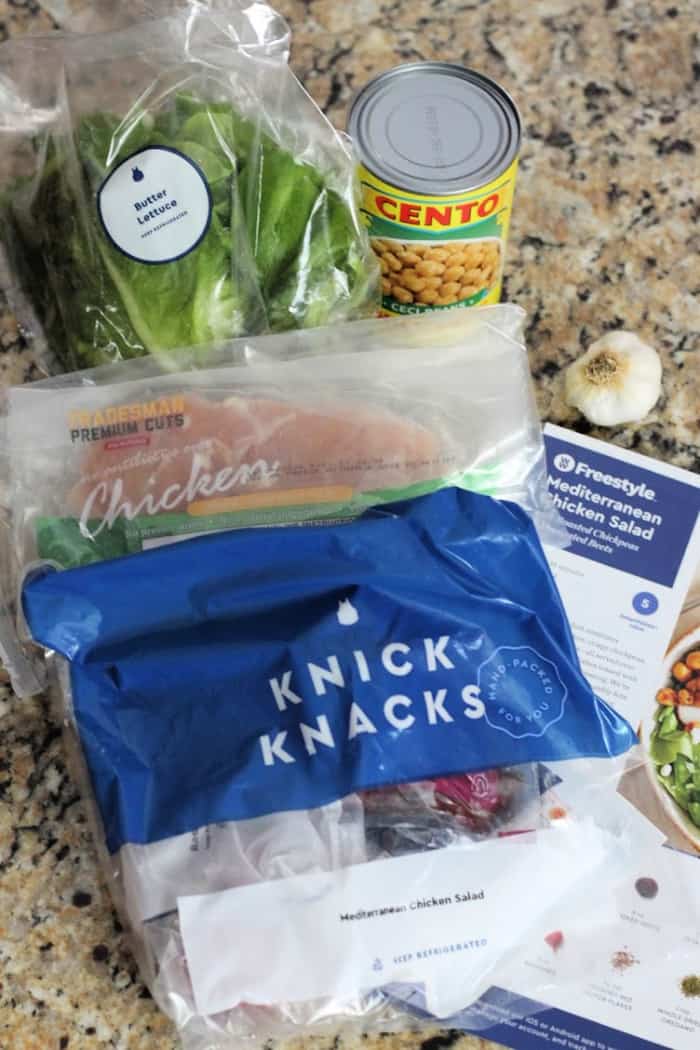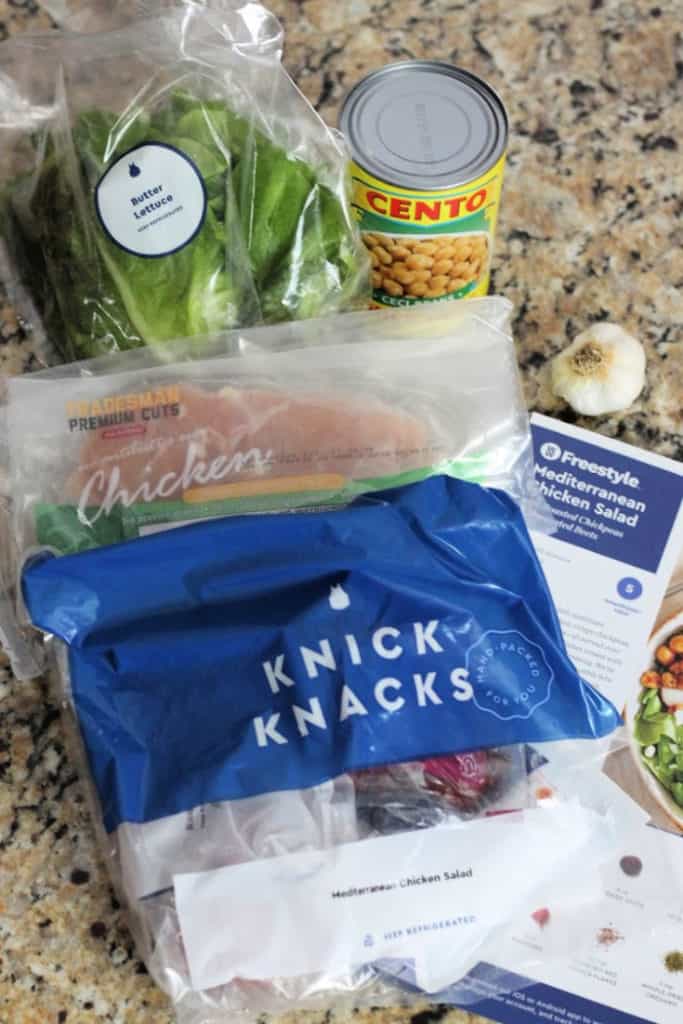 Again, I was really happy the chicken was already cut, trimmed, and recipe ready. This shaves off so much time! Also, I want to point out that Blue Apron uses higher quality meats. It's not organic but it's still of higher quality.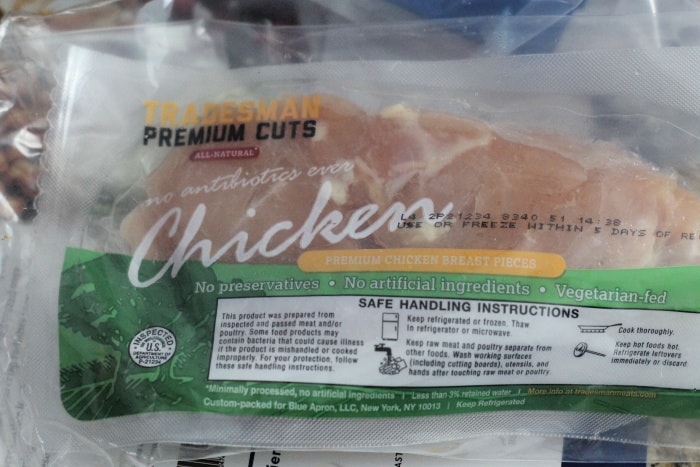 One of the things I enjoy about meal kit delivery companies is I use ingredients that I normally wouldn't. In this salad it'd be beets. I don't think I ever tried beets until now. Also, believe it or not, I never roasted chickpeas either – and I'm borderline obsessed with chickpeas. Oh and radishes, can't say I ever bought a radish.
So even though I eat salads ALL THE TIME, I never had a salad like this.
I thought it was very good. The chicken was tender, juicy, and flavorful. All the other ingredients worked nicely together too. If you're a "salad for dinner" person then this is a nice option for you. From the looks of future WW Freestyle Menus they have a salad option most weeks.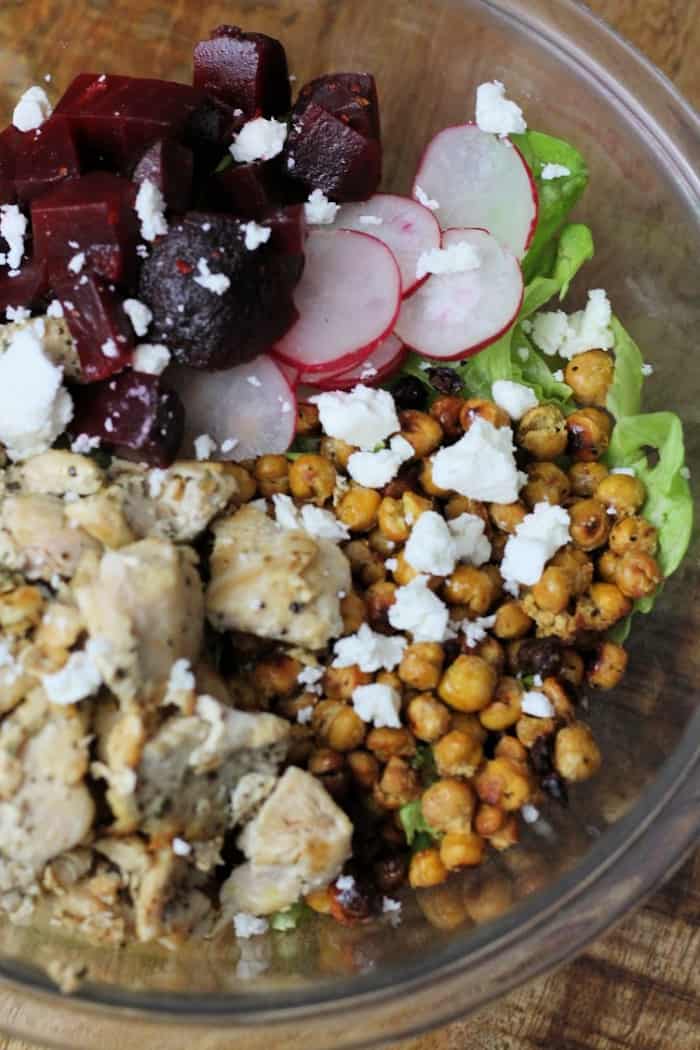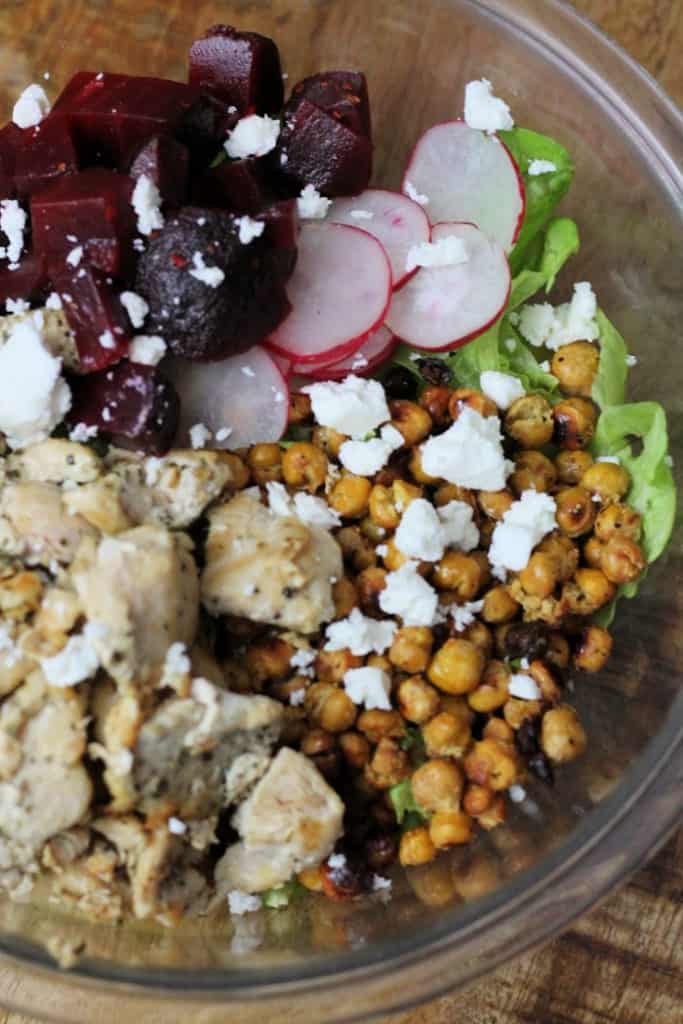 Overall thoughts
I thought the recipes I tried were very good, super easy to prepare, and included ingredients I think most people would enjoy. I didn't think the recipes were eclectic at all, most were healthy versions of classic recipes.
Also, Blue Apron offers a variety of WW Freestyle meals that include a nice range of points. Personally, I think this is a helpful feature because not everyone wants a 15 point dinner or 5 point salad – you can get a little of everything.
Personally, I think the Blue Apron WW Freestyle Menu is a great option for people just starting the WW Freestyle Program, especially if you're new to meal planning and cooking. When starting any new weight loss program it can be overwhelming. What do I eat? How do I find recipes? Where do I start? The Blue Apron WW Freestyle Menu helps with all of that.
On the flip side, I think this could also work for someone who's been on the WW Freestyle Program for a while. Up until this new menu option it was near impossible for someone on Weight Watchers to utilize any meal kit delivery service. Of course, if they were willing to figure out the points for each recipe then sure they could sign up for any of them. However, most people would rather have the points figured out for them. Well, Blue Apron does that now making it very easy for someone who's using the WW Freestyle Program to stick to their points.
I should also mention that the recipe card that comes with each recipe has a barcode you can scan to make tracking each dinner super easy. After scanning the barcode the recipe is instantly inputted into the Weight Watchers app. We all know tracking can be very tedious so this little perk makes it much easier which means you're more likely to stay on track.
I also want to mention who I think this new menu wouldn't work for. Yes, I do think people who aren't on WW could certainly order from this menu but I think it might steer them away from it just because "they aren't on Weight Watchers". However, the calories are listed on the recipe online. My advice to Blue Apron would be to put all the nutritional information (including points), online and on the cards, so people other than those on Weight Watchers would feel comfortable using that menu.
Last, I don't think meal kit delivery companies are for everyone – regardless of the company. If you think they are too expensive, and can get the ingredients much cheaper shopping yourself, then you'll be disappointed in any meal kit company. Meal kit delivery companies are about making it easier for you to cook healthier foods at home.
Blue Apron has partnered with WW to create a new WW Freestyle Menu option making it easier, and more convenient, to succeed in the WW Freestyle Program. Of course, not everyone will need this, but for those that do this menu can be really helpful to them.
If you're looking for a Weight Watchers meal delivery company then the new Blue Apron WW Freestyle Menu could be the solution. I hope my Blue Apron Review helps you make an informed decision about whether or not it's a good fit for you. If you decide to give it a try then here's $110 off over your first 5 boxes.
**This post contains affiliate links. I will receive a small commission if you decide to subscribe to Blue Apron. However, this is my completely honest review and you're by no means obligated to use my links. If you do, thanks so much for supporting my site.