It's so nice to be back writing these blog posts. I put it off for so long because I was busy with work, family, etc. also because I felt like I fell off the wagon a bit and didn't want to deal with it. Just being honest.
But let me say that putting that post out there last week and then getting comments and emails back from many of you motivated me.
Staying on track with eating healthy, exercising, and everything required of a healthy lifestyle isn't always easy. But, knowing I have a community of readers to always lean on and who face many of the same challenges is so helpful and keeps me going.
So, thank you.
Okay, let's with my weigh-in.
Jump to:
My Weekly Weigh-in
Let's jump right in, and then I'll share my thoughts.
Starting weight: 161
Current weight: 160
Goal weight is 145
This week I lost a pound. Nothing groundbreaking, but it's something. My goal is to lose between 1-2 pounds a week, and I'm not looking to crash diet. Like before, I want to keep it slow, steady, and sustainable.
I still feel like I'm still getting back into habits. I did much better this week than I have been doing, but I can still do better.
Also, I'm not sure if I've mentioned this before, but I'm 47, and my body is different from when I first started this journey 11 years ago.
I'm in the middle of perimenopause, and sometimes my hormones make it a struggle.
I get so tired but then can't sleep.
I feel like I look at food and gain10 pounds.
All of my weight goes to my stomach and stays there.
I also get headaches and cramps.
Honestly, it sucks. But it's a season of life I need to get through.
I find that smoothies, mason jar salads, and adding lots of veggies to my other meals give me energy and focus. I also take a daily vitamin and drink lots of water. And I always feel so much better after a solid workout. So, I need to keep moving forward.
The key is to be consistent week after week. Which we all know, right?
Goals for the Week
Continue to track all of my meals and snacks. Last week wasn't consistent with tracking. Even though I feel like I ate less, it's hard to know because I didn't keep up with it. This week, I'm going to focus on tracking. To help out, I set a couple of reminders on my phone to remind to track my meals.
Stop eating at 6:00 pm. I stuck to this habit 4 out of the seven days. But, when I did eat, later on, I kept it low carb and healthy. For example, I had a ham and cheese roll-up. This satisfied my hunger and kept me full. Although, now that I think about it, I did eat a couple of Hershey nuggets two nights this week. Ha! See what happens when I write these posts! I stay accountable. Anyway, this week I will stay very mindful of not eating past 6 Sunday through Friday. Maybe I'll give myself a break on Saturday.
Drink a smoothie and eat a mason jar salad every day. This is an easy habit for me to stick with. I love smoothies and mason jar salads, and it's a great way to get in a ton of fruits and veggies and have a portion-controlled meal. So, this week I'll keep going with this goal.
Exercise 5 days a week. Last week I got in 5 days! Yay! Cardio and toning. I felt great because I exercised, but I felt so proud of myself.
Drink 64 ounces of water. I did great with this last week; I kept a water bottle and just drank from it throughout the day. When it was empty, I'd fill it up. I plan to keep this goal for this week.
Continue to work on my summer work schedule. I took a lot of time to plan out emails and social media this week, and I still have a lot to work on, so I will keep this a goal for this week.
A quick tip. Power up workouts when you can. For example, I have more time constraints during the week, and I can still get in a workout, but it's hard for me to do any extra. I have more flexibility on Saturday and Sunday, so I use those days to do more, even if just 15-20 minutes.
Motivational words
"You don't have to be extreme to be consistent." I love this quote because many of us (including myself) are so quick to make these big drastic changes when we want to create a healthier lifestyle. But the secret sauce to seeing results from eating healthy, exercising, and living a healthier lifestyle is simply to stay consistent.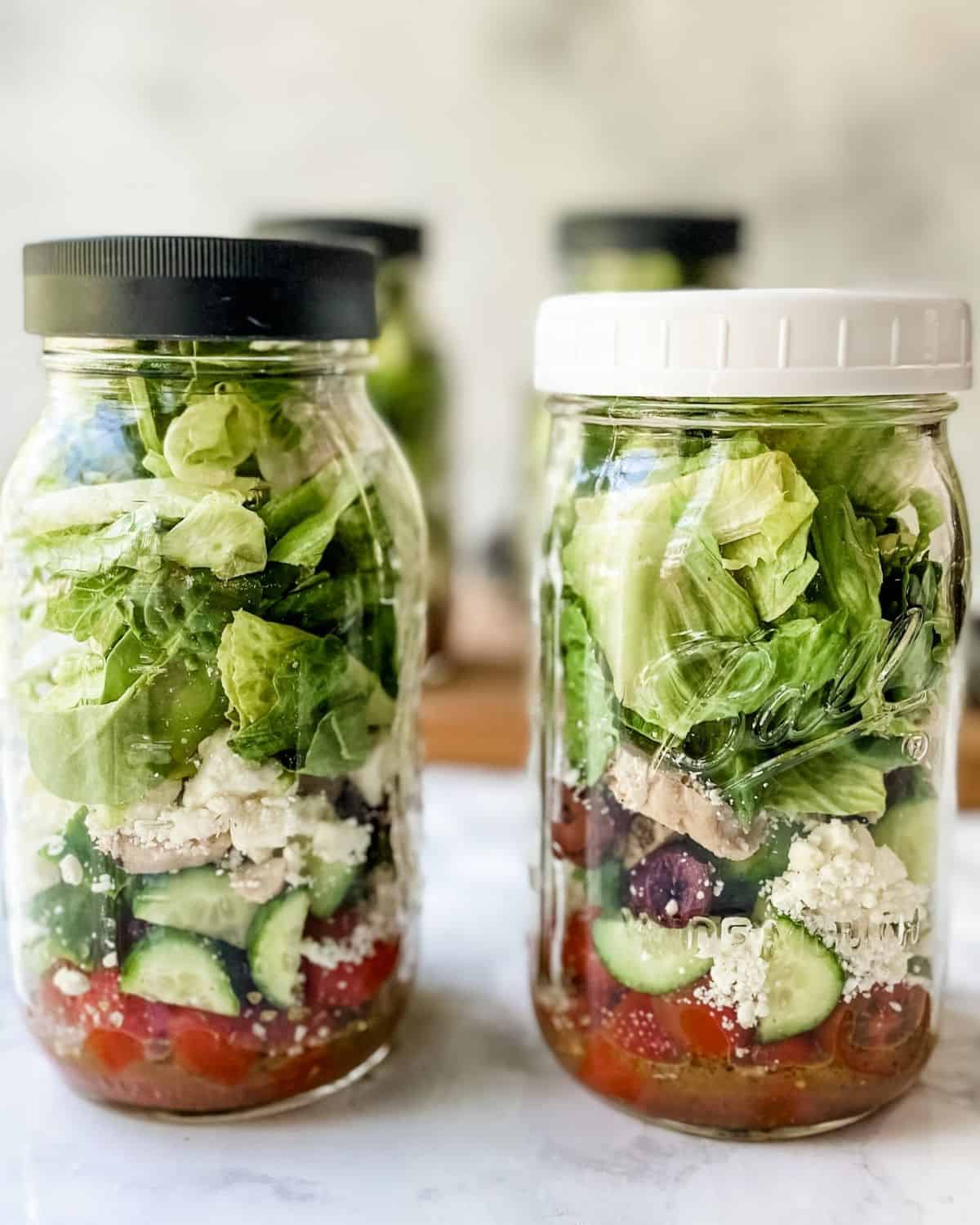 Weekly Meal Plan
This week, Of course, smoothies and mason jar salads are on the menu. You'll also find recipes from my new sister site, Gluten-Free Italian Eats. I like to have one cheat meal a week, and it's always Italian!
Here's my meal plan.
Meal Prep Tips
Believe it or not, I have nothing planned for Sunday, so all of the recipes will be prepped then.
I'll start the turkey taco meat in the morning.
As that cooks, I bake the chicken for the mason jar salad.
I'll make the Caprese salad, ranch potatoes, and steak fajitas. Then I put everything into containers and refrigerated it.
After the taco meat cooks, I place it into containers and refrigerate it.
I'll cook the Italian chicken and burgers the night they are on the meal plan.
Chicken parmesan will be made next Saturday for a weekend dinner.
Shopping tips
I ordered most of the pantry items from Thrive Market a couple of weeks ago. But, I plan to put another order in because it's getting more challenging to find gluten-free items in the stores – and I live near many major grocery stores.
I've been shopping at Thrive Market since 2015, but now that I need to eat gluten-free, I find shopping there essential. They offer a vast selection of gluten-free items at great prices, and you can find everything in their exclusive gluten-free category. I find it very helpful to shop there. If you want more information, read my Thrive Market Review. Ready to shop? Here's 40% off your first order.
I purchased all of our fresh ingredients and other items on Saturday afternoon before the rush of the weekend started.
Okay, that's my weekly update. I hope you found this helpful, and let me know if you have any questions or want to see anything else discussed in these posts. Thank you for continuing to be a reader and letting me share.