My kids are done with exams, and summer has begun! Yay! But can I say I was totally unprepared for exam week! With all the back and forth driving and having at least one kid home all day, it was nearly impossible to get work done. I did most of it in my car, waiting for my kids to finish exams. Of course, I wouldn't expect the school year to end differently. What a whirlwind of a year this has been. My girls and I are ready for a break.
Moving on.
Yesterday was Father's Day, and it was fun to give Mike a little extra spoiling this weekend. He's a fantastic dad, stepdad, my biggest cheerleader, and is the backbone to keeping this house running. I would never want to do this life without him. We had a simple barbecue with juicy turkey burgers, gluten-free pasta salad with Italian dressing, and some fruit. It was a fun and relaxing time.
Okay, let's jump right into my weigh-in, and then I'll share my thoughts.
Jump to:
Weekly Weigh-in
Starting weight: 161
Last week's weight: 158
Current weight: 158
Goal weight is 145
Pounds lost: 0
This week I lost 0lbs. However, I'm not upset in the least bit. Why? Because I feel amazing. My jeans fit better this week, and while I do like to use the scale for accountability, I pay more attention to how I look and feel. So if the scale says something different, I'm not overly concerned.
I kept up with my daily smoothie habit. I'm going into my 3rd week of smoothies, and I feel amazing. I'm at a point now where I'm doing it without thinking which means it's a part of my daily habit and routine. Last week I mentioned that I'm going to host a 10-day smoothie challenge. Here are the details.
OYS Smoothie Challenge
The OYS Smoothie Challenge is from July 5th – 14th. It's a free challenge, and I'll send you all the recipes, shopping lists, and some tips via email. You make the smoothie and enjoy all of the benefits. Everyone that joins the challenge can also cheer each other on in the OYS Facebook group, so don't forget to join. You can sign up here for the FREE 10-day smoothie challenge 👇
More Thoughts
I believe a healthy lifestyle begins with one change to your healthy habit and the goal of these challenges is to put one easy lifestyle in place for 10-days. This smoothie challenge will be the first of many challenges I'm going to offer through Organize Yourself Skinny. 
I also enjoyed a California mason jar salad every day last week too. Smoothie for breakfast + mason jar salad for lunch = feeling like a million bucks because I get in all the veggies I need for the day by lunch! By the way, I'm planning a mason jar salad challenge for the Fall! 
Initially, I was going to make peanut butter chocolate energy balls, but I decided to make chocolate almond energy balls instead because I had all the ingredients.
For the most part, I stayed on track with dinners. More importantly, I didn't eat past 6:00 pm, which helped keep my calories under control.
I kept up with exercise for a third straight week. Woohoo! 
Goals for the Week
Most of my goals stay the same week after week, but this is what's working for me right now.
Continue to track all of my meals and snacks. I'm still not doing that great with plugging everything into My Fitness Pal. But, my breakfast, lunch, and snacks are portioned-controlled, which is helpful. And for dinners, I'm doing my best to keep mindful of portions and pay attention to how my body feels. If I'm satisfied or full, then I stop eating.
Stop eating at 6:00 pm. This habit is helpful, especially if you struggle with nighttime eating.
Drink a smoothie and eat a mason jar salad every day. This is my favorite habit and so easy for me to stick to. My meals are already portioned-controlled, and I get in all my fruits and veggies by 1:00 pm.
Exercise 5 days a week. Here's my thought process lately. I'm not looking to train for a marathon or anything like that; I just want to include moderate daily exercise. That's what I've been doing. Five days a week, I prioritize a powerwalk on my treadmill, walking the dogs, or both. Also, I fit in at least three days of toning. Again, I'm not trying to be a powerlifter; I just want to get in moderate, consistent exercise.
Drink 64 ounces of water. I've learned that if I don't pay attention, I don't drink enough. So, filling up a clear water bottle and keeping it visible helps me drink water throughout the day.
Continue to work on my summer work schedule. Don't even get me started on how behind I got last week with my kids' exams. This week it's going to be catch up.
Motivational words
"Consistency doesn't mean never messing up; it means never giving up." I love this quote! I'm always preaching about consistency and its importance to your goals. But that doesn't mean we won't fall off track or go through difficult seasons. We are human, and life happens. It's about getting up when we fall. It's about learning from our failures and getting strong because of them.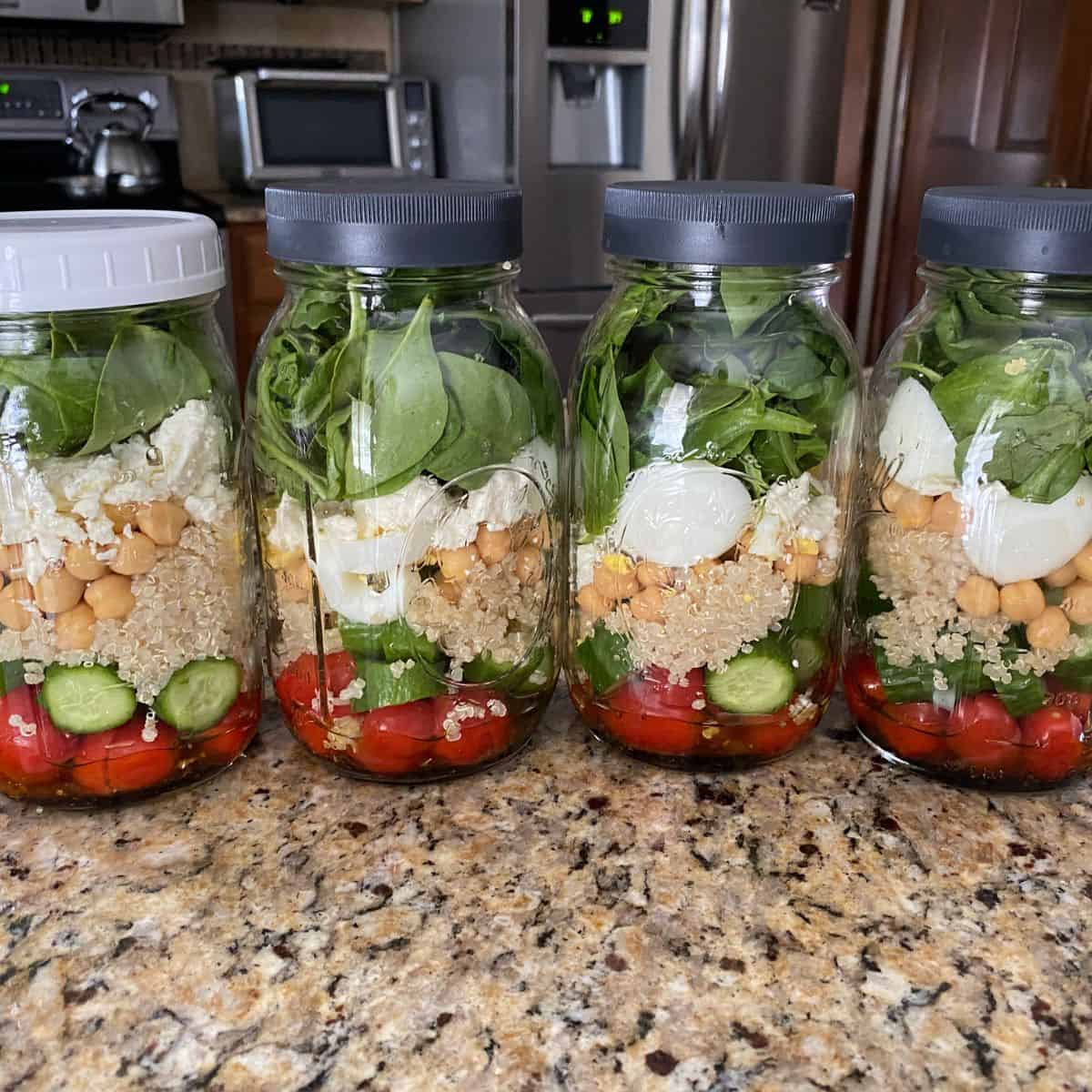 Weekly Meal Plan
Smoothies and mason jar salads are on the menu this week. You'll also find recipes from my new sister site, Gluten-Free Italian Eats. I like to have one cheat meal a week, and it's always Italian!
Here's my meal plan.
Meal Prep Tips
Because I ran out of time this weekend, my meal prep will look a little different this week.
I made smoothies kits the other weekend, so I still have those ready to blend.
I will make mason jar salads, energy bites, and meatloaf tonight.
The chicken will go into the crockpot tomorrow. I'll also make more rice for the one-pot rice and shrimp recipe.
Pita pizzas are easy, and I will make them the day of.
Shopping tips
I'm running low on meat, so I plan to put a Butcher Box order in this week. I've been ordering organic chicken, beef, pork, and other meats from them since 2018. Right now, they are offering free bacon for life for new subscribers. If you need more information, check out my Butcher Box review. 
I also stocked up on gluten-free items from Thrive Market. It's challenging to find gluten-free items in the stores – and I live near many major grocery stores. So, Thrive Market is my go-to shopping resource for gluten-free.
They offer a vast selection of gluten-free items at great prices, and you can find everything in their exclusive gluten-free category. If you want more information, read my Thrive Market Review. New subscribers can get 30% off their first order.
I purchased all of our fresh ingredients and other items on Saturday afternoon.
Okay, that's my weekly update. I hope you found this helpful, and let me know if you have any questions or want to see anything else discussed in these posts. Thank you for continuing to be a reader and letting me share.