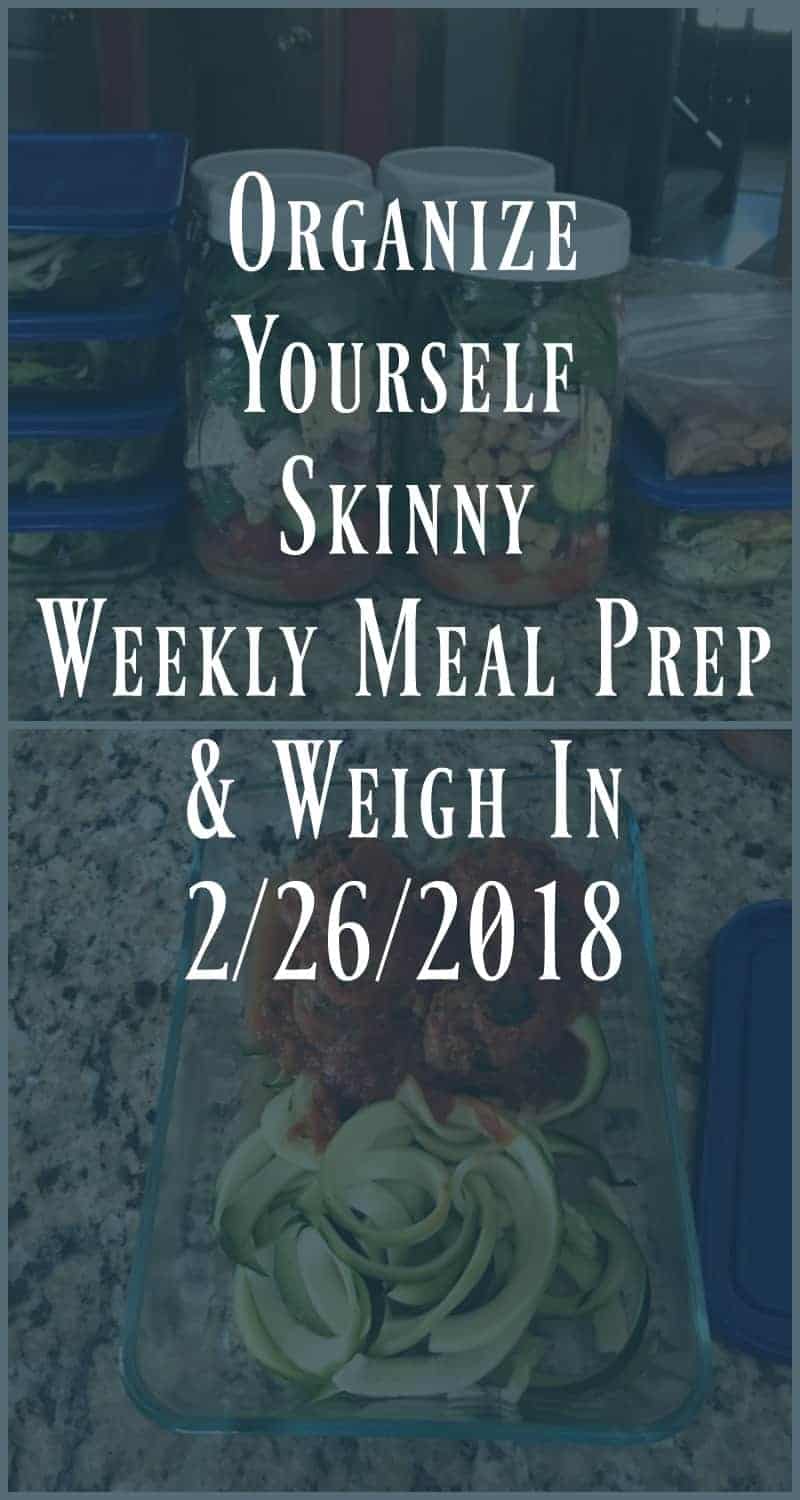 Hey there! I hope you had a great weekend. Can you believe it's time for my weekly meal prep post? Where does the week go? Well, I can tell you last week I was a working machine. My kids were off from school but they were in Disney world with their dad so I had a lot of extra time to get ahead of the game.
Before I get to meal prep let's chat about my weigh-in – which, I must say, I'm super excited about. Here are the numbers then I'll talk details.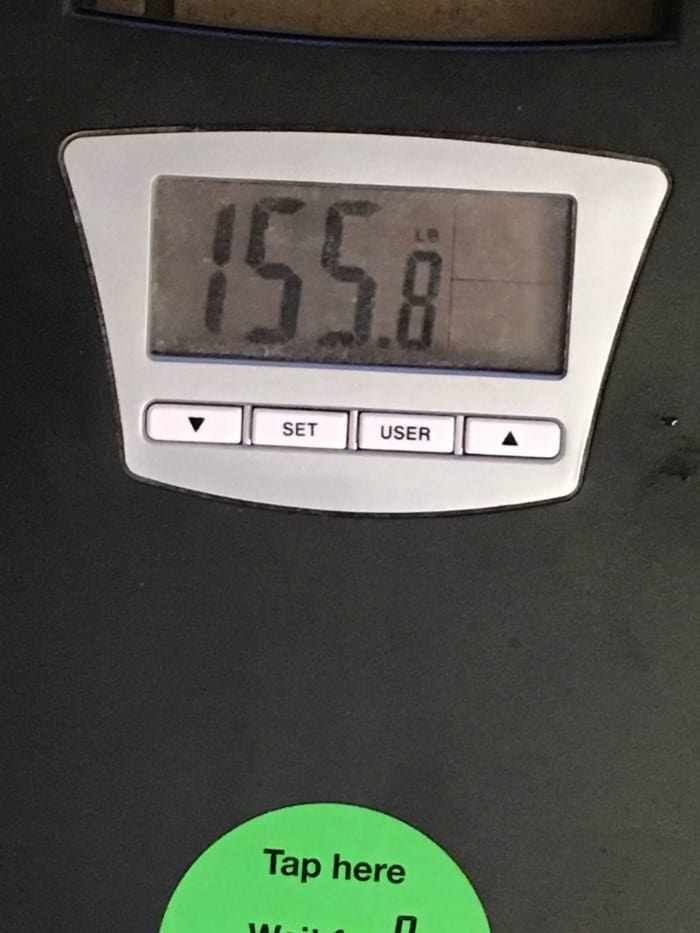 Starting weight – 177lbs (October 2010)
First goal weight: 145lbs
Final goal weight: 135lbs
Last week's weight: 157lbs
Current weight: 155lbs
Pounds lost: -2 lbs
Okay, 2 lbs is not earth-shattering and I've seen this weight many times before buuut…I've made some solid changes in the last few weeks and stayed consisted with them so I was THRILLED to step on the scale and see a loss. Also, I just want to say, when I got on the scale it was after I exercised, ate breakfast, and got ready for the day so I thought for sure I was going to see a gain or stay the same. Nope, a loss. Typically, I weigh-in first thing in the morning before I do anything else.
Anyway, I'm happy with the loss and even more happier with the way I look and feel. Like I've said over the past few weeks, I'm starting to see the results of the strength-training I'm doing. My arms, legs, and butt are getting toned and my stomach is shrinking. Honestly, I wish my stomach would shrink faster but oh well I'll take what I can get. I'm going to share some pictures in the coming weeks.
Even my boyfriend, who sees me everyday, mentioned at dinner last Friday that I looked really good and he could tell my hard work is paying off. Of course, he tells me all the time I look pretty but he said it so seriously at dinner. Like, all of the sudden, he noticed I started to look a little different. But that's how weight loss works – nobody notices at first then suddenly, after a month or so, everyone is making reference to the way you look. Anyway, that made my night and motivated me to keep working hard.
So let's talk about some of the changes I've made. The first BIG change is I got my coffee creamer habit under control. Instead of drinking 4-5 cups of coffee (with 2-3 tablespoons of creamer) a day I cut it down to 2 small cups with only 2 tablespoons of creamer per cup. Not sure if you're doing the math but 5 cups a day with 3 tablespoons of creamer in each cup is about 525 calories a day in creamer – YIKES. 2 cups a day with 2 tablespoons of creamer is 140 calories. Sooo this saves me about 385 calories a day! 385 x 7 = 2695 calories a week! That change right there is enough to lose 1-2 pounds. Wow, if writing that out doesn't keep me away from creamer nothing will.
Also, I stayed consistent with working out. I do a minimum of 3 days a week but push for at least 4 and strive for 5. The last 2 weeks I got in 4 solid work outs per week. However, I'm not just walking for 45 minutes on the treadmill, I've focused on amping up my exercise routine. I run longer and at a higher incline. I also added in some more toning/strength-training exercises. When done with my exercising routine I want to be a sweaty disgusting mess – that's my goal.
The last thing I want to mention is I've been very consistent with food and portion control. The last 3 weeks I've made mason jar salads for lunch, egg bakes for breakfast, and had dinners planned and ready to eat. The biggest thing, at least for me, are the mason jar salads and filling my meals with extra veggies. This helps tremendously with keeping belly bloat down.
Before I get to my meal plan, I just want to go back to my dinner out last Friday. My boyfriend and I like to go out to nice restaurants once in a while. We usually order whatever we want and then I pretty much need to be rolled out of there like a bloated balloon. Think Violet from Charle and the Chocolate Factory. Anyway, like I said, I've been working hard with keeping food under control, and exercising, so I didn't want to ruin all my hard work with a 1500 calorie meal! However, I wanted to enjoy myself so this is what I did.
First, I exercised an extra 15 minutes that morning. So if I do want to enjoy something naughty I can do so with a no guilt. Second, I only had 1 glass of wine. Now, I'm not a big drinker anyway but I still kept in my head that I was only going to have 1 glass. Third, I told the waiter that I didn't want to order dinner until after we were done eating our appetizers. This is the first time I did this. Usually, we just order everything in the beginning, and like I said, stuff ourselves even when we're not hungry. I've decided this is the way I'll dine out from now on. I like appetizers so it's likely we'll order 1 or 2. After we we're done, I could feel myself getting full so instead of ordering a rich filet with mash potatoes and other toppings I simply got a steak salad. And you know what? I love it! And you know what else? I didn't leave feeling bloated and sick. In my opinion, it was a great way to balance dining out and trying to keep my weight loss goals in check.
Okay, now let's get to my meal prep.
Breakfast
Sausage and Peppers Egg Bake ( I forgot to add the cheese but surprisingly I didn't miss it). I'll eat this with Ezekiel bread.
Meal prep ideas
I made this on Sunday. After it was cooked I cut the egg bake into portions and stored in the refrigerator using a Pyrex container. You can purchase many different size Pyrex containers on Amazon.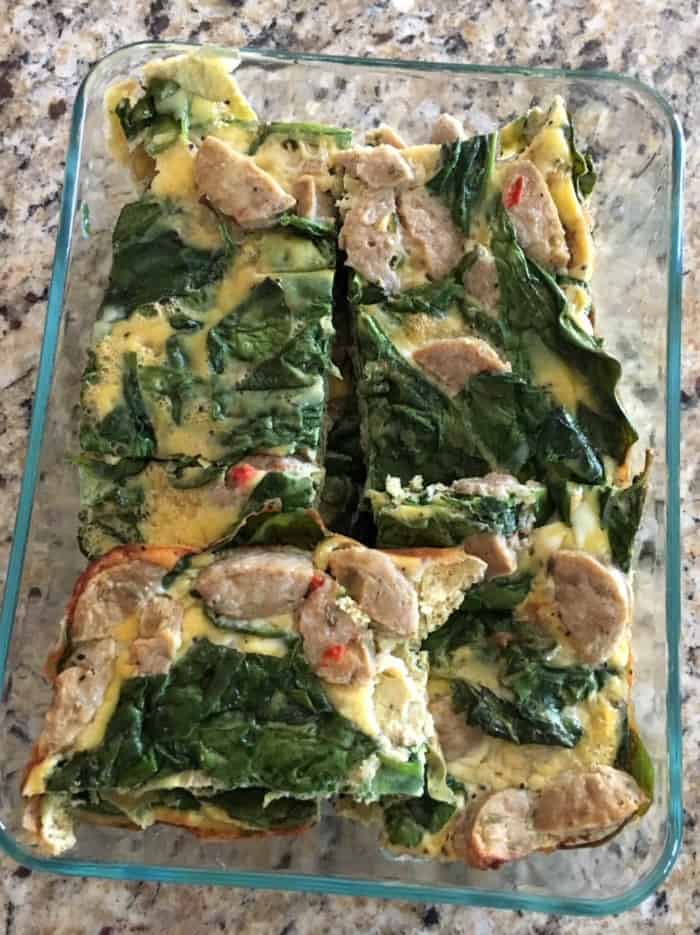 Lunch
Mason Jar Salads – I didn't really use a specific recipe. Instead I just layered my favorite mason jar salad ingredients along with what I had on hand. You can view my mason jar salad tutorial here.
Meal prep ideas
I made the salads on Sunday.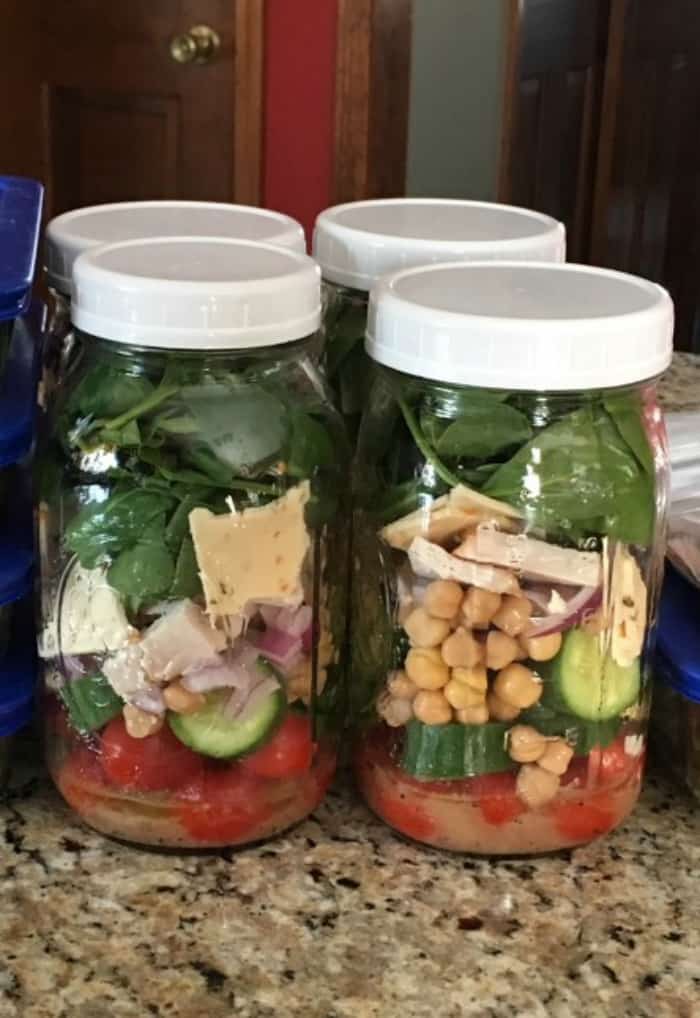 Dinner
Spinach and Feta Meatballs with Zoodles – new recipe
Sausage and Broccoli Tortellini
Pizza with chicken sausage
Home Chef (Tex Mex Steak Sandwich and Lasagna Arrabbiata)
Meal prep ideas
I plan to eat the meatballs with zoodles a few times this week. I made them yesterday and stored them in the refrigerator using Pyrex glass containers.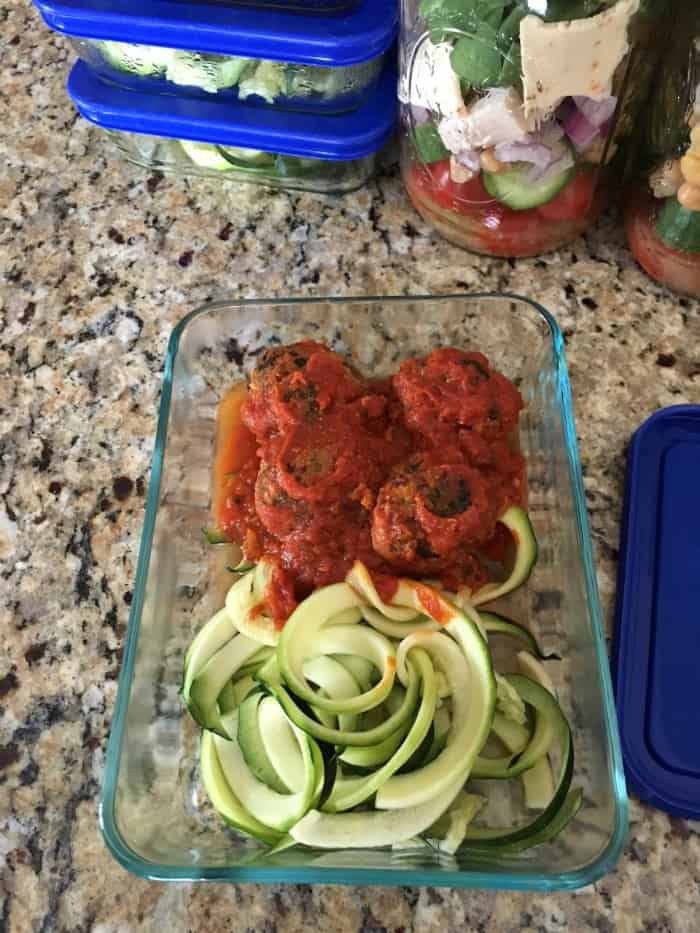 I put together a broccoli and sausage tortellini dinner kit a few weeks ago so that's in the freezer.
Pizza dough and cooked sausage are also in the freezer.
Home Chef comes on Friday so I'll make both dinners then to enjoy that night and into the weekend. If you want to learn more about Home Chef meal delivery service check out my Home Chef review.
That's my food and thoughts for the week. For more information on meal prep check out my meal prep resource page