In my weekly meal plan posts, I share my meal plan, food prep pictures & tips, exercise schedule, along with the progress (or not) I've made on my weight loss journey. My goal with these posts is to give a little glimpse into my lifestyle and for you to see I'm human and have good and bad weeks just like everyone else.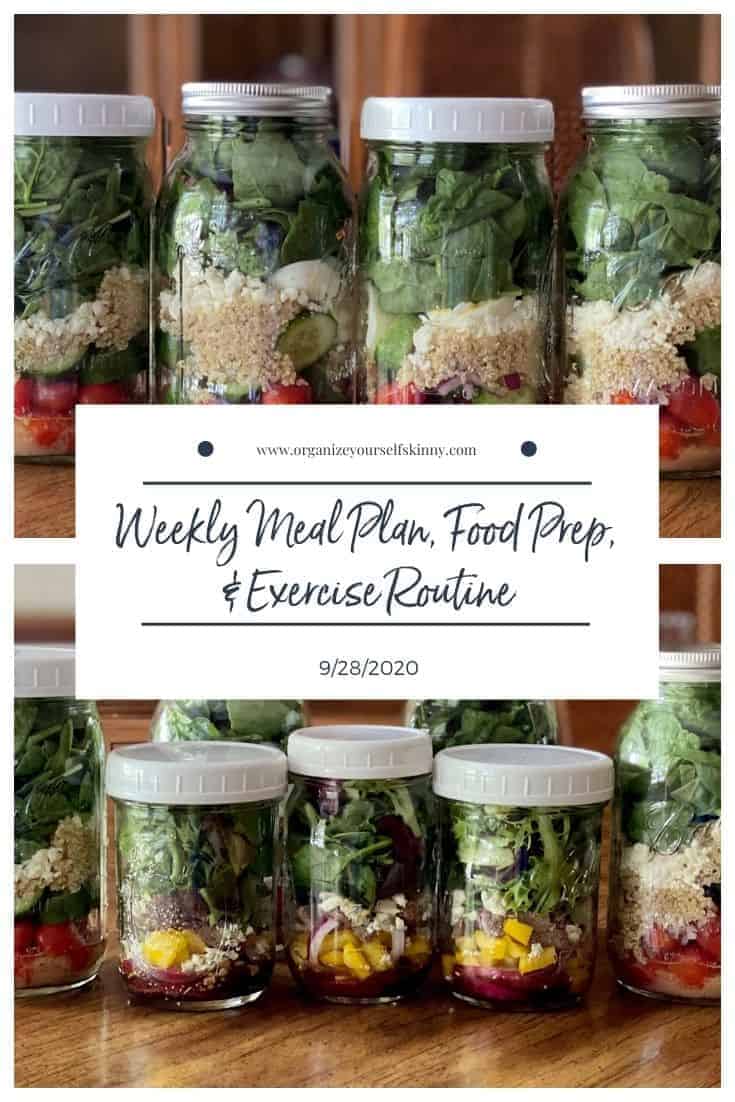 Hey there! It's been about 7 months since I shared a weekly meal plan post! Honestly, I can't believe it's been that long. Of course, my intention is to share every week what's been going on in my own weight loss journey but this past year has been a crazy one (as you know), and as much as I wanted to post a weekly meal plan, my focus had to be on other things with my blog and business.
Anyway, things are FINALLY getting back to normal and my plan is to get back to sharing weekly meal plans. It's kind of funny because I never think anyone would miss these but it never fails that just when I think "hmmm it's been a while since sharing a meal plan" I get a couple messages asking me when I'm planning to post a meal plan again.
Not only do I share my meal plan but I like to share my entire week at a glance with you. My hope is this will give you some ideas and inspiration to plan out your week in a way that'll make it easy to stay on track with your goals.
Also, I typically share my weekly weigh-ins with you. Those will start back up next week. Of course, if you want a closer behind-the-scenes look into my weeks then follow me on Instagram.
Before I jump into my week I just want to share one of the projects that I've been working on all summer.
In June, I started updating and rewriting the Organize Yourself Skinny eBook. This was a total labor of love but I have to say it turned out better than I hoped and I'm super proud of it. After I finished the eBook I felt it needed more – something to really help my readers (that's you) take action.
So, I decided to put together a 30-day workbook that includes 4 weeks of habit challenges, exercise challenges, and meal plans. That took the rest of the summer to complete but it was worth the time and effort.
It turned out great and I've been getting amazing feedback from OYS readers who purchased it.
Now the Organize Yourself Skinny eBook & 30 Day Workbook Bundle is available for purchase for only $19.97! You can read more about it here.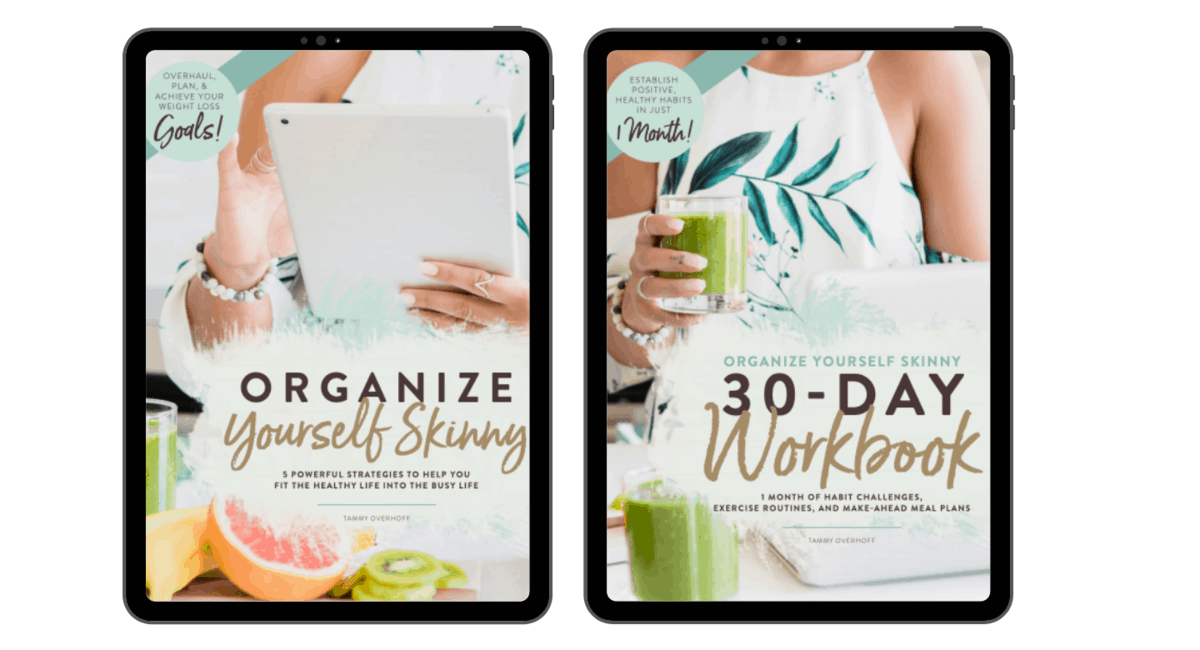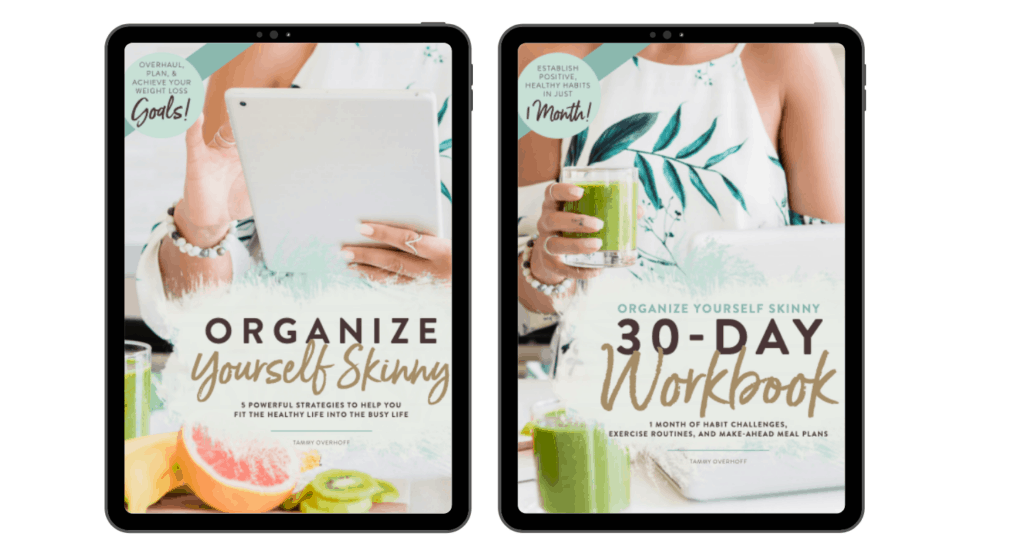 Also, over the last 8 weeks, I've been totally focused on my exercise routine. Early in the summer, I had some stomach issues so I wasn't able to exercise as much as I wanted. However, at the beginning of August, I started to feel a lot better so I jumped headfirst into getting back on track with exercise. I'm actually following the exercise routines I created for the eBook bundle.
Again, if you follow me on Instagram you can see my exercise progress week after week. I share lots of sweaty selfies! Here's a glimpse 🙂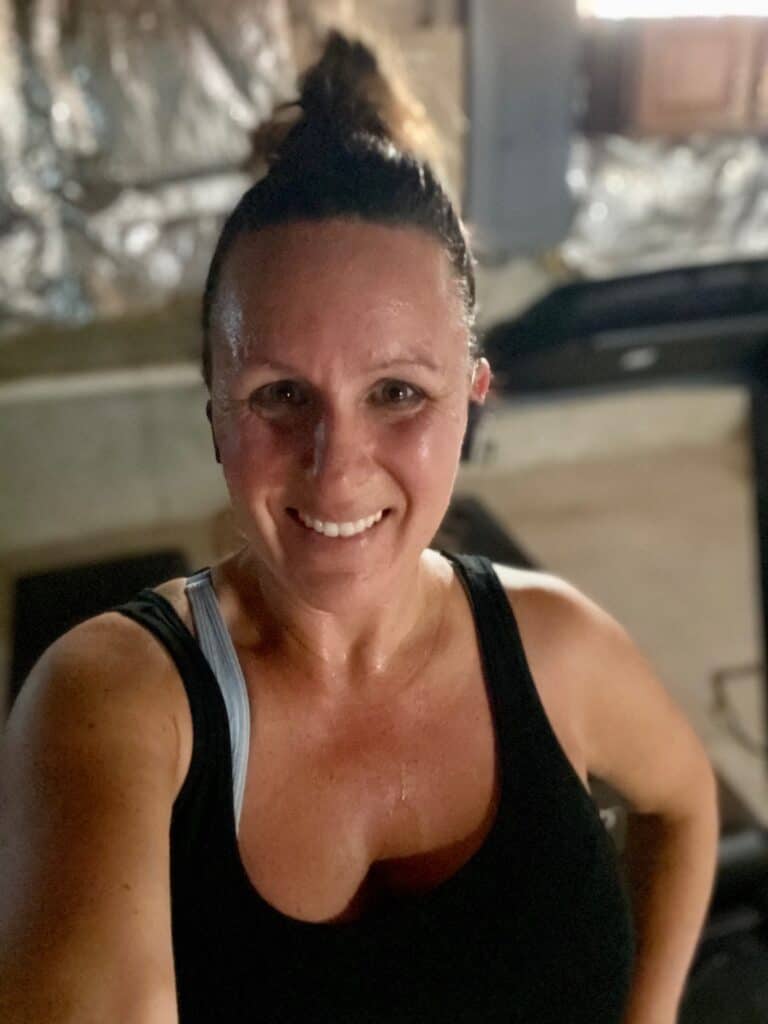 I going into my 3rd month of consistent exercise and I feel strong and healthy. My clothes are starting to fit a lot better and get a little loose in some cases. Sharing my progress has kept me motivated each week and I love getting messages from people saying that it's getting them motivated too!
Okay, let's go over my plan for this week.
One of the things I do is sit down on Sunday or Monday and actually plan out my week. I block out time for exercise, work, and all my priorities for the week. This helps me stay focused and on track.
Exercise Routine
This week my goal is to get in 5 days. Last week I only got in 4 days of solid exercise because Mike and I celebrated our 1-year wedding anniversary on Monday. I guess I could've pushed myself to workout that day but I just wanted to relax during the day together and then go out for a nice dinner.
Here's my schedule for this week:
Tuesday – Cardio, arms, and core
Wednesday – Cardio, legs, and core
Thursday – Cardio, arms, and core
Friday – Cardio and combo strength-training
Sunday – Cardio and combo strength-training
One of my rules is to never miss a Monday but last week AND this week I wasn't able to exercise on Monday. Next week it's a #1 priority to start Monday with a workout.
For cardio, I do 45 minutes on the treadmill which is a combination of running and power-walking at inclines.
For toning, I do basic toning moves like bicep curls, tricep extensions, squats, lounges, and exercise moves like that. I use 5 – 8lb weights.
Weekly Meal Plan
For my meal plan this week we are using up a lot of what I have in the freezer. I have Mexican shredded beef, clam sauce, soups, and all kinds of other meal-starters to use up.
We are also getting a box of meals from Hello Fresh to switch things up this week. My kids love Hello Fresh so every couple of months I order a box to get us out of a rut and just make my life easier with planning. I'll share more about what I get in my box on Instagram. But you can also read my Hello Fresh Review to learn more about this company.
Another thing to keep in mind with my meal plans:
I keep all my meals portion-controlled so I stay within 1300 – 1500 calories a day.
I don't eat after 7:00pm. Again, this helps keep my calories under control.
Here's what's on my meal plan.
Breakfast
Meal prep tips
I made a double batch of steel-cut oats a few weeks ago and frozen into portions using Souper Cube's 1-cup portions silicone tray. In the morning, I put a block of oats in a microwave-safe bowl and heat up.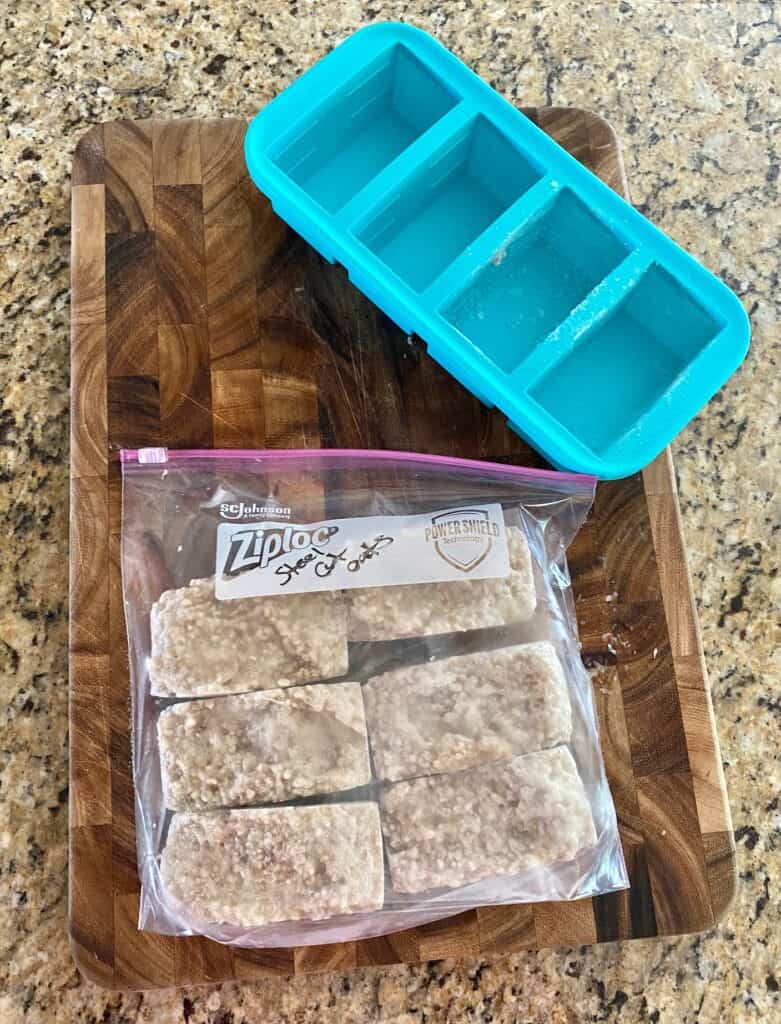 Lunch
Mini Steak Salad in a Jar
Meal prep tips
This week I made a protein power mason jar salad for me and a few steak salad mason jar salads for my daughter. I made them both today for the week. You can learn more about how to make the perfect mason jar salad recipe in this tutorial.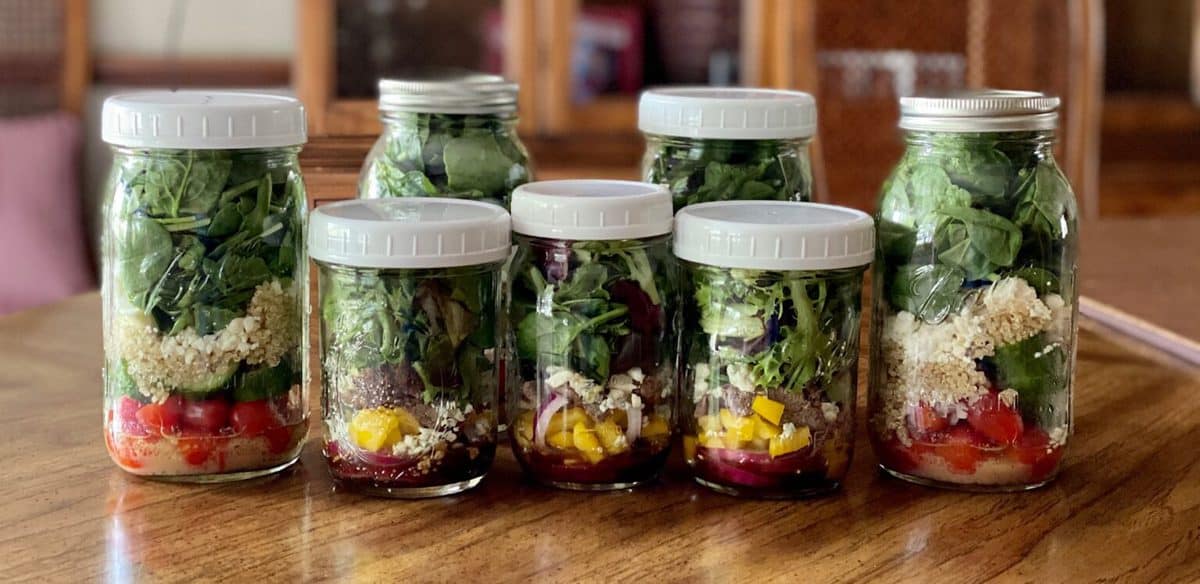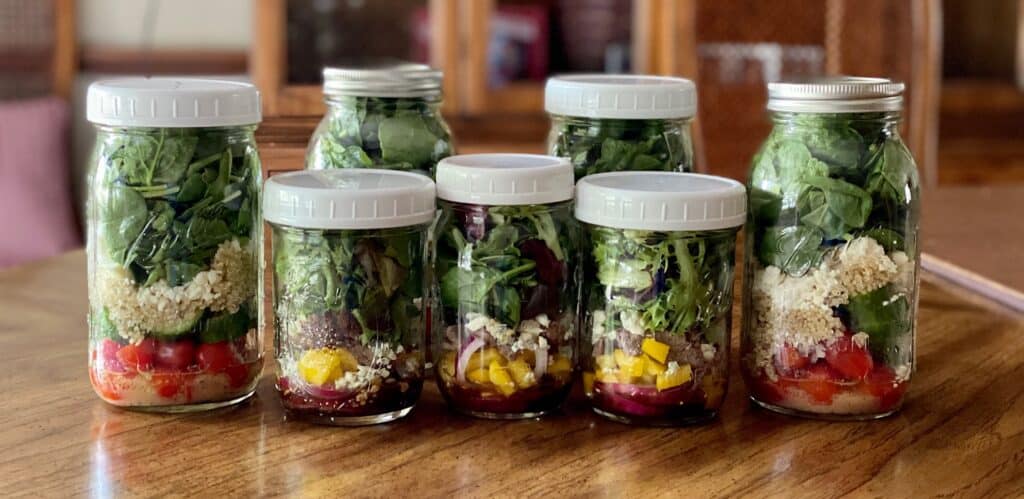 Dinner
Beef Enchiladas using Slow Cooker Mexican Beef
Red Clam Sauce with Gluten-free Linguini
Hello Fresh Meals
Meal Prep
I put together the enchiladas today and will cook them on Wednesday. I thought about cooking them today so I could just heat and eat but I decided to just assemble them now and cook fresh during the week.
The red clam sauce I already had made and frozen. All I need to do is make the pasta and heat up the sauce. I love having homemade spaghetti sauces in the freezer, it makes my life so much easier.
Pizza soup is also in the freezer and ready to be warmed up.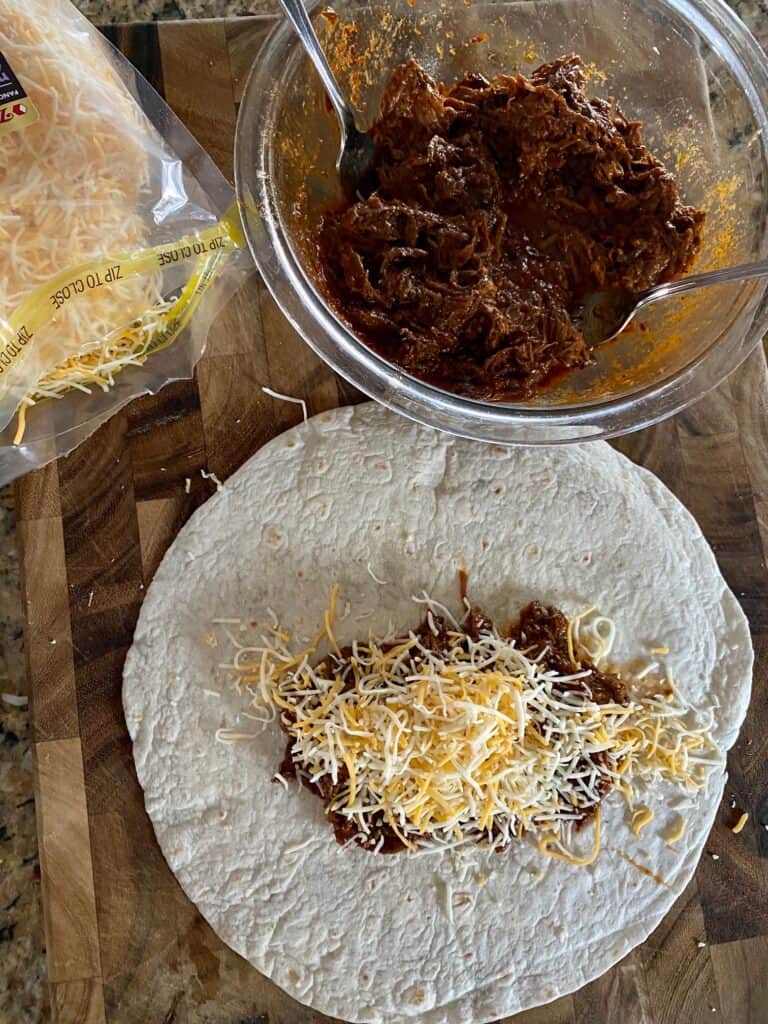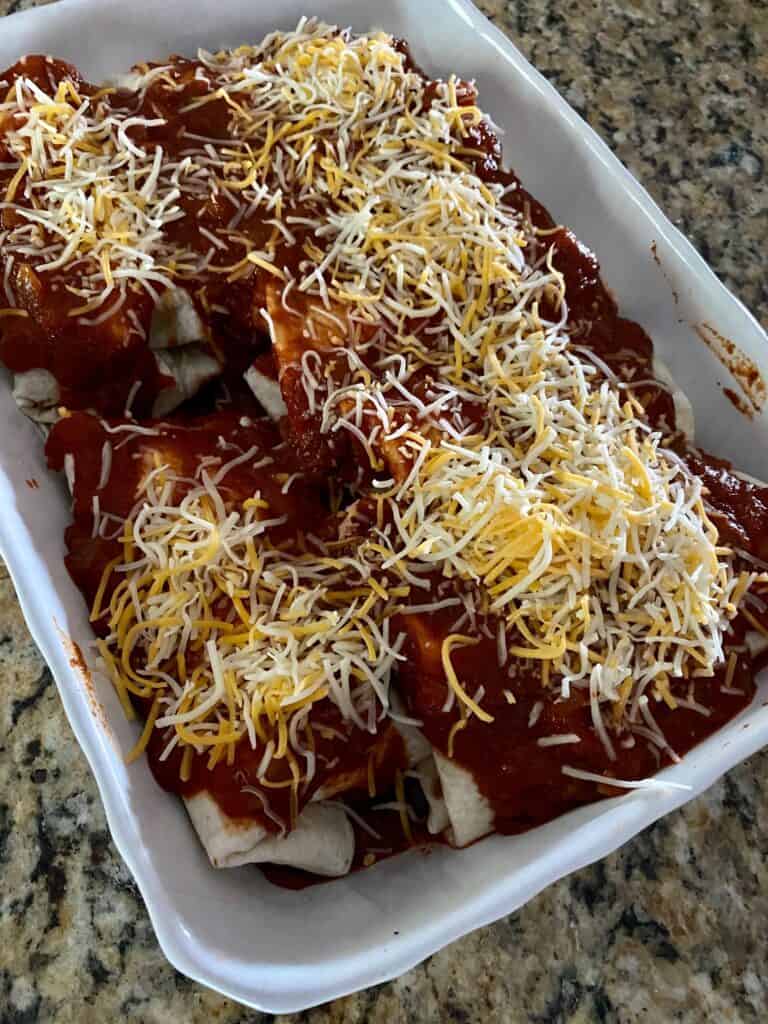 That's my week at a glance.
Here's a list of other resources that can help you fit a healthy lifestyle into your hectic workweek.
Meal Kit Delivery Companies
These companies aren't for everyone but they can really come in handy for some people. These are some of the meal kit companies I use and recommend for anyone trying to eat healthier.
Green Chef – This is my favorite meal kit company for keto, low carb, and vegan meal kits. Check out my Green Chef Review to learn more.
Sun Basket – This company offers everything from delicious healthy meal kits to everything you need to have a stocked refrigerator and freezer full of healthy staples. You can also get prepared meals delivered by Sun Basket. Check out my Sun Basket Review to learn more.
Daily Harvest – If you want to stock your freezer with single-serving delicious smoothies, overnight oats, chia bowls, flatbreads, and harvest bowls then Daily Harvest is where it's at. Check out my Daily Harvest Review to learn more.
Online Organic Meats and Groceries
Getting groceries delivered directly to my door has been such a game-changer for me. It has put so much time back into my schedule and helps keep my grocery budget in check.
These are hands down my two favorite companies to purchase from.
Butcher Box – Some of the best meat I have ever tasted is from Butcher Box. All of their meats are organic, grass-fed, and of the highest quality. I order a custom box of meats every 1-2 months. You can learn more about Butcher Box in my Butcher Box Review.
Thrive Market – If you're a Whole Foods fan then you'll love Thrive Market. Thrive Market carries just about every brand that you can find at Whole Foods either at the same price or cheaper. And everything gets delivered directly to your door so you never have to leave the house. Check out my Thrive Market review to learn more.