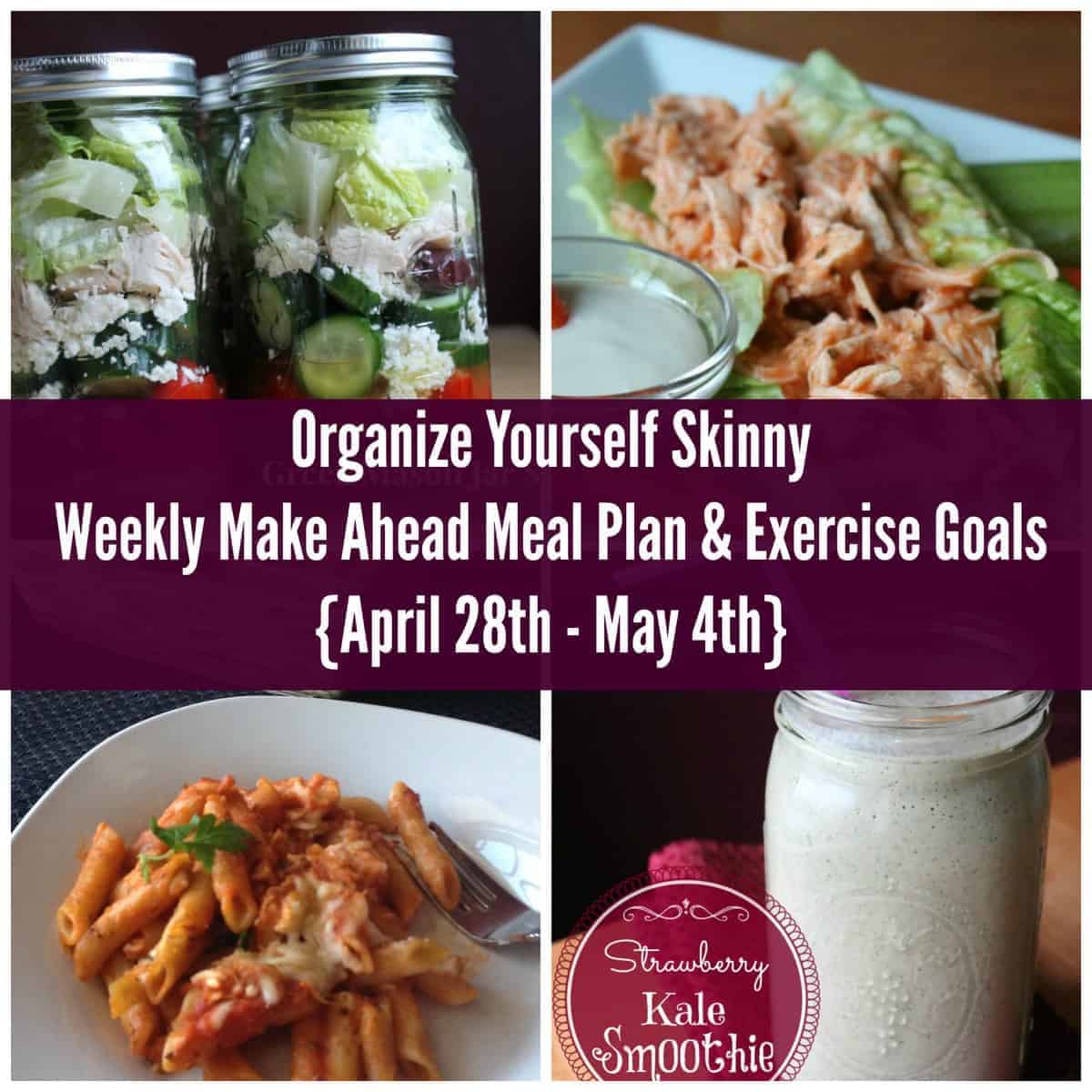 Hi everyone! Sorry that I did not get my meal plan up last week. With Easter leftovers and some extra meals in the freezer we kind of just ate what we had. Usually, a "fly by the seat of my pants" menu plan does not work for me but last week it went okay. I never like to go more than a week without a meal plan so this week I am back into the swing of things.
If you follow me on Facebook then you might have seen the announcement (of sorts) that I am going to start adding Weight Watchers Points + to the recipes I post on my blog.  Many of my readers follow the Weight Watchers program and because it is not a lot of extra work to add points to recipes on my blog I will do that. My goal is to add points to past recipes – that might take me a bit but it will get done –however starting now WW points will be added to all future recipes. YAY!
This also got me thinking. I have A LOT of Weight Watchers (and Cooking Light) cookbooks that I have not used in a while. When I first began my weight loss journey I depended on these cookbooks to help me learn to cook delicious healthy recipes. So I decided to dust off my cookbooks and use a couple recipes each week from them. Of course, I will adapt the recipes with make ahead instructions so you can prep on the weekends to easily enjoy them during the week.
This week I am making Pizza Style Baked Pasta and Filet Mignon Stroganoff from the Weight Watchers One Pot Cookbook.
Before I get to my complete meal plan let's talk about my exercise goals and schedule. My goal is exercise 4 days this week.
This is what my schedule will look like.
Monday, Wednesday, Friday, Saturday
Treadmill 45 minutes (10 warm up, 20 run, 10 power walk at incline, 5 cool down)
Planks – 30 seconds
Russian twist – 30 seconds
100 crunches
50 squats
20 bicep curls and tricep extensions with 5lb weight
20 girl basic push-ups
20 girl diamond push-ups
**Try to get a bonus exercise day in on Sunday.
Weekly Meal Plan
Breakfast
Make ahead instructions
You can make these into smoothie kits. I usually just make my smoothies the morning of. However, I do freeze my kale to make sure it does not go bad before I use it.
Mid Morning Snack
Cheese stick
Lunch
Greek Yogurt
Apple
Make Ahead Instructions
Mason Jars were made on Sunday for the week. You can see my mason jar salad tutorial here.
Dinner
Buffalo Chicken Wraps using my new Buffalo Chicken Slow Cooker recipe.
Pizza Style Baked Pasta – recipe from Weight Watchers One Pot Recipes
Filet Migon Stroganoff – recipe from Weight Watchers One Pot Recipes
Taco Lettuce Wraps – new recipe
Skinny Fettucine Alfredo – new recipe
**new recipes will be posted this week or next
Make Ahead Instructions
Buffalo chicken was made yesterday.
Baked pasta was made today and will be heated up for dinner.
Taco meat, stroganoff, and alfredo will be made tomorrow night. I would have made today but we had dance pictures. But all 3 of these recipes are pretty easy so they should not take long to prep.
What is on your menu this week?
Get Instant Access to My Best Weight Loss Tips & Strategies!
Sign up now for a free step-by-step 7-day email course that I created exclusively for my email subscribers! That's you. I will teach the best habits, strategies, and insider tips so you can enjoy a lifestyle that encourages and supports weight loss! Stop relying on willpower and take control back over your life! You can do this. Let me help!