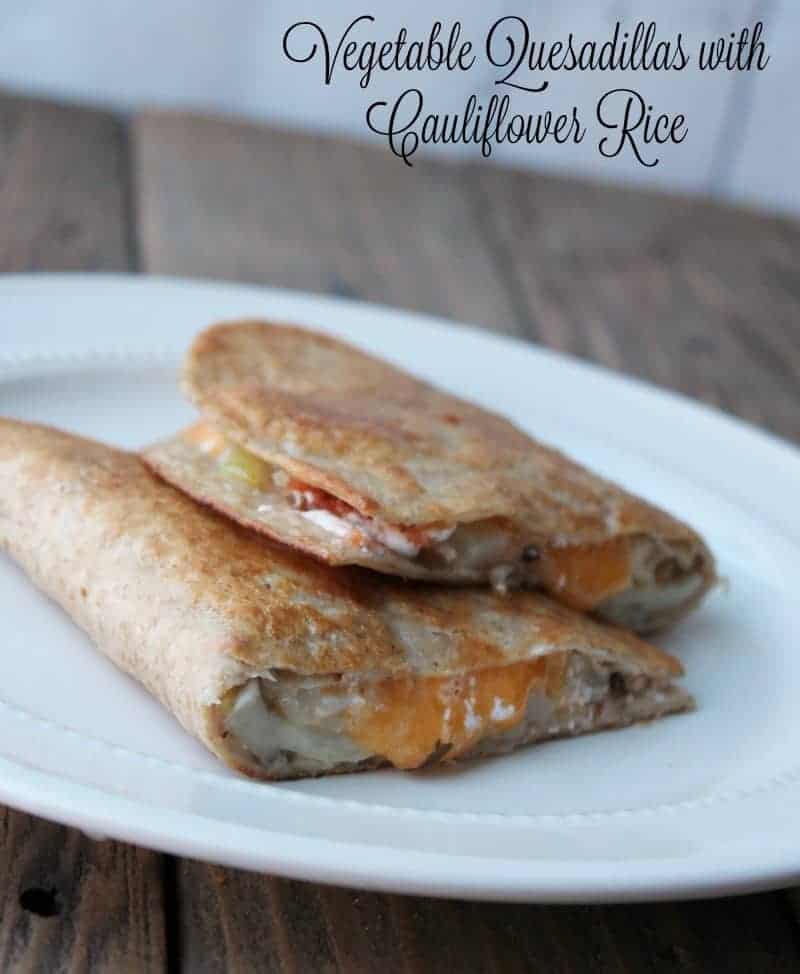 Thank you Sargento® Cheese for partnering with me today on this delicious ooey gooey cheesy vegetable quesadilla with cauliflower rice!! The Sargento Sharp Cheddar Fine Cut makes this recipe sing! If you like to create cheesy recipes then I hope you consider entering it into the Chopped at Home Challenge and showcase your talents! You can have a chance to win $5,000 and a trip to New York City to compete in a televised Chopped cooking challenge for a $10,000 grand prize. Whoa! Dream come true! Enter here.
---
I need cheese in my life. I truly feel I would live a sad existence if I had to go without. Honestly, I think cheese is in my DNA. If you walked into my mom's house right at this very second I guarantee she has enough cheese in her refrigerator to cater a couple parties. This is the way I grew up, it's who I am, and I can't fight it. I love cheese. I've met a couple people who don't like cheese at all and I seriously questioned whether they are human or not. But I don't judge…more cheese for me.
Obviously, as someone who likes to fit into her skinny jeans, I know it's important to keep my cheese obsession under control.
Take this new quesadilla recipe I put together for Sargento® cheese this week. It's filled with nutritious vegetables with just enough cheese to bring it to an ooey gooey cheesy level. I loved it!
By the way, I LOOOOVE when Sargento asks me to create a recipe. I've been a loyal Sargento fan for years. Sargento cheese is cut from blocks of 100% real, natural cheese. This is evident at first taste. All of their cheese varieties are delicious and compliment any recipe I put together.
For this recipe I was asked to create a recipe for the Chop at Home Challenge using cremini mushrooms, leeks, cauliflower, and Sargento Cheddar Fine Cut. Chopped is one of my favorite shows on the Food Network. I watch it everyday so I was excited and ready to take on the challenge. If you want to enter a recipe in the Chopped at Home Challenge then head on over to their website.
I went back and forth on the type of recipe to make with these ingredients. At first I thought about a soup and then a casserole. In the end I decided on an easy delicious vegetable quesadilla.
The ingredient I got stumped on was the cauliflower. I don't use cauliflower often and I wasn't sure the best way to fill a quesadilla with it. Then I remembered seeing something on Pinterest about cauliflower rice. Bam! I like putting rice in quesadillas and burritos so I thought making cauflower rice would be a great substitution. I thought that was very "Chopped" thinking on my part. Pat on the back for me.
Cauliflower rice was surprisingly easy to make. This was good because I had to whip this recipe up while my kiddos played outside. Basically, I had ½ hour to get this recipe prepared. Again, very Chopped-like. I starting to think my life resembles a Chopped episode.
Back to the recipe. Here's what I did.
I removed the stem and cut the cauliflower into chunks.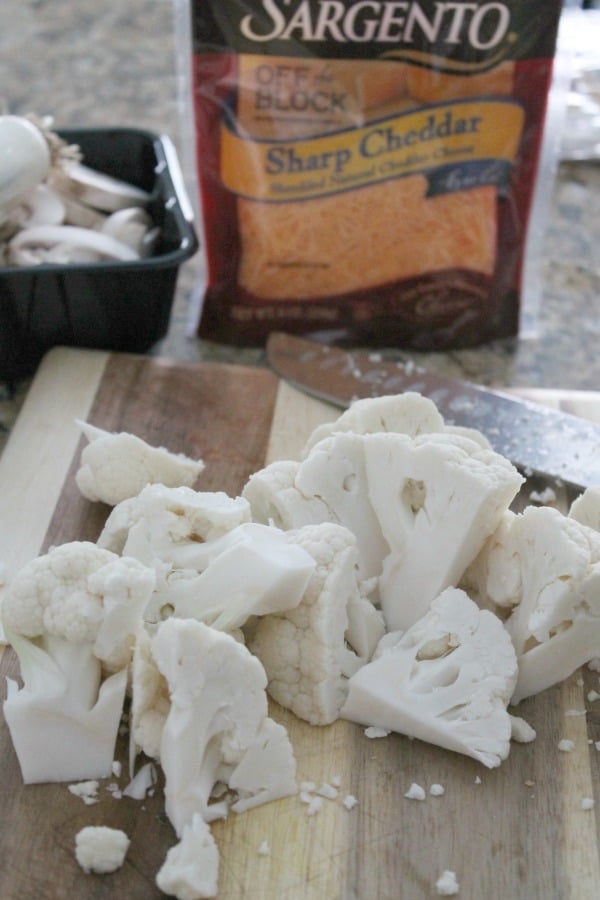 Then I placed the raw cauliflower into my food processor and pulsed it a few times until rice was created.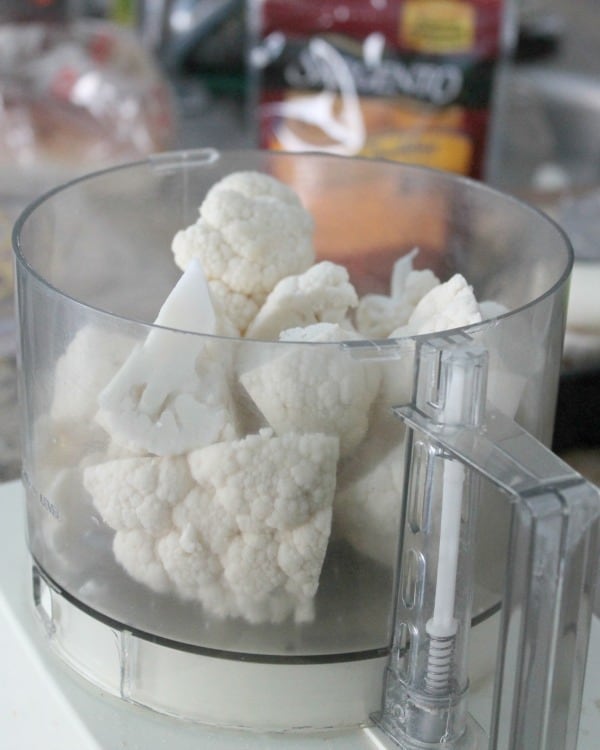 This is the cauliflower rice. It looks a little like couscous but nonetheless it was still good.
Then I chopped the leeks. I wanted to make sure all my vegetables were ready to go into the skillet. Leeks are so good. If you never used leeks before I highly recommend giving them a try.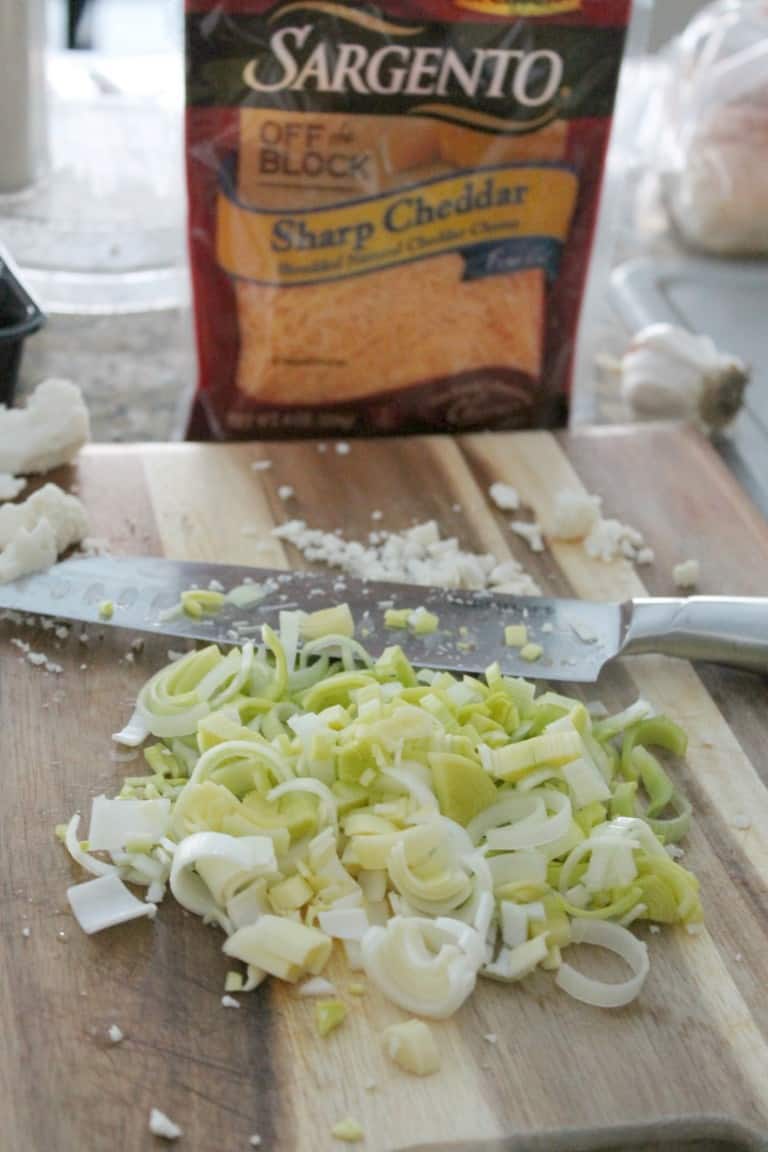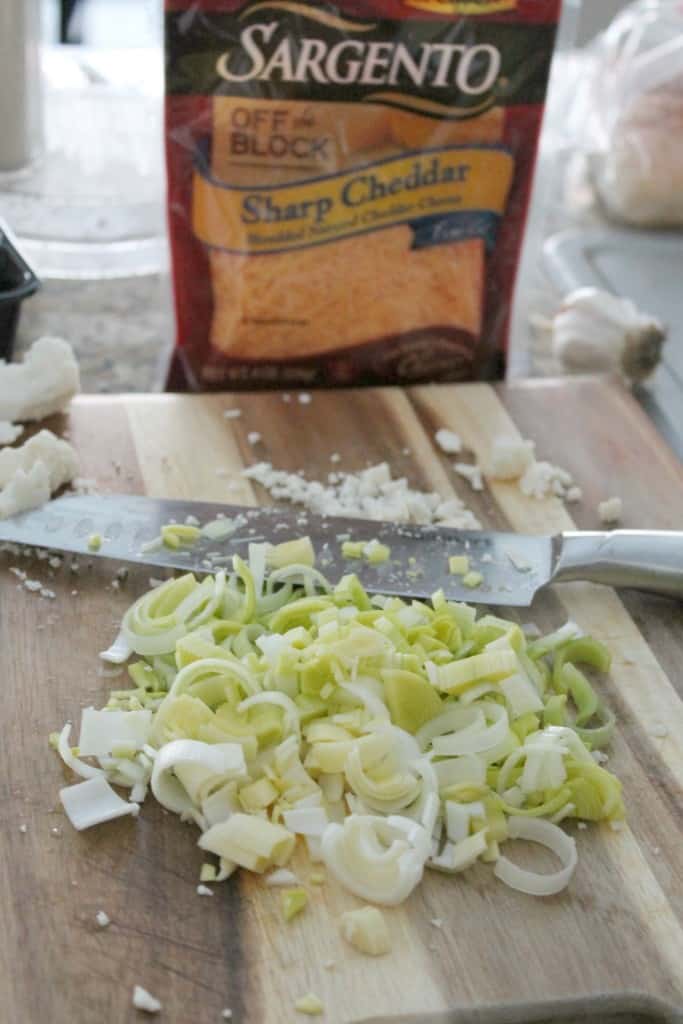 Next I warmed up some olive oil in a skillet and place the cauliflower rice in to start cooking. It smelled amazing almost immediately. Obviously, this is raw cauliflower so it will need to cook for about 5 minutes or until it's the texture you like.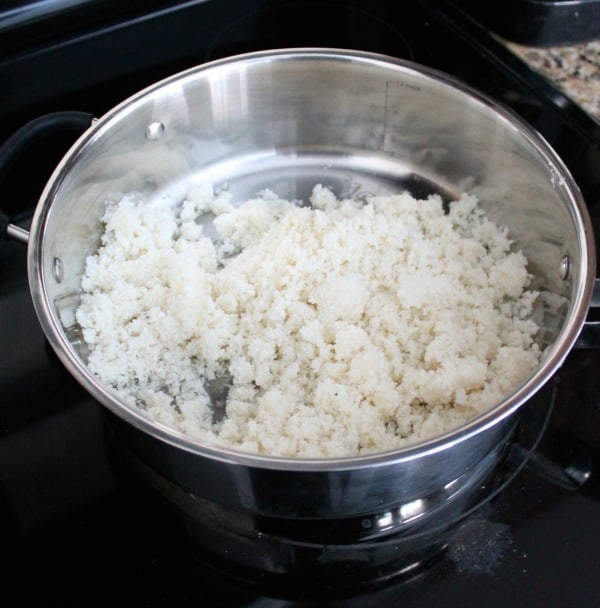 Then I added 2 cloves of finely chopped garlic and cooked that for about 1-2 minutes. After the garlic was done I added 1/2 cup of vegetable stock to keep the cauliflower from sticking to the bottom.
Next I stirred in the leeks and mushrooms and cooked until both were tender and cooked.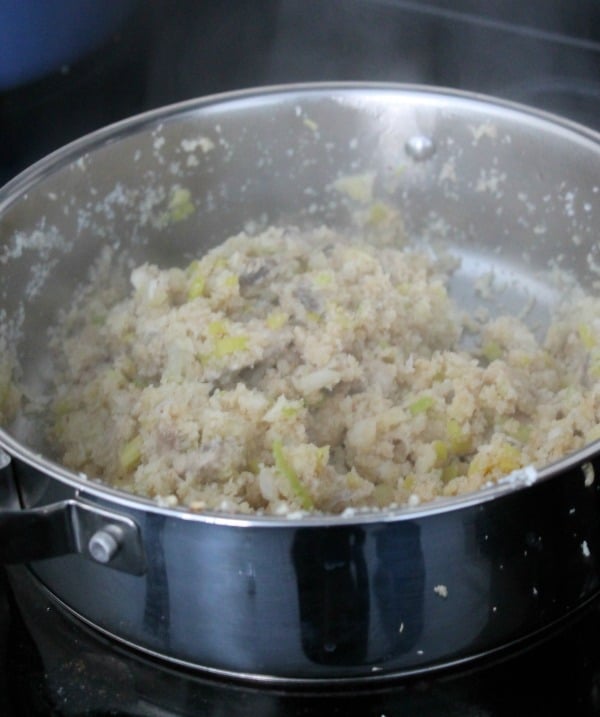 I decided to throw in a can of chickpeas for added protein and fiber. This also enhanced the texture. It gave the filling girth!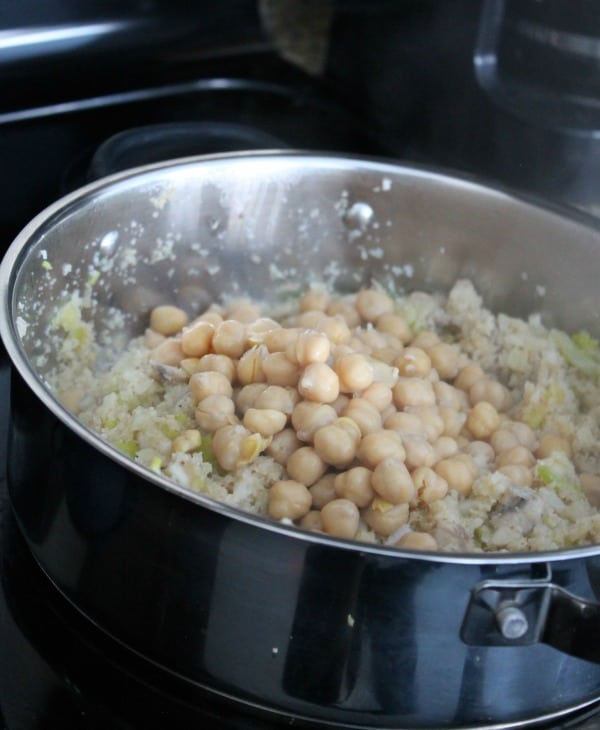 After all the ingredients were cooked and mixed together the filling was ready for the quesadillas. I didn't add a lot of seasoning to the filling, just salt and pepper.
This recipe makes a lot of filling. You will get about 8 quesadillas.
Don't feel you need to put this in a tortilla. I ate a bowl of just the filling and OMG it was AAAmazing!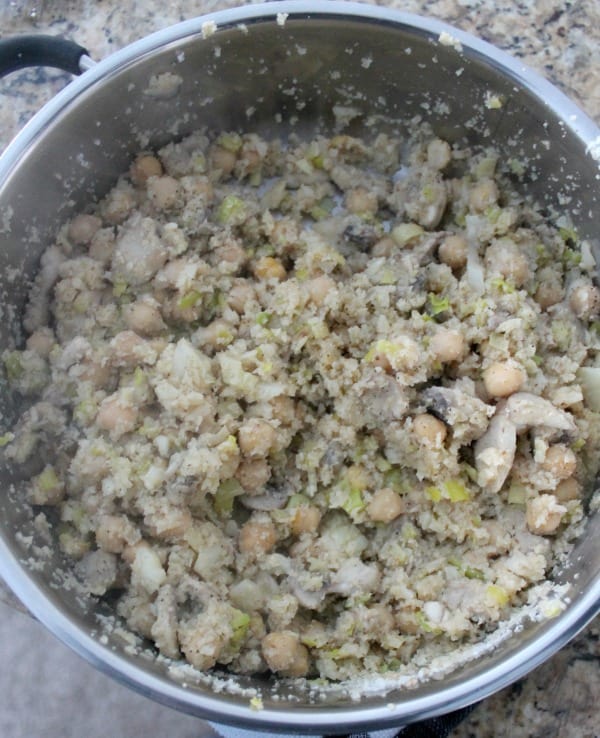 Now let's put together the quesadilla. I used a low carb tortilla and spread some plain greek yogurt over the top.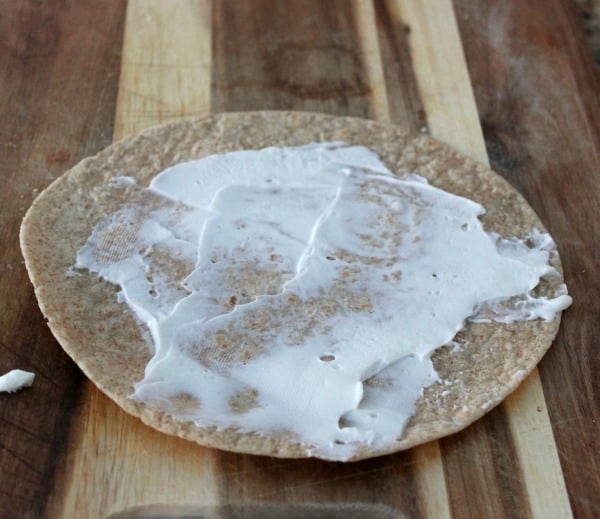 Then I put a little salsa on. You can make it without either one but what's a quesadilla without salsa or sour cream/plain Greek yogurt?
Next I sprinkled 1/4 cup of the filling onto the tortilla. Yum!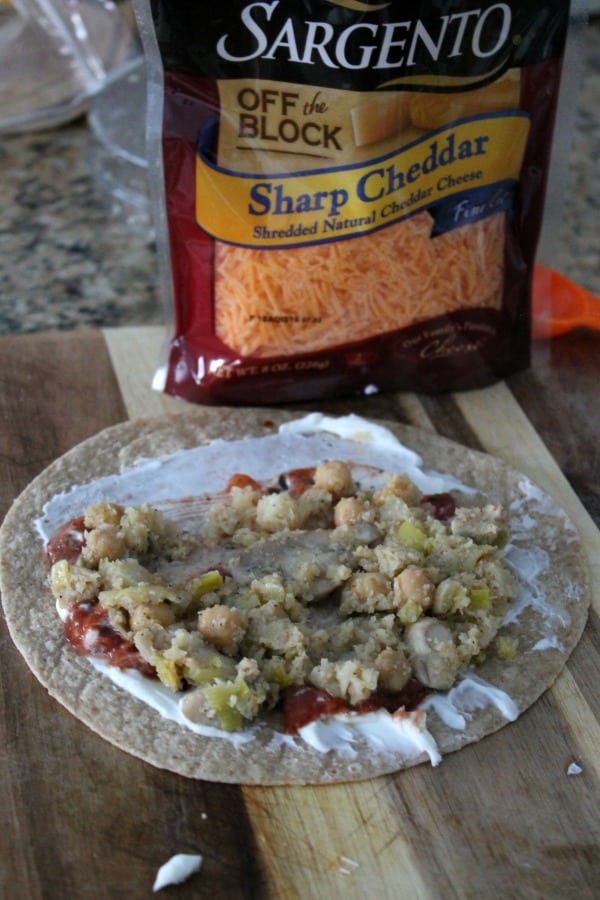 Now for my favorite part. I sprinkle 1/4 cup of cheese on top. The Sargento Sharp Cheddar Fine Cut makes this recipe! Typically, I would use a Mexican cheese for a quesadilla but the sharp cheddar gave it great flavor. I may exclusively use sharp cheddar in all recipes moving forward!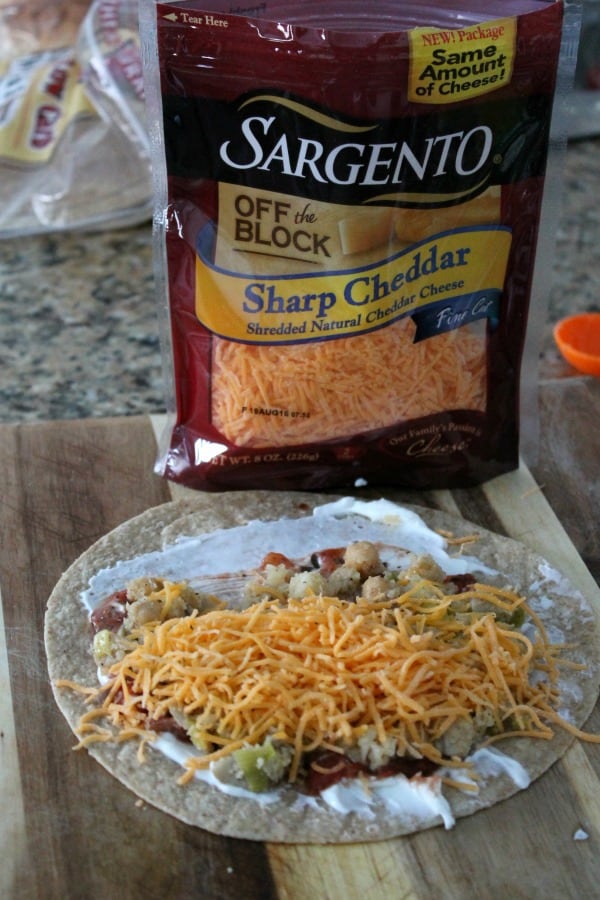 To cook the quesadilla I folded it in half and then cooked in a pan on the stove. You can easily cook these on an indoor grill too.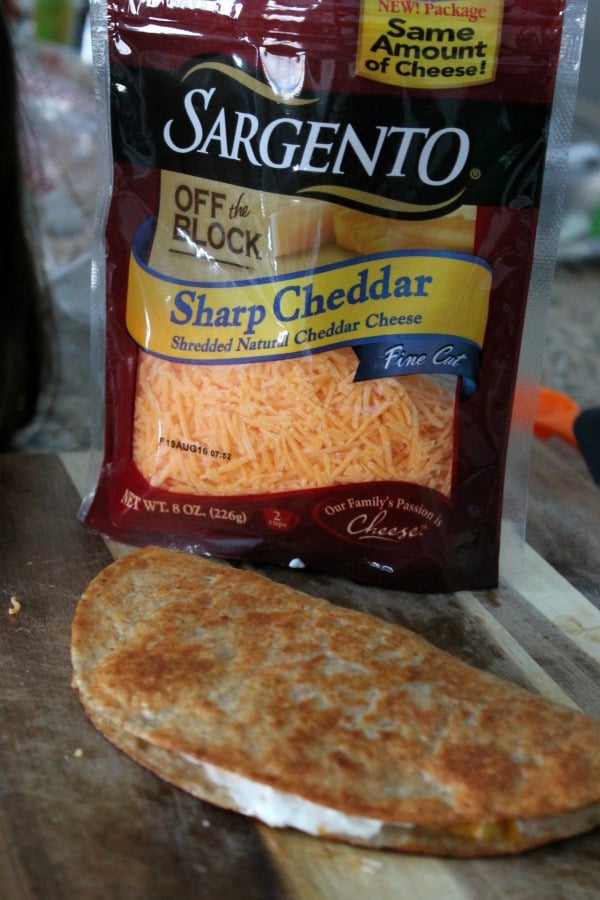 And here you go. LOOK. AT. THE. CHEESE! It's hard to believe this is FILLED with all vegetables and won't fight with your skinny jeans. It's delicious! A bonus to this recipe is the filling keeps great in the refrigerator for up to 5 days or can be frozen up to 3 months. So make a batch, portion out, and have ready for easy lunches and/or dinners.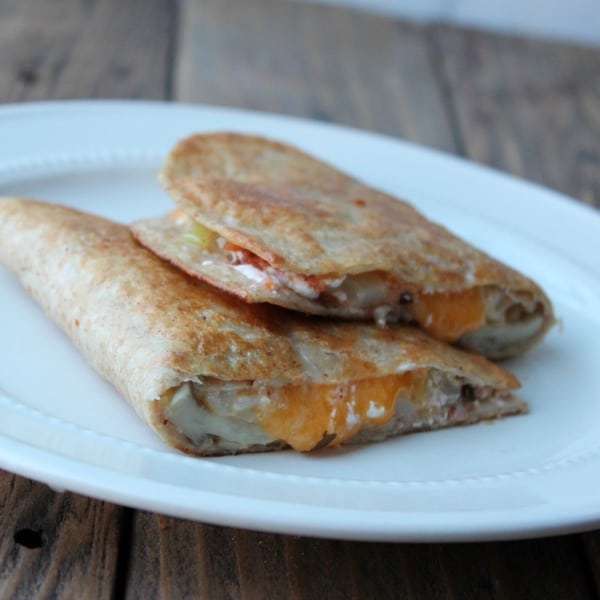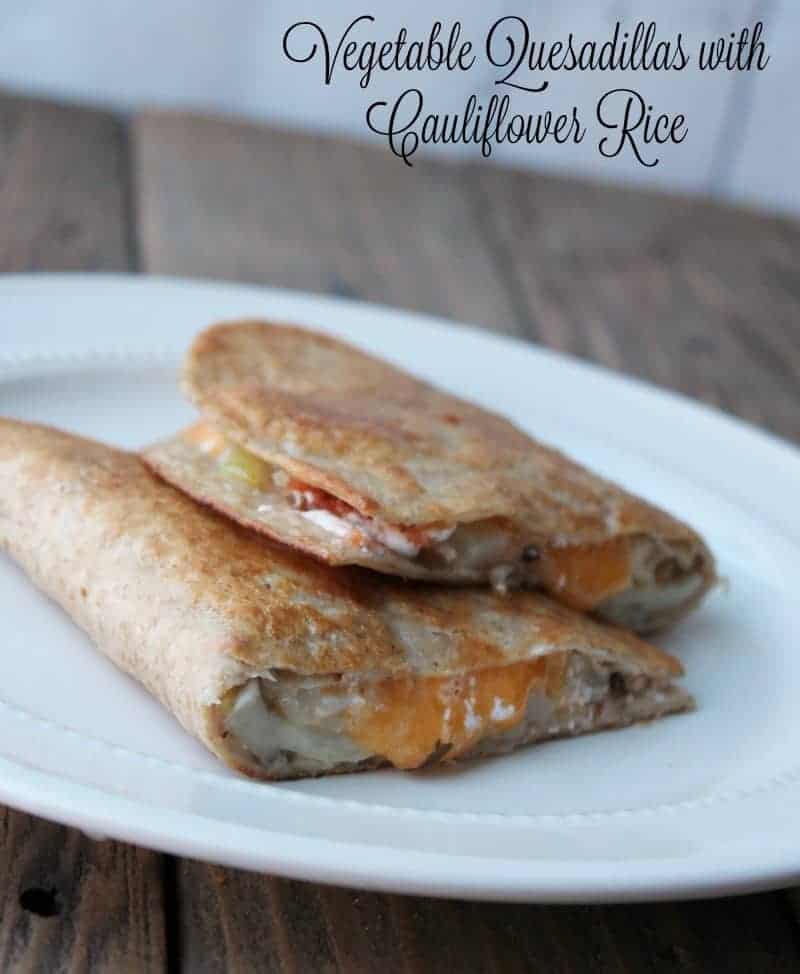 Ingredients
1

small head of cauliflower

2

cloves

garlic

finely chopped

1/2

cup

vegetable broth

1

leek

white part and some of the green chopped

1

10-ounce package cremini mushrooms

1

15-ounce can chickpeas, drained

1

tablespoon

olive oil

1/2

teaspoon

salt

1/2

teaspoon

pepper

2

cups

Sargento Sharp Cheddar Fine Cut

8 to

rtillas

8

tablespoons

plain greek yogurt

8

tablespoons

salsa
Instructions
Remove stem and chop cauliflower into chunks. Place into a food processor and pulse till the cauliflower becomes the texture of rice.

In a large skillet, heat olive oil on medium heat, and cook cauliflower rice until its cooked and tender, about 5 minutes.

Add garlic and cook another 1-2 minutes.

Stir in vegetable broth, leek, and mushrooms. Cook until vegetables are tender.

Stir in the chickpeas.

Season filling with salt and pepper. Set filling aside.

Take one tortilla and spread greek yogurt and salsa over the top. Spoon 1/4 cup of filling onto the tortilla and top with 1/4 cup of cheese. Cook in a skillet or indoor grill until the cheese is melted and filling is heated through. Repeat with each tortilla.
This is a sponsored conversation written by me on behalf of Sargento. The opinions and text are all mine.