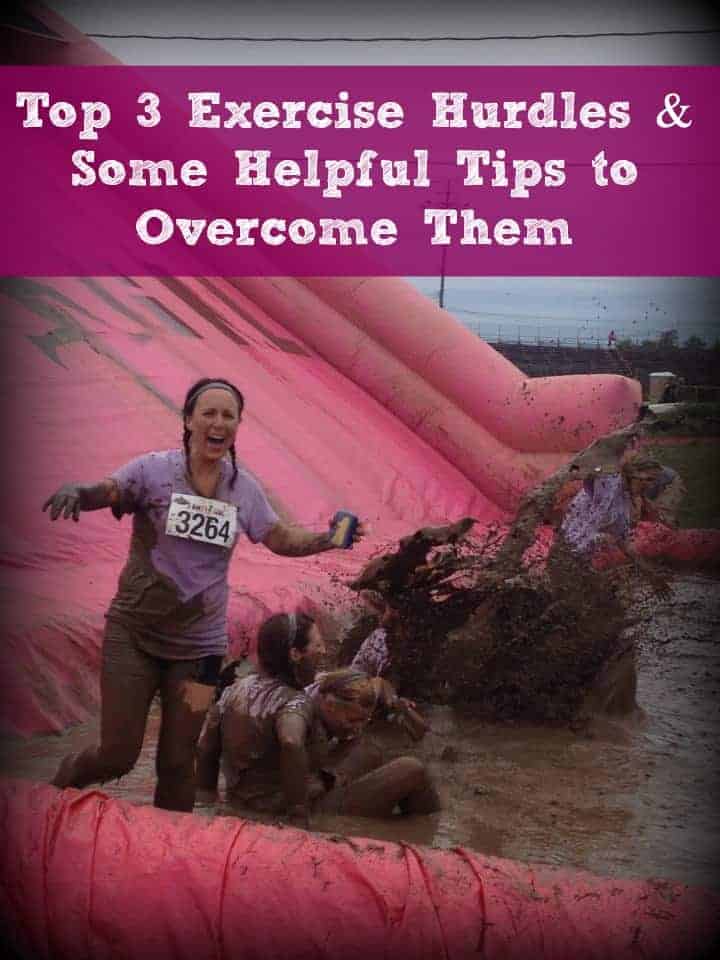 Recently on the OYS Facebook page, I asked readers what their top reasons were for not exercising. I expected a lot of the answers, but there were a few surprises. I tallied up the three most common hurdles readers said kept them from exercising, and came up with a list of tips to help get over those hurdles. If you identify with any of these obstacles, please try one or more of my tips to help you get moving. Exercise is not only vital for weight loss and maintenance, but for keeping your body and mind as healthy as they can be.
Hurdle #1 – "I can't find the time."
I really do understand this feeling of being completely overwhelmed with a job, kids, a house to take care of, dinner to cook, etc. However, you need to start prioritizing exercise up there as a necessity in your life, just like these other tasks and responsibilities. Remember two things, without taking care of yourself, those other things can't be taken care of properly, and also it is not selfish to take time for yourself to exercise.
Tip #1
Schedule in exercise just like any other appointment. Whether you keep track of appointments on your smart phone or on a written calendar, put it on the schedule at least three times a week. When you see that "appointment" coming up, make sure you show up for it, just like you would for the doctor. If you skip a doctor's appointment, they usually charge you a fee around $20. So, if you skip your exercise appointment, put $20 in a "missed appointment" jar. At the end of the month, donate all of the funds to your favorite charity. Donating to charity is a good thing, but if you are constantly dropping $60 in the jar every week because you skipped all of your exercise sessions, you may find yourself short on funds. It may make you rethink skipping. This may seem excessive to some, but I truly believe that exercise is this important.
Tip #2
Exercise in shorter sessions. You don't always have to exercise for 30 minutes or an hour all at one time. You can break up the time over several sessions throughout the day and still get the same benefits. You might think the shorter sessions are not worth it, but it will always be better to move your body for some amount of time than none. Try this: Wake up in the morning 15 minutes earlier than usual. Do simple strength training moves for 15 minutes right next to your bed in your pajamas (think lunges, squats, pushups, situps, planks, leg lifts – no equipment needed). Then at lunch time, take a 15 minute walk before you eat your lunch. Lastly, when you get home from work, do 15 minutes of cardio moves in your living room (think jumping jacks, high knees, jog in place, burpees, jump rope, etc.) If you have kids at home, let them do it with you. They need exercise too! There, you just did 45 minutes of exercise in one day.
Hurdle #2 – "I have painful injuries."
This is one that I wasn't expecting to hear as much as I did, maybe because I've never had to deal with an injury. Apparently, a lot of you out there are dealing with setbacks due to surgeries and injuries that have sidelined your exercise routine. Well, I'm definitely not a doctor, so please consult yours before doing any exercise, but I think there is always a way to get some exercise.
Tip #1
Try something low-impact. If you are used to running or doing high-impact cardio classes, and you now have an injury that makes those impossible, you may think you just might as well not exercise at all. But there are plenty of exercise options out there that do not require you to pound the pavement and put stress on your joints. Trade the treadmill for the elliptical. Swap your boot camp class for yoga or pilates. Swimming is pretty much an activity that anyone can do, no matter what type of injury. If you don't have access to a pool, maybe it's time to join the YMCA or a health club that has a pool. Any exercise is better than none. Keep trying until you find something that you enjoy and doesn't exacerbate your injury.
Tip #2
Go for walks. Again, if you're used to doing more intense activity, walking may seem boring to you at first, but as I said, any activity is better than none. Put your ipod on with some uplifting tunes (I'm lovin' "Happy" by Pharell right now!), grab a girlfriend and gossip while you walk, or take your dog out and just enjoy the fresh air.
Hurdle #3 – "I'm not motivated/just plain lazy."
I appreciate the honesty of so many of you who said you just don't feel like doing it most of the time. Some of you said you get bored, others of you are just too tired after work to think about working out. I get it, but I promise you when you're done, you will never say, "Oh how I wish I hadn't just done that workout." In fact, you will most likely feel so good about what you just did.
Tip #1
Do something you like. Exercise does not have to mean going to the gym, logging 30 minutes on a cardio machine and spending another 30 in the weight section. If you like that sort of routine, great, but if you hate it, you're never going to look forward to doing it. Any movement of your body is exercise. Crank up the radio and dance with your kids in the living room for a half hour. You just exercised! Go for a bike ride as a family. Strap on some rollerblades – so much fun and a great workout without realizing it. Join a local adult sports team. Go bowling. Seriously, it shouldn't be a hateful thing. Do what you love so that you'll keep doing it!
Tip #2
Create an incentive program. Each day you exercise throughout the week, put a pre-determined amount of money in a jar. At the end of one week or one month, reward yourself with something you normally wouldn't (i.e. a manicure, a new workout top, a bracelet, whatever you want!).
What are some of your exercise hurdles? Any tips to share for overcoming them?