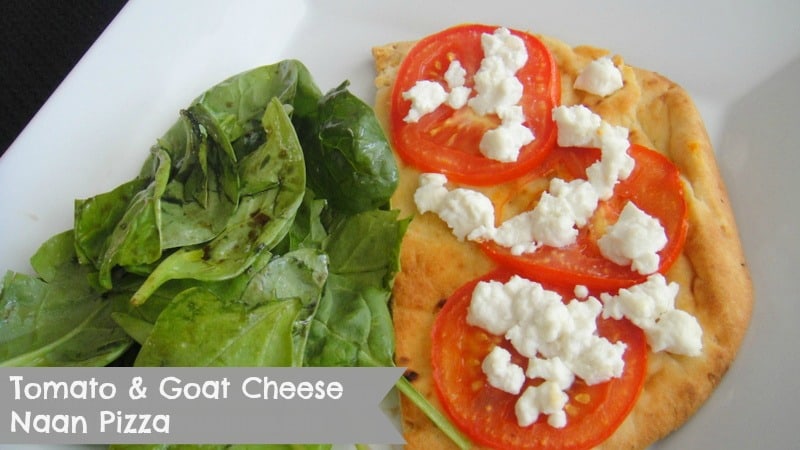 If you haven't noticed I love uncomplicated recipes. While I don't mind spending a little extra time and effort on a freezer meal recipe, when preparing ahead meals on the weekend, on a hot summer night during the week I prefer simplicity.
There is nothing more effortless than a naan pizza. Just in case you don't know, naan is pretty much an Indian flatbread. They can easily be found in the bread section of your grocery store. At least that is where I find them at Wegmans.
Naan – especially garlic naan – has a great flavor and texture that creates the perfect foundation for an easy "you think it was gourmet" pizza.
This tomato and goat cheese naan pizza recipe was the result of needing to use up some tomatoes and goat cheese. Let me deviate just a bit. I am an anti-food waster. It drives me bonkers when I have to throw food out, so if I see ingredients getting to the end, and begging to be eaten, I will find a way to use them up. And I have to say some of my favorite recipes were born this way – remember my nutella banana muffins?
Okay, back to the pizza.
I thought for a quick second about getting all fancy with ingredients but then decided to keep it simple with a little olive oil, tomato, and goat cheese. Glad I did because this pizza was scrumptious.
This quick naan pizza recipe is a fabulous way to use up the abundance of tomatoes popping up in your garden. Notice that I say your and not our. A little fact about me – I do not garden at all. I can't even grow basil. Yes, it is sad. Maybe someday I will learn, but for now I will keep the farmers market in business.
Serve this with a lightly dressed arugula and spinach salad.
 Tomato and Goat Cheese Naan Pizza
Servings: 2
Serving size: ½ of the naan pizza.
Calories: 317 * Carbs: 32 * Fat: 16 * Protein: 12 * Fiber: 1 * WW Points +: 9 * WW Old Points: 7
Ingredients
1 garlic naan (you can use any flavor)
2 teaspoons extra virgin olive oil
1 large juicy tomato, sliced
2 ounces of goat cheese
Directions
Preheat oven to 375 degree
Step 1. Brush the olive oil on the naan.
Step 2. Distribute evenly over  the naan the tomato slices and goat cheese.
Step 3. Bake for 10 – 15 minutes or until the tomato and cheese are softened and the bread looks lightly browned.
Get Instant Access to My Best Weight Loss Tips & Strategies!
Sign up now for a free step-by-step 7-day email course that I created exclusively for my email subscribers! That's you. I will teach the best habits, strategies, and insider tips so you can enjoy a lifestyle that encourages and supports weight loss! Stop relying on willpower and take control back over your life! You can do this. Let me help!