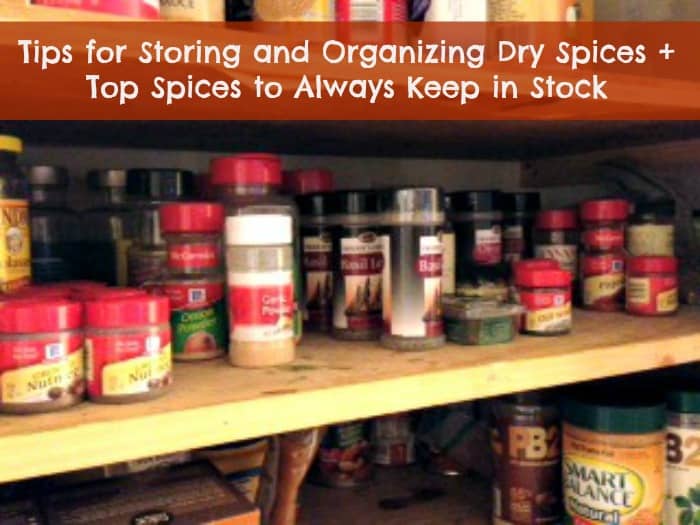 This post is by OYS writer Danielle. See her other posts here.
Last month I organized my pantry and discovered that my husband has an affinity for spices. He collects them like some people collect stamps, marvel comic action figures or shoes. The shelves in my pantry measure pretty deep which means there is enough room for what seems like hundreds of spices. Upon organizing the pantry, I found quite a few spices that we received as part of a wedding shower gift. I requested one of those spice racks complete with all the basic spices. I have been married for almost 8 years so my question is: do spices go bad? What is the maintenance? And, can I save money?
MAINTENANCE & STORAGE
I still consider myself a novice in the kitchen. I am slowly moving up the ladder regarding my culinary skills and on a good day, I might consider myself an intermediate. For this particular blog post, I had to do some real bona fide, good ol' fashioned research. Now, many blogs and websites claim that you should rotate and purge your spices every 6 months. Really? I am calling "Farce"! I think these blogs and websites have something to gain if I am purging my spices every 6 months. If you saw the collection of spices we have, I could easily go through my daughter's college savings pretty quickly if I decided to purge every 6 months. Here is my take, if it smells like it should and does not have any funky odor, then I feel confident using the spice. However, I do realize there has to be a limit. It is time to purge the really old stuff, all the spices I received as a shower gift gotta go! In the future, upon purchase, I will write on the jar or label the date of purchase. I am hopeful to prevent waste by implementing this.
By purging some of the old stuff, I have freed up space within the pantry. And by freeing up all this space, it has further proven that I have been spending money where it does not need to be spent. For example, is it really necessary to have 3 jars of ginger, 3 jars of basil, and 2 jars of nutmeg. Really, Danielle?! Freeing up some space means that I can put my organizational skills to use. I despise when I have to dig for a required ingredient. I have the cookbook Cheap.Fast.Good! by Beverly Mills & Alicia Ross, and I love the helpful tips they provide more than the recipes! I recommend this book alone based on the applicable tidbits on how to be thrifty in an organized kitchen. Anyhow, this book offered the suggestion of organizing your spices based on color. In addition, I broke it down further and separated baking spices versus cooking spices.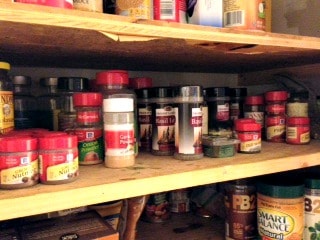 TOP SPICES TO ALWAYS KEEP STOCKED
In my opinion there are a handful of spices that should be kept front and center. These are the ones that we use the most often (besides salt & pepper). Dried basil, oh sweet sweet basil…I use dried basil in my red sauce to sweeten it. Our houses prefers a sweeter sauce and I find that basil does the trick. I have heard that people use sugar to sweeten their sauce. Is that true?! Also, I find that it is the perfect compliment to Spinach Tortellini Soup.
We buy the jumbo jar of garlic powder as it pretty much is a problem solver. Chili too bland? Dash of garlic powder. Goulash too blah? Sprinkle of garlic powder. Zucchini sausage boats missing something? Pinch of garlic powder. I equate garlic powder to how I feel about mascara. It fixes all.
Now, my personal favorite is sweet paprika. About two years ago, my husband roasted up some diced up sweet potatoes with a drizzle of olive oil, a heavy sprinkling of paprika, salt pepper and our trusty friend, garlic powder. I was sold! Roasted sweet potatoes are just divine. My husband also prepares baby carrots this way and it is the only way we can get my daughter to eat them as they taste like candy.
WAYS TO SAVE
Often times, while perusing through different recipes I will find one that looks good only to find out it calls for an obscure spice or ingredient. I keep on scrolling because I cannot fathom spending money on one particular spice that I may only use once for one recipe. I have wanted to try an Indian dish for some time now. I feel like curry gets a bad rap and wanted to give it a try in my own kitchen however most recipes call for turmeric and garam marsala. Fortunately, my supervisor is quite the cook and prepares authentic Indian dishes often. She graciously provided a sample of each of the necessary spices, complete with recipes, for me to try on my own (which I fully intend to do one of these days!).
For instances like these, if you are lucky enough to find a store that offers bulk spices, that would be perfectly appropriate. Or in my case, if you are friendly with a savvy cook, maybe you could offer a trade of sorts? Maybe some fresh basil leaves for a pinch of saffron. I should mention that Indian saffron runs a mere price of $145.00 for 1 cup.
Here is my last piece of advice for today, if you have not joined the Penzeys Spices mailing list, do it! Sign up! Not only do you get a catalogue every quarter with fantastic recipes, Penzeys offers a coupon for a free spice sample. Each quarter is something different and it has really helped to stock up my pantry. All for the price of a free membership to their catalogue.
What do you think? Do you think organizing your spice rack or spice shelf will inspire you to keep creativity flowing in the kitchen? Any spice organizing tips you would like to share?
Get Instant Access to My Best Weight Loss Tips & Strategies!
Sign up now for a free step-by-step 7-day email course that I created exclusively for my email subscribers! That's you. I will teach the best habits, strategies, and insider tips so you can enjoy a lifestyle that encourages and supports weight loss! Stop relying on willpower and take control back over your life! You can do this. Let me help!