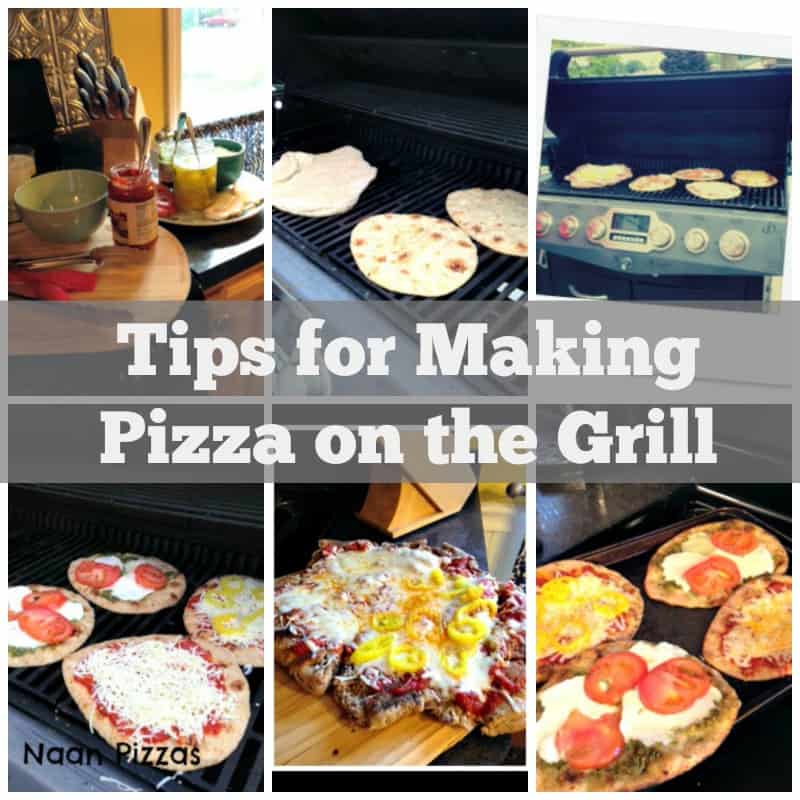 This post is by OYS writer Danielle. See more of her posts here.
In a continued effort to capitalize on the grill, I am here to offer you an easy step by step How-To Grill Pizza. This technique has come with trial and error over the years but once we have perfected the skill, you will be as grateful as I am that your oven is no longer required for some of the most delicious, homemade pizza.
Homemade pizza is such an easy, creative meal to get on the table in a minimum amount of time and without much fuss. As a family, we enjoy homemade pizza because we can customize the pizza to our liking. My daughter prefers the basic: cheese and pepperoni with a red sauce. My husband and I like to get a little creative with whatever fixings we can find in our pantry and fridge. Some of the combinations we have tried and enjoyed are a Mexican themed pizza with refried beans as the "sauce", topped with chunky salsa, cheese, lettuce and sour cream. We have also done a white pizza with a pesto sauce as the base, topped with fresh mozzarella, tomato and basil. And my personal fave, a tangy BBQ sauce topped with shredded mozzarella cheese, grilled chicken, crumbled bacon and finely diced red onion. Your mouth is watering, right?!
To get yourself started, situate all your topping ingredients. By that I mean, open up bags, cut up veggies, measure out cheese, etc. Once you are ready to top your pizza, the cooking goes quickly so it is best to be prepared. In addition, pull out your grilling utensils: long handled tongs, possibly a long handled spatula and although it is not necessary, a pizza paddle is helpful.  In addition, a smaller spatula or a spoon is necessary in order to spread the sauce on the dough.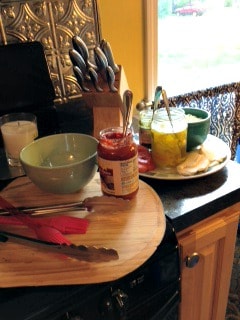 Prep your dough. It is beyond insanely simple to make a simple dough ball in your bread machine, check out Tammy's recipe. But, there are those days when a frozen dough ball from the grocery store will do just fine. This is one of those days. Thaw your dough and stretch it out. It is important not to stretch your dough too thin as it will likely crisp up quicker than you might expect and ultimately burn while on the grill top.
Preheat grill and get organized. Turn the grill on and allow it to heat up. It may be helpful to clean off the grill prior to heating it up in effort to get rid of old drippings. This pizza will taste best is the grates of the grill have been scrubbed clean. While the grill is heating up, set up a table or bench near the grill with your toppings. It is important to note that we have had the most success when grilling the dough first, minus the toppings. The dough tends to cook better.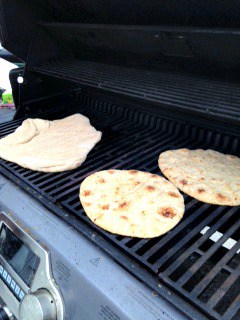 Once the grill has been heated and the dough is ready to be placed on the grill, brush the grates with olive oil. This will help prevent the dough from sticking and help crisp up the crust. Grill for 3-5 minutes each side, over direct flame, careful to monitor the whole time. These little devils have the audacity to burn rather quickly if you are not paying attention.
When the perfect grill marks have been achieved, get ready to make magic! Quickly, top your pizza with selected toppings. When it appears your toppings are happily situated on the dough and the cheese has been melted to your liking, remove pizza. It is helpful to slide your pizza paddle underneath the crust but tongs work just fine too.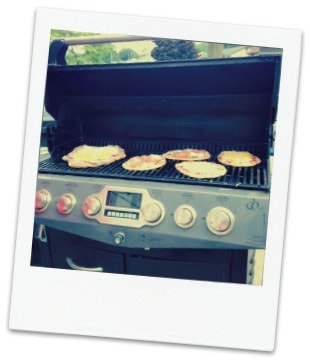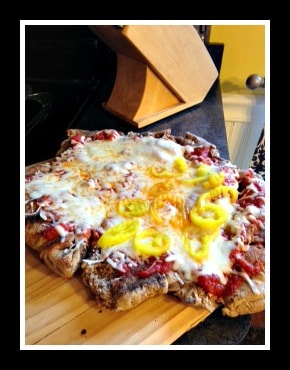 Please don't judge the shape of my dough! It looks a little disastrous and this is one technique I have not mastered. Although, I think this shows a good idea of how nice the dough really does cook up.
If grilled pizza has your attention but the thought of rolling out dough has you turned off, consider using Naan bread as the crust. We have tried this as well and to be honest, my husband is partial to the authentic dough ball pizza, but I preferred the Naan pizza crust.   The thickness of the crust was perfect and it grilled up so nicely. Just as the dough, it is helpful to brush the bottom of the Naan with a bit of olive oil to prevent it from sticking to the grill grates.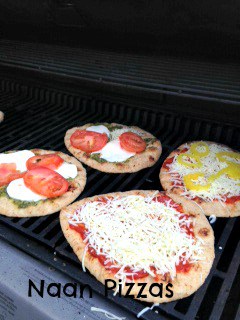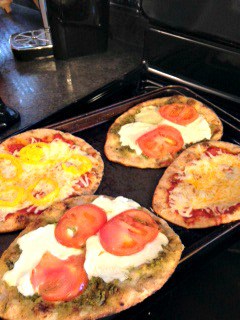 Get Instant Access to My Best Weight Loss Tips & Strategies!
Sign up now for a free step-by-step 7-day email course that I created exclusively for my email subscribers! That's you. I will teach the best habits, strategies, and insider tips so you can enjoy a lifestyle that encourages and supports weight loss! Stop relying on willpower and take control back over your life! You can do this. Let me help!