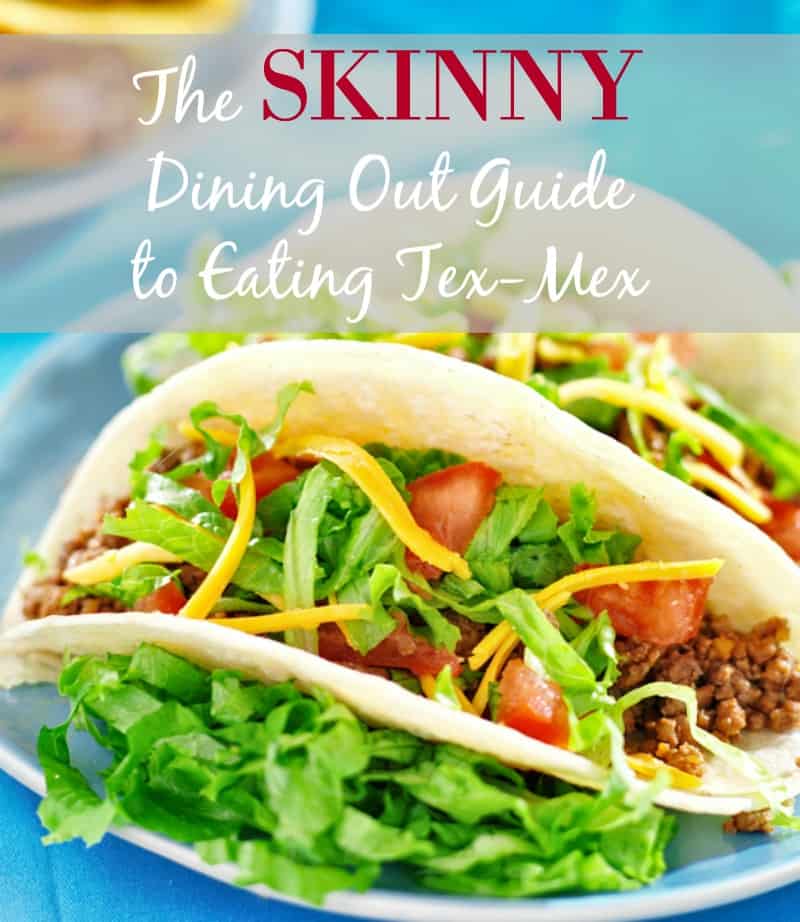 This post is by OYS writer Alexis from Trading Cardio for Cosmos. You can also find her on Facebook and Instagram sharing her awesome weight loss tips and motivation!! She's lost over 100lbs so she has lots to share!
---
If you're like me, sometimes my days just get away from me and before I know it, it's 8pm and there is no dinner on the table. In those moments, when eating out or takeout is our best bet, I always worry about what to eat, how much to eat and what my best options are for each of the different cuisines available in our small town.
I'm going to take a look at several cuisines over the next few months, and share my best tips for ordering out. This week I want to share all of my favorite tips for dining out on Taco Tuesdays or at your favorite Tex-Mex joint!
Tex-Mex can be Mexican food, Texas-style Mexican food, fast food tacos, street taco carts, maybe some Caribbean influence and sometimes even Spanish or Catalan. I've had high-end meals, and I've had late night runs for the Border! Here's what I've learned along the way:
#1 Gazpacho is a delicious way to start your meal.
Gazpacho is a cold tomato soup, and it often includes a variety of pureed or small diced veggies, fresh cilantro and sometimes even some shrimp cocktail, too! It's a way to start your meal lightly, and with spices that are sure to kick-start your metabolism.
#2 If gazpacho isn't an option, ceviche should be!
Ceviche is a cold fish or shellfish "dip" that involves "curing" the fish by covering it with citrus fruits. It's like cooking, but with no heat! This is a great dish for sushi lovers, because it's close to raw, but also great for those who need their fish and shellfish cooked. As the fish or shellfish cure, they turn white and the consistency actually becomes a bit firmer. Ceviches are typically served with plantain or tortilla chips, and sometimes you can get cucumber slices or bell peppers instead of the chips!
#3 Don't skip the chips & dip but exercise portion control!
I love chips and dip at these places, but if I'm not mindful, I will absolutely eat WAY more than I intended to. In situations like this, I like to put my portion of chips (roughly 10-12 chips per ounce) on my plate and then only eat from my plate, not the basket. This ensures me a hard "stop" point!
#4 Just add veggies.
Most restaurants have side salads available, and while I've mostly found them to be iceberg lettuce and tomatoes, they are a good way to "bulk" up your meal with low-cal or 0 SmartPoint veggies. However, most places make sautéed peppers, onions and mushrooms to serve with fajitas, and these are usually flavorful and warm, which I think always keeps me fuller longer!
#5 I aim to keep my meals about protein and veggies.
I will usually skip the rice in favor of eating the spicy black beans, especially if I've already had tortilla chips! The black beans are also high in protein and go a long way to keep me satisfied.
#6 I avoid the fried options, as much as possible, aiming for sautéed or grilled choices.
I also try to limit the dishes I choose that have heavy sauces – aiming for tomatillo, salsa verde or fresh salsa whenever possible.
#7  Choose dishes that you can account for how they were prepared.
I have no idea what kind of beef goes into a burrito, or how the sauce for enchiladas was prepared, but I can tell you how the grilled fajitas were prepared, or how the shaved meat tacos were cooked, so I will choose those options, and save the enchiladas for a taco night at home when I can control the ingredients a little better.
#8 Choose corn rather than flour tortillas.
Flour tortillas are delicious, but they are also higher in calories, carbs, fat and saturated fat, and lower in fiber than their corn counterparts. So choose corn when you are out and save yourself some intake!
#9 Margaritas are delicious, but totally unpredictable.
Margaritas in a controlled setting are 2 oz Tequila, 1 oz fresh lime juice and 1 oz Cointreau or Triple Sec. Margaritas in a busy restaurant could be double that, more of one, less of another. In situations like this, I choose to have a blanco tequila with club soda and tons of limes, which is my own skinny version of a margarita, without all the sugar from the Cointreau!
#10 Be mindful of your toppings!
Grilled shrimp fajitas over a bed of sautéed veggies are about as healthy as you can get, but if you then add cheese, sour cream and guacamole, you might actually be better off with burritos! For me, I pick the one topping I really want (hell-O guacamole!) and skip the ones I don't. This keeps my intake controlled throughout the meal!
So what about you? What are your Taco Tuesday tips for success?
Get Instant Access to My Best Weight Loss Tips & Strategies!
Sign up now for a free step-by-step 7-day email course that I created exclusively for my email subscribers! That's you. I will teach the best habits, strategies, and insider tips so you can enjoy a lifestyle that encourages and supports weight loss! Stop relying on willpower and take control back over your life! You can do this. Let me help!