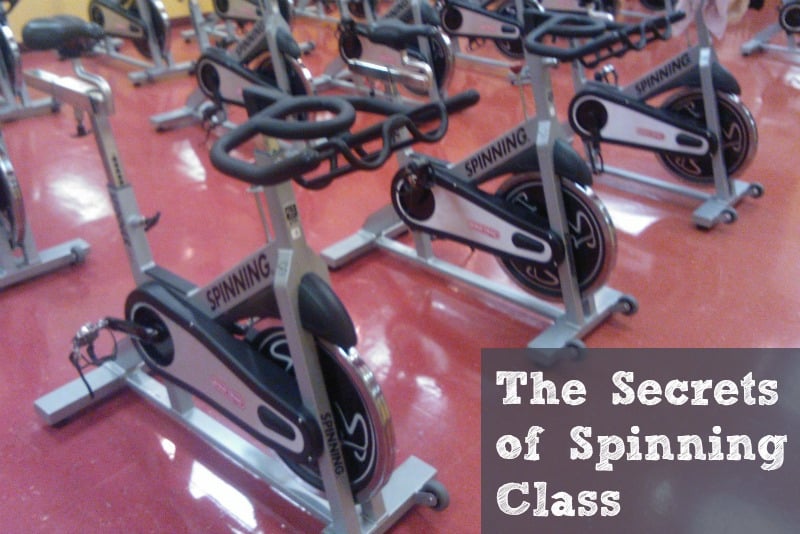 This post is by OYS writer Melissa. For more of her posts click here.
This post is for all of you who have never taken a spinning class because you are afraid to. As a fitness instructor, I can't tell you how many times I hear people say this. Well I am here to let you know that you have nothing to fear, and that you are missing out on an amazing workout.
What are you afraid of?
I ask this question to those people who tell me they fear spin class. Answers usually include: the dark room, the bumping music, the seat hurting my butt, the fact that I have to ride a bike for one hour, knowing I won't last through the class, I don't know what I'm doing, etc. Let's dispel some of those thoughts. Yes, the room is dark and the music is cranked up. That's to help create a mood and motivate you to push yourself. It is very easy to fake it in spin class, meaning you hop on a bike and just joyride your way through class. Spin instructors choose their music strategically to keep you pushing yourself. As far as the seat hurting your butt, I can't lie, it will, but only the first few times you do it. Your body may not be used to working out on a bike and it needs time to adjust. You will probably be sore down there, but it goes away, and the more you do it, the less often that will happen. I teach one spinning class per week, and I never experience that soreness anymore. You also have the option to place a gel seat on your bike if you would like added comfort. Some gyms offer them, but you may have to bring your own. Next, let's address having to ride a bike for an hour and not making it through class. Some gyms offer mini spin classes for beginners. This is definitely a good place to start if you're new to spinning. It is an endurance workout, so you may have to build up to that hour. You can also just tell the instructor at the beginning of class that you're new and may have to leave after 30 or 45 minutes. She will be very understanding. Again, the more you do it, the easier it gets. You may even surprise yourself and end up staying for the whole hour. Lastly, if you don't know what you're doing, again ask the instructor for help. This is really important to do, so that you set up your bike correctly. All bikes can be adjusted to fit your height and comfort zone. There are usually three adjustments to make on a bike, so if you've never done it before, definitely ask for help, or you will end up being uncomfortable the whole time.
So now that those nasty spinning rumors are out of the way, you should have no fear about trying a spinning class.   Also, if you have tried it once and gave up on it, either because it hurt your butt or you didn't last through the whole class, I urge you to give it another shot for the reasons mentioned above.
What do you do in spinning class?
Another common question I get about spinning is, "Isn't it boring just riding a bike for an hour?" And then I laugh. Anyone who spins knows you are definitely not "just riding a bike for an hour." You are working out crazy hard. Spin instructors are trained in different types of rides and positions. Position 1 is when you are sitting in the "saddle" with your hips pushed back, your shoulders relaxed, and your elbows slightly bent. Position 2 is when you are standing up out of the "saddle," up tall, with your hands light on the handlebars. Position 3 is when you are up out of the "saddle," slightly leaned forward, with your hips pushed back and your hands light on the handlebars. There is also a resistance knob on the bike that makes it harder to pedal the more you turn it. In my gym, there aren't any numbers on the knob, but we use an imaginary scale of 1 to 10, 1 being super light pedaling, 10 meaning you can't move. If you're new, you may not want to go as heavy on the resistance as the instructor suggests, but once you get used to it, definitely use it because it makes the workout more challenging. Everyone teaches a little different, but I am going to share with you how I teach spin class. I build my class around songs that work well for each position and type of ride that we are going to do. Each song is one ride. I start with a nice easy warm-up in position one. Then I mix in the different types of rides. I include "running" songs, where you are up out of the saddle moving at a quick pace. We do "jumps," where you might sit in the saddle for 8 counts, then stand up for 8 counts, and you keep alternating like that. We also do 4-part jumps, where you stand up for 8 counts, go out to position 3 for 8, stand back up for 8, then sit for 8. Great for the quads. Another type of ride is "speed intervals." These can be done in any of the three positions. You start off at an easy pace and you alternate that with a super fast pace. Great to rev the metabolism. Sometimes we even add resistance to make the intervals harder. The last type of ride is "climbs." Here, you are out in position 3 and you add resistance a little at a time like you are climbing a hill. These can also be done in the saddle too. Climbs are very challenging if you push yourself and add enough resistance. Usually after a climb I play a recovery song, where you just ride a flat road for one minute because climbs can wipe you out. I end class with a song where we mix it up and do a little bit of everything, and then we cool down and stretch.
Benefits of spinning class
You will burn between 400-600 calories in an hour of spinning class, and ride 15-20 miles. That's amazing! That's why I think it's one of the best workouts because you get a lot out of that one hour. You will walk out of there dripping with sweat, but you will feel fantastic. And hopefully you will come back for more!
Have you ever taken a spin class before? Where you scared at first? What are your thoughts on spinning?
Get Instant Access to My Best Weight Loss Tips & Strategies!
Sign up now for a free step-by-step 7-day email course that I created exclusively for my email subscribers! That's you. I will teach the best habits, strategies, and insider tips so you can enjoy a lifestyle that encourages and supports weight loss! Stop relying on willpower and take control back over your life! You can do this. Let me help!