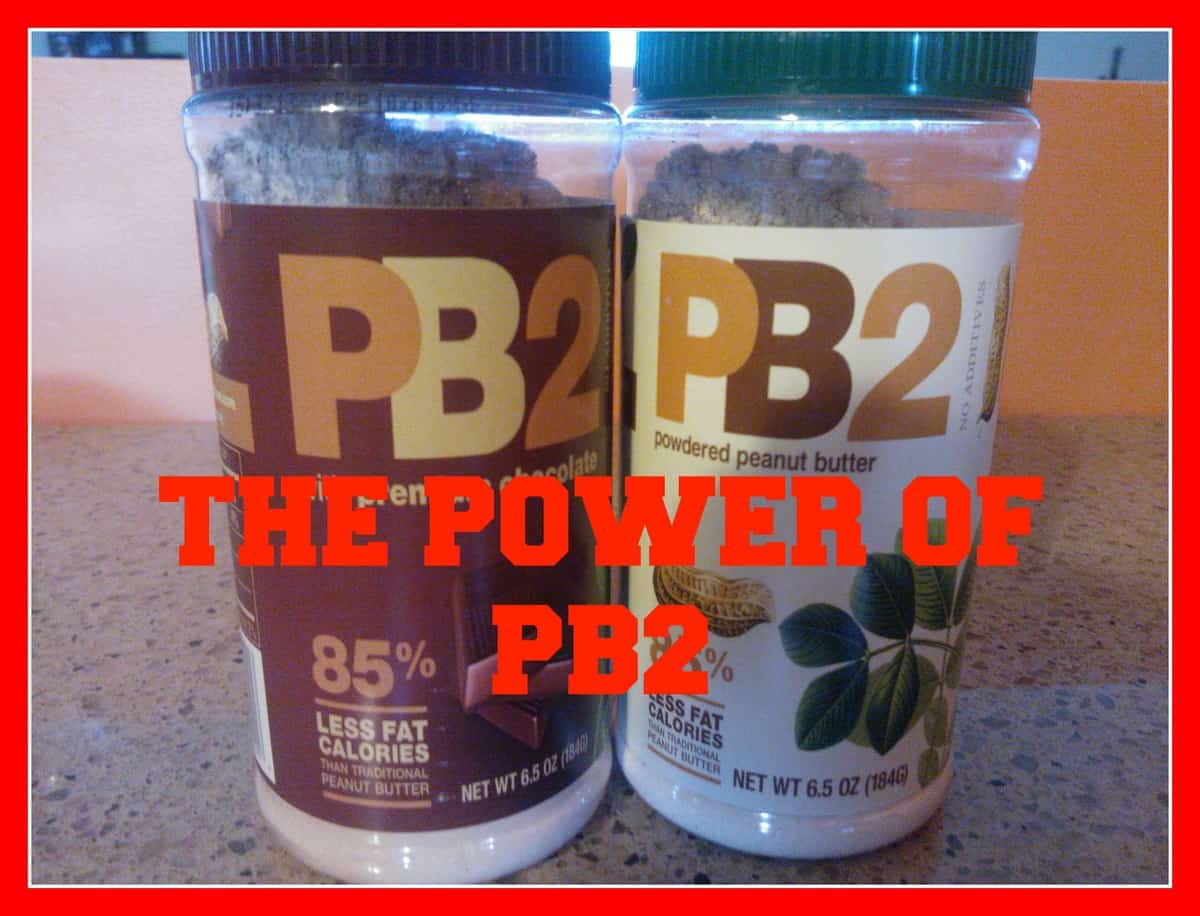 I love peanut butter, and personally have considered it its own food group my entire life. I love it on a peanut butter and jelly sandwich, I love it in a Reese's peanut butter cup, I love it slathered on apple slices and celery sticks, I even love it just eaten right off the spoon. It is salty, creamy, satisfying, and will keep you full for hours. Peanut butter has many healthful benefits, including a hefty dose of protein, fiber, and good-for-you monounsaturated fats, but it is still a very calorie-dense food. At OYS, we never ban foods, but instead eat them in moderation and also find alternatives to our favorites. PB2 is one of those alternatives. I will never give up good old peanut butter from a jar, but PB2 is another option out there that is a little bit on the lighter side.
PB2 has been mentioned in several OYS posts lately, and you're probably seeing it in recipes from other sites too. If you are not familiar with PB2, this post is intended to bring you up to speed on what it is, why you would use it, how you would use it, and give you some recipe ideas. Peanut butter lovers, rejoice…PB2 is amazing!
What is PB2?
PB2 is basically an all-natural powdered peanut butter. On the label, it describes itself like this: "Superior quality peanuts are first slow roasted then pressed to remove 85% of the fat and oil. The result is an exquisitely natural roasted peanut butter flavor that's deliciously rich in taste, easy to enjoy and wonderfully healthy." I included this spiel from the label because I thought it best describes what PB2 tastes like, and explains why it's different than regular peanut butter. I swear I am not being paid by PB2 in any way to write about it. I just think it's an excellent product for healthy-minded people. It also comes in a chocolate variety, which just has cocoa powder added and tastes divine. I bought my PB2 at Target for $4.69 for a 6.5 oz. container. **note from Tammy. I just saw a huge 15 ounce jar of powdered peanut butter at BJs wholesale club for only $5.49. That is a steal so make sure to check out your local wholesale club.
Why would you use PB2?
Well, as it says on the label, it contains 85% less fat calories than traditional peanut butter. That's a huge savings. As I write this, I have three jars sitting in front of me for comparison: a jar of regular creamy peanut butter, a jar of natural creamy peanut butter, and a container of PB2. Let's start with calories. For two tablespoons, the regular peanut butter has 200 calories, 140 calories from fat; the natural peanut butter has 190 calories, 130 calories from fat; and the PB2 has 45 calories, 13 calories from fat. Great calorie savings here – 150 calories saved per serving! Next up, let's look at total fat grams. The regular peanut butter has 16 grams of fat, 2.5 grams of saturated fat; the natural peanut butter has 16 grams of fat, 3 grams of saturated fat; and the PB2 has 1.5 grams of fat, 0 grams of saturated fat. Even though much of the fat in peanut butter is the good monounsaturated kind, it is still a high-fat food. This shows that PB2 has an enormous savings in the fat grams department. There is also a slight savings in the carb category. The regular peanut butter has 6 grams of carbs, which includes 2 grams of fiber and 4 grams of sugar; the natural peanut butter has 8 grams of carbs, which includes 2 grams of fiber and 3 grams of sugar; and the PB2 has 5 grams of carbs, which includes 2 grams of fiber and 1 gram of sugar. So no loss of fiber with the PB2, but a nice reduction in sugar. PB2 does have a slightly lower protein count, with only 5 grams compared to 9 for regular peanut butter and 7 for natural peanut butter, but 5 grams is still a decent amount of protein. Lastly, I looked at ingredients. Regular peanut butter contains: peanuts, sugar, hydrogenated vegetable oil (which is trans fat), salt and molasses. Natural peanut butter contains peanuts, sugar, palm oil, salt and molasses. PB2 contains peanuts, sugar and salt. We all know the shorter the ingredients list, the more natural a product is.
How would you use PB2?
PB2 can be used in place of peanut butter in virtually any recipe. I have seen it used in muffins, breads, smoothies, oatmeal, and cookies, but I am sure the possibilities extend beyond that. Give it a try in the following OYS recipes that call for peanut butter, and let us know what you think. I don't think you will be disappointed!
Banana Peanut Butter Green Smoothie 
Peanut Butter and Chocolate Overnight Oats – Use the chocolate PB2 for this one!
Peanut Butter and Banana Overnight Oats 
Peanut Butter Chocolate Chip Oatmeal Cookies 
Peanut Butter and Raspberry Cheesecake Bars
Peanut Butter and Jelly Steel Cut Oats 
Get Instant Access to My Best Weight Loss Tips & Strategies!
Sign up now for a free step-by-step 7-day email course that I created exclusively for my email subscribers! That's you. I will teach the best habits, strategies, and insider tips so you can enjoy a lifestyle that encourages and supports weight loss! Stop relying on willpower and take control back over your life! You can do this. Let me help!