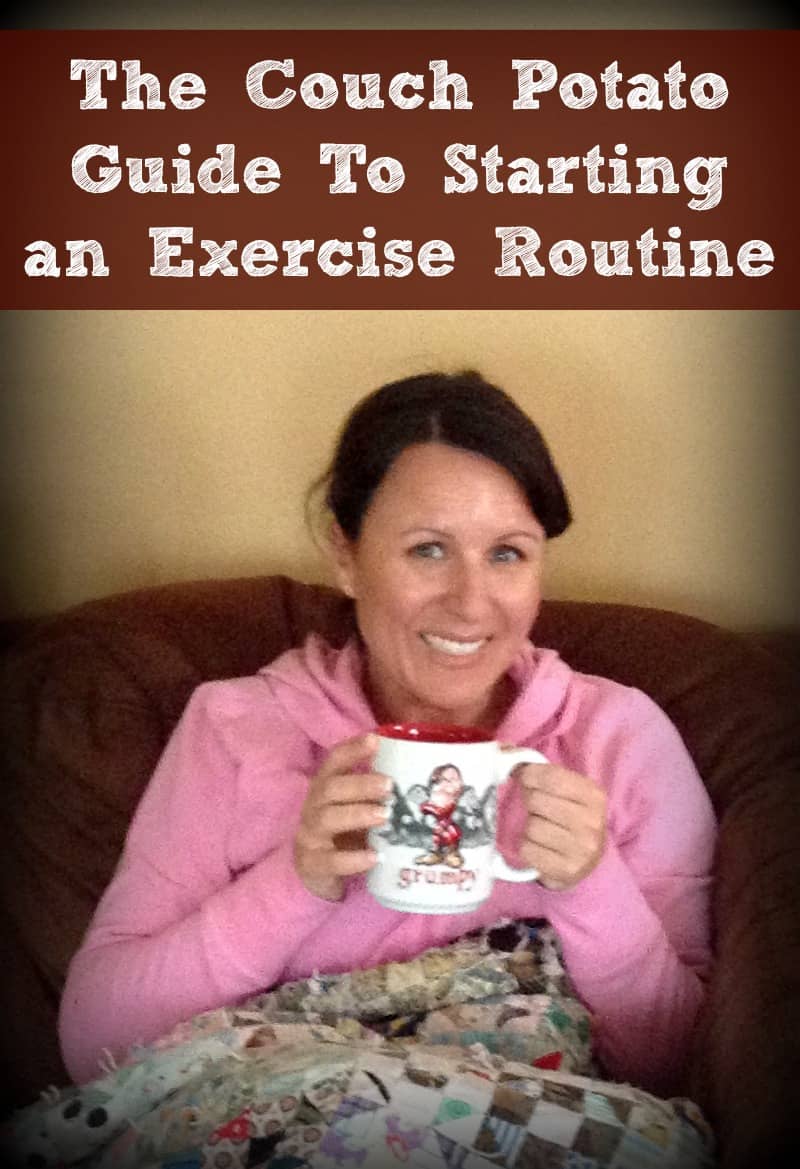 The couch.  We all love this comforting piece of furniture, especially after a long day at work or home with the kids.  The couch calls to us, beckons us…Come sit on me!  I can make you feel so good!  The couch is like the little devil sitting on one of your shoulders.  The angel on the other shoulder?  Exercise!  It may seem like what the devil, I mean couch, has to offer seems like the better deal, but the angel, exercise, is really the winner here.  So how do you deal when the temptation of the couch calls to you?  Well, you have to start by creating a routine.  Once you get into a regular exercise routine, it will become a habit.  The couch will still be there when you are done exercising, and your body will thank you for pushing it to work.
Step 1. Pick an activity.
If you are completely new to exercise, I suggest something very simple like walking.  Get used to what it feels like to move your body on a regular basis, and start to notice the benefits of this.  You will most likely notice that your mind is clearer and you actually have more energy, not less.   It's also very important to pick something you like doing.  Exercise should not feel like punishment.  It should be something you look forward to and find enjoyable.  Any physical activity counts as exercise, including bike riding, swimming, gardening, dancing, playing freeze tag with your kids.  Just make it purposeful.
Related posts:
The Calorie Burning 30-minute Treadmill Mix up Routine
5 Ways to Perk Up Your Walking Routine
Step 2.  Set a goal.
To start, set one simple, clear, realistic goal.  Maybe for one person it will be to walk around the block without feeling winded.  For someone else, it might be to swim five laps in a row without stopping.  Another person might set a goal to walk two miles, three times a week.  Start small and build up from there.  When you have a clear goal, you know what your purpose is for doing the exercise.  Goals also make you feel more accountable.  Write the goal down and post it on your refrigerator so you see it every day.
Related posts:
9 Morning habits to Organize a Healthier Lifestyle and Lose Weight
7 Tips to Create a Morning Exercise Routine
Step 3.  Go slow.
If you walk around the block the first day and feel like it was too easy, don't go out the next day and expect to run three miles.  Take it easy and give yourself time to build up to those more challenging workouts.  If once around the block was too easy, go twice or three times.  Or walk once, then jog the second time.
Step 4. Push yourself.
This sounds contradictory to Step 3, I know, but once you have started and have gone slow for a while, it's time to change it up so you don't get bored and head back to that couch.  If you've been walking for two weeks, add some jogging, or add some speed-walking intervals.  Maybe now that you've been moving for a while, you feel more confident about walking into a gym and trying a group class.  As a fitness instructor, I have to tell you that the camaraderie in a group class is motivation enough.  I love being surrounded by other women of all shapes, sizes, and ages who are all there for the same reason, to be the best they can be.  It is also very motivating to sign up for a 5k walk/run that benefits a charity that you find worthy.  There are many races throughout the warm-weather season.  You truly have to experience one to feel the sense of accomplishment and purpose you get after you complete the race.
Related post:
7 Ways to Create Discipline In Your Life So You Can Do Amazing Sh*T and Lose Weight
Step 5.  Reward yourself.
Just don't do it with food.  Make your rewards things that would be highly motivating for you.  Maybe put money in a jar every time you exercise to save up for a vacation next year.  If you need more immediate gratification, reward yourself weekly with a new song download, or monthly with a new workout outfit.
I also strongly suggest tracking your fitness achievements on an app like My Fitness Pal.  Tammy did a great post about Getting the Most Out of My Fitness Pal. The accountability this app provides is important for a former couch potato!
Here are some other posts to help motivate you with exercise and creating a healthy lifestyle
15 Habits of People Who Have Lost 20 – 30 lbs and Kept it Off
How to Get Back on Track With Your Weight Loss
3 More Simple Tips To Get Back on Track
How I Made Exercise a Priority 
Get Instant Access to My Best Weight Loss Tips & Strategies!
Sign up now for a free step-by-step 7-day email course that I created exclusively for my email subscribers! That's you. I will teach the best habits, strategies, and insider tips so you can enjoy a lifestyle that encourages and supports weight loss! Stop relying on willpower and take control back over your life! You can do this. Let me help!