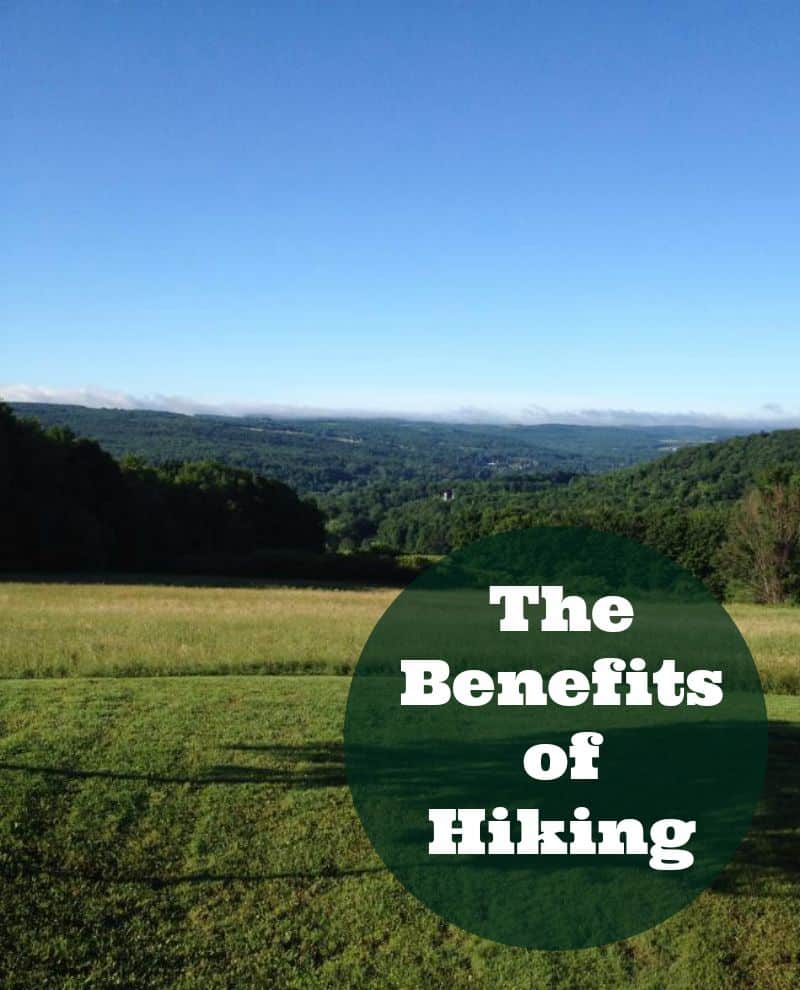 As summer winds down and fall approaches, I love to turn to hiking as an outdoor activity. That's not to say that you can't hike any time all year round, but this is just my favorite time to do it. The temperatures are starting to get a little bit cooler, so it's not too hot and not too cold. Plus, as the leaves start to change color, hiking can be one of the most scenic outdoor activities that you can do. Pretty soon I will find myself stuck to strictly indoor workouts. I live in Buffalo, where the winters can be extremely cold, snowy, and long, and I do not exercise outdoors in those conditions because I'm just not comfortable doing it. So I have to take advantage of squeezing out every last nice-ish day to exercise outdoors. If you missed my other recent outdoor exercise posts, check out my thoughts on bike riding, kayaking, and rollerblading
Hiking is another one of those activities that is excellent exercise, but just feels like something more fun to do. It includes an array of benefits that will surprise you when you actually experience them. You don't have to be an expert hiker to get out there either. Many people think hiking means hitching on a huge backpack and heading to the Rocky Mountains. A hike can be a simple walk on a trail. Also, don't think that if you live in a city that a hike is impossible in your area. You will be surprised to find some great hiking locations hiding within an hour's drive from you wherever you are. Check out localhikes.com and trails.com to see what is near you.
Benefit #1 – Cardiovascular exercise
Depending on the difficulty level of your hike, you could burn the same number of calories on a hike as you do running. The uneven terrain of a trail, which usually includes varying inclines and declines, will make you work harder than just a simple walk. Your heart rate will elevate, causing your body to get into the aerobic zone. I know that when I hike, I'm always surprised to find how hard I'm breathing. You can slow your pace down or speed it up to decrease or increase the cardiovascular benefit. Take it to your level.
Benefit #2 – It's free.
You don't need any fancy equipment to hike. You just drive to your destination, get out and go.
Benefit #3 – It sculpts your lower body.
Hiking is going to work your legs and butt like nothing else will. All of your power is coming from your lower body as you walk up and down, and navigate over rocky, bumpy paths. Your quads, hamstrings and calves will all feel the burn. Plus, your core (abs) have to kick in as well to keep you steady as you hike.
Benefit #4 – It relieves stress.
Hiking can be one of the most calming physical activities out there. You are usually well-enclosed in nature, surrounded by trees and plants. Your mind has no choice but to tune out all those other things you usually think about and just focus on what you are doing. It's quiet and peaceful, and I always feel relaxed yet invigorated after a hike.
While hiking is a pretty simple activity, there are a few things to keep in mind, especially if it will be your first time doing it.
Know your surroundings. Never go on a new hiking trail by yourself. Always hike new trails with a partner in case you get lost or hurt. I actually would encourage you to always have a hiking partner for those reasons, but solo hikes can be pretty amazing too. Just make sure you are familiar with the trail before you go it alone. If you do go alone, let someone know where you are going.
Take supplies. This will depend on the length of your hike. If you are just planning a one-hour hike, really all you need is a bottle of water. It's so important to stay hydrated. But before you head out, slather on the sunscreen and bug spray. Life in the woods can be hotter and buggier than you think. If you are planning a multiple-hour or all day hike, then you may want to pack a light backpack. Stash extra sunscreen, bug spray, snacks like dried fruit, nuts and granola bars, and extra water.
Dress appropriately. Light layers are always a good idea. If you get chilly or hot, you can add or subtract layers accordingly. Socks and good sneakers or hiking boots are a must. Do not attempt to hike in flip flops. I also always like to wear a hat and sunglasses.
Do you hike? What are your best hiking tips?