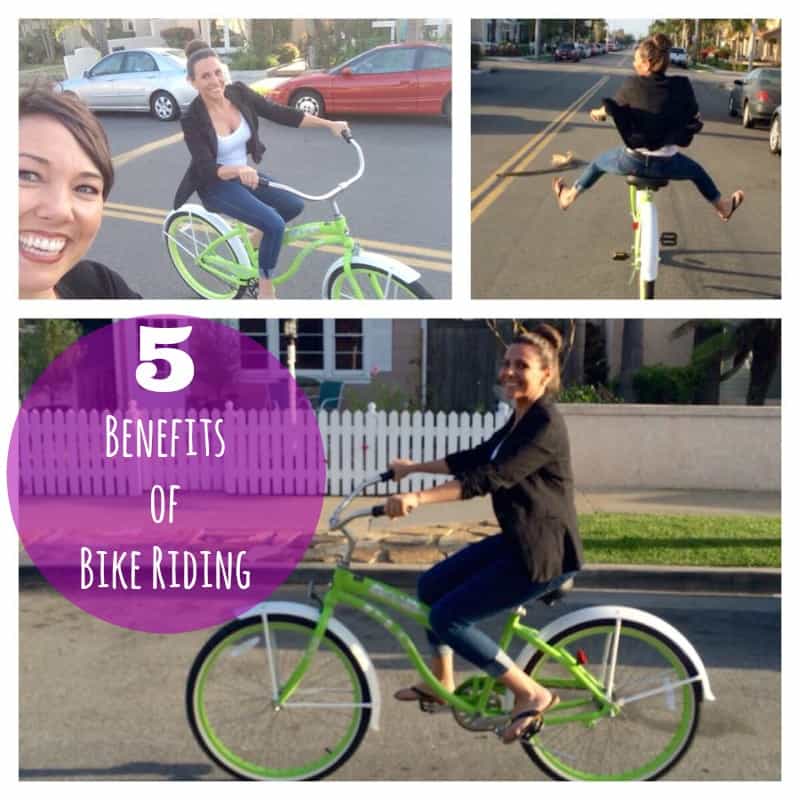 This post is by OYS writer Melissa. You see more of her posts here. Oh and BTW the cute girl on the bike is my baby sister!
Now that the weather is finally getting nicer, I love to take my exercise outdoors as much as possible. Doing the same indoor workout at the gym or at home all winter can become extremely repetitive and boring. Getting outside in the warm weather is just the motivation we all need to get back on track with our exercise routines. The great thing about exercising outdoors is that there are so many more options, and those options tend to be more enjoyable and fun than plugging away on the treadmill. This is so important for people who believe that they hate exercise. One of my favorite outdoor activities is bike riding. There are so many positives about riding a bike, both physical and mental. Even if you regularly take a Spinning or Cycling class at the gym, bike riding outside is a completely different experience with completely different benefits.
Benefit #1 – It's great cardio
Bike riding is one of the best cardiovascular activities you can do. An average-sized person can burn up to 500 calories an hour! That is a lot of calories. You will get your heart rate up to a steady pace that you will be able to maintain for a decent amount of time if you are pedaling at a moderate pace. We all know that we need cardio to lose or maintain weight. Sometimes cardio can feel endless, monotonous, and boring. Riding a bike outside makes the time go by faster because you are looking at all different scenery and your senses are heightened. It just feels enjoyable to ride a bike. When I ride my bike, I find that I don't think as often about when I'll be done, as I might with running or other exercise.
Benefit #2 – It can be done anytime, anywhere.
You can hop on your bike at your house and ride around your neighborhood. You can head over to a park and ride on some trails. You can go to a designated bike path and let the miles fly by. You can ride a bike any where, any time of the day. Besides the actual need to own a bike, it doesn't cost anything to do it. It's free exercise!
Benefit #3 – It tones your legs.
People who cycle regularly will tell you that their legs have never been tighter. You have to engage your glutes, quads and calves to make that bike go. With all of this emphasis on your lower body, you are sure to see your muscles tone up quickly. Don't believe the hype that biking will make your legs bigger. You would have to cycle for hours a day every day of the year for that to potentially happen. Actually, your legs will look leaner and stronger. Riding a bike outside is more challenging than you might think. Small little inclines in the road will really make you work, and if you are tackling full-on hills, you are going to really need to use your lower-body strength. As always, if it feels hard the first time you ride a bike, don't give up. Keep doing it, adding more time to your bike rides each time, and it will get easier. My first bike ride of the season is usually shorter, as it takes my body a few rides to adjust to the work it needs to do. Build up as slowly as you need to.
Benefit #4 – It's easy on the joints.
People who have problems with their knees or back, or old injuries that still flare up from time to time, may struggle with exercises that are tough on the joints, like running. These types of problems don't mean that you have to be sidelined from exercise completely. Riding a bike is low-impact, meaning you are not putting a ton of force on your joints. The fluid movement of pedaling allows your legs to work at a challenging pace without causing further damage or pain. Always check with your doctor first before starting a new type of exercise, especially if you have dealt with injuries in the past.
Benefit #5 – It gives you a mental boost.
All of that fresh air flying in your face makes you feel alert and energetic. You have time to think about things you are stressed about, or just clear your mind completely and zone out. The quick movement of being on a bike will give you a rush that just makes you feel good. Most of the time you will not find yourself thinking about it as a workout, but just time for yourself to unwind and let out some stress. So, a bike ride first thing in the morning can get you feeling invigorated to tackle your day, or a bike ride in the evening can help you unwind after a crazy busy day.
Are you a bike riding fan? What do you like about it?