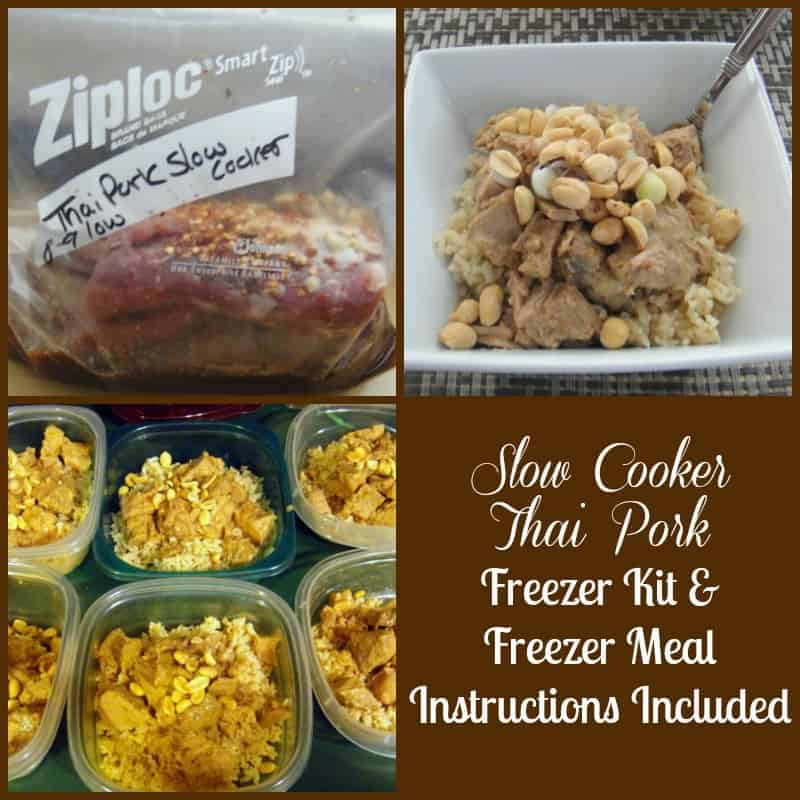 When I first bought the Not Your Mother's Slow Cooker Cookbook
by Beth Hensperger I was immediately drawn to the Thai Pork with Peanut Sauce recipe. One of my favorite cuisines is Thai, especially dishes with peanut sauce. I love peanut sauce! The only problem is my husband and kids do not.
Knowing the rest of my family would not eat this I needed to come up with a different plan if I wanted to make this recipe. The recipe makes around 8 servings and that is a lot of food to have leftover if I am the only one eating it.

Before I get to my plan let me talk about the finish recipe. It was delicious! The pork was super tender but not falling apart and the sauce was incredibly tasty with a little kick from the crushed red pepper. I loved it and will be making it again. Next time I might double the amount of sauce but overall it was really good.
Let's move on to my plan for using up the Thai Pork leftovers.
I decided, after it was cooked, to portion the recipe out into individual freezer meals that I would bring for lunches during the week. Genius – at least I thought so. Now in the middle of the day I can sit back and enjoy a delicious Thai Pork with Peanut Sauce freezer meal homemade by me. You can see the picture of the freezer meals below in the freezer cooking instructions.
To make this recipe even easier I decide to put it together into a slow cooker freezer kit. This way I can put it together when I had time then dump it in the slow cooker when I was ready to make it. My friend sent me a link to Mama and Baby Love who wrote a post about freezer cooking with slow cooker recipes.
Wow! Seriously, mom's are freakin amazing people! Her post was very inspiring and after reading it I knew I had to try this technique out. I will describe exactly the steps I took to put this freezer kit together below.
I hope you find the techniques in this recipe helpful so you can fit this delicious Thai recipe into your menu plan.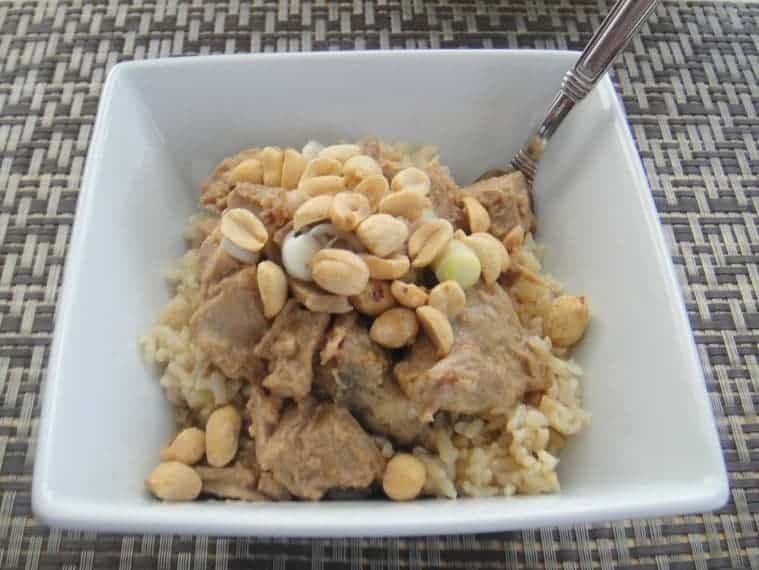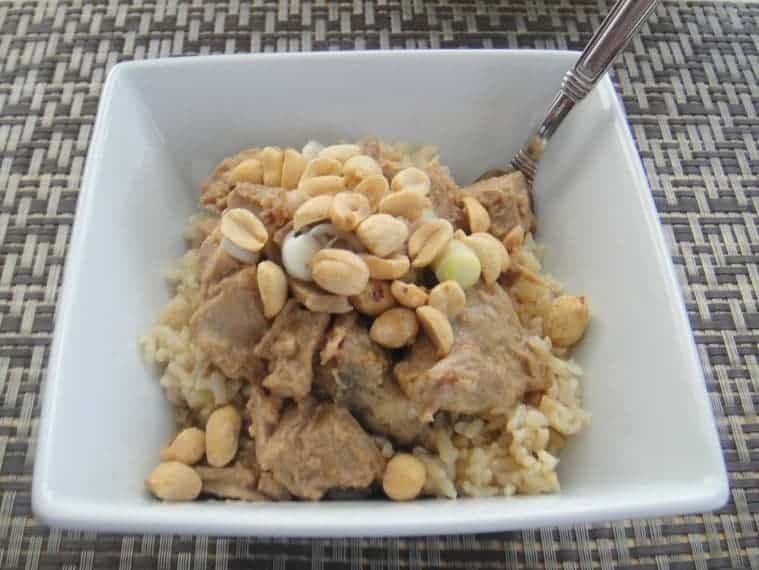 Thai Pork with Peanut Sauce: Slow Cooker Freezer Kit and Freezer Meal Recipe
Print
Pin
Rate
Ingredients
2

lb

pork tenderloin

1/3

cup

prepared teriyaki sauce

use a high quality brand

2

tablespoons

rice vinegar

1

teaspoon

red pepper flakes

2

cloves

garlic

minced

¼

cup

creamy peanut butter

¼

cup

dry roasted peanuts

½

cup

green onions

thinly sliced

**please note the original recipe called for 2 large red bell peppers

sliced but I totally forgot to purchase them. Next time I will use them.
Instructions
Place all ingredients (except peanut butter, peanuts, and green onions) into the slow cooker. Cover and cook on low for 7-9 hours. ** Mine was done at around 6 ½ - 7 hours. Pork should be tender but not falling apart (unless that is the consistency you like) The original recipe called for a cooking time of 8-9 hours on low but that would have been way to long for my slow cooker - the pork would have been completely dried out. Know your slow cooker and keep an eye on it around 6 1/2 hours.

Remove pork from slow cooker and chop into bite size chunks. Add the peanut butter to the sauce. Stir until it dissolves into the sauce.

Return the pork to the slow cooker and toss with the sauce. Serve over brown jasmine rice. Sprinkle with peanuts and green onions.
Nutrition
Serving:
1
g
|
Calories:
357
kcal
|
Carbohydrates:
27
g
|
Protein:
35
g
|
Fat:
11
g
|
Fiber:
3
g
|
Sugar:
9
g
For this recipe I used the Hamilton Beach Set 'n Forget 6-Quart Programmable Slow Cooker. Again, the original recipe can be found in Beth Hensperger cookbook Not Your Mother's Slow Cooker Cookbook.
Slow Cooker Freezer Kit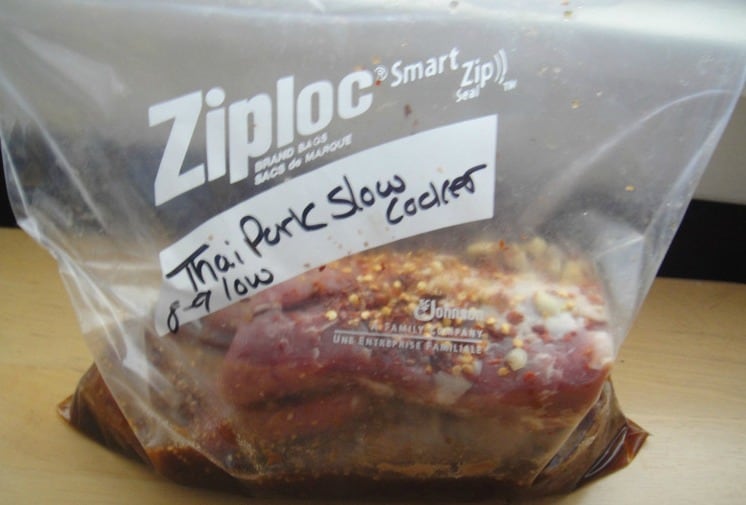 Place tenderloin, teriyaki sauce, rice vinegar, red pepper flakes, and garlic into a gallon size freezer bag. Label and store in freezer until ready to use. Peanut butter, peanuts, and green onions should only be used on cooking day.
Cooking Day Instructions
Let slow cooker freezer kit thaw 24 hours in the refrigerator. It might still be a little frozen but that is fine. Dump the whole kit into the slow cooker and follow the rest of the directions.
Individual Freezer Meal Instructions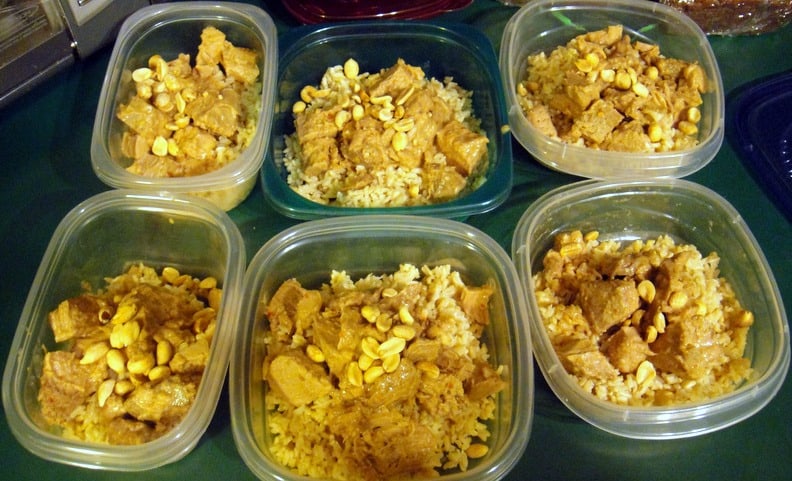 This recipe will actually make 8 single serving portions. You only see 6 here because two got gobbled up by me before I put these together 😉
Portion out 1 serving of rice and the Thai Pork recipe into 7 freezer containers. Label and freeze.
Reheat in the microwave for 4-5 minutes, stirring half way, until heated through. Of course, this can also be heated up on the stove top.
I absolutely loved having slow cooker freezer kits, as well as these individual freezer meals, available. Look for more recipe adaptions like this to come.