Hi there! So sorry this is a few days late – I am on vacation this week and my sister is in town. So, if I don't get up at 5:00am there is not much blogging happening.
Well this week I lost another pound bringing me to 138.5. It feels good to stay below 140 but I will admit I am a little nervous about sustaining this. Between all the food at my mom's house this week and being off scheduled I need to really stay focused. Fortunately getting on the scale each week along with tracking is helping.
Here are my official stats.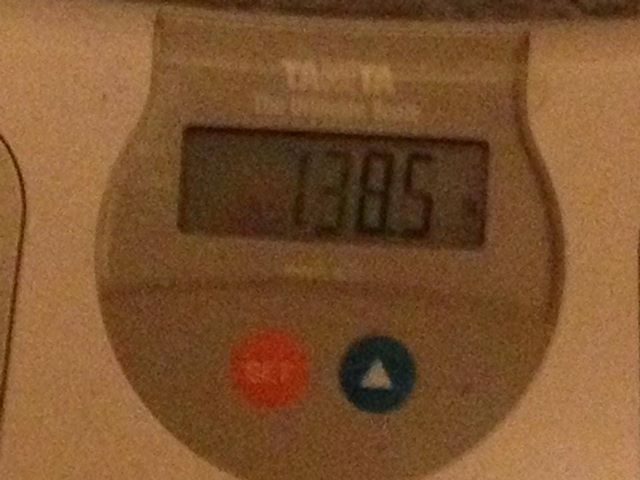 SW: 177
GW: 135
LWW: 139.5
CW: 138.5
PL: -1
I am only a few more pounds away from my goal weight! I started my weight loss journey back in October 2010 so it has been a long journey filled with many ups and downs. I know that it does not end with getting to 135 either. Sometimes I think losing weight is the easy part. Sustaining it is where the real work begins.
One of my strategies that I think has play a big part in helping me lose weight – and I know will help as I work to sustain – is not eating after 7:00pm. A reader last week sent in a question asking me to talk a little more about this. Here is her question:
"If you don't get some dinner inside of you by 7:00, do you skip dinner entirely? If so, how do you stave off the hunger? "
The reason I decided to stop eating after 7:00pm is because I realized by that time I already ate all my calories for the day. Therefore, anything I ate after 7:00pm was only extra calories. Also, I eat 5 times a day with a snack at around 3:00pm so I don't go into dinner time starving ever.
I get home from work by 5:00pm or 5:30pm and have dinner on the table no later than 6:00pm. Prepping my food ahead of time helps out tremendously with that. If I did not menu plan along with make ahead and/or freeze part of those meals I would have a real difficult time getting food on the table before 7:00pm. On nights where we have a lot going on or activities I make sure dinner is super simple and easy to take on the go. For example, those nights we will eat sandwiches, tacos, or homemade pizza. So because I have a schedule and plan ahead of time there are rarely days that I don't eat dinner before 7:00pm.
Now if there are days that I don't get to eat dinner before 7:00 then I don't get too worried about it. I will just make sure to choose something healthy or I will have more of a snacky type dinner like a yogurt or cheese and crackers. But again, because most of the time I don't eat after 7:00pm it is not a big deal if once in a while I do.
Not eating after 7:00pm has become a habit so I do it now without really thinking about it. But I will say some nights are easier than others to have the discipline not to snack.
Here are some other tips that help me out:
After dinner I clean the kitchen then I go right upstairs to do laundry, help get the kids to bed, work on my blog, or all of the above. I never stay downstairs because if I do I am tempted to sit on the couch and snack. I have found that I need to remove triggers.
I brush my teeth and get ready for bed. I get up at around 5/5:30pm everyday so I need to get to bed no later than 10:30pm. Once I am ready for bed I don't feel the need to go eat.
I drink water. Not too much though or I will be waking up every 5 minutes to go potty. But I always keep a glass of water near my bed.