Weigh in time! Is it me or do these weeks just go by WAY TO FAST?
This week marks the 3rd week in a row I have stayed under 140 pounds. YAY! But…and there is always a but… it also marks the 3rd week I have stayed the same at 138.5. I am so close to my goal weight of 135 pounds. Even though I would love to be at my goal weight I am not that worried about it because I feel great. I know I will get there sooner or later.
Here are my official stats.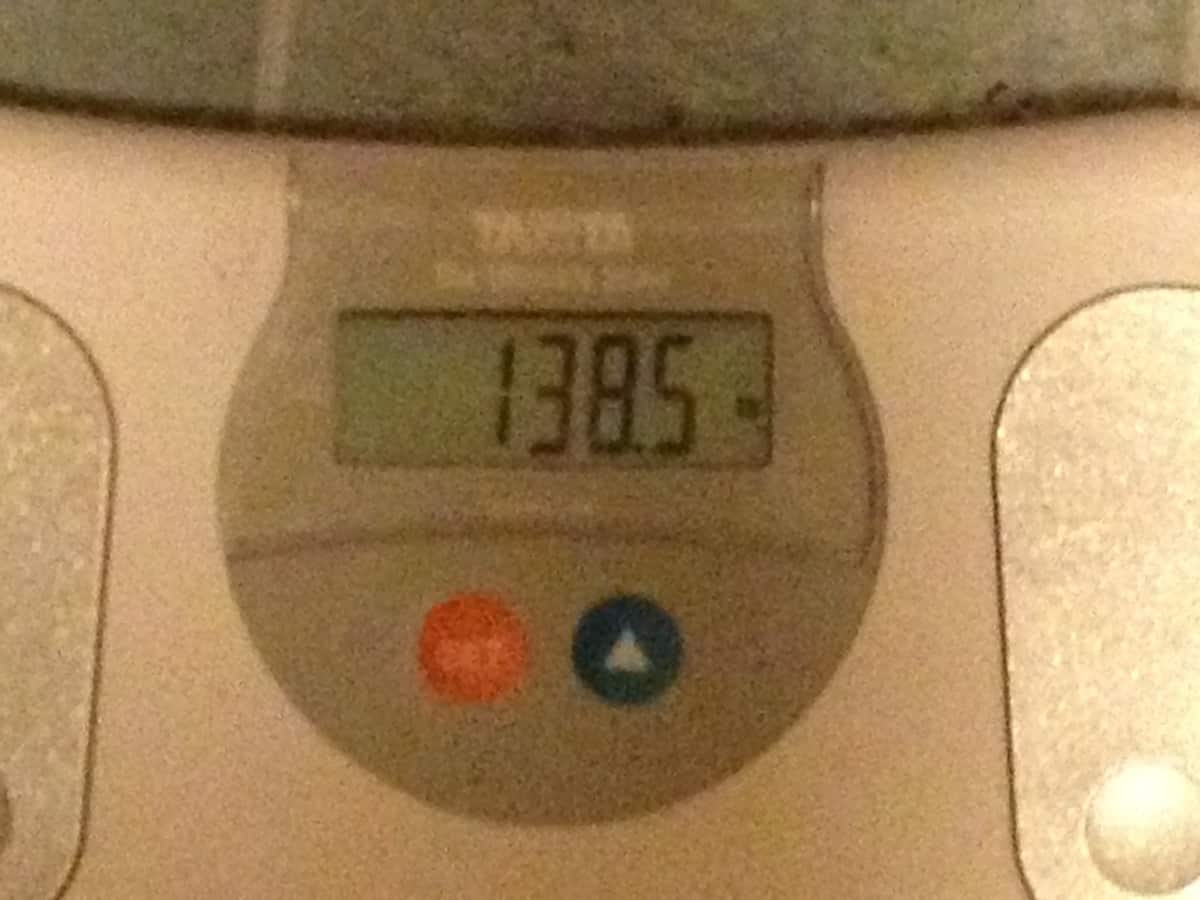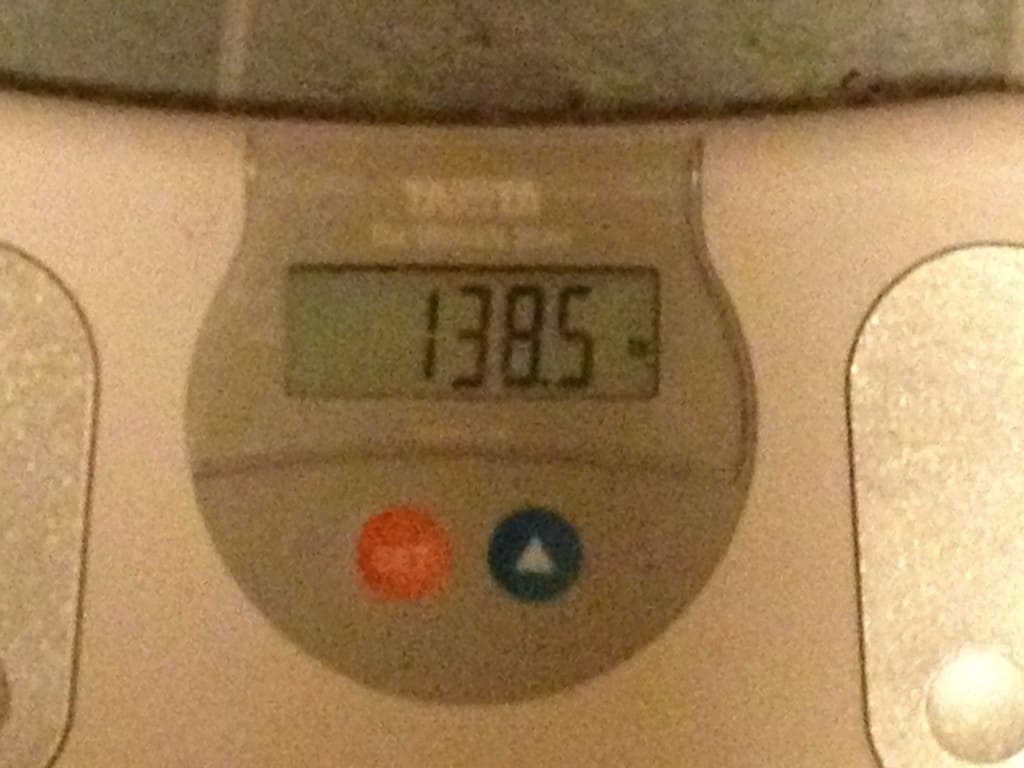 SW: 177
GW: 135
LWW: 138.5
CW:138.5
PL: 0
Last week I did a video post. I had a blast making it and hope you enjoyed seeing me instead of just the words I type. I plan to make many more videos in the future. However, today I am working from Panera Bread so I am not able to make a video. I mean I probably could but people might think I am a little weird.
Let's get back to this week's weigh in. Why do I think my weight has stayed the same these last few weeks? Well for one I have not been tracking as diligently as I usually do. I have been on vacation and my routines have taken a back seat. Believe me I tried my best (kind of) to get my routines back in place but it just has not been a priority. Hanging out with my nephew and enjoying the laziness of summer has taken precedent. However, anyone that knows me knows I cannot be lazy for to long or I go crazy – which is what is starting to happen. Nobody likes a lazy crazy person…just sayin. I think I need routines and structure more than my kids do. So I am trying to focus back on my routines. I will let you know how it goes.
Even though my general routines have been in limbo, the one thing that has helped me maintain my below 140 weight is keeping up with exercising. Honestly, I believed running on my treadmill 3-4 times a week has saved my weight from going back up because I am not going to lie I ate pizza (the take out kind) more times in the last week than I have all year. Yep. Without running I can just imagine where my weight would be.
Another factor that has kept me focus is my 20 year reunion – which by the way is this Saturday. Again, time is just flying. So obviously, the idea of seeing friends I have not seen in 10 – 15 – 20 years motivates me to get my booty on the treadmill. My high school girlfriend and I keep joking saying that we feel like we are in training for this reunion. Ha!
Okay let's to get to the Q & A part of this post. A few of you mentioned that you are hitting a plateau. Plateau's in my opinion are quite annoying because you feel stuck even though you may still be working towards a goal weight. I understand because I was "stuck" at 145 – 149 for about 6 months – maybe even longer.
This has been my experience with hitting my plateau and breaking through it. First things first, the closer you get to your goal weight the less weight you are going to lose each week. Also, when your body hits a plateau it simply means your body has become accustomed to the changes and is comfortable. This is not necessarily a bad thing especially if you are almost at your goal weight. However if you still have some weight to lose you may need to reexamine things.
When I first started my weight loss journey I lost like 8 pounds the first week then began dropping between 2 -3 pounds a week after that for about a month or so. Then it tapered to about ½ a pound to 1 pound a week. Then it stopped. Because you are focusing on creating healthier habits (instead of crash fad diets) you are going to lose weight slowly. This is good because doing it this way you are more likely to sustain that weight loss. So don't be discouraged when you don't drop 4 dresses in two weeks or lose 30 pounds in 30 days. It only works that way on TV 🙂
On the other hand if you find that you are struggling to lose weight "no matter what you do" then you need to take a step back and really look at what you are eating. When I gain weight or sustaining when I want to lose most likely it is because I am eating too much and not burning enough. It is so easy to overeat. And even just eating an extra 200-300 calories a day (think Starbucks café mocha) can hinder your progress. Also, I find that most people think they eat a lot less than they actually do. If you do not accurately portion out your food and track what you eat then it is hard to tell how many calories you are actually eating a day. For example, when I eat 3 pieces of take out pizza I can easily say oh it was probably only 500 calories when in reality it was more like 1500 calories. I know tracking can be a real pain in the butt however I have found it to be a necessity in losing and sustaining my weight. I am by knows means crazy with my tracking (which is why I have not lost any weight in 3 weeks) but it holds me accountable when I need it.
Second, you might need to start exercising more or switching up your exercise routine. When I started to really exercise – meaning working up a good sweat – is when I finally saw another 10 pounds come off. I use to think just going for casual walks with my mom or playing with my kids was all I needed for exercise. While this does help me stay active I found I needed more than that to see results. Now I burn 250 – 300 calories on my treadmill 3-4 times a week. By no means a power exerciser here but it works for my lifestyle.
Keep in mind if you are eating healthy portion controlled meals and exercising regularly your body will naturally take on the weight and shape it is meant to. Also, you want your lifestyle to be sustainable so for me I would rather fluctuate between 135 – 140 than feel deprived trying to force my body to get to and stay at 125. Make sense? Think about it this way…while I like to eat healthy nutritious foods I also like to sneak in pizza and ice cream once in a while too 🙂
Last thing I want to mention with plateaus is it is very easy at this time to want to turn to fads or gimmicks. Try to resist that. Fads and gimmicks are short term and rarely help with sustaining weight loss. Always remember weight loss is about healthy habits not gimmicks. Keep focusing on portions, nutritious wholesome foods, and exercising regularly and your body will thank you for it.
Those are my words of wisdom when it comes to hitting a weight loss plateau. Would love to hear from you. What has been your experience with hitting a plateau and how did you break through it?