It's that time again. Time to get on the scale and hold myself accountable to the decisions I made the previous week.
Before I go over my weigh in I think I am going to make a change to my goal weight. Currently, I have it set for 125 – I am going to change that to 135. 125 is a realistic weight for someone of my height ( 5ft 3 inches) but I am really happy with the way my body is starting to take shape and I don't feel I need to lose that much more weight. I figure if I keep doing what I am doing my weight will end up where it needs to be naturally.
Right now in my journey I am more about toning up rather than losing weight. Therefore, I decided to start adding my measurements along with my weight every week because that is where I am beginning to see a difference.
Okay let's get to my weight and measurements then I will talk more about this.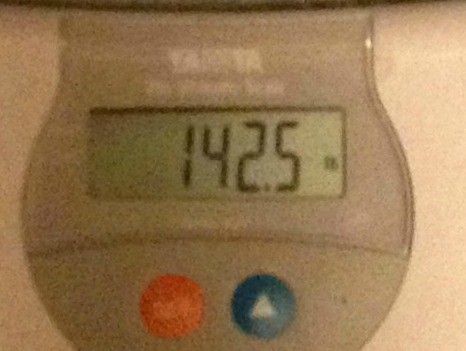 SW: 177
GW: 135
LWW: 142.5
CW: 142.5
PL: 0
Measurements
Waist – 33 inches
Hips – 39 inches
Thighs – 21 inches
Upper arms – 11 inches
This is my first time measuring so I hope I did everything correct. I may need to research more on this.
Anyway, I wish I started taking measurements before I started losing weight because I have no idea what they were when I was 177 pounds. All I know is that at that weight I was a size 12 or 14 and now I wear a size 4 or 6 depending on the style and brand.
Taking your measurements is important because you won't always see results on the scale which can be frustrating especially when you are working hard at eating right and exercising. That is what happened to me these past couple weeks. I was seeing results in the shape of my body and the way my clothes fit but the scale was barely budging – if you look over the last couple weeks my weight has pretty much stayed the same.
My advice to you is to start taking measurements now. I still think getting on the scale once a week is a good way to keep us thinking and on track. However, I don't think we should let the scale be the end all when it comes to results.
Of course beyond measurements and the scale there are many different things we can pay attention to. For example, the way our clothes fit; how we look in the mirror; and of course the way we start to feel physically and mentally. Results will take their form in many different ways not just in numbers so keep that in mind.
Leave your stats below. But also answer this question. Beyond the numbers what has been the results you experienced (or hope to experience) from losing weight?
Get Instant Access to My Best Weight Loss Tips & Strategies!
Sign up now for a free step-by-step 7-day email course that I created exclusively for my email subscribers! That's you. I will teach the best habits, strategies, and insider tips so you can enjoy a lifestyle that encourages and supports weight loss! Stop relying on willpower and take control back over your life! You can do this. Let me help!