This week I lost 1 pound bringing me down to 146.5. I feel really good about this weeks weigh in because it is the second week I went down instead of my usual up and down I have been experiencing since January. I actually think I could have lost more weight and I will explain why in a second – but here are my official stats for the week.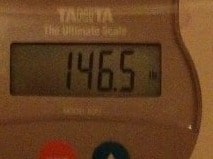 SW: 177
GW: 125
LWW:147.5
CW:146.5
PL: – 1
So why do I think I could have lost more? Well, last week I was very structured and disciplined with my eating. Not to the point where I felt like a deprived robot but I definitely felt in control. I stuck really close to my menu plan and utilized My Fitness Pal every day to keep my food in check. Then…the weekend came around and it seemed like everything got thrown out the window. I know it is important to make good choices daily but I didn't think (aka denial) a couple days of minor (okay a couple large) mishaps would make a big difference – but it does and it did.
This is what happened. On Saturday night we decided to go to a local burger joint for dinner – it was actually showcased on Diner's Drive ins and Dives last year. My husband has been craving this place and even though I was a little hesitant I agreed to go. Of course I had every intention to order the healthiest thing on the menu but for some reason when asked for my order the words cheeseburger and onion rings came out. Yes that is right…fried foods. Was it worth it? Well, I have mixed emotions. Yes it tasted good but was the feeling I got from eating that food better than the feeling I get from seeing the scale go down? I am going to have to go with no.
It did not stop there. On Sunday, after I was done preparing our menu for the week we decided to go see the new Oz movie. Again, I thought in my head I was not going to order popcorn or anything else. Can you guess what happened? Yep! We ended up getting a large popcorn with butter and my husband ordered a box of pretzel m&ms. Um have you ever had those?! OMG they are addicting.
As you can see, even though I stayed focused during the week I let myself get a little to loose over the weekend. Now I don't want to live my life having regrets every time I slip up and eat some onion rings but I also don't want to get into the habit of breaking all my good habits when the weekend comes around. So my lessoned learned here is this. Think before I eat. Is it worth it? Do I need to eat all of it? Is there a healthier option that will still satisfy the craving? If I must eat it then I need to focus and be intentional about keeping the portion under control. Also, I need to keep the extra calories to one day instead of splurging the entire weekend.
Other than the weekend eating I am very happy with my progress. I worked out 4 days last week and love that exercise is now becoming a routine for me. In fact, that exercise is probably what saved me from gaining instead of losing this week.
I feel good going into this week. I do have to say there is nothing more motivating than seeing the results of your hard work – even if it is just a pound. Remember one pound turns into 2 then 3 then 4 then….
Your turn! How did you do this week? List your stats and any thoughts below.
Get Instant Access to My Best Weight Loss Tips & Strategies!
Sign up now for a free step-by-step 7-day email course that I created exclusively for my email subscribers! That's you. I will teach the best habits, strategies, and insider tips so you can enjoy a lifestyle that encourages and supports weight loss! Stop relying on willpower and take control back over your life! You can do this. Let me help!