Weekly weigh in time. I don't know about you but I really look forward to getting on the scale each – even if I think it is not going to go in my favor. In fact, I think it becomes even more important to get on the scale and hold myself accountable when I am starting to get off track. I find it to be a great motivator.
Here are my stats:
SW: 177
GW 125
LWW: 143.5
CW: 142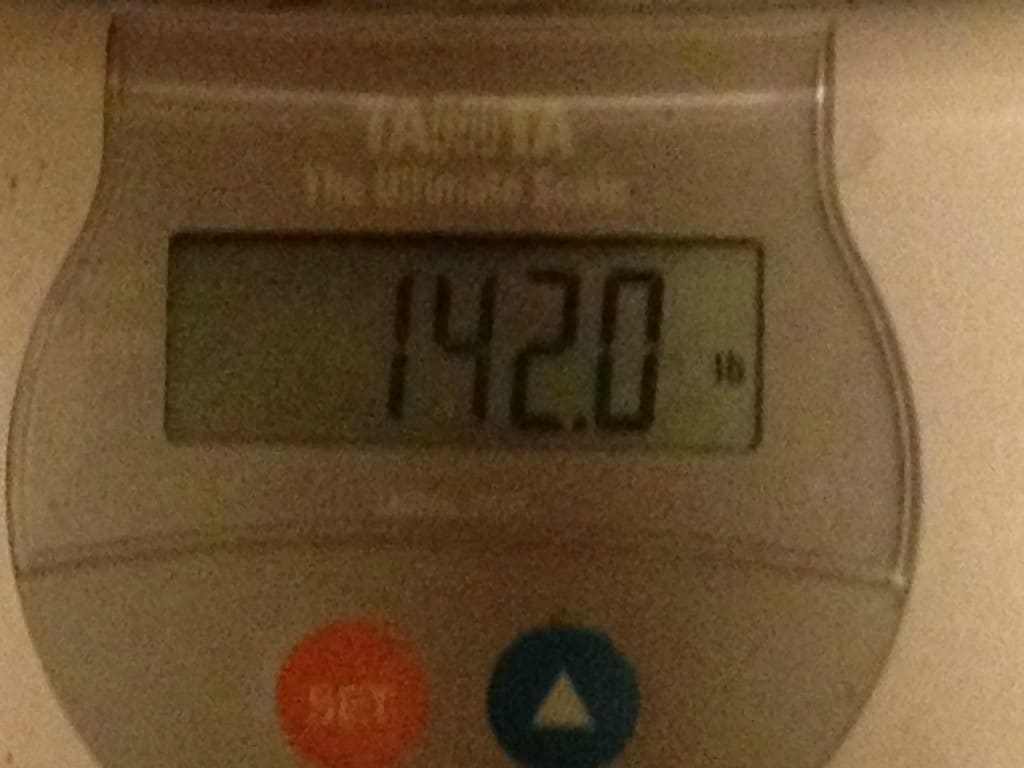 I am down 1.5 lbs!! I actually got on and off the scale 3 different times because I honestly did not think it was right. I have been doing great with working out and eating but I'm not going to lie I did sneak a few leftover reese peanut butter cups at my mom's house this weekend. Also, it was a very busy week at work so I found myself turning to food for comfort a couple of those stressful days. But…I made healthier choices more than not and in the end that is what made the difference.
You see losing weight is not about being perfect or depriving yourself. From my experience, those two things actually have the opposite effect. It is about making small changes that over the long term lead to big results.
Every Tuesday morning I post a picture of my weigh in on the Skinny Mom's Kitchen Facebook Page – I do this before I post the "official" post here on Skinny Mom's Kitchen. Most of the time I don't get around to writing this post until after dinner. Anyway, I like doing it this way because then I can see your comments, feedback, and more importantly your questions before I write.
This week there were two comments that I want to speak to. First, someone asked about the food I eat (calories) and how often I work out. To lose weight I eat between 1350 – 1600 calories a day – probably closer to 1600. I don't follow a restrictive diet plan. Never did and never will. For the most part, I eat the foods I love but focus on eating cleaner and healthier versions. If you want specific examples just take a look at my recipes or if you want real structure then take a look at my 4 week make ahead menu plan. This menu plan shows the exact foods I ate over the last 4 weeks. As for exercise, I use a treadmill 3-4 times a week – sometimes more sometimes less. Typically, I go for 45 minutes. 10 minutes of that is power-walking, 20 minutes is running, 10 minutes is power-walking on a incline, and 5 minutes is cool down. Then I do about 100 crunches and some arm exercises. It is not the iron man workout by any means but I get a good sweat on.
Second, a few of my readers made mention about not losing weight this week. Actually, over the last couple weeks I have received emails from many different readers saying 2 things – they are frustrated about not losing weight or they are not even getting on the scale because they are not seeing results. Okay, here are my thoughts on that. I know it is frustrating to not see results – believe me I know. But, losing weight is a process…a journey… Some weeks you will see results some weeks you won't and some weeks you will gain weight. But the most important thing to remember is that's okay and don't ever give up! Holding yourself accountable, whether that is with a scale or however you choose, is so important to the process. It becomes even more important when you are in a funk and not feeling motivated. I know for me getting on the scale sometimes is the little push I need to get back on track. So please try not to get discouraged. Use it as an opportunity to reflect on the week, make some changes, and create a plan moving forward. Each day is a new day – each week is a new week.
I also want to mention that it has taking me over 2 years to get to where I am today. All the habits and routines I have created did not happen overnight – not even close.. Yes it get's easier but their are many days I still struggle. Creating a healthy lifestyle is not something that changes because of pill, shake, wrap, or whatever the latest fad is. It begins with you and takes patience. But if you keep at it you will see results. YOU can do this! I know you can.
Your turn. What are your stats this week. Also, please share any tips, thoughts, or words of encouragement you have.
Get Instant Access to My Best Weight Loss Tips & Strategies!
Sign up now for a free step-by-step 7-day email course that I created exclusively for my email subscribers! That's you. I will teach the best habits, strategies, and insider tips so you can enjoy a lifestyle that encourages and supports weight loss! Stop relying on willpower and take control back over your life! You can do this. Let me help!