Tuesday weigh ins are becoming my saving grace with weight loss. They hold me accountable and keep me intentional with the foods I eat everyday. Believe me every time I want that extra piece of cake or one more handful of pretzels I think about having to explain myself via this blog post. Writing about my weight every week works and I am confident that if I didn't I would be a floundering soul. If you are thinking about starting a weight loss blog I highly encourage you to do it – just in case you need some help I wrote a post on how to start a blog a couple months ago.
Onto my weigh in.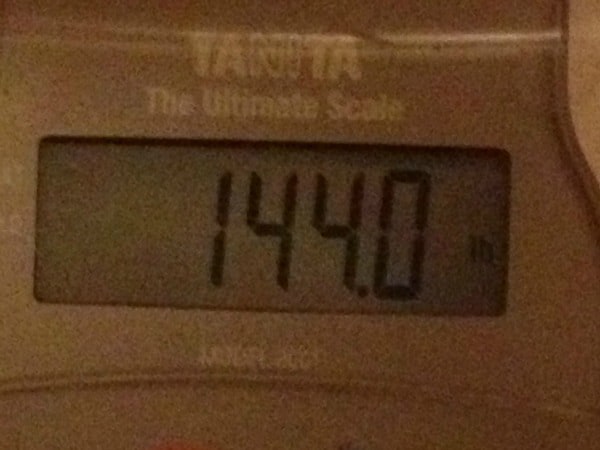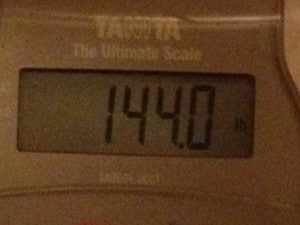 Here are my official stats:
SW: 177
GW: 125
LWW: 144.5
CW: 144.0
PL: -.5
This week I lost 1/2 pound – nothing ground breaking but I am still on my downward streak. If I keep this up I should be below 140 by the middle of May. That really excites me because I can't even remember the last time I weigh in the 130's – 15 years easily. However, I don't want to get ahead of myself. I have learned that if I put too much pressure on myself or focus on my weight 4 weeks from now then I lose focus on what I need to get done today. One week at a time.
I am still plugging away on my workouts which, in my opinion, are making all the difference in my current weight loss. I have been running/power-walking 4-5 days a week on my treadmill for 30 – 45 minutes at a time. I burn about 250 – 350 calories each workout. That might not seem like a lot but I am really short (5ft 3in) so my legs can only go so fast. I am sure in due time I will be able to go faster but that is the pace I am currently at. After I run I work on arms and my tummy – both of which are my biggest problem areas. I look forward to the day I can see some definition. If I keep at it I think I will see some results in the next month or so. Again, one week at a time.
My food situation was pretty standard this week. Well minus Easter where I totally gorged myself on lazy pierogies, ham, and cheesecake. I swear I had every intention of keeping it under control but when it came right down to it I lost all self control. My mom's cheesecake is the bomb! I somewhat balanced it out with a good sweaty workout in the morning along with taking a walk (in the rain) with my mom before dinner.
Don't ask me how I am doing with my bad coffee habit. It is not looking good. I will keep trying.
Now let's talk about you. Don't think I haven't noticed you are not weighing in each week. Well some of you are. But if you compare the first week to last week you will notice many have dropped off. I encourage you to get on the scale – right now – and weigh in. It is okay if you haven't in a while or if this is your first time. I want to encourage and support you through this. Sometimes it is very discouraging. Believe me I know. But the most important thing I have learned in this weight loss journey is to never give up. Even if you get off track for awhile just hop back on. Keep going.
If you don't want to weigh in that is fine but talk to me. What is going on in your world? Where are you struggling? If you are having successes then share that too. Let's learn from each other.
Talk to me ladies! Share your stats and/or thoughts.
Get Instant Access to My Best Weight Loss Tips & Strategies!
Sign up now for a free step-by-step 7-day email course that I created exclusively for my email subscribers! That's you. I will teach the best habits, strategies, and insider tips so you can enjoy a lifestyle that encourages and supports weight loss! Stop relying on willpower and take control back over your life! You can do this. Let me help!