This morning I stepped on the scale to another 1 pound weight loss. Yippeee!! I have been working hard and trying my best to stay focused so it is very rewarding to see the pounds go down week after week.
Here are my official stats: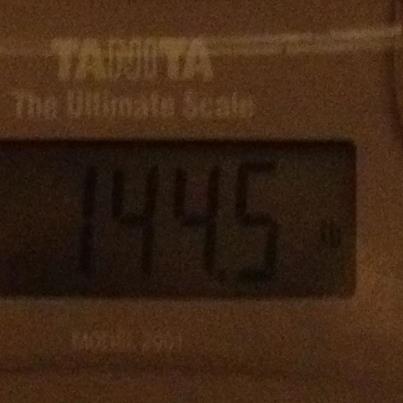 SW: 177
GW: 125
LWW:145.5
CW: 144.5
PL: -1
I know 1 pound is not a lot but at this point in my weight loss journey I am not going to see huge weight loss numbers each week. In fact, the most I will probably see (without starving myself) is about 1 – 2 pounds a week and even 2 pounds is stretching it. My goal at this point is to slowly lose the rest of my weight but more importantly I want to sustain that weight loss. In my experience, the only way to do that, is not with fad diets or miracle products, but with changing my habits to healthier ones I can live with for the rest of my life.  This means eating cleaner portion controlled meals and working out on a regular basis. Keeping it simple and sustainable.
Another goal I have, beyond the actual weight loss, is toning up my body. The bulk of my weight was lost as a result of changing my diet. However, because I was not exercising regularly my weight leveled off and I became a skinny flabby person. Sorry if you got a visual with that. In order for me to break through that plateau I needed to prioritize exercise. This is exactly what I have been doing the last 4 weeks and have seen results not just on the scale but in the way my clothes are fitting. My pants are getting loose and I might need to purchase new workout clothes soon – oh the many perks of weight loss 🙂
I also want to point out that my goal weight is 125 pounds however I am not married to that number. I use that number, and the scale, as a way to measure progress and hold myself accountable. Ultimately, with a healthy diet and exercise, my body and weight will naturally take on the form it is meant to. It is not my goal to force myself to be "skinnier" that I need to be. Therefore, if my body is only meant to be 135 pounds and a size 6 then I am more than happy with that. My goal is to incorporate healthy habits – losing weight and toning up is just a result of those habits.
Speaking of habits. I have one that is quickly becoming a bad habit and out of control….again. I figure it is about time I put it out there. Because it seems the best way for me to hold myself accountable and create real change is for me to come clean with all of you. So here we go.
Coffee. Oh coffee how I love thee. I dream about you at night. Seriously, I look forward to going to bed just so I can wake up and enjoy you. But it is not really the mornings that are the problem…it is the mid morning, afternoon, and sometimes after dinner (but before 7:00pm) cups that are causing the problem. I would hate to end our relationship completely because you bring so much joy but I think I am becoming to dependent on you. In fact, I am feeling a little control by my constant thoughts of wanting to drink you.
Okay, there you go – I told you I am having a problem. However, my problem is 100% mental. I have developed a habit that signals cues in my brain to want coffee. As soon as I turn into work I feel my brain already thinking about getting my mid-morning coffee. I need to break this habit because it is costing me calories along with money every day. So this is going to be my new focus moving forward – get control over my coffee habit. **sigh** Wish me luck.
Your turn. What are your stats this week? As always, leave any thoughts or tips you have for us.
Get Instant Access to My Best Weight Loss Tips & Strategies!
Sign up now for a free step-by-step 7-day email course that I created exclusively for my email subscribers! That's you. I will teach the best habits, strategies, and insider tips so you can enjoy a lifestyle that encourages and supports weight loss! Stop relying on willpower and take control back over your life! You can do this. Let me help!