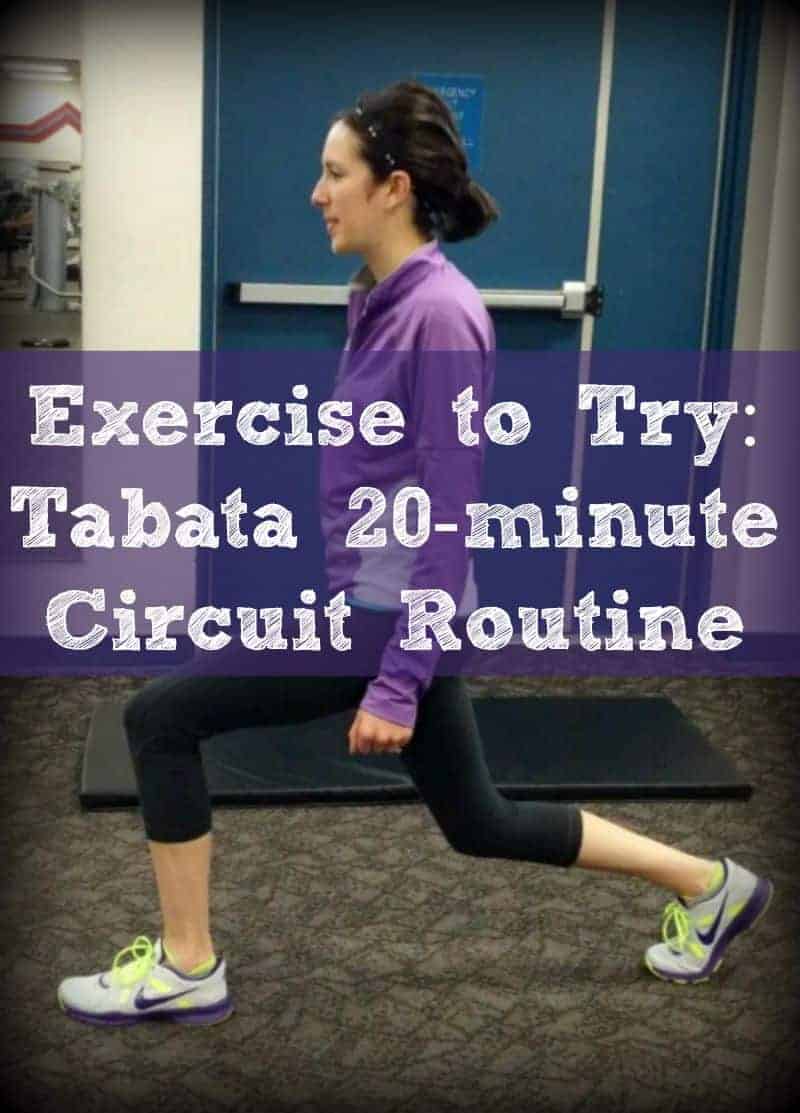 This post is by OYS writer Melissa. You can see all of her posts here.
Tabata is a form of workout of Japanese origins that falls in the category of high-intensity interval training. If you've heard of it, but have never tried it, now is your chance. Give it a try in the comfort of your own home to see if it might be something you like.
Why do tabata?
The biggest positive aspect of tabata is how little time it takes. So if you've ever said that you don't or can't exercise because you don't have time (haven't we all), then tabata blows your excuse out of the water. You get an amazing cardiovascular and toning workout in a very short time…but you have to work very hard. Tabata circuits last four minutes…yep that's right, four minutes. Nobody can say that they don't have four minutes to work out. Basically, you work as hard as you can for 20 seconds, rest for 10 seconds, and repeat until you have done this 8 times in a row. Of course you can then go on to do another four-minute circuit with different exercises. You can do as many circuits as you want, but if you're working as hard as you're supposed to be, you shouldn't be able to go for an hour. 20 minutes of tabata, or 5 circuits, is usually a realistic goal. But again, if all you have time for is 4 minutes, then do it. Maybe later in the day you'll find time for 2 more 4-minute circuits.
Tabata circuits can be comprised of any exercise, and can include a combination of cardio and strength moves. You can incorporate pretty much any piece of exercise equipment you like, or just do exercises using your own body weight.
Another benefit of tabata is that it will bust you out of a workout rut or weight loss plateau. It is a very challenging type of exercise, and will require you to physically and mentally be present in what you are doing. You will start to see your body change due to the new way you are challenging yourself.
Warm up with 5 minutes of light cardio, like walking, jogging, dancing, etc. The workout below provides enough tabata circuits to do 20 minutes worth, or 5 circuits. Remember, you can just start with one 4 –minute circuit for now, like just doing the lunges. You can stagger the 5 circuits throughout your day if you want. Just be sure to work your absolute hardest. Always cool down and stretch when you are done.
20-Minute Tabata Circuit
Lunges
Jumping jacks
Crunches
Burpees
Squats
Start with lunges. Do 20 seconds hard. Rest for 10 seconds and then back to lunges for 20 seconds. Do this for eight sets.
Once you have completed eight sets of lunges, rest for one minute and then move on to jumping jacks and repeat the sequence of 20 seconds on 10 seconds off for eight sets.
Once you finish eight sets of jumping jacks, rest for one minute and then do crunches, 20 seconds on 10 seconds off for eight sets.
After crunches, move on to burpees, 20 seconds on 10 seconds off for eight sets.
Finally, perform squats, 20 seconds on 10 seconds off for eight sets.
Here is a video that talks about tabata workouts and gives another example of a high endurance circuit routine.