Stitch Fix is an online styling services where a stylist picks out 5 items (clothing and/or accessories) that fits your budget and personal preferences. In this Stitch Fix review I'll share the Stitch Fix outfits I received in my 14th box along with some tips to help you love every single fix!
**This post contains affiliate links. I will receive a small commission if you decide to use Stitch Fix. However, this is my completely honest review and you are by no means obligated to use my links. If you do thanks so much for supporting my site.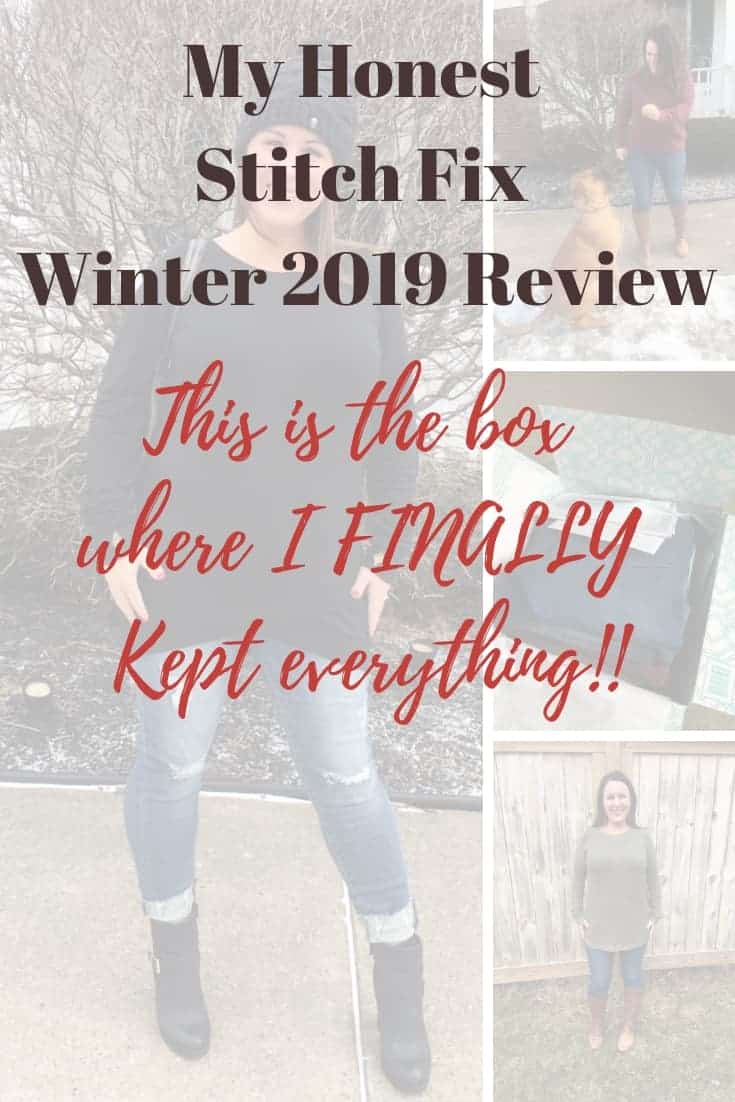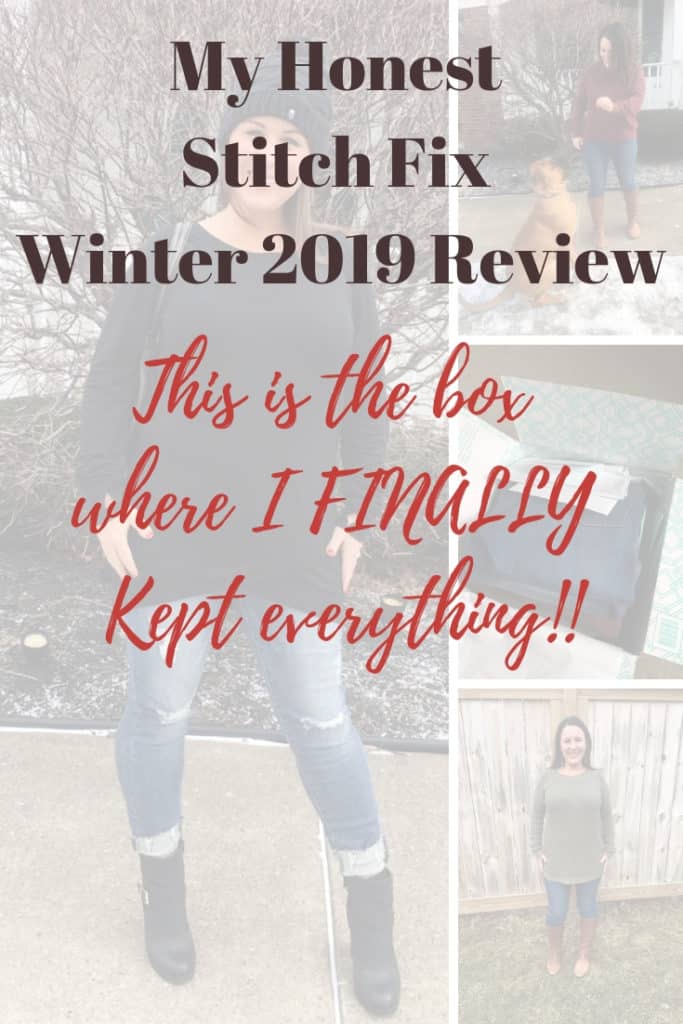 If you don't want to read my entire Stitch Fix review then click here to get $25 credit towards your first box of Stitch Fix Outfits.
Stitch Fix Overview
In my original Stitch Fix Review, I went over the ins and outs of Stitch Fix. If you're looking for more a "how-to" type Stitch Fix information then give that review post a read.
However, I'll give you a quick overview just in case you're feeling lazy and don't want to click around.
Like I said in the beginning, Stitch Fix is an online styling service where a stylist picks out 5 items, based on some information you give, and then delivers everything to your door. From there, you try on the clothes. You can keep some items or everything. You can even send all of it back if you don't like the items. Stitch Fix returns are easy and FREE. They even send a labeled Priority Mail envelope.
The thing that Stitch Fix has changed since my last review is they offer extended times for trying on the items sent. If you need more time simply log in and choose a later date to send your items back. This feature has come in handy a few times.
Again, read my original Stitch Fix review for more background information.
Stitch Fix Cost
Stitch Fix charges a $20 styling fee. This fee is taking off the price after you get your fix – that's if you choose to keep something. If you choose to send everything back then you'll lose the $20 styling fee. Personally, I always try to keep something from my fixes so I don't lose my $20.
However, they do offer an exclusive Style Pass for $49 a year – which I did purchased. This gives you 12-months of no style fees. Meaning you can order as many fixes as you like without paying the $20 each time. Also, they give you a $49 credit towards your next purchase <— this is what sold me on the style pass. So in reality, the Style Pass is actually free because you get to use that money towards a fix. I don't know if they offer this Style Pass to all of their customers but if you plan to use Stitch Fix on a regular basis then I'd ask about the Style Pass.
Also, if you choose to keep everything you'll get 25% off the total order. In my opinion, this is a nice little perk that keeps Stitch Fix affordable. However, the trick is you have to like everything in the fix. What's the point of keeping it all if you never wear it. I'll offer some tips later on for receiving Stitch Fix outfits you love and want to keep.
The last thing I want to mention about the cost of Stitch Fix is YOU set the budget. This is done in the profile section. This way if you don't want to spend more than $20 on a shirt but don't mind spending over $100 on jeans you can do that. There's also a notes section in the profile where you can give more feedback about your personal preferences, including the budget. And when you schedule a fix there's another notes section for you to give any feedback or instructions.
In my experiences, the Stitch Fix stylist has been really good about keeping within budget. The key is communication.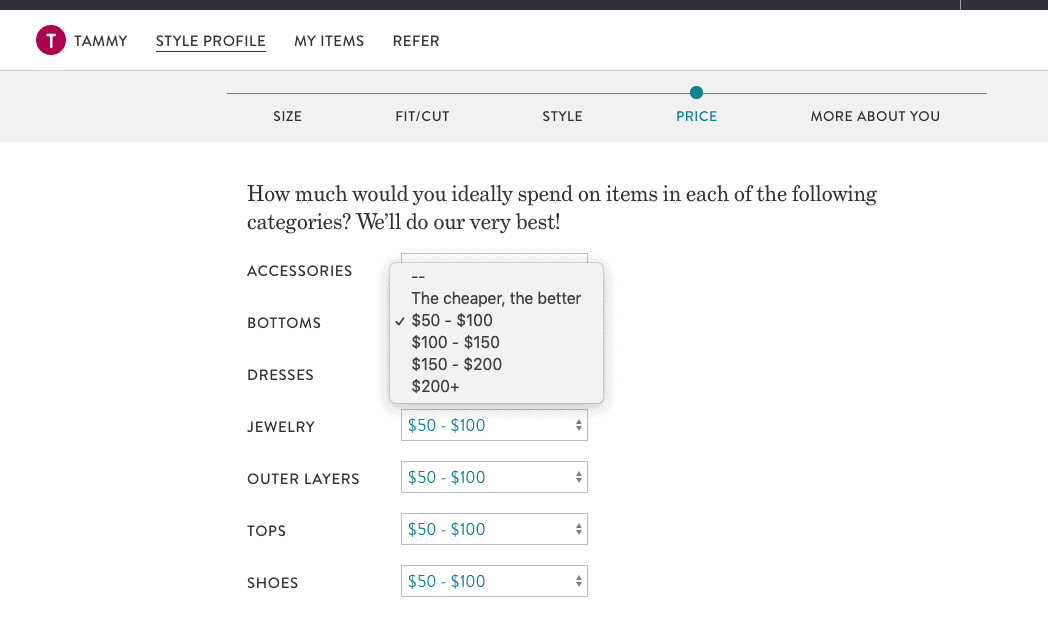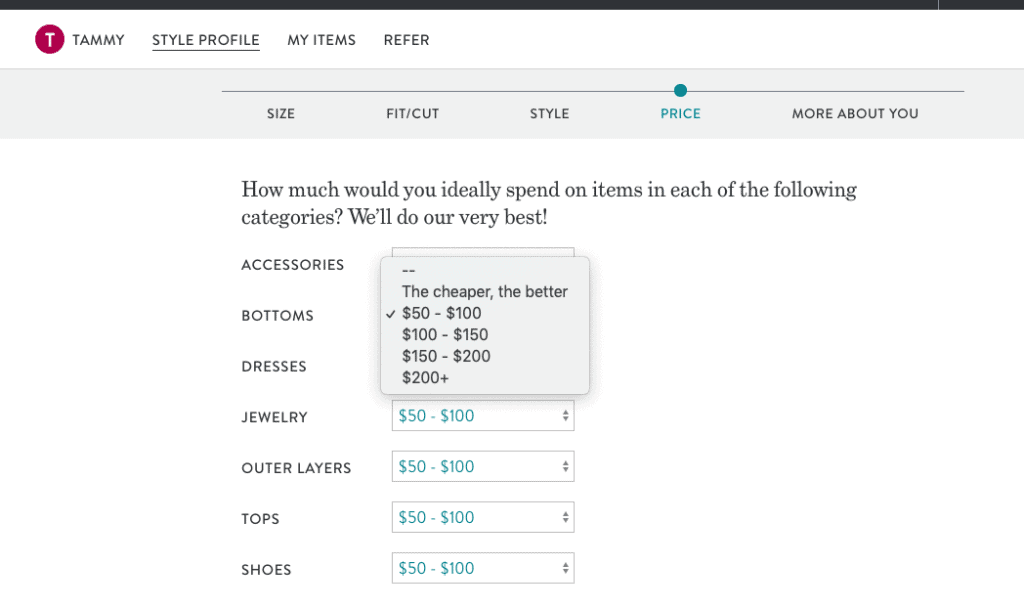 Stitch Fix Sizes
Stitch Fix carries women sizes 0-24W & XS-3X. They actually offer clothes for the entire family so you can get boxes for the kiddos and hubby too.
If you don't want to read my entire Stitch Fix review then click here to get $25 credit towards your first box of Stitch Fix Outfits.
The Reasons I Enjoy Using Stitch Fix
In the last couple of years I've become a big fan of Stitch Fix. Of course, I'm not saying I love (or keep) every fix sent my way but my wardrobe has significantly improved since using Stitch Fix.
Here are some reasons I continue to order regular Stitch Fixes:
I have zero time to shop. Or maybe I should say that shopping for clothing simply isn't a priority. I have a business to run, house to manage, kids to run around, and everything else you can imagine. Taking a few hours to shop, during the week, isn't a luxury I have.
Even when I need an outfit it can become very stressful to make time to get to the mall. And if I can squeeze in some time I'm typically rushing and becoming quickly frustrated because I can't find anything. Having Stitch Fixes sent keeps pieces of clothing in my closet that I can grab for a party or dinner out.
Actually, a perfect example is this latest fix I got. I had 2 parties to go to the week I got my Stitch Fix box in the mail. Before the box came I was already stressing about what to wear because my usual uniform of leggings and a sweatshirt wasn't gonna work and I felt like I already wore everything in my closet a million times over. Anyway, my Stitch Fix had the perfect items that got me through the whole weekend. You can see all the outfits below.
I don't like shopping for clothes. I know I may be in the minority here but I don't get all giddy about going to the mall – it actually gives me slight anxiety. I have all these visions of Pinterest-perfect outfits and then I get to the store and have no clue where to look or what to do. I get completely overwhelmed by the racks and racks of clothes.
Stitch Fix takes the anxiety out of shopping for me. They send me 5 pieces of clothing and all I need to to do is try it on. I don't have to drive anywhere or dig through any racks.
Stitch Fix gets me out of my comfort zone. Here's the thing…when I do finally drag myself to the mall I end up purchasing the same type of clothes. I don't like real trendy clothes but I do like my outfits to have a classic style to them. I feel that Stitch Fix sends me clothes that I would pick out if I knew how to pick out stylish clothes – does that make sense?
Stitch Fix sends me the clothes I need and/or looking for. One of my favorite things about Stitch Fix is they'll send you whatever items you're looking for. So if you just want jeans then you can get a box of jeans. If you don't want any accessories then they won't send any. Typically, I ask for 3 tops and 2 pairs of jeans. This way I can make a few different outfits with one box. On the flip side, if you don't give any guidance then your stylist will send you a variety of items.
Stitch Fix has taught me about style and brands. Even though I'm not a big shopper I will say that since using Stitch Fix I've learned more about the brands I like. So when I do go into stores I can look for the brands I prefer. For example, Stitch Fix has sent me a couple pairs of Vigoss jeans in the last year – I love the way they fit and look. A few weeks ago I was browsing around Nordstrom Rack and noticed a whole section of Vigoss jeans. I grabbed a couple pair to try on and ended up purchasing them. Prior to Stitch Fix I would've never known about this brand or tried it on.
My Stitch Fix Outfits
Okay let's get to the outfits I was sent for my 14th Stitch Fix. I told my stylist I wanted weekend wear – outfits I can wear to a casual party or just hanging at a friends or around the house. My style right now is either a poor college student or let's go out to a $300 dinner. Basically, I have lots of sweatshirts and dresses. I have a few "casual" weekend outfits but I need much more. So, that's what I asked for.
Just like with all my fixes everything came perfectly folded in a sturdy box. It was originally wrapped in tissue paper but I forgot to snap pictures prior to taking everything out of the box.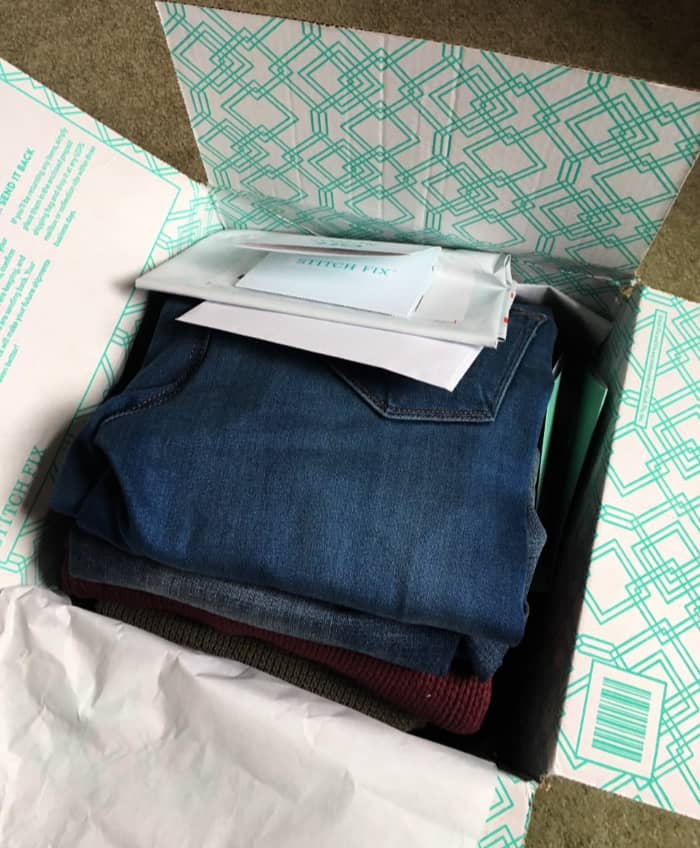 Each fix comes with a style card. In this card you'll find a note from your stylist, along with outfit suggestions for all the pieces they sent.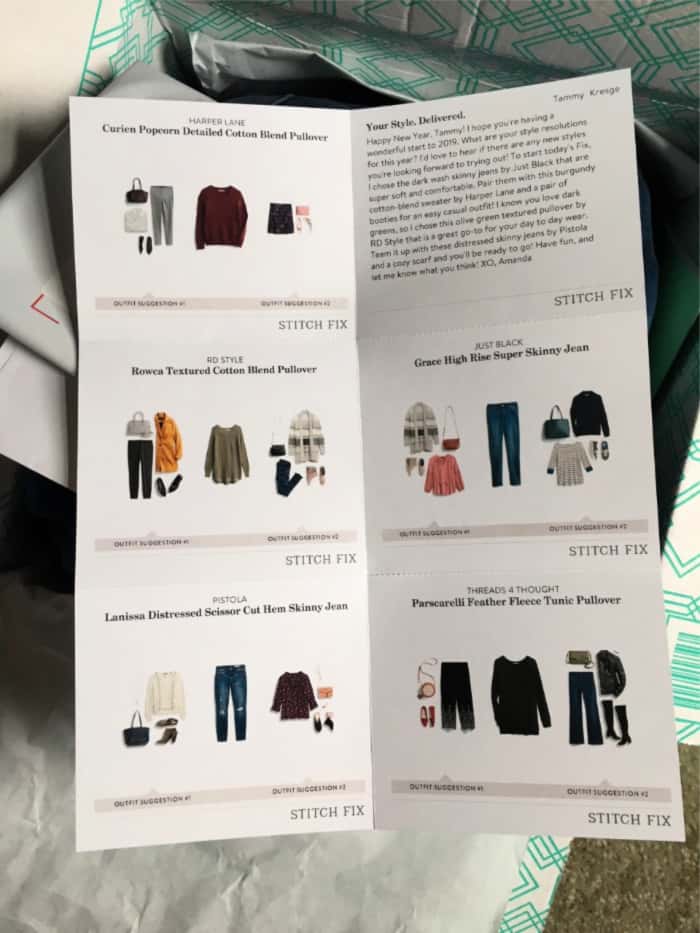 You'll also get an invoice with all the items. It shows the price of each item along with the 25% discount if you choose to keep everything. This is also where you'll see the $20 styling fee waived IF you choose to keep an item. Again, please note you can set your budget in your Stitch Fix profile so the prices you see here can be lower or higher depending on your own personal budget.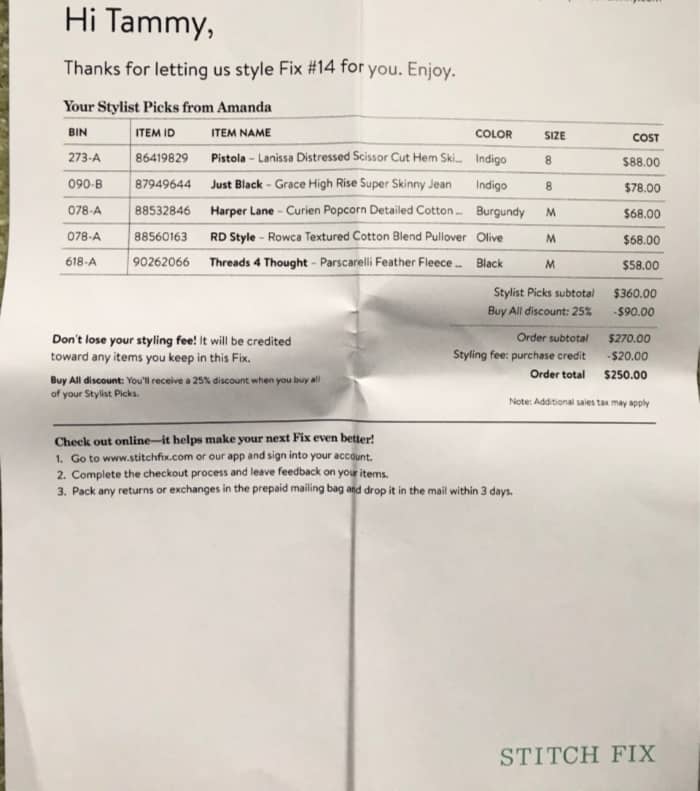 Here are the Stitch Fix outfits I received.
Threads 4 Thought – Parscarelli Feather Fleece Tunic Pullover: $58
Pistola – Lanissa Distressed Scissor Cut Hem Skinny Jeans: $88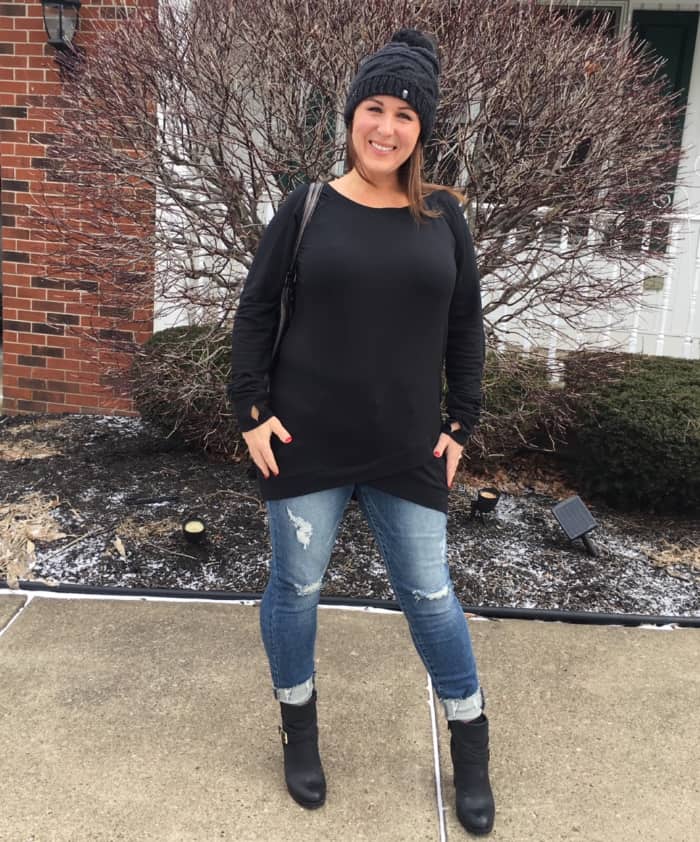 I absolutely love this outfit! The Threads for Thought Pullover is so comfortable but still stylish. The jeans are my favorite pair sent to me yet! They are a size 8 and fit perfectly. I love the distressed look and there is just enough stretch. I wore this outfit twice already!
The 2nd Stitch Fix outfit is:
RD Style – Rowca Textured Cotton Blend Pullover: $68
Just Black – Grace High Rise Super Skinny Jean: $78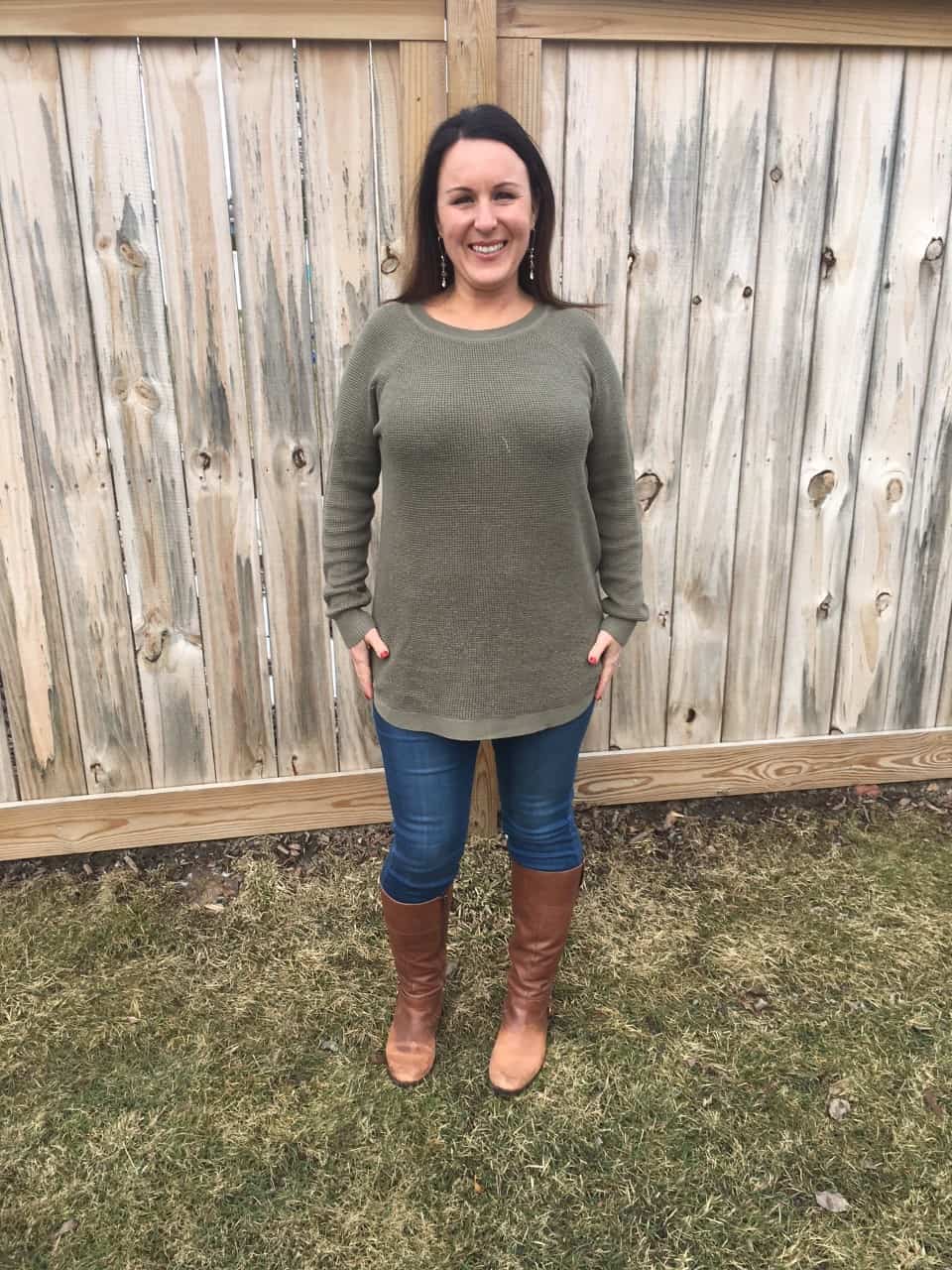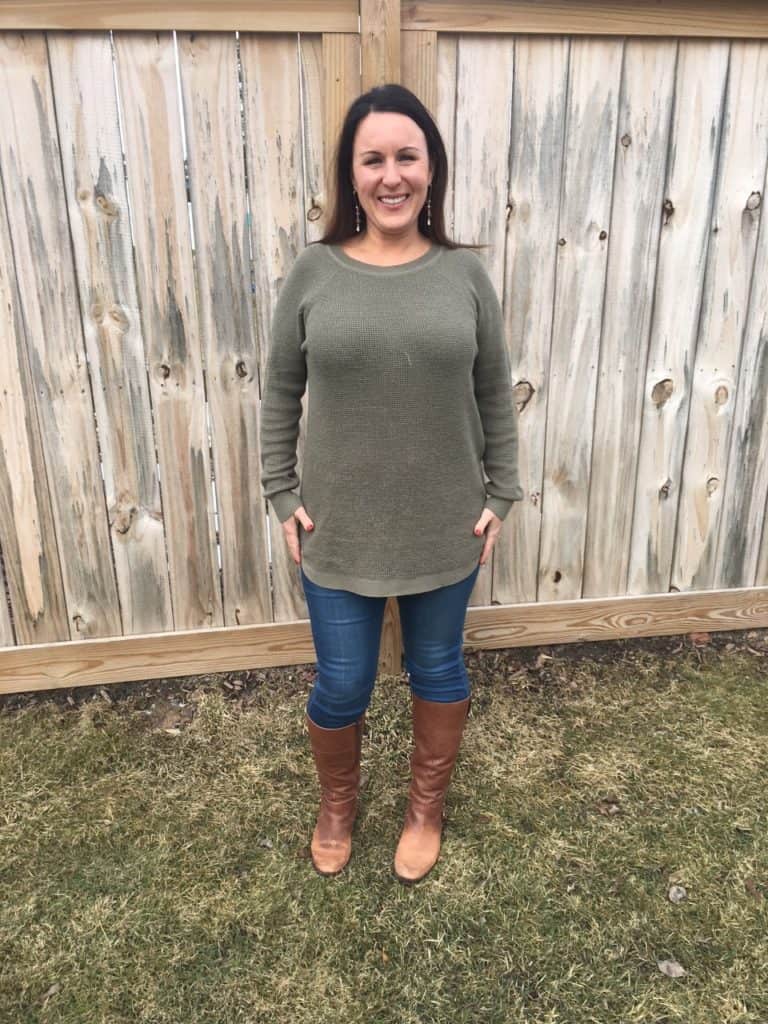 Again, this is exactly the type of outfit I was looking for. Nothing fancy, just casual yet stylish. I know the two shirts aren't very "figure-flattering" because they are loose in the waist area but I still liked the way they looked. I wasn't looking for anything fitted or tight, I wanted weekend casual and comfy.
Anyway, the RD Style pullover is a little more than I'd probably spend on this type of top but I liked the way it fit so I was fine with the price. Plus, I ended up getting 25% off since I kept everything.
The Just Black Grace High Rise Super Skinny Jeans were so comfortable and I loved the color. Again, they were a size 8 and fit great.
If you don't want to read my entire Stitch Fix review then click here to get $25 credit towards your first box of Stitch Fix Outfits.
My 3rd Stitch Fix Outfit:
Harper Lane – Curien Popcorn Detailed Cotton Blend Pullover: $68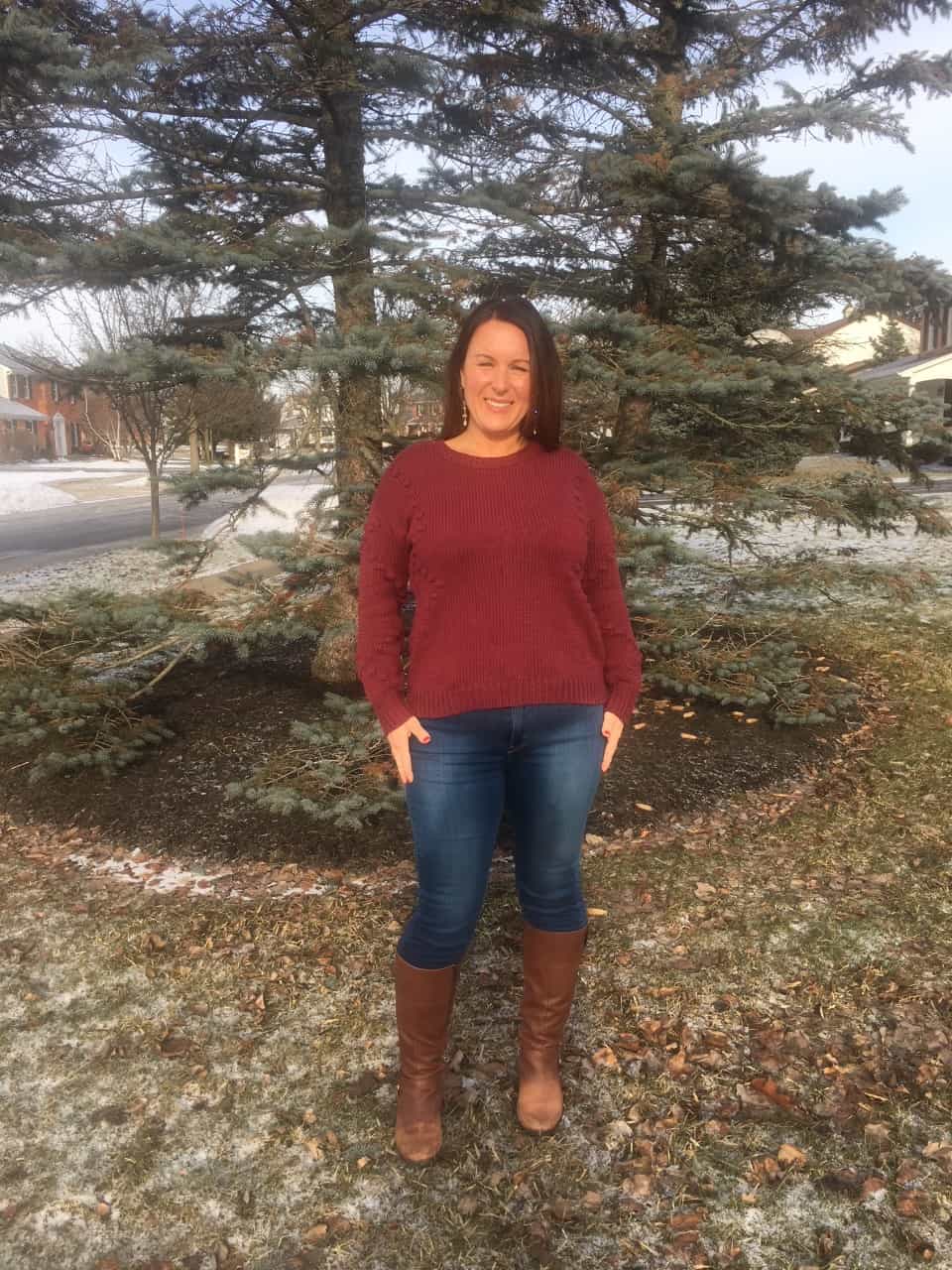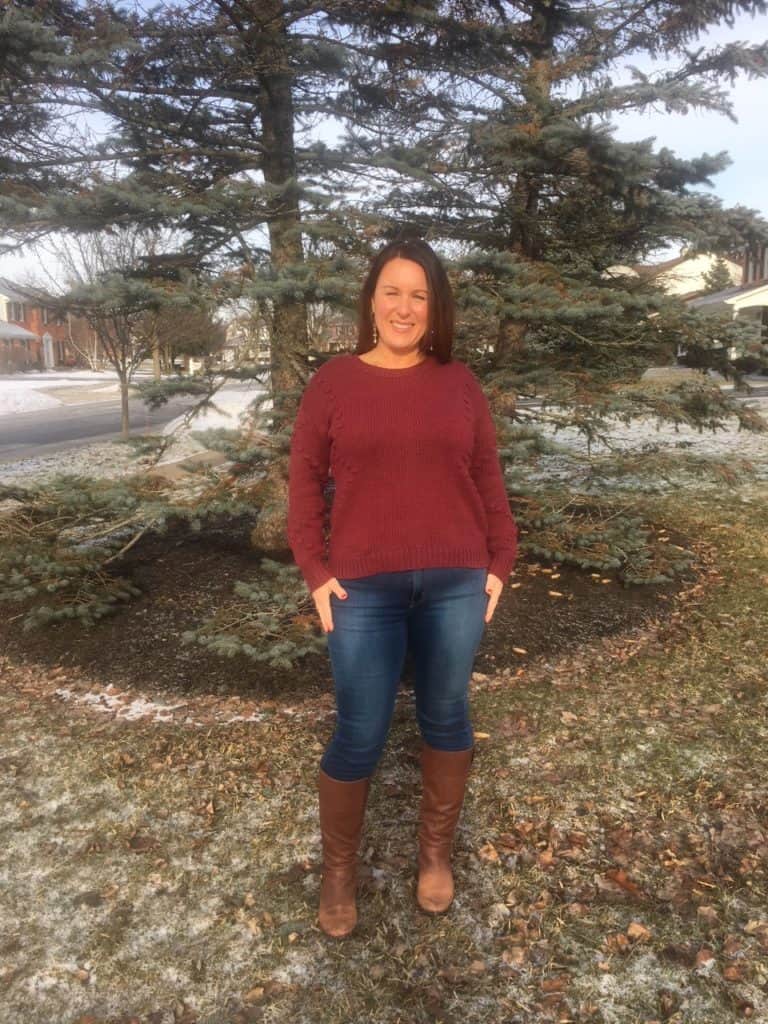 When  I first saw this sweater I was on the fence because it's not a style I'd ever pick for myself. However, when I put it on I liked it. For this picture I paired it with the Just Black jeans but it can be worn with the Pistola jeans too.
The sweater is comfortable and a great color. It's perfect for the end of winter and will work great for the beginning of next fall too.
That's my bullmastiff puppy Kenworth showing off his tricks for you.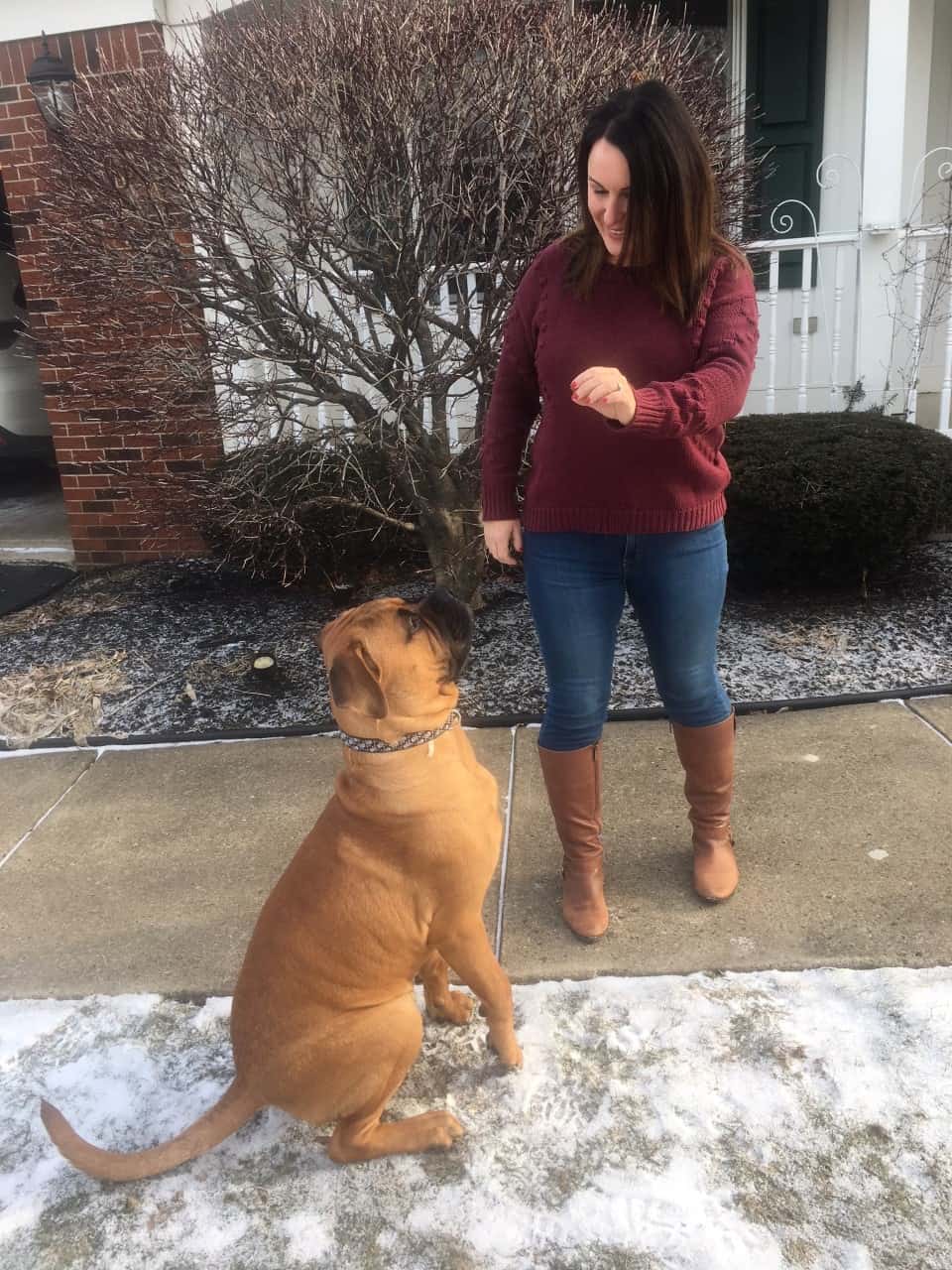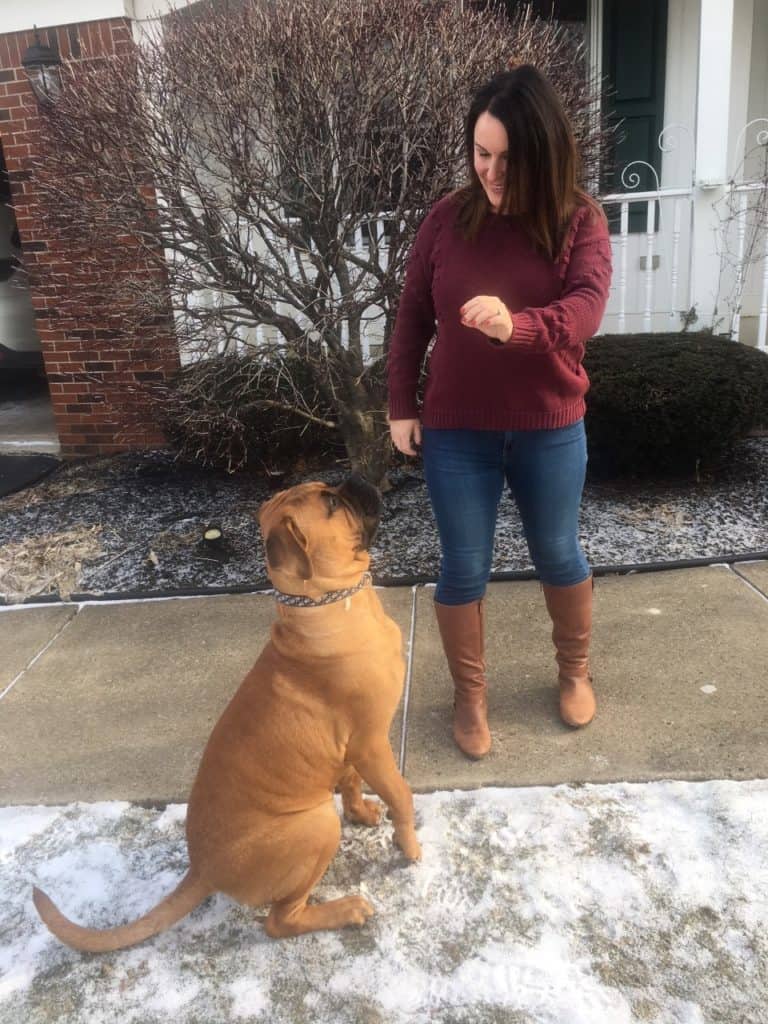 This is the first Stitch Fix (since I started using this service) where I kept everything that was sent to me. I thought my stylist did a fabulous job choosing pieces that met my style and needs.
Since I kept all the pieces sent I received 25% off my entire fix. This brought the price down to $270 from $360. So when all is said and done each piece cost $54 which I think is a good price.
Of course, if I was a bargain shopper I could probably get my clothing for a larger discount but like I said, I'm not and using Stitch Fix to supplement my wardrobe works for me.
If you don't want to read my entire Stitch Fix review then click here to get $25 credit towards your first box of Stitch Fix Outfits.
Tips For Stitch Fix Outfits You'll Love
In my original Stitch Fix Review I offered some tips to help you get Stitch Fix outfits you'll love. Here's a recap and a few more tips.
Communicate on all levels. This is huge! Use every single character to let your stylist know EXACTLY what you want and don't want. Even at check out communicate. There's a notes box next to each item in the checkout area, use it to tell your stylist what you loved and/or hated about the items sent. Remember, stylist, aren't mind readers so if you don't tell them they won't know.
Keep (or get rid of) your stylist. If you absolutely love the outfits sent then make sure to request the same stylist for next time. The more you use a stylist the more she'll get to know what you like and don't. The same goes for a fix that's was way off. Don't feel bad about not using a stylist again. Sometimes it's just not a good fit. Ask for a new stylist and carry on.
Tell your stylist the items you want and don't want. If you want all jeans then say it. If you don't want accessories, let her know. If you love red tops and hate blue then make sure to put that in the notes. If you want a longer tunic style or bell sleeves then tell them. Be overly specific when communicating with your stylist. Of course, if you don't care and want to be surprised then that's your choice too. However, if you have preferences then use every opportunity to let them know.
Keep a Stitch Fix Pinterest board. This is another area to communicate with your stylist. On your board you can save outfits/styles that you like while also writing more instructions in the description part of the pin. There's an area in your profile to put the link to your Pinterest board. I also (if I have room) put the link in the notes section when scheduling a fix.
Overall, I'm a happy Stitch Fix Customer. I love the Stitch Fix outfits I received this month and look forward to receiving a couple of boxes in the next few months to build my Spring wardrobe.
If you have any questions about Stitch Fix go ahead and leave them in the comments. If you're ready to get your first box of Stitch Fix outfits then click here to get $25 credit towards your first box of Stitch Fix Outfits. I hope you found my Stitch Fix Review helpful in making your decision to give them a try.
**This post contains affiliate links. I will receive a small commission if you decide to use Stitch Fix. However, this is my completely honest review and you're by no means obligated to use my links. If you do thanks so much for supporting my site.