This post is by OYS writer Danielle. Check out her other posts here.
As you probably know by now, the ladies of OYS hail from Buffalo.  Buffalo, where we have set quite a few records this winter.  None of them are to be proud of if you ask me.  Today it is supposed to be mid 60's, tomorrow in the 70's which means it is just enough time to clean up our lawns to prepare for the snow that is supposed to come our way in just a few short days.  I am usually not one to complain about the winter, that is my husband's job.  He lives by the standard that if it is below 60°, it shall be deemed "cold".  He clearly was born in the wrong climate.  But this winter…this winter makes me long for the days of hot dogs and burgers on the grill.  You know that first really nice spring day that everyone is pulling out their grills and the aromas throughout the neighborhood are intoxicating?  Yeah, that is what I am waiting for.  And, I think today is going to be that day!
I think the grill might be one of the most under rated kitchen tools.  I am not exactly sure that it can be classified as a kitchen tool as it is kept outside but it certainly helps to prepare my meals, so why not?  We use ours year round so it is kept in an easily accessible spot in our garage. Do you find that you use your grill rain or shine, snow and sleet? 
Grilling is a much leaner way of cooking.  As the meat cooks over the high temps, the fat drips off of the meat.  Because of the high heat, grilling helps to seal in the moisture that will result in a moister, tender piece of meat.  Now, that is not to say, we can indulge in higher fat meats such as sausage and burgers all summer.  We still have to be somewhat reasonable and accountable.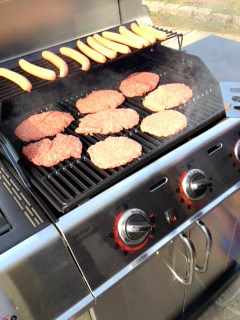 It is so incredibly simple to infuse your food with enticing flavor by using simple marinades.  If you choose store bought, which is absolutely fine, I have noticed that some are too salty for my likes.  Beware of sodium content in these products.  Also, look for marinades that use olive oil as their base (you know…the good kind of fat!).  Should you choose to make your own, here are several  simple recipes I found.  Be sure to set some aside, before putting your meat in it, to use for basting purposes.  By using marinades, it helps to avoid calorie heavy sauces and creams to flavor your food.
Grilling fits into my lifestyle as it is a quicker option to prepare food.  What I like most about grilling is that it is minimal clean up. At most, you may have prep dishes used for making a marinade and a dish for transporting your food out to the grill and another to bring your food back in, as well as your grill tools.  (You should not use the same dish that you put the raw meat on, to bring your food back into the house in fear of cross contamination).  I thrive in a clean kitchen, so this works for me!
The maintenance of your grill is simple but should be taken into consideration as it will help to extend the lifetime of your grill.   I turned to my Grill Master, my husband, for a few simple tips.  He suggests investing in a decent cover that can withstand the elements of the outside.   He also makes a habit of scrubbing the grates of the grill, after cooking, with a wire brush.  It gets all the yuck off in preparation for your next grilling session.  A wipe down of the doors and such to get off any excess grease and drippings is also a good idea.
Because we use our grill so frequently, we have invested in a higher quality grill.  Ours is similar to this one.  In addition, we have accumulated several grilling accessories over the years and there are others than remain on our "wish list".  We have a basket, just like this one, that can be used just as a wok would be.  You can put together a stir fry right on your grill top!  We typically just use ours for veggies.
Another one of our grilling tools and probably our most favorite is the pizza stone.  Grilled pizza, have you tried it? Do you enjoy brick oven pizza with a thin crust?  This is the closest you can come to that same taste.  If you would like to expand your pizza horizons, how about impressing the neighborhood with a grilled dessert pizza like this S'Mores Pizza?  We also have ownership of this fish basket, that looks like this, but it would be more accurate to say that it has ownership of us.  We truly have not mastered the art of grilling fish.  And the thing is, I really want to forgo my title of being a novice in this area.  I think if I could just master the technique, it would help to build my interest in fish (to date, fish and I are not friends…but I'd really like to be!!).  Now, for my wish list, I would love to get  a rotisserie.  How cool would that be?  Actually, this might make a great father's day gift!
A grill is a great investment and I hope I have proved that!  What do you like most about your grill? Any favorite grilling recipes?
Get Instant Access to My Best Weight Loss Tips & Strategies!
Sign up now for a free step-by-step 7-day email course that I created exclusively for my email subscribers! That's you. I will teach the best habits, strategies, and insider tips so you can enjoy a lifestyle that encourages and supports weight loss! Stop relying on willpower and take control back over your life! You can do this. Let me help!