Welcome to Organize Yourself Skinny! My name is Tammy and I'm the owner of this blog. This means I'm the one who writes everything and manages all that you see.
I am thrilled that you stopped by and look forward to having you become a part of this amazing community.
It's likely you ended up here because you're in one of these camps.
You want to lose weight
You're intrigued by meal prep and want to learn more.
You're overwhelmed, stressed out, and want to get your life in some sort of order.
Maybe you just want to make mason jar salads, energy bites, or some other recipe.
Good news. No matter which one you fall into, you're in the right place.
How can I help?
Let's start with losing weight.
If you're anything like me then weight loss has been a lifelong battle. Trust me, I get it. I'll talk more about my own personal journey in a second but first, let's talk about you. There are a few different ways Organize Yourself Skinny can get you moving forward on your weight loss journey.
First, if you're just looking for some basic weight loss information then I recommend cruising around my blog and looking over some of the posts I've shared over the years. I've been writing on Organize Yourself Skinny since March 2011 so there's quite a bit to choose from.
If you need something more structured information then I recommend signing up for my free 7-day "Getting Started with Your Weight Loss Journey" Series.
This 7-day series takes all the topics I talk about, on my blog, and shares them in an organized way. You'll get a daily email that covers a weight loss strategy I use along with action steps to implement it into your lifestyle. This is a great way to get started.
Alright, if you're ready for a complete program that gives you everything needed to start AND succeed on your weight loss journey then I highly (strongly) encourage you to take a peek at the Organize Yourself Skinny eBook and 30-day Workbook Bundle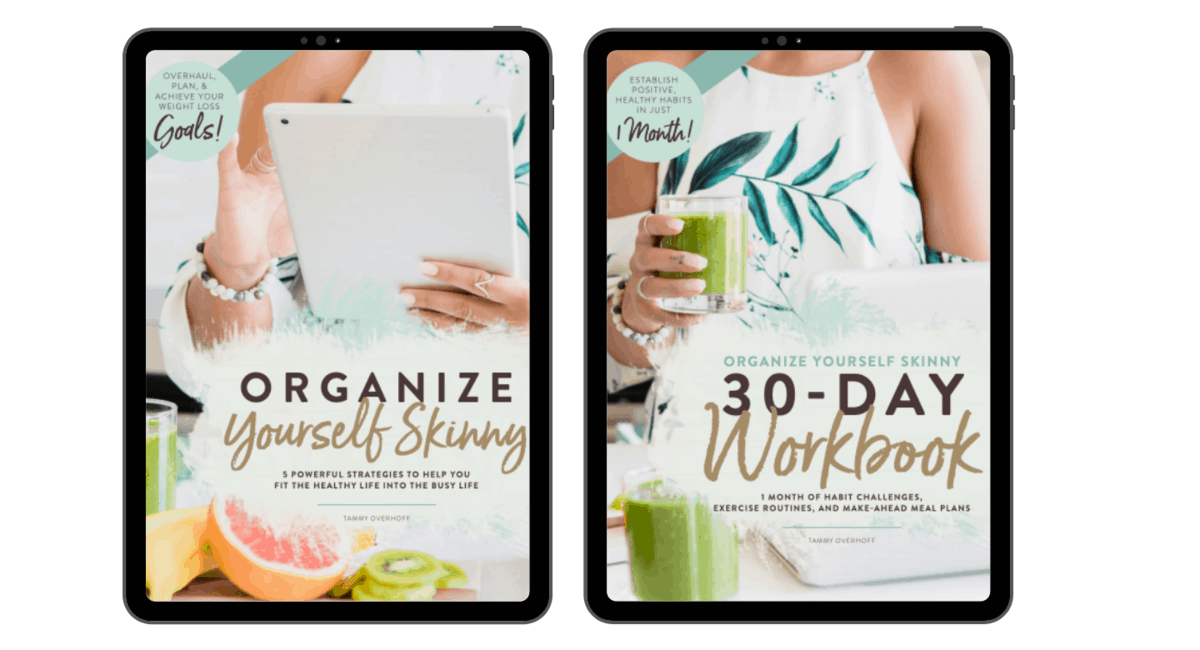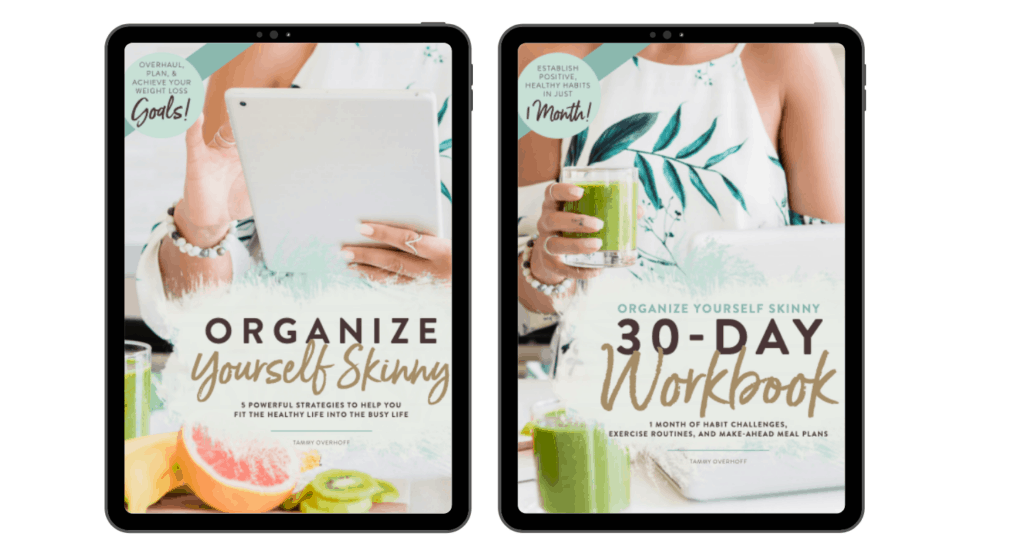 The OYS Bundle walks you through the entire weight loss process. You'll learn all about setting up accountability systems to meal prep!
Even better, you'll get 4 weeks of habit challenges, make-ahead meal plans, and exercise routines. Go here to read more about the OYS eBook and 30-day Workbook Bundle.
Now let's talk about meal prep.
If you're simply looking for some basic meal prep information then check out this meal prep page I put together – it includes all of the meal prep posts I've written over the years.
If you're ready to dive in a little more then sign up for my 7-day meal prep series. Again, just like with the weight loss series, it'll walk you through the basics of starting a meal prep habit.
Okay, maybe you're not really concerned with weight loss, or haven't thought about meal prep, but you're living in total chaos and need help getting your life in order.
Let me just say this. When I started on my weight loss journey it was ALL about getting "skinnier". At first, I wasn't focused at all on "organizing" my life. But I quickly learned that the same strategies I used to lose weight also were essential in getting my life in order.
This is where the biggest changes happened.
So, if you're trying to reduce stress, and feel less overwhelmed, then putting in place the habits and routines I talk about on my blog will help.
Again, I recommend checking out the Organize Yourself Skinny eBook and 30-day Workbook Bundle for a more structured approach. If you're simply looking for some blog posts then check out the lifestyle hacks category.
All that sounds great, but maybe you just came for the recipes.
No worries. You can view all my recipes right here.
Do you want to get more involved in the Organize Yourself Skinny community? Great!
The best way to stay connected to all the happenings on Organize Yourself Skinny is to subscribe to the Organize Yourself Skinny email newsletter.
Also, feel free to send me an email with any questions or comments to [email protected]
A little bit about me…
So maybe you're wondering who is this woman that runs Organize Yourself Skinny…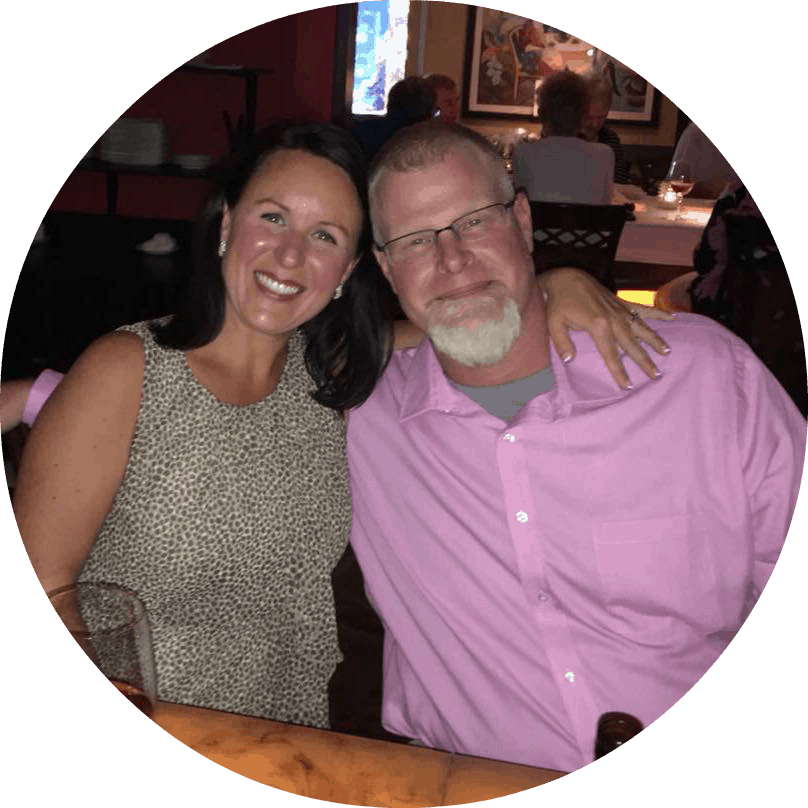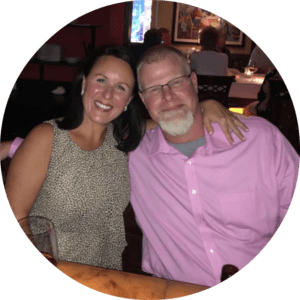 I live in a suburb just outside of Buffalo, NY with my husband Mike (or Mikey poo as I call him) my two beautiful girls, and our adorable bullmastiff Kenworth. Our life is busy and we're always on the go. However, we definitely make it a priority to spend time with our friends and family. We just bought a house last year and love to entertain.
Here are some fun facts about me:
Even though I've built a successful home business, and one would think I got it all together, I'm actually very air-headed. I've leave my house with slippers on, forget groceries at the store, go to the store to purchase one thing and come home with everything BUT that, forget everyone's name, and anything else you can think of. And this happens all the time! I blame my kids and age 🙂
Speaking of age, I'm 44. I always thought 40 was ancient but I feel better now than I did 20 years ago.
I love Italian food and homemade pizza. Btw this does not help with my desire to eat low-carb.
I like new clothes but hate to shop. This is the reason I use Trunk Club. See my Trunk Club Review here.
Along the same lines, I'm known to wear the same sweatshirt for YEARS. It literally needs to be falling apart before I throw it out and even then I'll keep it for another year or so. Just the other day I said to Mike "should I throw this sweatshirt out?" and he says "I don't think there's enough holes in it yet".
My kids' tweener years are my favorite years so far.
Mike is my high school sweetheart and we found each other again later in life. #blessed
I didn't want a dog at all but now that I have Kenny (Kenworth) I absolutely love him.
My favorite thing to watch is reruns of the Real Housewives of New Jersey on Hulu. Don't judge!
I hate all video games. There will never be a gaming console in my house.
Some of my closest friends I've had since 3rd and 4th grade.
I have a Bachelor's and Master's degree but gave it all up to blog full-time and don't regret it for a second. You can read more about my blog journey here.
I used to work at a college for 14 years before quitting to work on this little ole blog. By the way, I quit my job on the exact date I wrote in my journal 3 years prior. #goalcrusher
I'm obsessed with coffee. Like, I look forward to it at night while I'm laying in bed.
I laugh at my own jokes, because I think I'm hysterical. On the same note I love hearing (and telling) the same funny stories over and over and over again!
My weight loss story…
Let's take it back to my college years.
When I was in college I had a super flexible schedule that allowed me to have an active lifestyle of working out between classes during the day and then waiting tables at night. I used to work at the Olive Garden (another fun fact) and those were some pretty fun years! I could eat ALL the foods I loved, without being concerned about gaining weight. Ahhh those were the days. Pasta at midnight? Go for it! A slice of white chocolate raspberry cheesecake just because? Sure!
Well that did not last.
Once the college life ended, and the real world started, I traded in the restaurant apron for a computer and desk. This is when my somewhat active lifestyle came to a screeching and sedentary halt. I put on 10 -15 pounds the first year of working full-time.
Then, a few years later, I became a mom and went back to work. I quickly learned the work and home life balancing act on little to no sleep. I'm not saying I was successful at it. The chaos of working motherhood only added to my unhealthy habits. Soon it was bags of pretzels for lunch and frozen pizzas for dinner. The result was a weight gain of 60 pounds in 12 years! Yikes! Not to mention I was completely stressed out, overwhelmed, and miserable.
This was me at around 170 pounds. No I'm not pregnant. And don't even get me started on my style.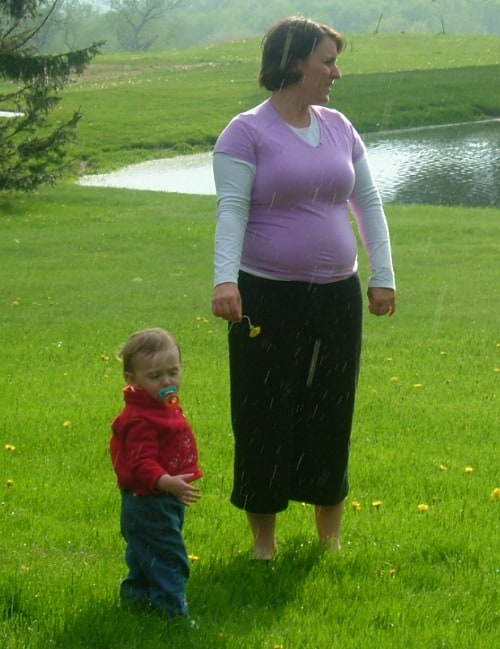 One of the things I hate seeing the most are pictures of me hiding behind my kids (or others). I hated being front and center for everyone to see the weight I've gained.
It was pretty obvious my weight issues back then were the result of eating too many calories, making poor food choices, and a very sedentary lifestyle. Trust me, you don't gain 60lbs by eating broccoli and grilled chicken.
Basically, I wasn't making health a priority – not even close.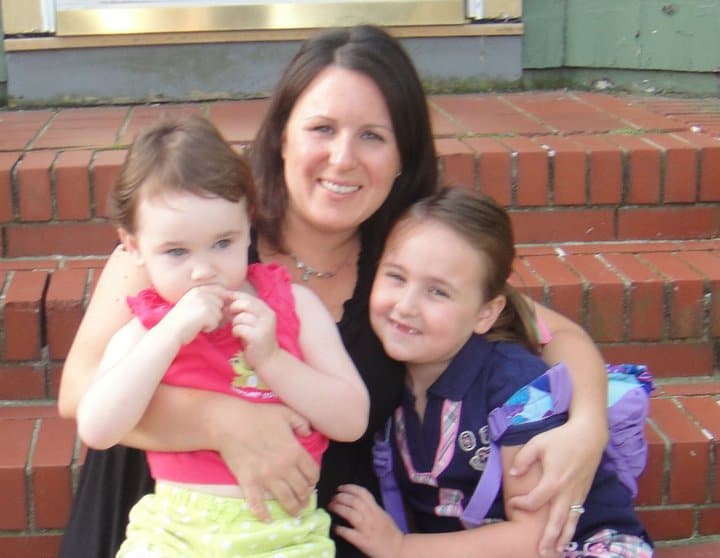 The Light Bulb Moment
In October 2010, a colleague introduced me to the free online food journal My Fitness Pal. Immediately upon using this tool I recognized I had no clue the amount of food I was eating. The first day I began to record my eating habits, I ate as I normally would in order to get an accurate read on the number of calories I was consuming. The shocking result was I had consumed 3000 calories in one day without even trying!
Everything I thought I knew about food was either skewed or completely wrong. This realization was very liberating because it was at that point I knew I had no one else to blame but myself and the power to change was in my hands. I wrote more about this here.
Slow and Steady
Obviously, I did not gain the weight overnight and I knew the weight would not disappear overnight. My weight loss plan needed to be a slow and steady process. It also needed to be realistic so I could sustain it. I learned from past experiences that taking drastic measures or looking for quick fix gimmicks would only lead to failure in the long run.
That's when I started to meal prep, freezer cook, and build other habits and routines. At first, I didn't even realize what I was doing. I just knew I needed to eat healthier foods and the only way to do that, with my busy schedule, was to prepare it ahead of time.
I also knew I needed accountability so I tracked everything I ate using My Fitness Pal. These concepts (or strategies) were HUGE game changer for me. I actually lost my first 30lbs simply by changing my eating habits.
After about a year I incorporated exercise – which again included building routines so I could make exercise a priority. That's when my body started to completely change. One of my favorite quotes is "Changing your eating habits will help you look good in clothes, but exercise will help you look good naked!" Just saying…
These concepts have been the backbone to my weight loss journey.
Now my journey hasn't been all perfect – so don't get that impression. I struggle just like everyone else. We all have ups and downs. So I've experienced losing a total of 40lbs but also I've gained back 15 off that. So just like you, I have to keep working at my journey.
This is me at 151pounds! Those are my sisters – who by the way NEVER struggled with their weight! Grrr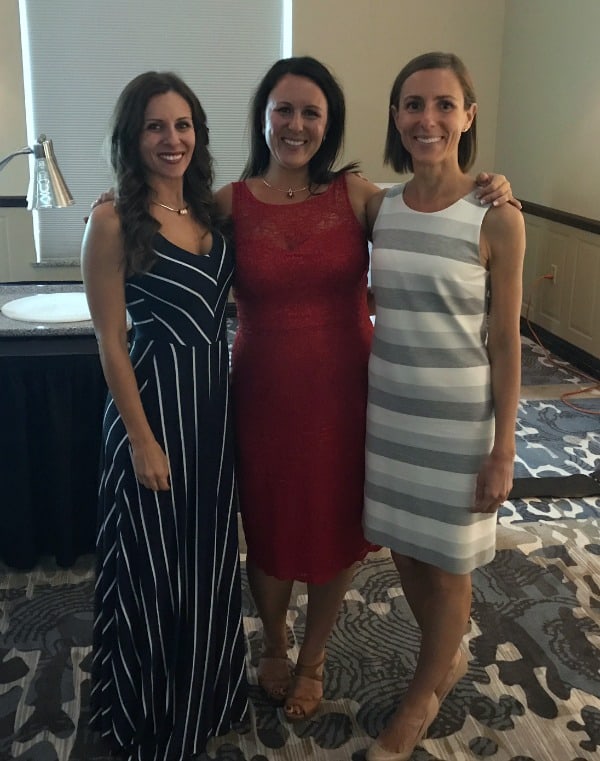 Now I stand right next to my daughter instead of hiding!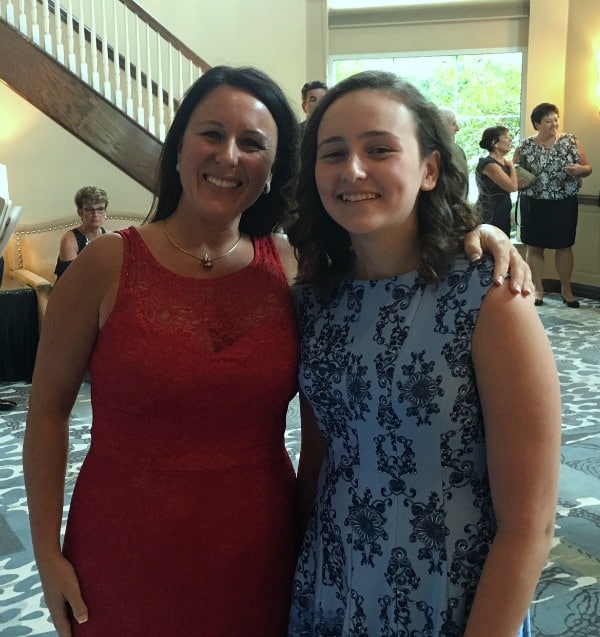 Never in a million years would I've ever worn a strapless dress and now these are my favorites. In fact, my whole style has changed. I like bright colors and, even though I'm the holey sweatshirt girl, I do purchase clothes I'd never wear before.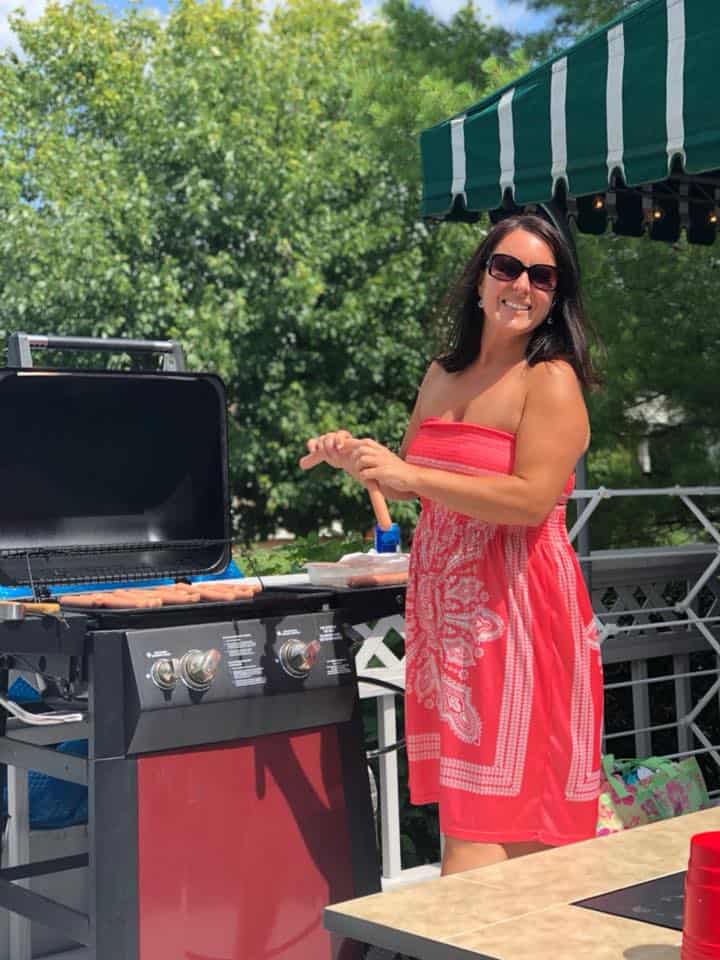 My life has changed for the better in so many ways. Since losing weight I'm happier and more confident. I can go anywhere and I'm not afraid to run into people. I love getting my picture taken now. But it's more than that. Getting my life more organized using meal prep, freezer cooking, and other habits and routines has made me a less-stressed person. I feel in control of my life and that makes me happier than what the scale says.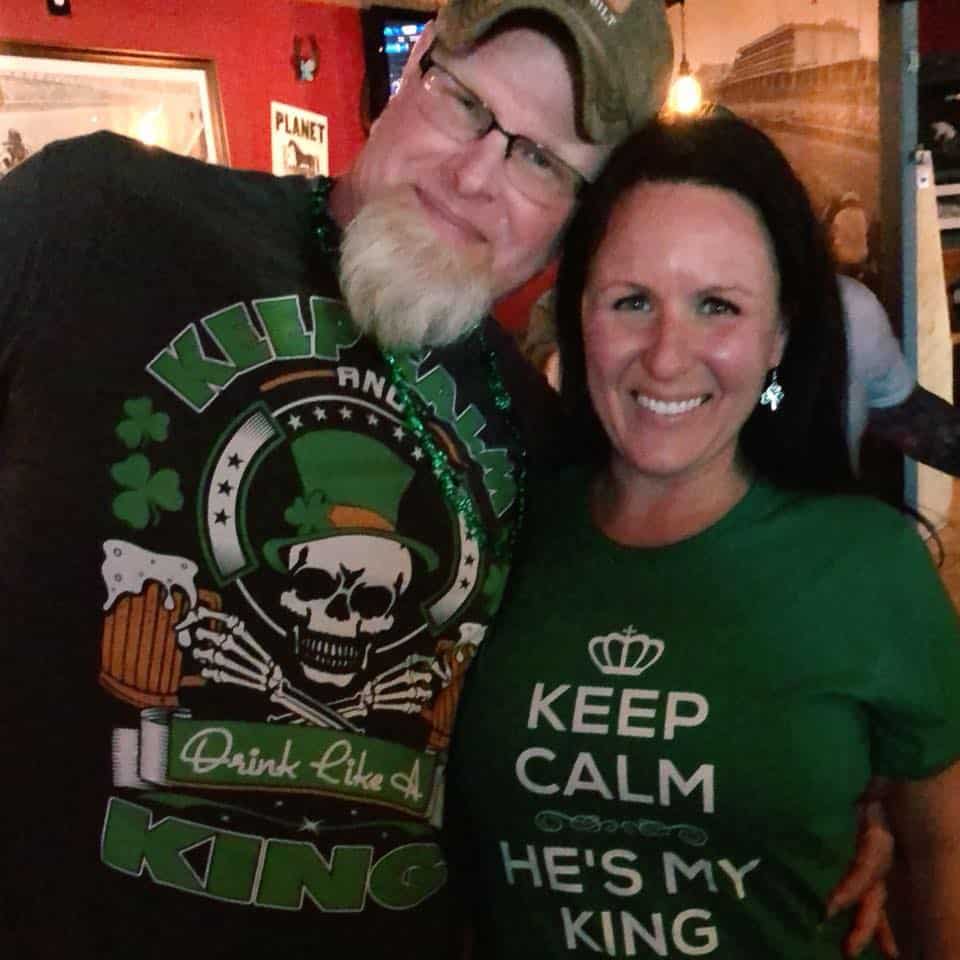 Weight Maintenance
At the start of my weight loss journey, losing 50-60 pounds seemed like such a mountain to climb. The first two weeks were the hardest because I had to work hard to break 12 years of unhealthy habits. Little by little, as the weight came off, it got easier and I realized losing weight is the easy part. Maintaining this healthy lifestyle forever will be the challenge. Temptation is everywhere and, let's be honest, it's easier to be fat. A healthy lifestyle takes continuous effort, education, and dedication. Once you make health a priority, and put routines and habits in place, making healthy choices becomes much easier.
Thank you again for finding your way to Organize Yourself Skinny. I'm so glad you're here and I look forward to getting to know you better!