Lean Turkey and whole grain rigatoni mixed in a spicy tomato sauce seasoned with chili flavors and then covered in Monterey jack cheese and baked till bubbly. This Turkey Chili Pasta Bake takes healthy comfort food to a new level of yumminess!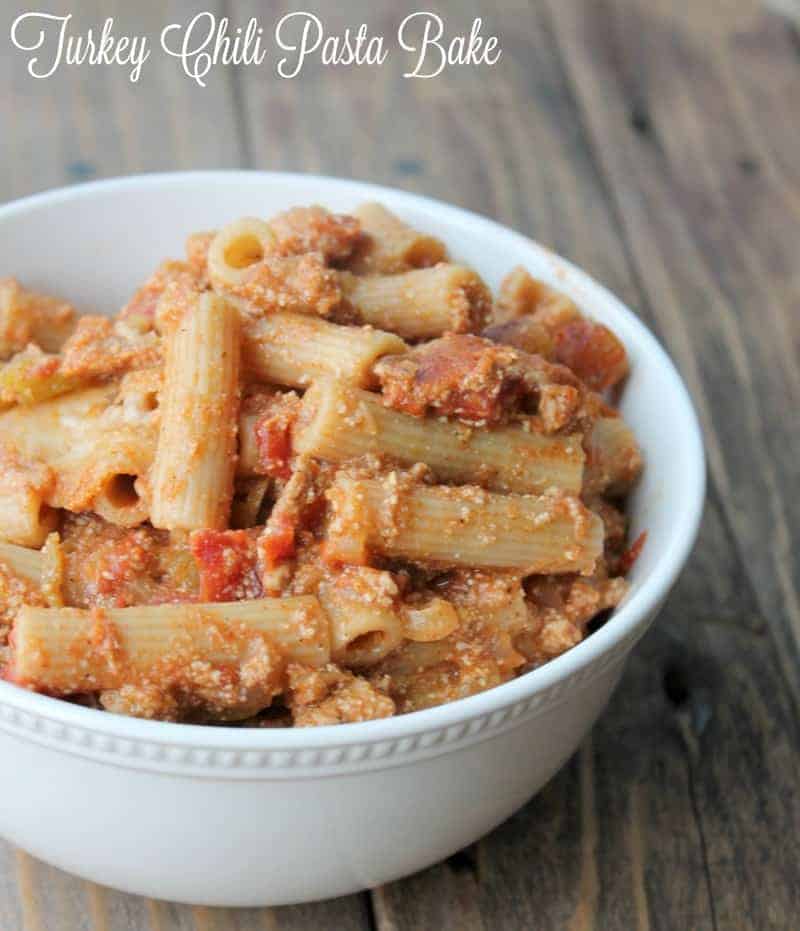 It's January. It's cold out. Like frigid cold to bones cold. All I want to do is wrap myself in a big comforter, lie in front of the space eater, and eat comfort food. That's all.
I try not to make a lot of pasta recipes because ummm…I will eat them all in one sitting. Pasta is a food I'm not very good at controlling myself with. However, I'm human and ½ Italian soooo pasta is in my DNA and I can't deny my love affair with chunky rigatoni, delicate angel hair, and all the delicious pasta varieties in-between. Mmmmm just the thought of my mom's sauce over rigatoni makes drool like a English Mastiff. Just sayin.
Let's get the image of me drooling out of your head and talk about this amazing pasta bake I put together this week.
I spotted this chili pasta bake in my Weight Watchers What to Cook Now: 300 Recipes for Every Kitchen Cookbook.
Yes I know Weight Watchers has once again changed their point system. This cookbook gives the old points plus system but I still think it's a great cookbook to have. I personally don't follow Weight Watchers so it doesn't effect me when they switch things up. They list the nutritional information for each recipe so that works for me. I recommend this cookbook regardless if you use Weight Watchers or not.
The original recipe uses ground beef but I chose to use ground turkey instead. I use ground turkey in place of ground beef in most recipes. It lowers the fat and, with the right seasonings, it tastes just as good.
For the seasonings I mixed together chili powder, cumin, granulated garlic, onion powder, salt, and pepper. I set the mixture aside while I cooked the turkey.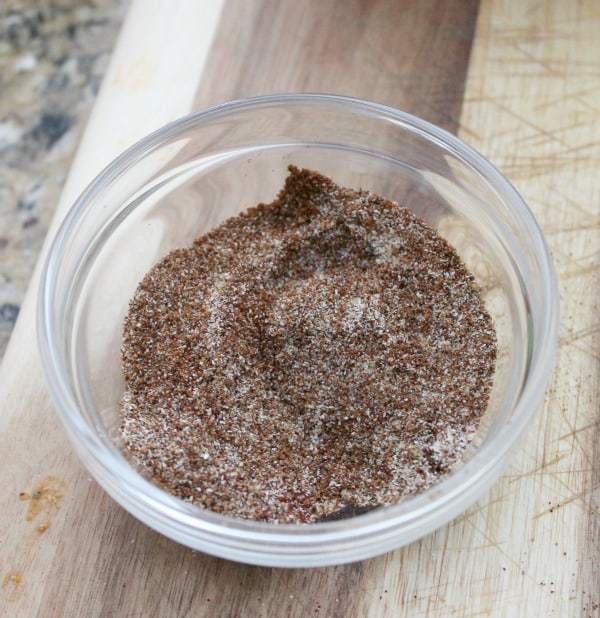 I used my Le Creuset 5 1/2 quart dutch oven to start this recipe. The first thing I did was cook the pasta in it. After the pasta was cooked I set it aside and used the dutch oven again to make the sauce. This keeps the number of dirty pots to a minimum. Real quick about the pasta. Make sure to cook it very al dente. You want the pasta to have a good bite left so it doesn't turn into mush as it bakes in the sauce. One more thing about the pasta. I used bionaturae whole grain rigatoni pasta. This is a smaller rigatoni than a traditional rigatoni. If you can't find this then use penne pasta. You don't want a real fat noodle.
Onto the sauce. I first sautéed the onions and garlic in a little olive oil until the onions started to turn translucent. Then I added the ground turkey and cooked till it was brown and just a little pink.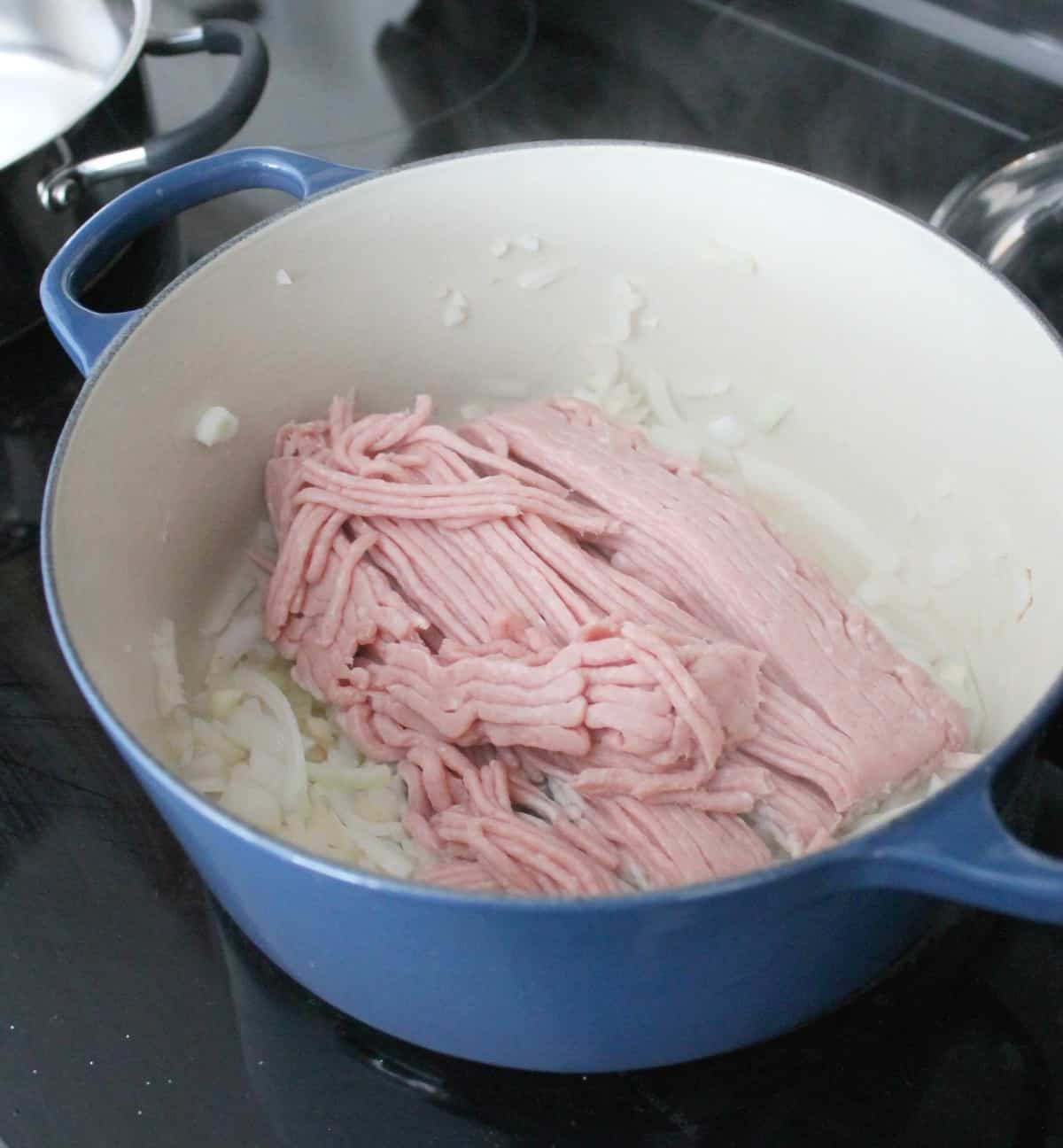 I sprinkled in the spice mixture and continued to cook for about 2 minutes. I like to cook the spices a little bit before adding any liquids. I feel this gives the spices the opportunity to bloom a bit.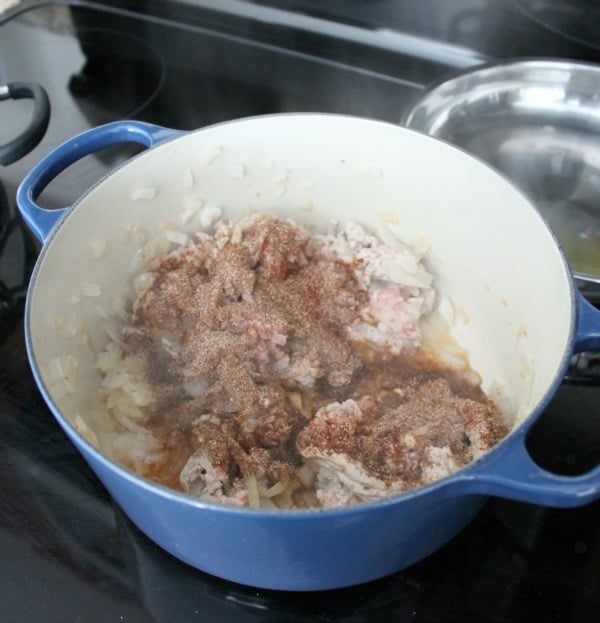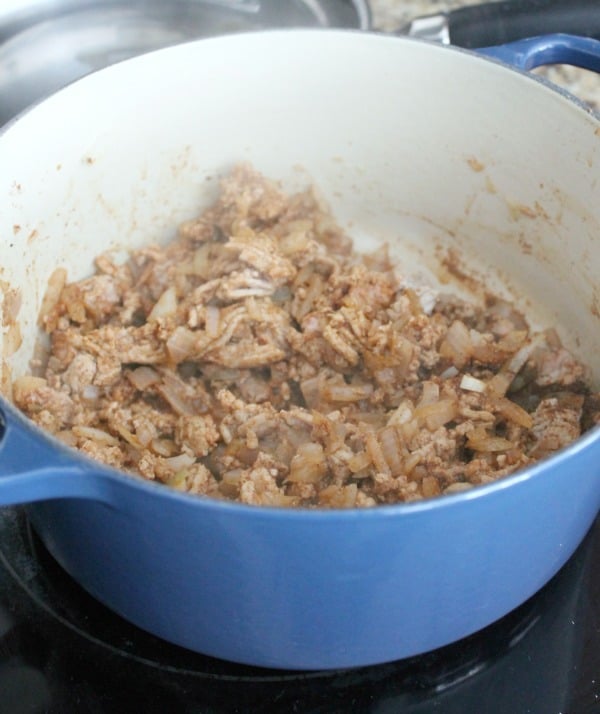 Next I added in the liquids. I used chili style tomatoes and diced fire-roasted green chills. After I gave it a couple stirs I let it simmer for about 20 minutes or so to thicken the sauce up.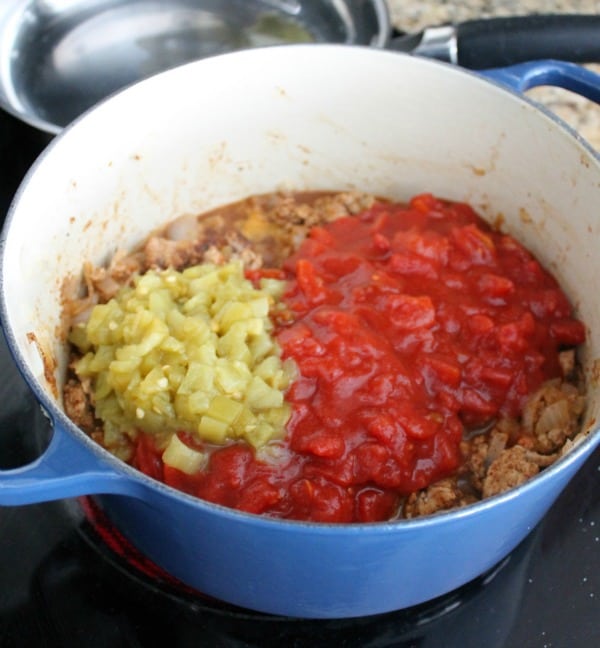 Then I stirred in the pasta, ricotta, and 1/2 cup of the shredded Monterey Jack cheese.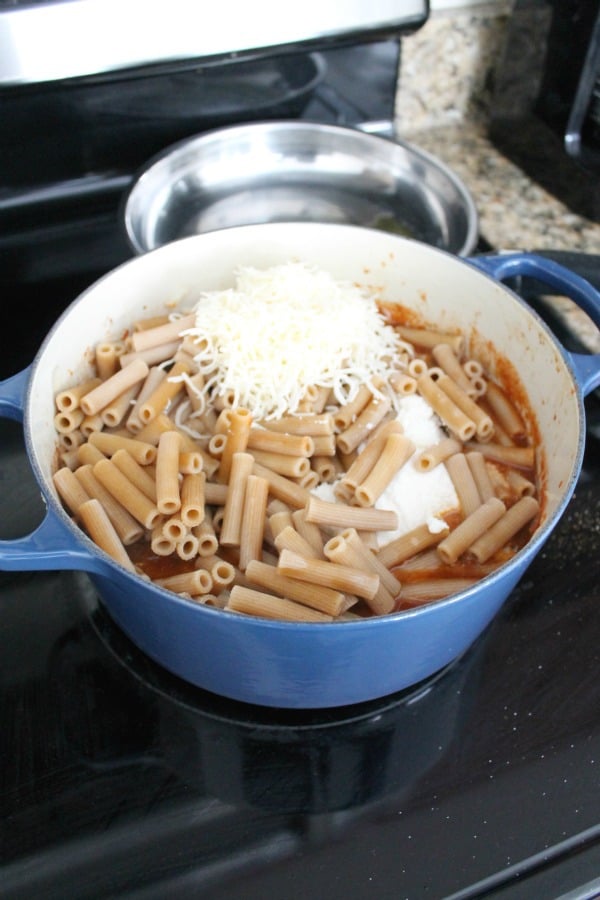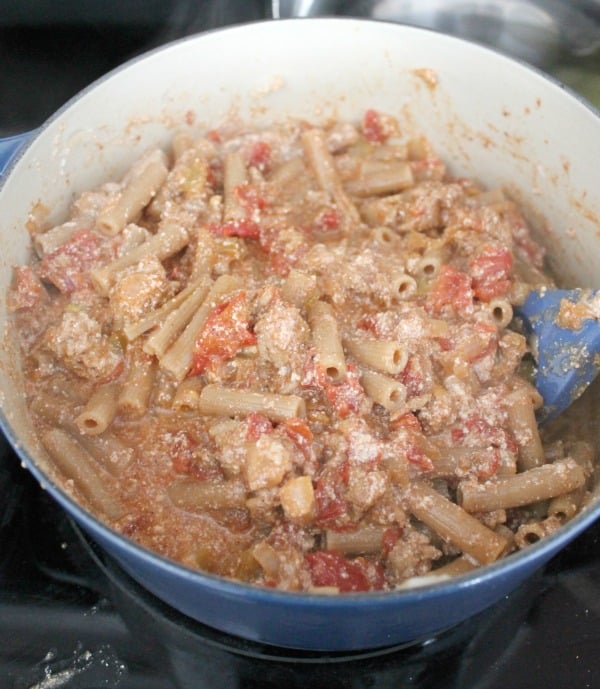 Whole wheat noodles are tasty but they often give a sweet taste to the recipe. After I gave the pasta and sauce a quick taste I decided it needed a little kick so I added 1/4 cup of Franks Red Hot Sauce. This did the trick. The spice and vinegar from the hot sauce perfectly balanced the subtle sweetness of the noodles.
Then I poured the pasta mixture into a 9 x 13 casserole dish sprayed with cooking spray.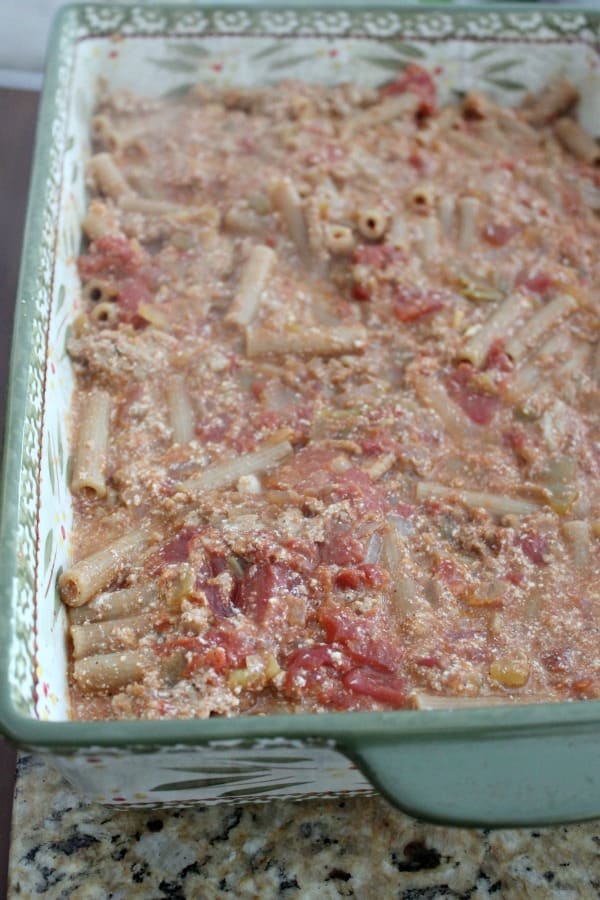 And sprinkled with the rest of the cheese. Cheese makes me happy.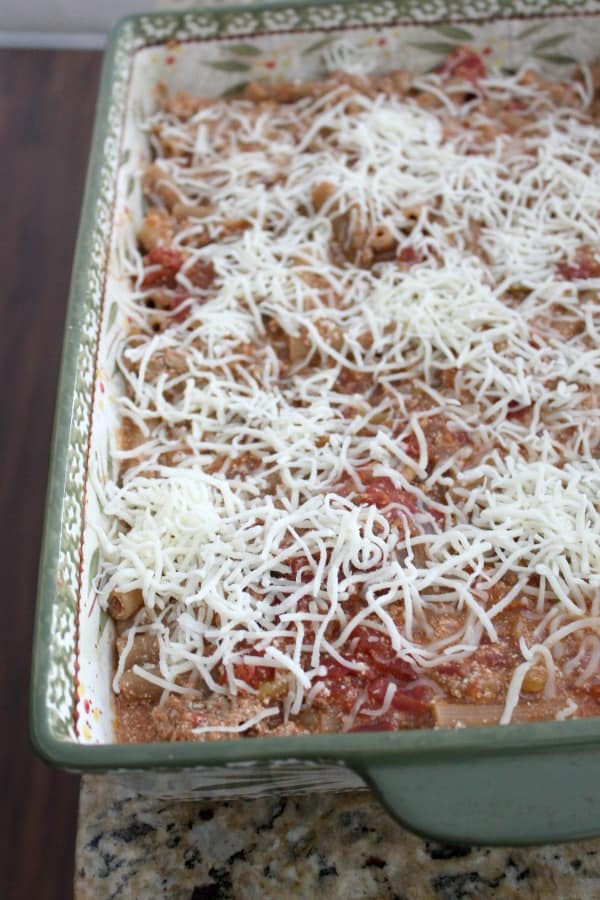 Then the baking bubbling magic happens. I placed the casserole into a 350 oven and baked for 30 minutes. Look at this 9 x 13 pan of pure comfort. Oh baby!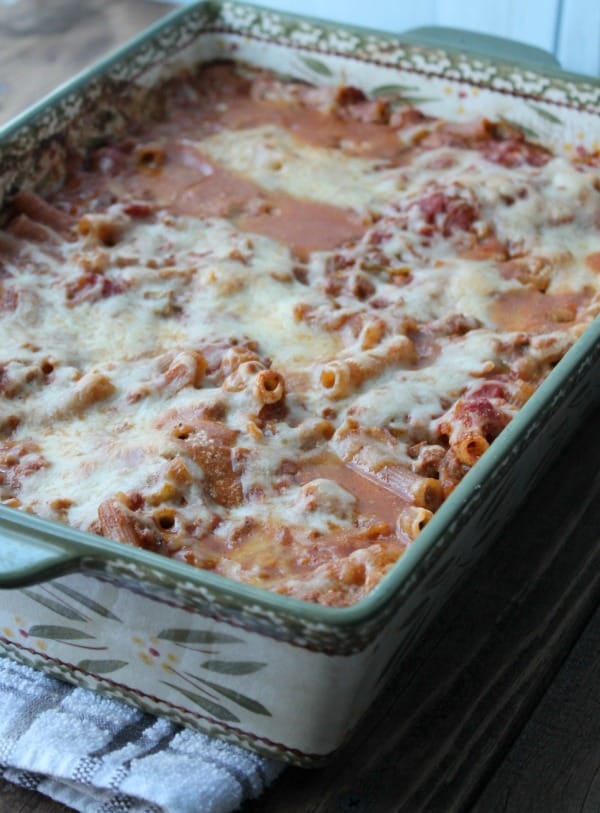 Here's another angle.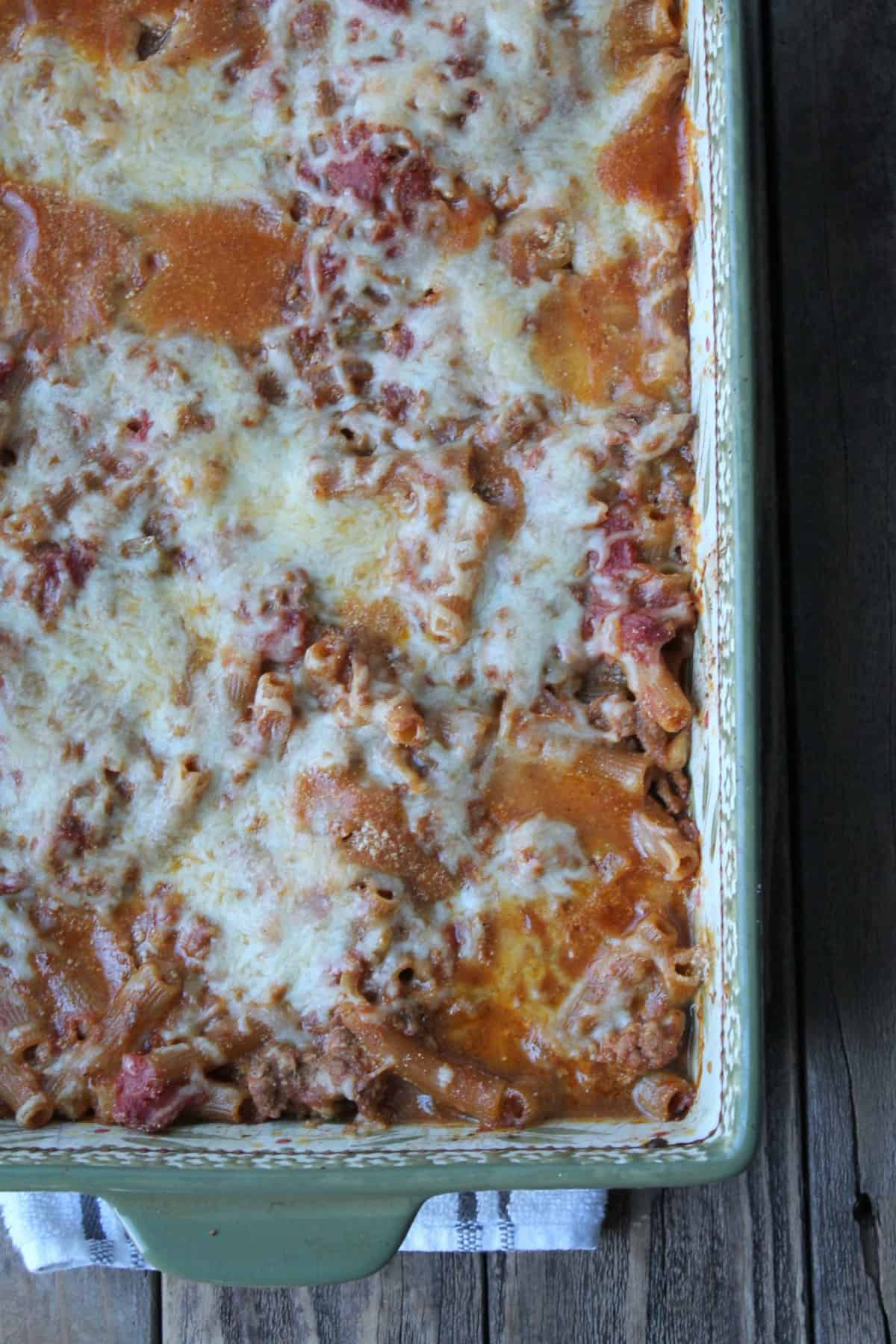 You'll get 8 hearty 1 1/2 cup servings. Serve with a small salad and you will be set.
This Turkey Chili Pasta Bake freezes great so if you don't plan to eat all 8 servings by yourself over the weekend then portion it out and freeze for easy lunches and dinners. I used these meal prep containers. They worked great.
If you are looking for a spicy chili twist on a pasta bake then give this recipe a try. It's hearty, wholesome, and super tasty.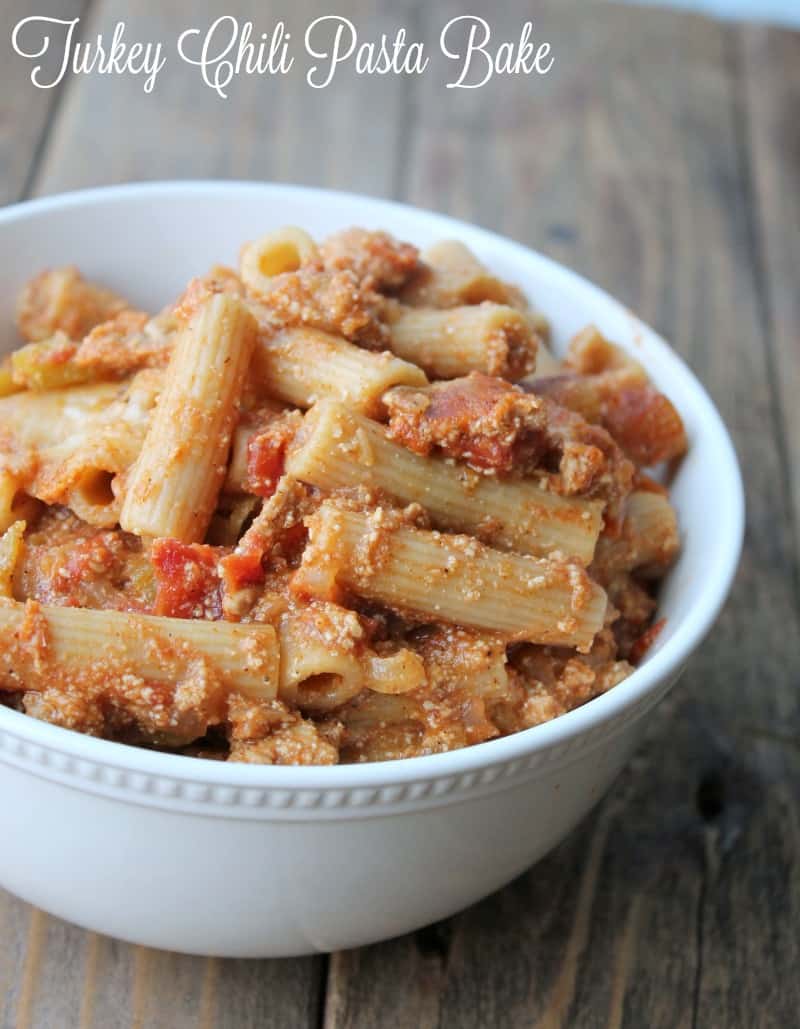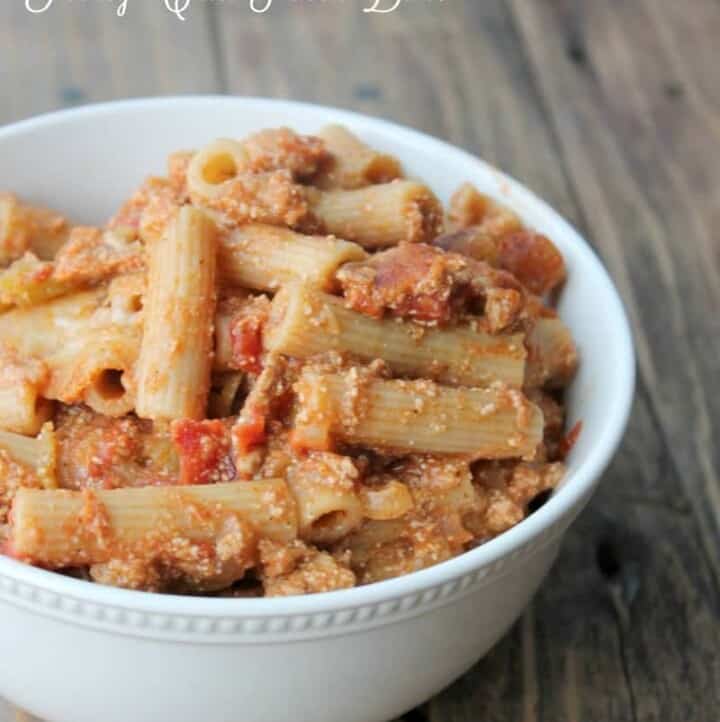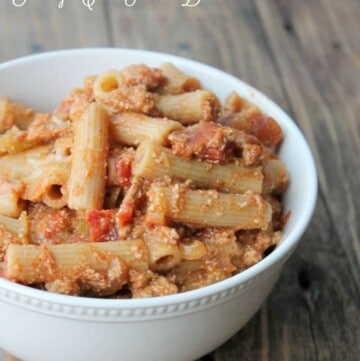 Ingredients
3

cups

dry whole grain small rigatoni or penne noodles

1

lb

ground turkey breast

1

large white onion

chopped

2

large garlic cloves

chopped

1 ½

tablespoons

chili powder

1

teaspoon

ground cumin

1

teaspoon

onion powder

1

teaspoon

granulated garlic

1

teaspoon

salt

½

teaspoon

ground pepper

2

15-ounce cans chili style tomatoes

1

4-ounce can fire-roasted diced green chilis

1

cup

part skim ricotta cheese

1

cup

shredded monterey cheese

1/4

cup

Franks Red Hot Sauce or your favorite hot sauce

optional
Instructions
Preheat oven to 350 degrees.

In a large pot cook pasta in boiling water until very al dente. You want the pasta to still have a bite to it. Drain and set the pasta aside.

In the same pot heat olive oil over medium heat until hot. Add in onions and peppers and cook until the onions are translucent, about 5 minutes.

Stir in the ground turkey, and cook until slightly pink (about 5-7 minutes), breaking up into small pieces as it cooks.

Stir in the chili powder, ground cumin, granulated garlic, onion powder, salt, pepper and cook for another 2- 3 minutes.

Stir in the diced tomatoes and green chills.

Bring to a boil and then simmer for 20 – 25 minutes or until the sauce thickens.

Stir in ricotta cheese and 1/2 cup of shredded Monterey Jack cheese.

Pour pasta mixture into a 9 x 13 casserole dish sprayed with cooking spray.

Sprinkle with the rest of the Monterey Jack cheese.

Bake for 25 – 30 minutes or until cheese is melted and casserole is hot and bubbly.

Serve hot with a small salad.
Notes
Sugar: 6
Make-ahead tips
This recipe can be prepared ahead of time a few different ways. First, you can cook it completely, portion it out, and freeze for a future lunch or dinner. Or you can make the sauce and pasta ahead of time, store separately, and then combine when you are ready to bake. Or you can make the sauce ahead of time and cook the pasta when you are ready to finish the recipe.
Nutrition
Serving:
1
g
|
Calories:
404
kcal
|
Carbohydrates:
48
g
|
Protein:
26
g
|
Fat:
13
g
|
Saturated Fat:
6
g
|
Fiber:
6
g