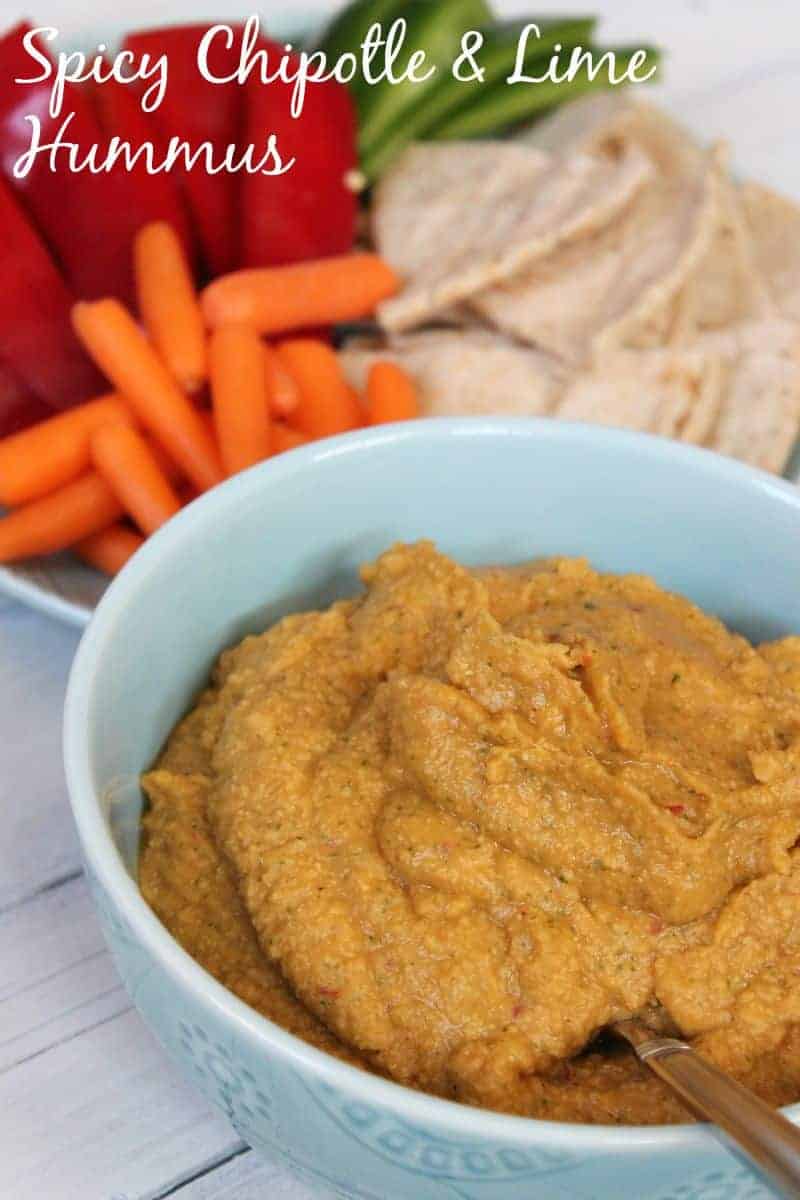 Thank you Silk for sponsoring this AMAZING Spicy Chipotle & Lime Hummus recipe today! I love the Silk Coconutmilk but all their products are awesome. Visit their website for more recipes and a chance to win a giveaway! Woohoo! Not sure if Silk products are in your area? No worries, they have a store locator to help you out.
It is officially my favorite time of year – football season!! Truthfully, I don't really watch the football games. Okay, maybe I watch them a little, but I have no clue what's going on. I just cheer for the team with the cutest quarterback. #keepingitreal This doesn't always serve me well growing up and living amongst diehard Buffalo Bills fans. Anyway, my favorite part of football season is the football parties and the food. I love football food!
Football food to me means appetizers, finger foods, and dips. Me love me a good dip! My favorites are taco dip, artichoke and spinach dip, and buffalo chicken dip. Yum yum yum! The thing with dip is it's easy to overeat and more often than not they are filled with tons of dairy and fat! For me that equals bloating. I know…TMI… but seriously in my ripe old age of 40 I really need to be careful with dairy. #Iam40problems.
Because of my old age dairy issues I like to have nondairy options, especially when I know I'm going to be eating a few servings. I also like to have meatless options because not everyone (including me) wants to gorge on chicken wing dip for hours.
Enter hummus. Hummus is da bomb! It is a dip that can take on any flavor you decide to throw into the food processor.
For this Spicy Chipotle and Lime hummus recipe I was feeling smoky, spicy, and limey. Is limey a word? It is now. It means to be full of lime flavor. Ha!
This hummus recipe could not be any easier. If you have a somewhat stocked pantry, refrigerator, and freezer you just might have all these ingredients on hand. If not no worries they are all easy to find in the grocery store.
All you need are a couple cans of chickpeas, a clove of garlic, 2 or more chipotle peppers in adobe sauce, cilantro, lime juice, cumin, salt, pepper, and coconut milk. Coconut milk? Yup! Traditional hummus recipe call for oil and tahini paste to smooth things out. I decided to use Silk Unsweetened CoconutMilk instead to give the hummus a creamy texture while keeping calories under control. Win for everyone!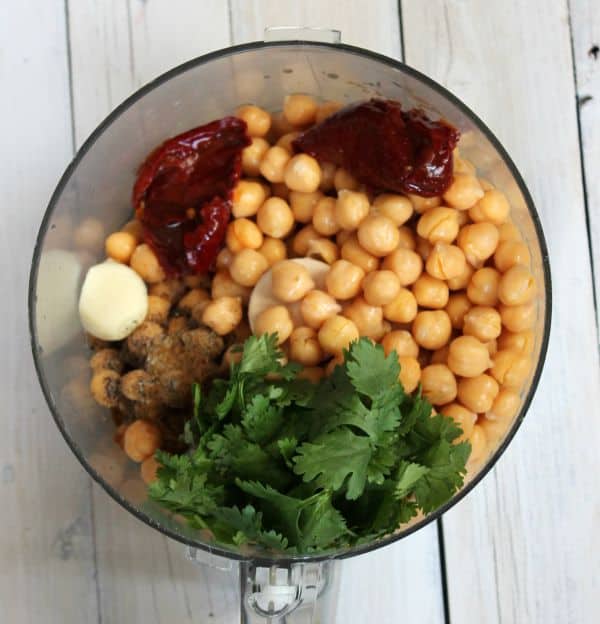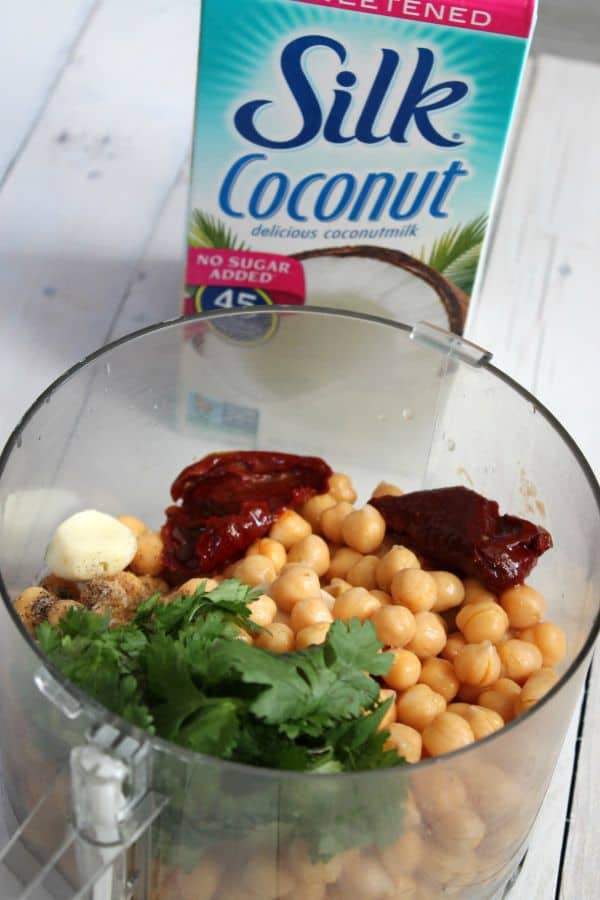 Blend all of the ingredients, minus the Silk Unsweetened Coconut Milk, together until everything is blended. Slowly add in the Silk Unsweetened Coconut Milk until you get the consistency you like. If you want it thicker add less coconut milk.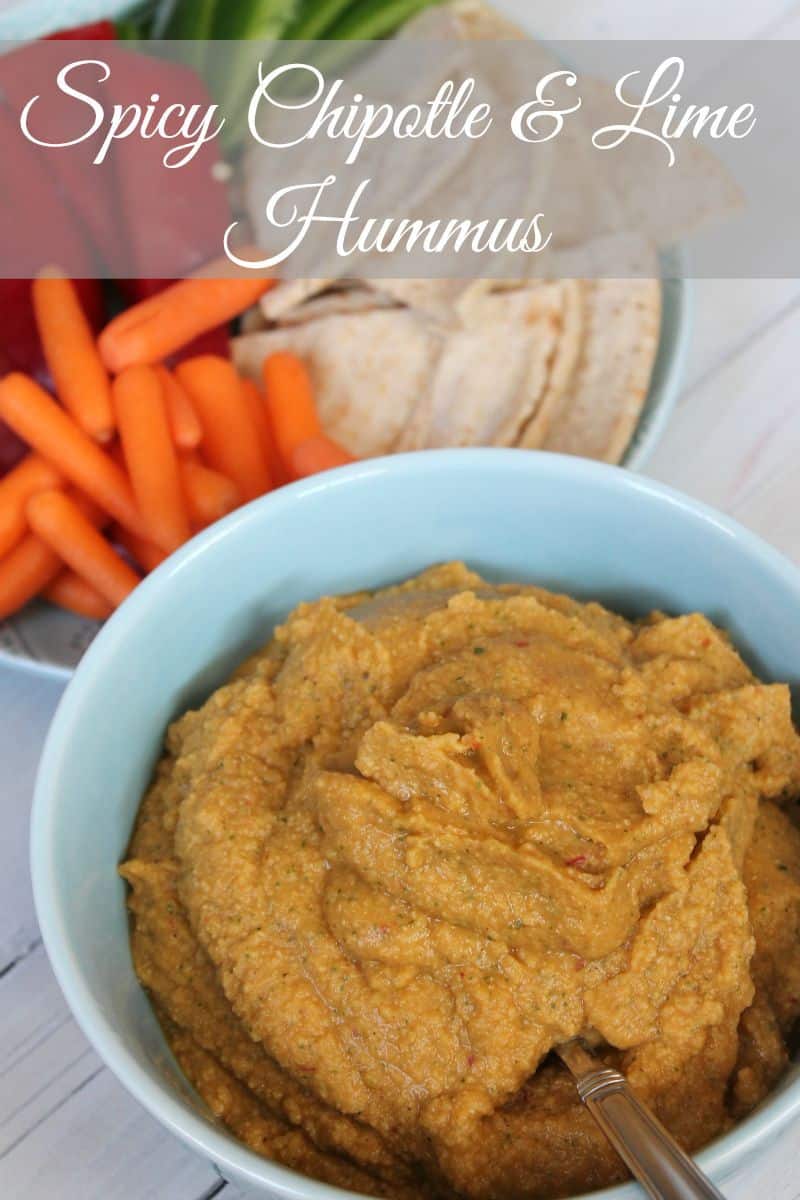 The great thing about this recipe is you can make it as spicy as you like. I used 2 chipotle peppers (seeds removed)and 2 teaspoons of the adobe sauce. However if you want it spicier then add more. Actually, you can change up all the flavors to meet your tastes. If you want a more prounced garlic flavor throw in another clove. Do you love cilantro? Great, add more. Do you hate it? Leave it out. Hummus is all about blending and tasting until you get the flavor you want. The recipe I am giving you is the perfect amount of spice, lime, and cilantro. I loved it!
For a football party I would serve this with vegetables and pita bread. I think this is a great alternative to the typical dairy based ranch vegetable dip. Not to mention that hummus is filled with protein and fiber so it doesn't take much to fill you right up.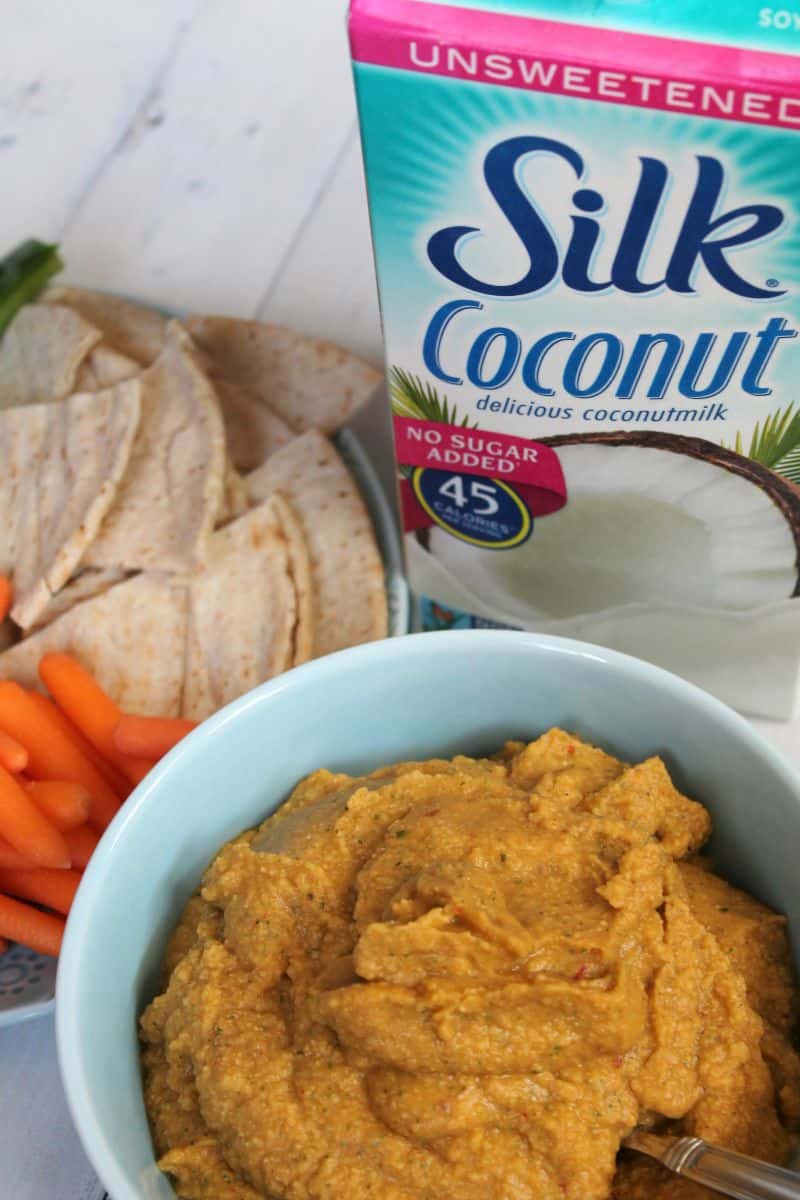 Another great thing about this hummus recipe is it can (and should)be made ahead of time. By giving this hummus time to chill and sit allows all the flavors to marinate. Delicious!
This is a great meatless and dairy-free dip recipe to bring to your next football party. I guarantee even the pizza and wing guys will enjoy dipping their veggies in it!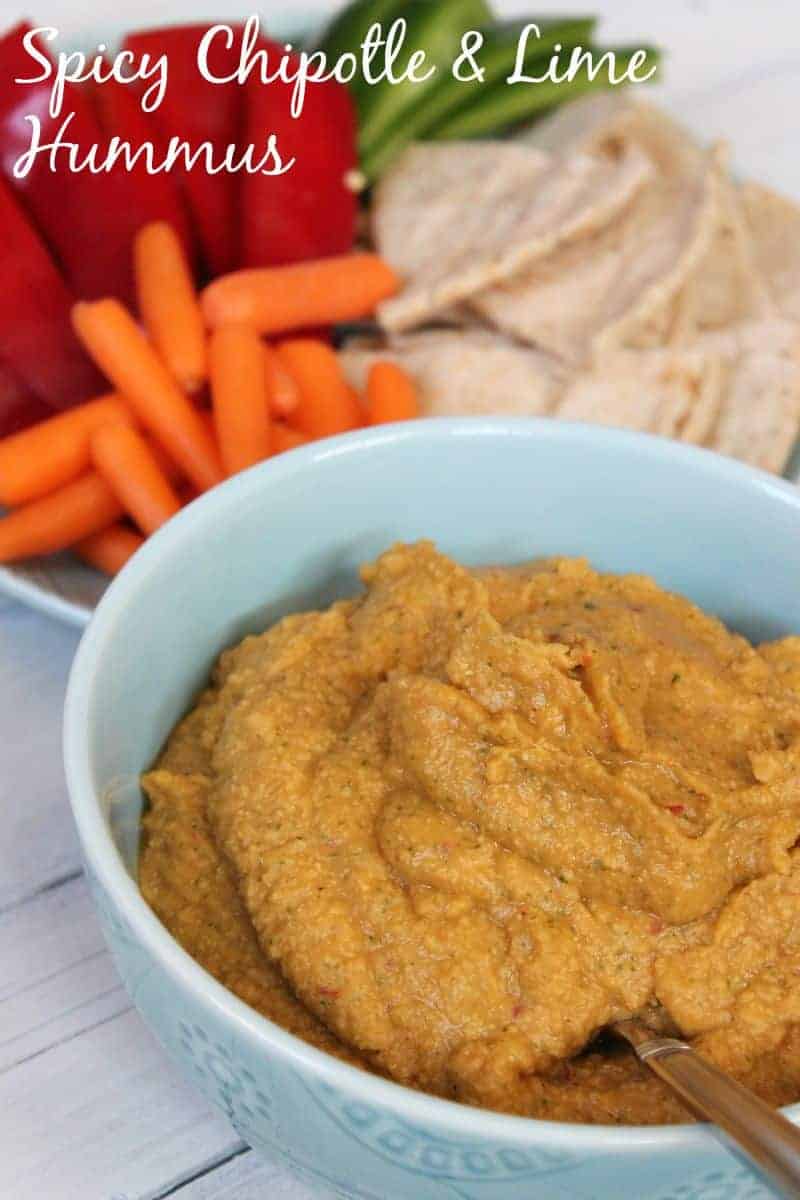 Ingredients
2

15-ounce cans chickpeas, drained and rinsed

2

canned chipotle peppers in adobe sauce

seeds removed + 2 teaspoons adobe sauce

1

large garlic clove

¼

cup

cilantro

juice of 1 lime

½

teaspoon

ground cumin

½

teaspoon

salt

½

teaspoon

black pepper

½

cup

Silk Unsweetened Coconutmilk
Instructions
Place chickpeas, chipotle peppers, adobe sauce, garlic, cilantro, lime juice, cumin, salt, and black pepper into a food processor. Pulse until the ingredients are finely chopped.

Turn blender on high and slowy add in Silk Coconutmilk until you get the consistency you like. For a thicker hummus use less coconut milk.

Taste for spices.

Place in a container and chill overnight. Serve with vegetables or pita bread.
Notes
Make ahead instructions
This hummus should be made at least one day ahead of time for the flavors to blend. It will keep up to 5 days in the refrigerator.
Nutrition
Serving:
1
g
|
Calories:
81
kcal
|
Carbohydrates:
13
g
|
Protein:
4
g
|
Fat:
1
g
|
Fiber:
3
g
|
Sugar:
2
g