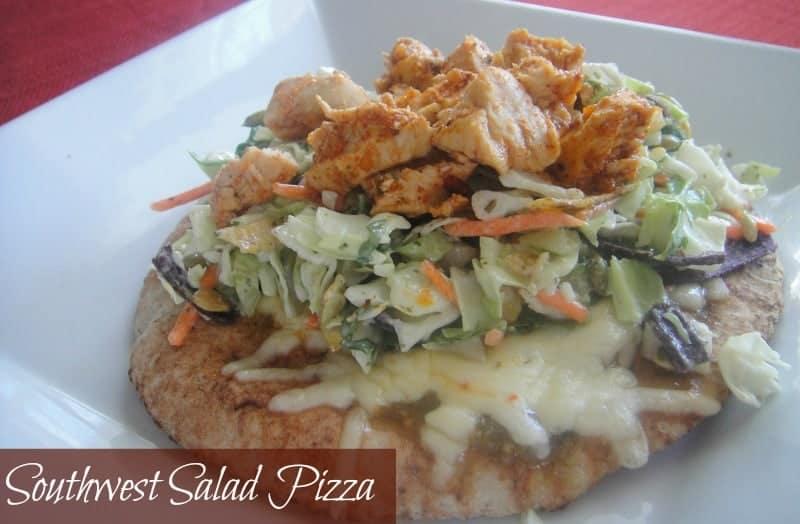 During the summer months, especially in this heat, we tend to eat more meals that require little cooking and can be prepared with minimal effort. The last thing I want to do on a 90 degree day, and after a LONG day at work, is bake chicken parmesan for 45 minutes.
A favorite quick summer recipe – though I do enjoy it year round – is salad pizza. They are easy to put together, versatile, and very satisfying. Salad pizza is the perfect blend of comfort food and refreshing summer fare. I love biting through the crunchy salad then into the warm gooey cheese and crisp crust. Oh it is so good!
This Southwest Salad Pizza recipe was put together using Taylor Farms Southwest Chopped Salad Kit. This kit includes green cabbage, romaine lettuce, carrots, pumpkin seeds, green onions, tortilla strips, and cilantro. It comes with a delicious creamy cilantro dressing that would brighten up and enhance any Mexican inspired dish.
I loved that the salad was chopped into smaller pieces, something I never have seen before. This really allowed us to get all the flavors and textures in one bite.
Besides the dressing I enjoyed the addition of tortilla strips and pumpkin seeds. I would never think to add pumpkin seeds to this salad but it totally worked.
Emma, my 7 year old, wanted me to tell all of you her little foodie thoughts as well. She says "I don't think it is good…I think it is GREAT!" Ha! She loves describing food she likes that way.
Overall, this Southwest Pizza, using Taylor Farms Southwest Chopped Salad Kit, was light, fresh, and very tasty. It was a perfect choice for a hot summer day.
Southwest Salad Pizza
Author:
Organize Yourself Skinny
Ingredients
4 whole wheat pitas
½ cup salsa verde
1 cup shredded pepper jack cheese
1 bag Taylor Farms Southwest Chopped Salad Kit, prepared as according to package instructions
1 cup shredded or chopped Mexican chicken
Instructions
Preheat oven to 350 degrees
Spread 2 tablespoons of salsa verde on each pita. Top each with ¼ cup of shredded pepper jack cheese. Bake for 10 – 15 minutes or until cheese is melted.
After you take the pizzas out of the oven top them each with ¼ of the Taylor Farms prepared chopped salad kit and ¼ cup of the chopped or shredded chicken.
Nutrition Information
Calories:
317
Fat:
20
WW Points +:
8
Fiber:
5
Protein:
17
Make ahead instructions
This recipe comes together very quickly if you have the chicken cooked ahead of time. You can use this Mexican slow cooker chicken recipe to have chicken portioned out ready in the freezer for a quick meal.
Disclosure: This post is part of the Month of Salad with Taylor Farms Campaign. I have been provided with the Southwest Chopped Salad Kit and compensation to create this recipe. To learn more about Taylor Farms check out their website and facebook page.
Get Instant Access to My Best Weight Loss Tips & Strategies!
Sign up now for a free step-by-step 7-day email course that I created exclusively for my email subscribers! That's you. I will teach the best habits, strategies, and insider tips so you can enjoy a lifestyle that encourages and supports weight loss! Stop relying on willpower and take control back over your life! You can do this. Let me help!