This post is by OYS writer Paula.
One of my first and most popular posts was my "Smoothie Kit" post. I received a ton of questions and decided I would answer them all and add some more information that I thought might be helpful to everyone.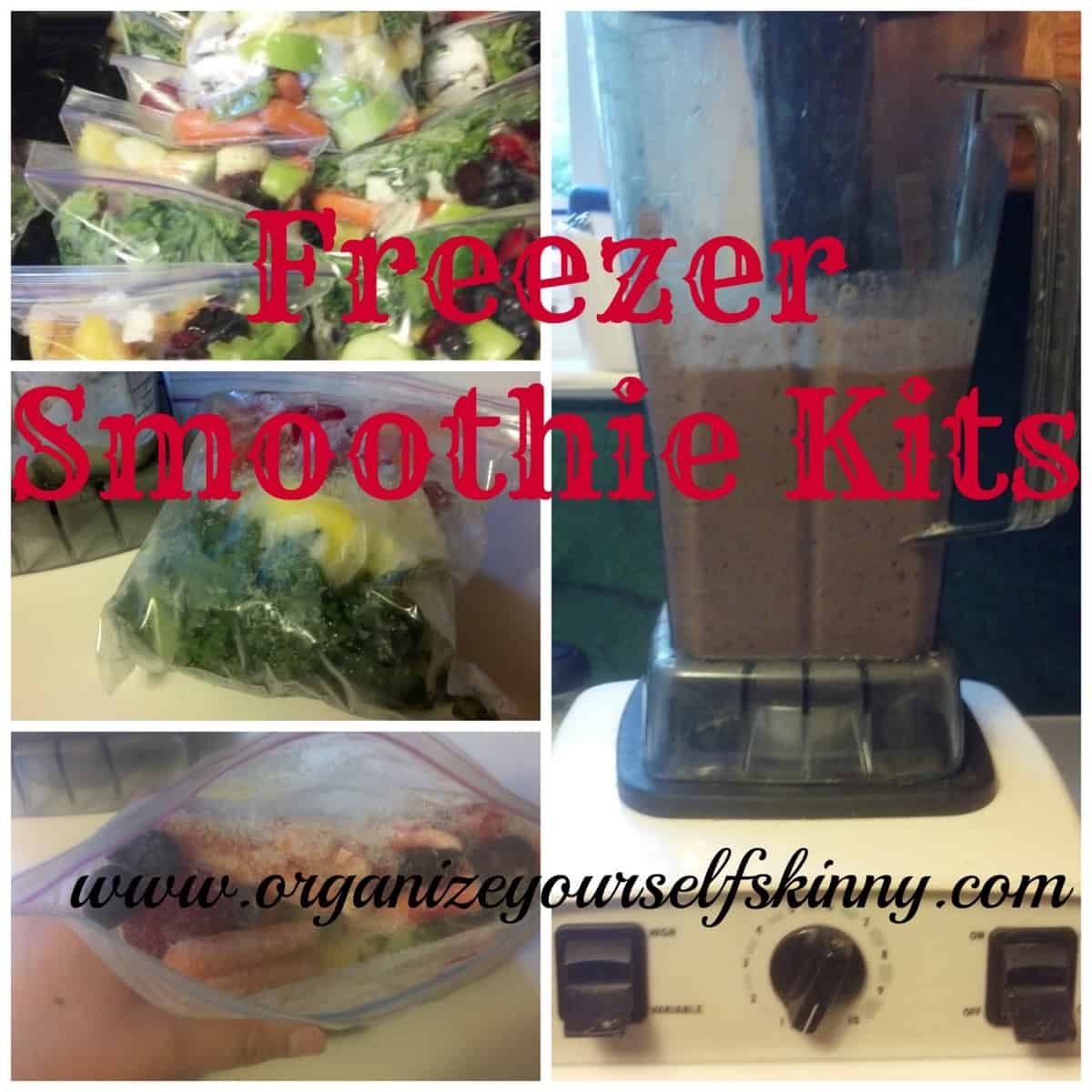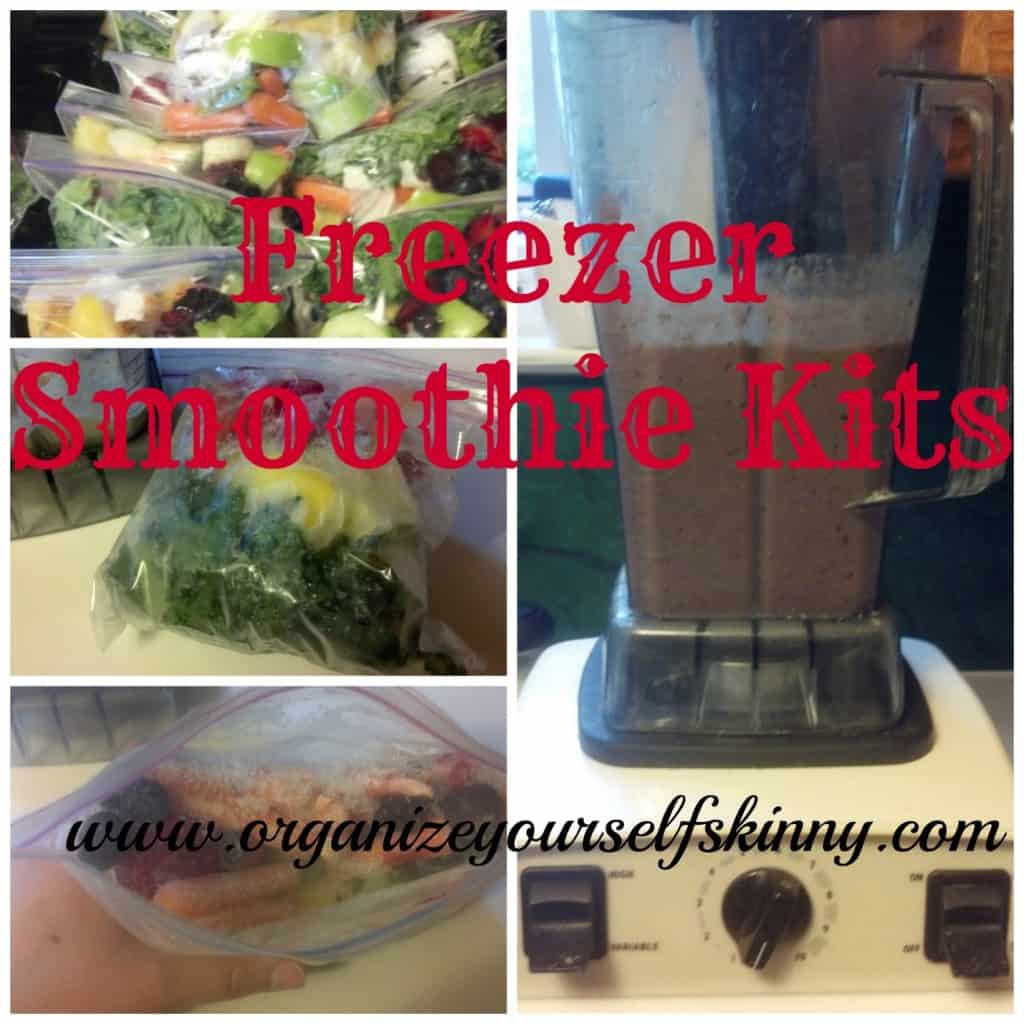 Ingredient Measurements – This was one of the most asked questions. There are a few ways to go about breaking down ingredients. Either all smoothie kits are the same or you mix them up a little. Either way, this is what I do:
Food Ingredients

I use less than a serving for most of the ingredients. I usually add about 3 or 4 carrots, 2 "chunks" of cucumbers, celery & apples, a handful of blueberries and other fruits. I will use 1 bag/kit of food and 1 bag/kit of dry ingredients. But depending on how you want it to taste (sweetness, thickness, seeds, etc.) or look (greener or otherwise (kids?)) you may add more fruits than veggies. However, if you do make it sweeter, just remember that it is higher in sugar (fructose) still.
Dry Ingredients

When I say dry ingredients I am referring to protein powder, hemp seeds, chia seeds, flax seed, coconut flakes, etc. I don't use all of that at once it just depends what I have on hand and the type of smoothie I am making.
I use about 1/2 servings of my dry ingredients. It is very rare that I use a whole serving. Then keep in mind that I also usually split that smoothie into 2 as well.
I always add all of the dry ingredients (not always full servings though. Ex. I will add 1 tablespoon of hemp seed even though a serving might be 2 tablespoons) However, if I run out of an ingredient, I would still make the smoothie without it.
I also pre-package the dry ingredients into plastic snack bags and throw them in the freezer as well.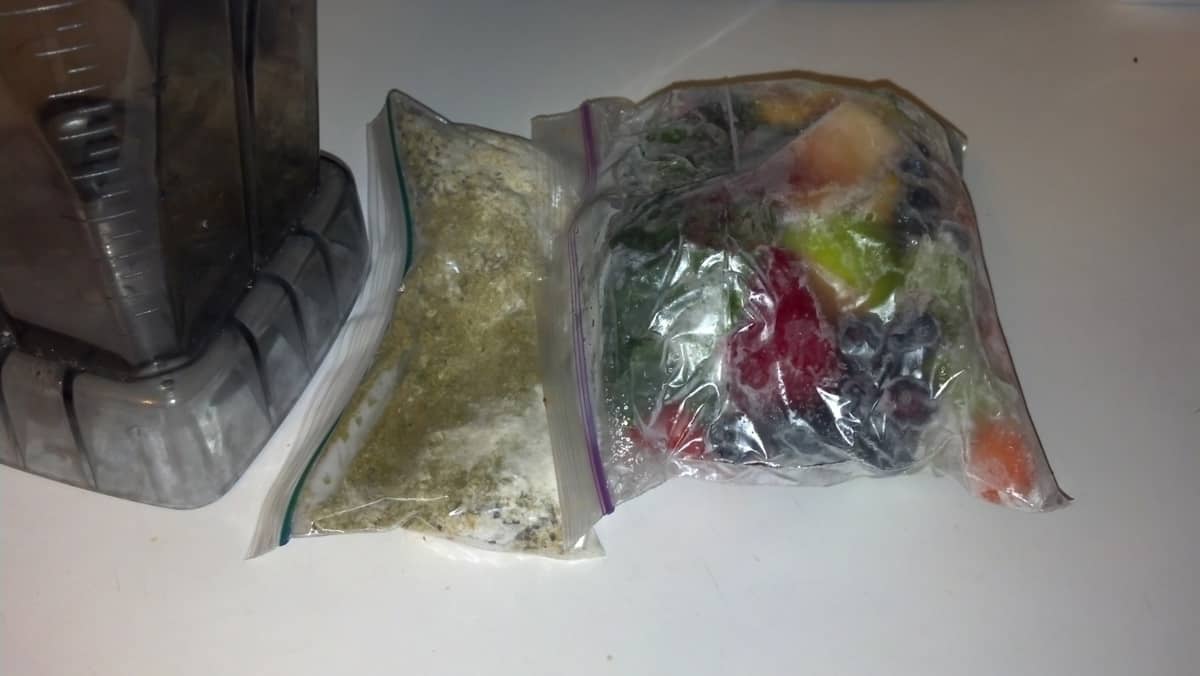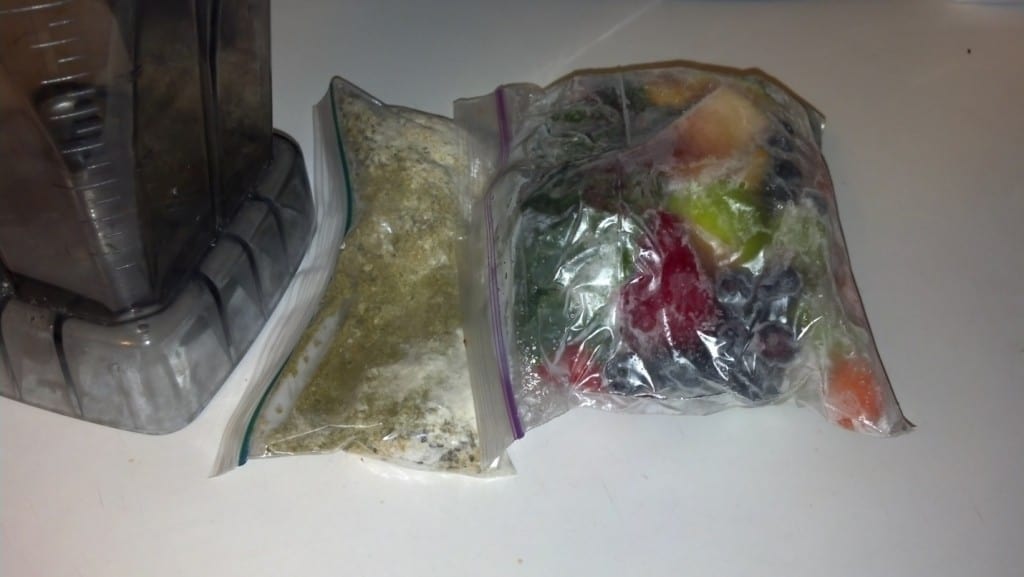 The snack bag on the left is my dry ingredients and the bag on the right is the food kit. I pulled them both out of the freezer and then I add coconut water, vanilla extract and cold water and sometimes a little Omega 3 and fish oil.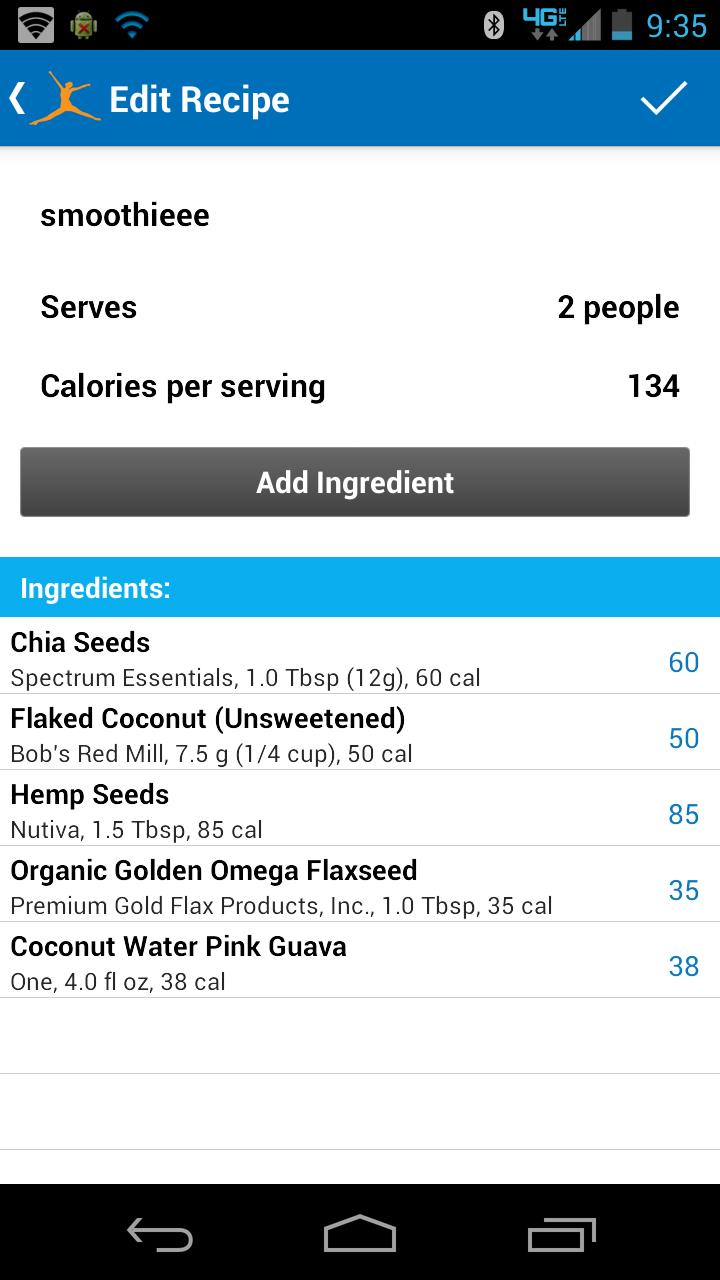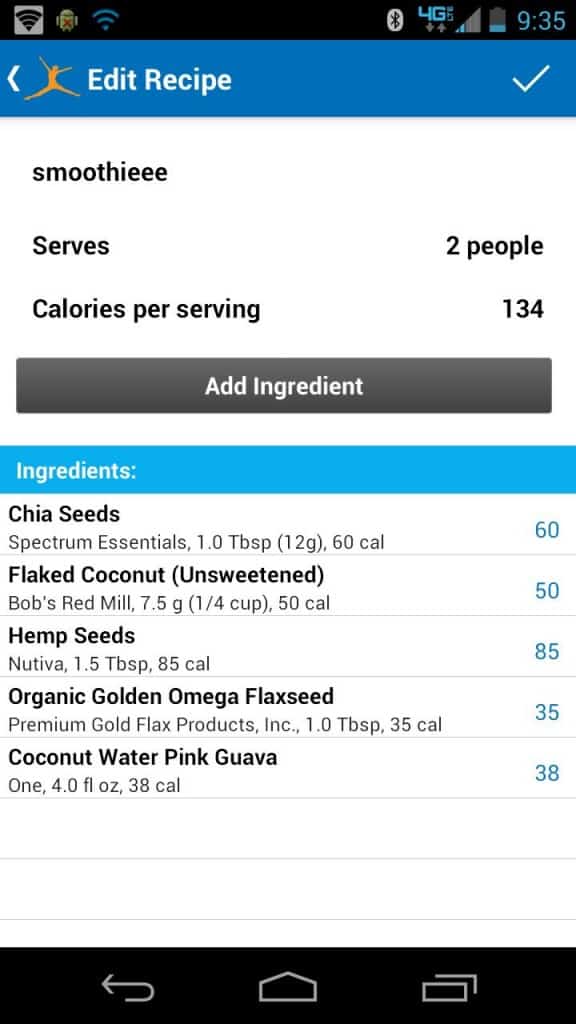 These are some of the ingredients ingredients not including the protein powder, fruits and veggies. Depending on what I put in each kit my smoothie is about 230-300 calories per serving (not per kit).
Good-to-know/Benefits: I am not any sort of medical or health food  professional. I am just sharing some information that I have heard about some of the ingredients that I choose to include in my smoothies. J
Chia seeds – I have heard that these are like little "sponges" and help to keep you hydrated.
Coconut water – The box even says it is "naturally hydrating". This is a healthier alternative to sugary energy drinks.
Coconut flakes – Provide the body (and brain) with a good and "healthy" fat.
Time & Energy Saver:
Smoothie kits have saved me so much time, energy and time!!! (My time is sooo precious! I can't emphasize that enough!) I am also very impatient…and sometimes (ok, a lot of times) disorganized. So I found by cutting up and freezing everything including the celery, cucumber, carrots and spinach/kale/arugula etc. saved me tons of time. Also, because everything is frozen I don't need to add ice!! This is a big deal because I don't even have an ice cube tray…so if I didn't have ice on hand, then I had to stick my smoothie in the fridge/freezer to make it nice and cool .  One reader asked: "Do you cook the carrots or anything else before you freeze them?" This is a good question! I do not cook anything before I package or freeze them. Just cut, chop, measure, pour, squeeze & dump.  Ta-da! Easy-peasy
Prepping:
You can also divide up your ingredients and just freeze them in batches and make your own smoothies with variations as you so choose while making them. For example, if apples are on sale, buy them, chop them and freeze them. I also prep some of my chopping ahead of time (at various times) so I don't have to prep, pack and freeze all in one day.
Blender:
I am new to the smoothie world, but when I was looking for a blender, people suggested I consider whether I wanted the "fiber-in" (smoothies) or "fiber-out" (juicers). I chose the "fiber in" because I felt juicing would be too much clean up (and because I got a free VitaMix from my grandma) which translates to: fiber-in method, by default. However, I am going to be testing out some "juicing" in the near future and I will let you all know my experience with that. I hear great things about it. 🙂
I did test out some other blenders and ended up a little frustrated. I watched tutorials and videos on other things out there and this one has not failed me! It was a pass-me-down and has to be at least 20+ years old (as you can see in the pics) but worked better than my "brand new- out of the box" blenders I had. However, since I started making smoothies on a daily basis, I believe my VitaMix is starting to catch up to its old age. We had a good run together.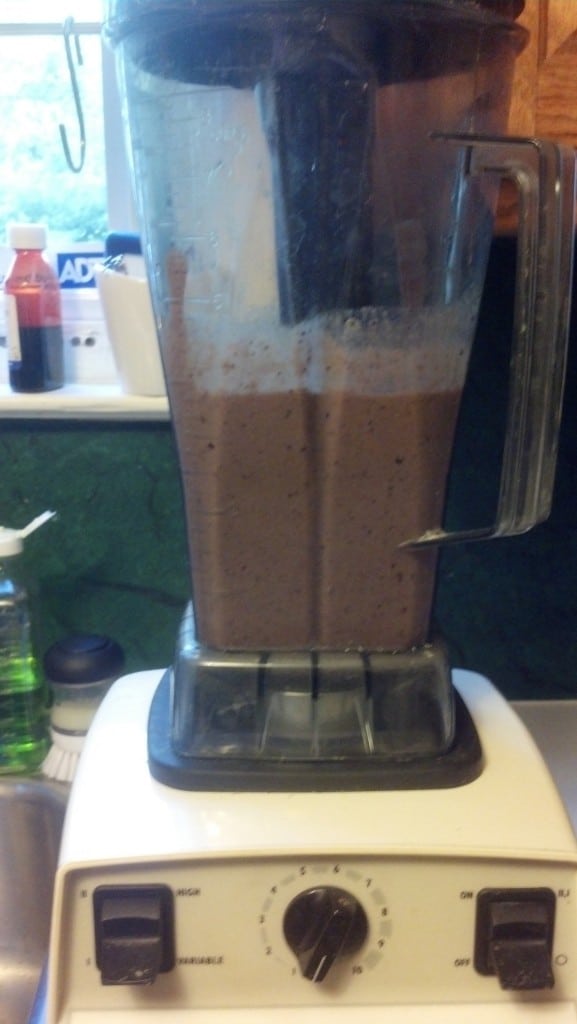 My trusty VitaMix blender 🙂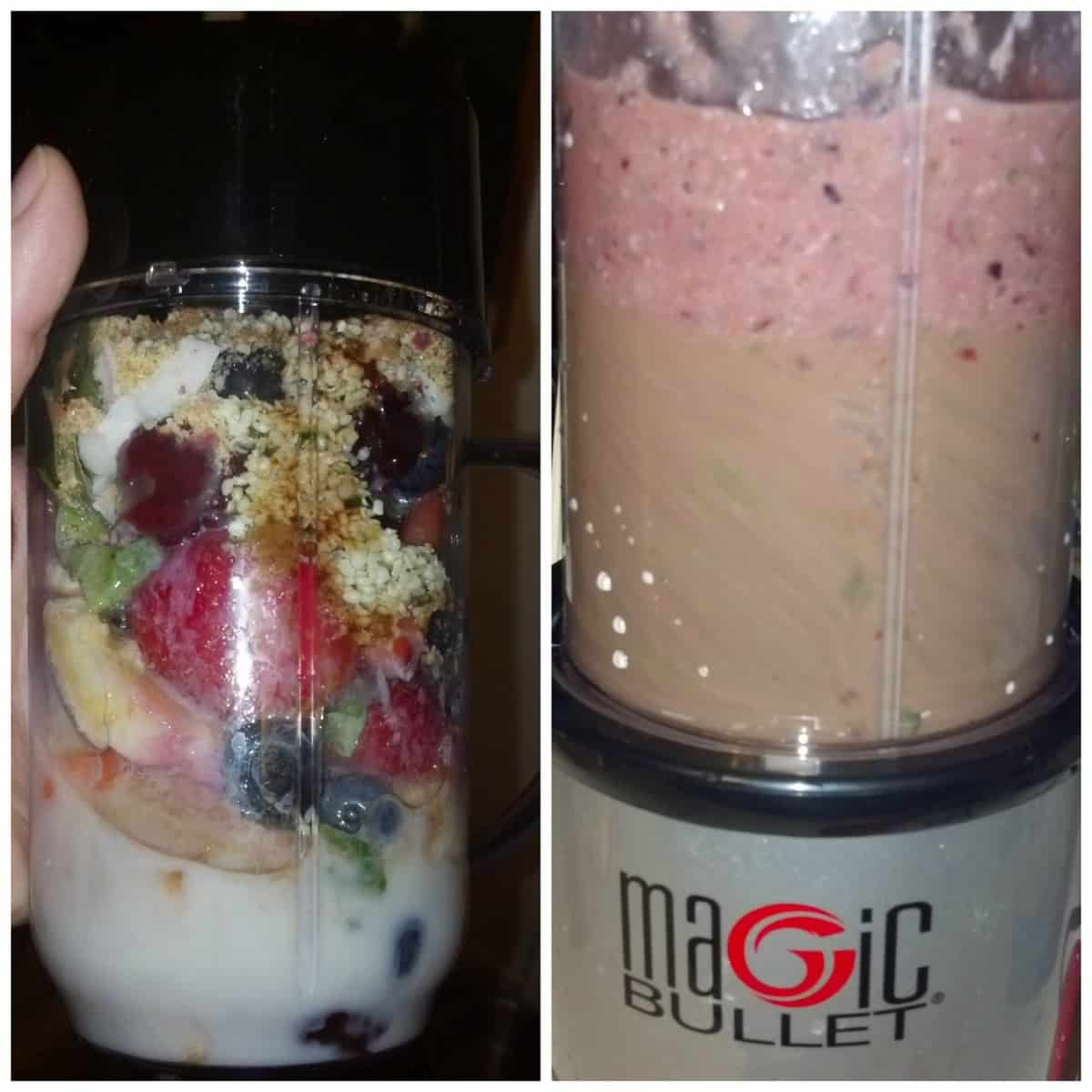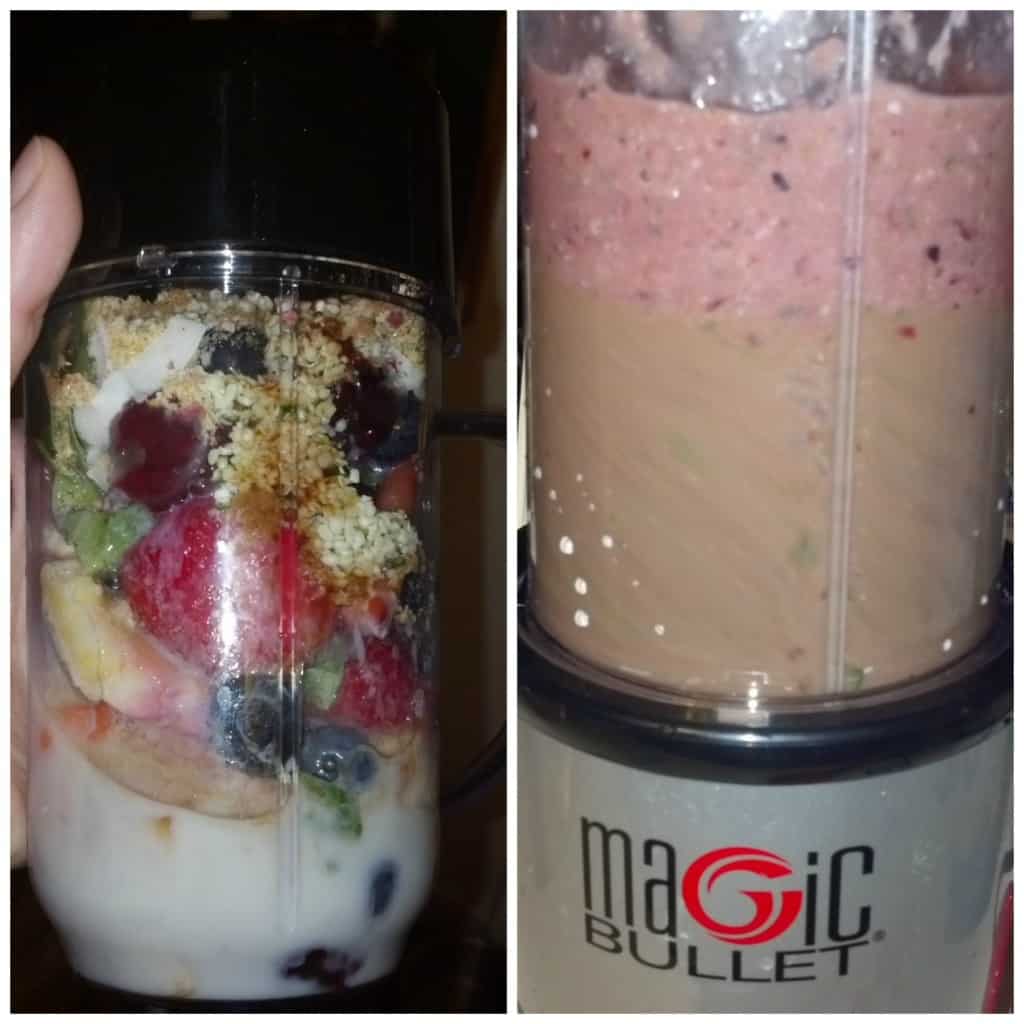 The magic bullet might not work for me on a daily basis…but I plan on bringing it with me on an upcoming road trip. Stay posted!
Drinking vs. Eating & Feeling Full:
One reader asked: "I am contemplating the whole clean eating thing. I am a little unsure about the whole smoothie thing. I could definitely use more veggies in my diet; however, I am not sure how satisfying drinking would be. I am a consistent breakfast eater. I eat a homemade egg sandwich every morning. Do you miss the sensation of chewing your meal to signal to your body that you are eating?"
My response was: This is a good question- and I also shared in your hesitation about "drinking healthy smoothies". What comes to mind first is that if you are happy with what you are doing- keep doing it! If you are interested in trying something new then this is something that I have found to work for me. I hope my tips and feedback are helpful if you choose to make smoothies. As for the chewing sensation, yes sometimes I want a different texture or to actually chew my breakfast. I still mix it up on occasion to satisfy those desires or sometimes I forget and/or don't have time to make my smoothie. What I was doing (drive trough's), greasy foods, carbs (bagels, muffins) or skipping breakfast all together) was NOT working for me  Mornings were a very very bad habit for me and was an area that definitely needed change.
Quantity, Storage and Time after mixing:
One reader said that she worried about making enough for 10 people. I have that problem too, and that is part of the reason I gained weight, especially when I was making food that wasn't as healthy. But have no fear, your smoothie will be safe for at least a day or two. I have saved my smoothie for a day or so in the fridge. I know that there can be some chemical reactions that may cause a lack of "nutritional power" that one may seek from a smoothie or the oxidation may cause the "pretty smoothie" to be "not-so-pretty". However, I have found the taste to still be the same, and they're still filling and healthier than other things I might want to grab (like the drive through breakfast sandwich). Sometimes it is mind over matter. With a smoothie, I think: I have eaten, I am full, I'm good. Rather than, I need to get something fast because I know I will be hungry and it is better than nothing (like the way I "justified" the fast food?) 🙂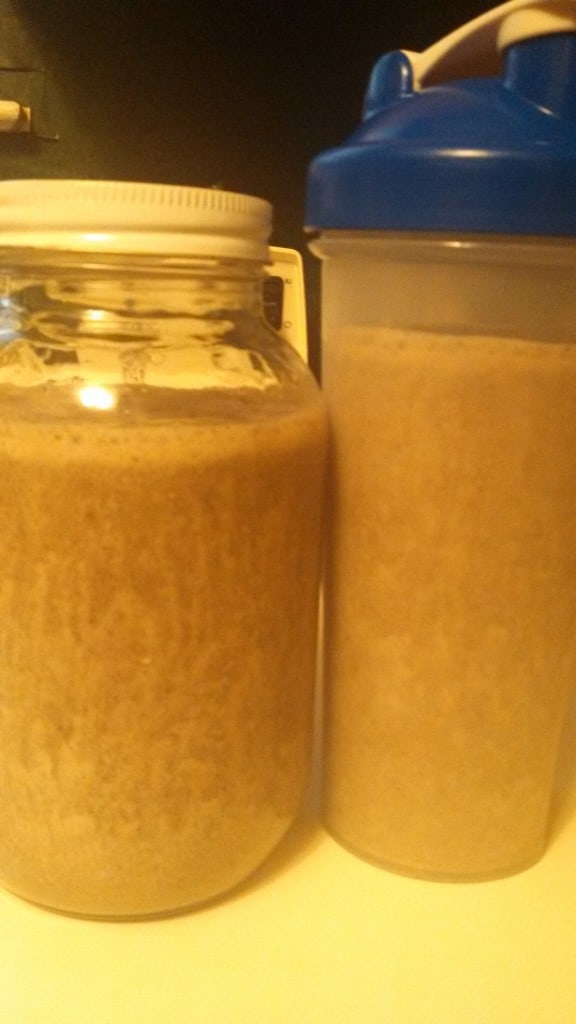 How I split my smoothies for "now" and "later" (or "today" and "tomorrow").
Bonus tip:
Sometimes I will have extra spinach that I don't use in my salads. Now I put them in pre-portioned freezer bags and throw them in the freezer. Then when I make smoothies I can add a little extra spinach to them and not waste any spinach.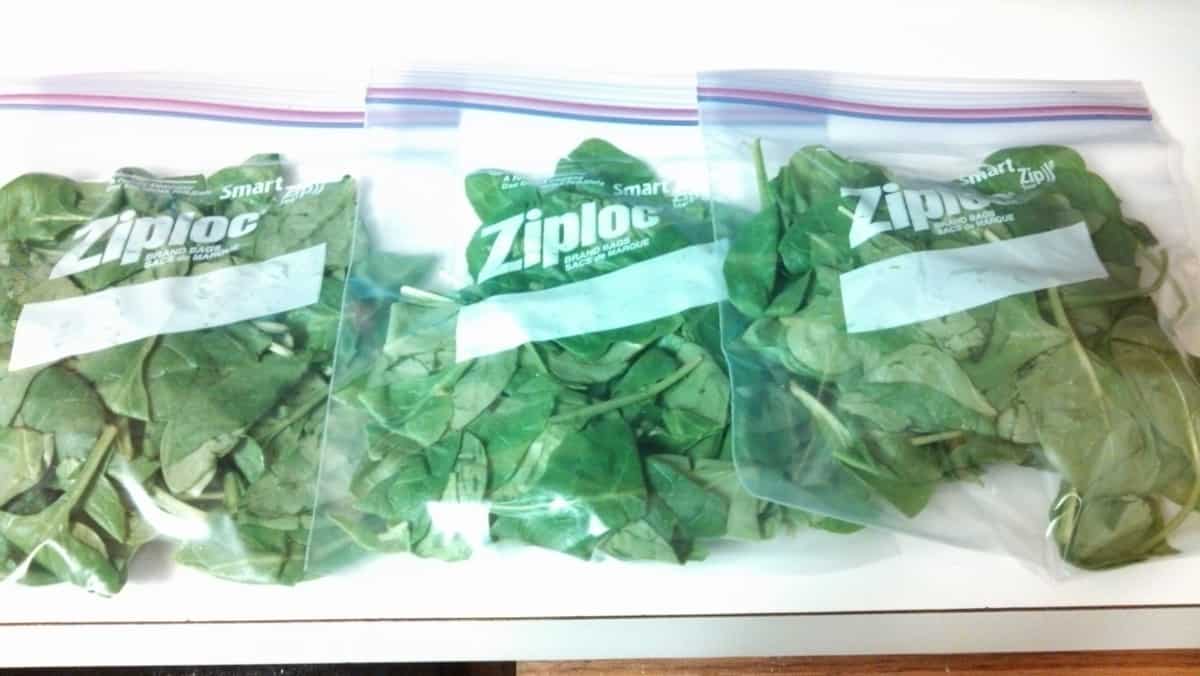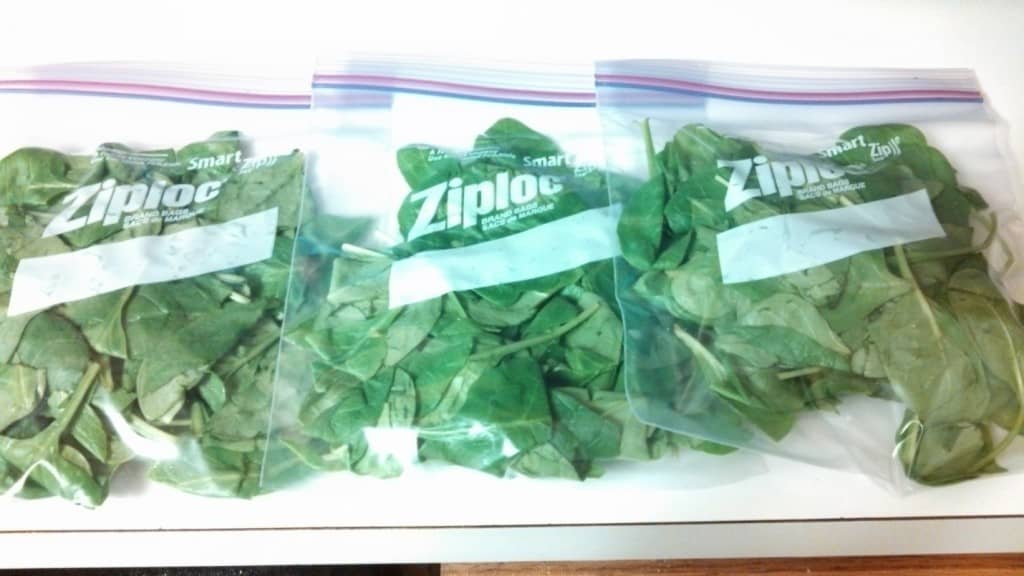 Extra spinach from mason jar salads that I didn't use/need is ready to be frozen and then used later for smoothies.
Reader's suggestions and recipes:
Celeste: "I have been making smoothies with my NurtiBullet for almost a year. I have a smoothie every day. I too use frozen fruits. I add carrots and spinach to mine too. Whatever I have on hand is what goes in. I always add 1 tbsp of flax seed and sometimes I add 1 tbsp of chia seeds. For a little creamer taste I add strawberry kiefer. My nutritionist also suggested that I had a protein powder to the smoothie to balance out the carbs. I love my smoothies. I see that I should be doing single serve bags that are ready to go so I don't have to get everything out. Great idea! Here is a smoothie that I like for "dessert". 8 oz of milk, 1 tbsp almond butter, 1 medium frozen banana, and 1 scoop of chocolate protein powder. Delicious!
Thank you for your great posts!"
Belinda: "I always drink mine within 20 minutes to get the live enzyme value of the food. Only thing I freeze if i have to is the fruit. I also never mix protein with mine first thing in the morning since I want the fruit and veggies to go in and out. Later in the morning I add the protein shake. Green smoothies are totally different. We also make our baggies for the week and store them in the spinach box!"
Vicky: "I have been filling a huge bag with berries, greens, peppers, etc. and just dipping a cup into the mix to throw into the Vitamix. (Spinach, kale and other greens freeze well for smoothies–once they're frozen, just scrunch them and they take up very little space.) When it's smoothie time, I'll add carrots, apples, celery, a tomato–whatever extra things I have and want to throw in, along with the liquid I use. Individual packets ("kits") are initially more work, it seems, but they're totally ready to go–great idea! The bag I put my mix into is a big bear-proof plastic bag I bought at REI–very effective at keeping the mixture fresh, since it is vaporproof."
Donna:  "I have been making smoothies for a year now and love them! Thanks for the idea of making them ahead in the bag! Great idea. I have a Ninja I bought last January with my birthday money and it works well for me…In addition to the traditional pitcher it has the individual containers which I use most often. I've also added yogurt to my smoothies too. I've tried plain and vanilla and have also used homemade yogurt as well. You can't go wrong with these and you will be surprised at how good they taste…the carrots are actually sweet! Throw in some spinach and a pear or apple with some almond milk or coconut water. Very good! They are healthy and filling!"
What are your smoothie suggestions, recipe's, tips or tricks? Do you make smoothie kits?
Get Instant Access to My Best Weight Loss Tips & Strategies!
Sign up now for a free step-by-step 7-day email course that I created exclusively for my email subscribers! That's you. I will teach the best habits, strategies, and insider tips so you can enjoy a lifestyle that encourages and supports weight loss! Stop relying on willpower and take control back over your life! You can do this. Let me help!