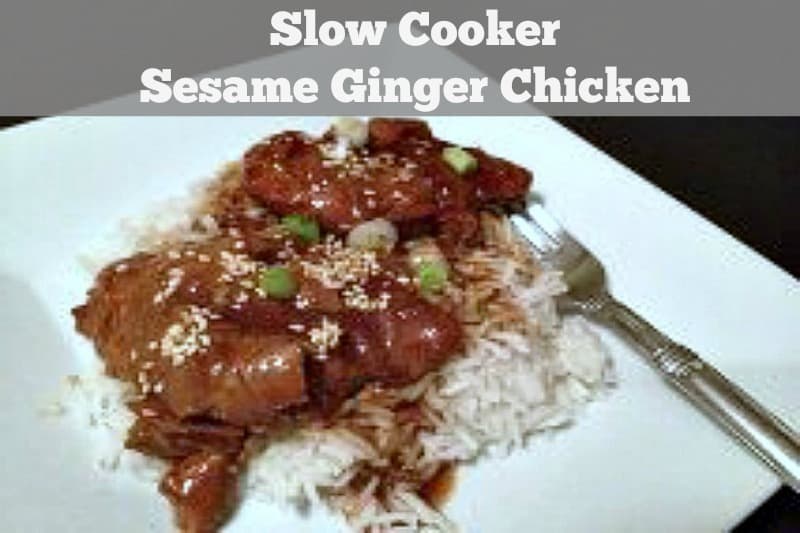 Whenever Matt and I go out to dinner we always turn to a fine restaurant that specializes in Asian cuisine. We love the flavors of Asian inspired meals! My kids are not fans yet so usually I don't prepare these meals too much at home.
I decided to take a break from tacos and quesadillas this week and surprised Matt with making sesame ginger chicken – a recipe I came across while searching the Cooking Light website.  The flavors of soy sauce, hoisin, sesame, ginger, and garlic make up a delicious sweet glaze that perfectly coats the chicken thighs and rice. It was so good and gave many of the meals we had in restaurants a run for their money. Even my oldest daughter, Emma, thought it was tasty – my youngest not so much. I guess she hasn't developed a taste for Asian food yet.
This recipe is a slow cooker recipe however it only cooks for 2 1/2 hours on low and requires a couple steps out of the slow cooker. Therefore, I don't think it is suitable if you are looking for a recipe that will cook all day while you are at work. Don't let the extra steps scare or deter you from making this recipe because it is so good. I know we all want dump and cook slow cooker recipes but as we know that does not always make for the best dinner.
Since this is not a meal I would be able to make during the week I made this on Sunday while I was preparing other meals. When it was complete I stored it in a plastic container and put it in the refrigerator. The next day, when I got home from work, I warmed it in a sauce pan on the stove then served it over rice. I actually used boil in the bag rice my in-laws gave us but usually I would just warm up rice I had in the freezer. All together this dinner was on the table within 15 minutes.
There were some leftovers so I put together 3 lunches to eat this week. In my opinion, these lunches looked very reminiscent to the "diet" meals people purchase from the freezer section. However, I guarantee they taste better and are better for you because you control the ingredients. If you are not going to eat them right away then stick them in the freezer. To reheat let the meal defrost a bit in the fridge, then warm up in microwave or stove top.
A couple last tips with this sesame ginger recipe. I decided to double the ingredients for the sauce. I wanted to make sure, after the sauce was cooked down, I had enough to coat the chicken and rice. In the past, when trying to make recipes like this, I always ended with less sauce then expected so I figured I would rather be safe than sorry. There ended up being the perfect amount of sauce for my taste. Also this recipe uses chicken thighs, I am sure you could substitute with chicken breast.
The original serving size was 2 chicken thighs and 1/3 cup of sauce. Because I ate this with rice, and wanted to keep calories in check, I reduce the serving size to 1 chicken thigh then divided the sauce up between the meals. If you don't eat rice then increase serving size to 2 chicken thighs.
Slow Cooker Sesame Ginger Chicken
Ingredients
1 tablespoon sesame oil
7 chicken thighs (I used boned chicken thigh filets)
½ cup soy sauce
4 tablespoon light brown sugar
4 tablespoons orange juice
10 teaspoons hoisin sauce
2 tablespoons grated ginger (you can mince. I grate because my husband hates pieces of ginger. I know weird)
4 teaspoons minced garlic
1 tablespoon cornstarch
1 tablespoon cold water
2 teaspoon toasted sesame seeds (toast by cooking in dry pan for a couple minutes or until golden and fragrant)
2 tablespoons sliced green onion
3 cups cooked brown rice
Instructions
Heat a large skillet over medium-high heat. Add oil to the pan and make sure it gets completely coated. Add chicken and cook each side until golden, this will take about 2-4 minutes. Place chicken in the slow cooker. **I used my 6 quart slow cooker.
Whisk together soy sauce, brown sugar, orange juice, hoisin sauce, ginger, and garlic. Add to slow cooker and make sure the chicken is coated with sauce.
Cook for 2½ hours on low. Mine cooked perfectly with this time and temperature.
Remove chicken and set aside. Strain liquid into small saucepan and bring to a boil over low heat.
Whisk together cornstarch and cold water in a small bowl until combined. Add to sauce and whisk until blended. Return to a boil and cook for about 2 -3 minutes or until the sauce thickens.
Serve ⅓ cup sauce over 1 chicken thigh and ½ cup rice then sprinkle with toasted sesame seeds and sliced green onion.
Notes
This recipe can be made ahead completely and stored in the fridge or to put into the freezer and individual freezer meals. You can also turn this into slow cooker freezer kit by completing first two steps then storing in freezer bag in the freezer. Let it thaw for 24 hours in the refrigerator than continue with the rest of the steps.
Nutrition Information
Serving size:
1 chicken thigh and ½ cup brown rice with 1/7 of the sauce (about ⅓ cup)
Calories:
367
Fat:
11
Carbohydrates:
36
WW Points +:
9
Fiber:
2
Protein:
30
Get Instant Access to My Best Weight Loss Tips & Strategies!
Sign up now for a free step-by-step 7-day email course that I created exclusively for my email subscribers! That's you. I will teach the best habits, strategies, and insider tips so you can enjoy a lifestyle that encourages and supports weight loss! Stop relying on willpower and take control back over your life! You can do this. Let me help!