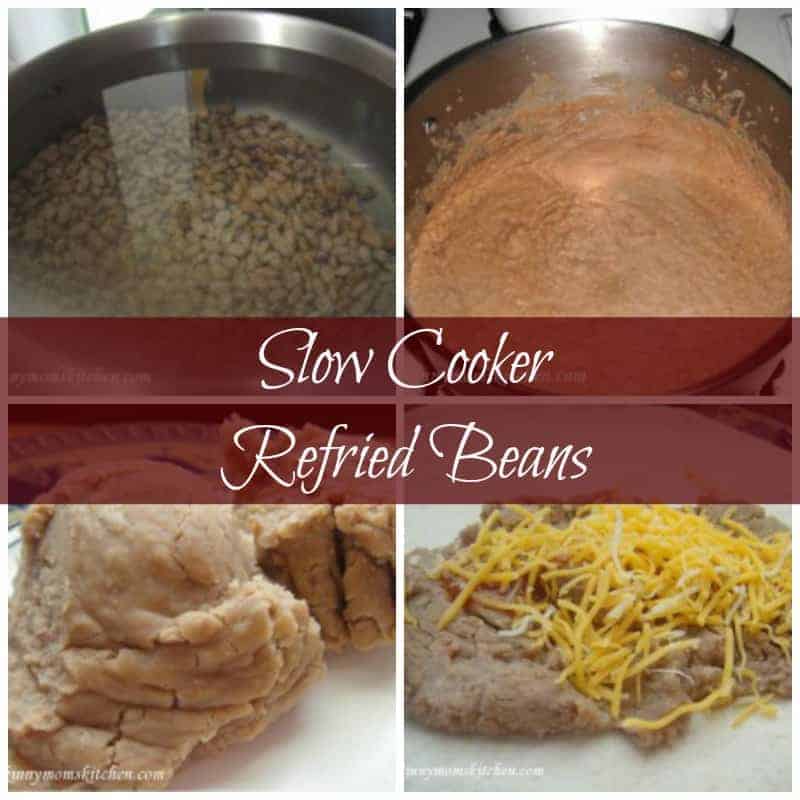 It sometimes surprises me the excitement my simplest recipes instill on people. Don't get me wrong, any recipe that is yummy and can make my life easier will have me rejoicing from the roof top. It's just I never expect others to have the same enthusiasm I do for things such as…refried beans.
But you do! At least many you on the Organize Yourself Skinny Facebook Page do.
Therefore let me say…
Bean lovers unite!!
I have been using canned refried beans my entire life. Not that there is anything wrong with that. There are some really great tasting canned beans out there. I just never thought to make my own. Refried beans always seemed too difficult to prepare from scratch.
I was wrong.
Preparing a refried bean recipe from scratch is incredibly easy especially if you are using a slow cooker. It does take time to soak the beans then to cook in the slow cooker but besides that there is barely any "hands on" time when putting this meal starter together. For the most part these beans tend to themselves until they are ready to be mash and blend.
This recipe can be used exactly as you would any canned refried bean. I used them in my freezer bean and cheese burrito recipe and they were delicious. They froze and reheated perfectly.
Slow Cooker Refried Beans
Author:
Organize Yourself Skinny
Ingredients
2 cups (16 ounces) dried pinto beans, soaked overnight
4-6 cups chicken stock or enough to fill 2 inches above the beans in slow cooker. You can use water if you like.
1 large onion cut in quarters
4 garlic cloves, left whole
4 slices bacon, chopped
2 tablespoons vegetable oil
1 teaspoon salt or more to taste
½ teaspoon – 1 teaspoon pepper or more to taste.
Instructions
Rinse beans and pick out any stones. Place in large bowl or pot, filled with 2 quarts of water (8 cups), and soak 8 hours or overnight.
Drain and rinse beans under cold water.
Add beans, chicken stock, onion, and garlic cloves to slow cooker. Cook on low for 9 – 10 hours. Beans should be soft but not mushy.
Remove and discard onions and garlic. Ladle as much liquid as possible out of the slow cooker and into a bowl. Set aside.
Mash beans in slow cooker with a potato masher.
In a medium to large sauce pot fry up the bacon until slightly crisp.
Add vegetable oil and once it gets hot then slowly scoop in bean mixture, stirring in between scoops. Let cook for about 3-5 minutes until it starts to thicken. If too thick then add in some of the reserved liquid.
Using a hand blender, blend the bean mixture until you get the consistency and texture you would like. This is optional and depends on your consistence and texture preference.
Season with salt and pepper. *In the future I will test other spices with this recipe. You can easily add cumin, coriander, chili powder, hot sauce or other spices to give it more of a kick. I kept it pretty basic for this recipe.
Nutrition Information
Serving size:
¼ cup
Calories:
84
Fat:
3
Carbohydrates:
12
WW Points +:
2
Fiber:
3
Protein:
5
Freezer Cooking Instructions
As I said earlier I use this recipe in my freezer bean and cheese burrito recipe and it froze perfectly. You can also portion these beans out into freezer bags or containers and freeze.
Reheating Instructions
This recipe can be thaw in the refrigerator or reheated on the stove or microwave. Use as you would in a dish that calls for refried beans.

Get Instant Access to My Best Weight Loss Tips & Strategies!
Sign up now for a free step-by-step 7-day email course that I created exclusively for my email subscribers! That's you. I will teach the best habits, strategies, and insider tips so you can enjoy a lifestyle that encourages and supports weight loss! Stop relying on willpower and take control back over your life! You can do this. Let me help!