These last couple weeks, with my kids back to school and after school activities in full swing, I have come to appreciate the power of the slow cooker. The convenience, and ease of mind, with having dinner ready when everyone walks in the door is beyond words.
My favorite slow cooker recipes are the "throw all the ingredients in and forget about it" recipes. That is the kind you will find with my meatball subs, southwest chicken tacos, buffalo chicken, basic shredded chicken, along with some other recipes. However, not all slow cooker recipes can be successful with the "dump and forget about it" method. No some recipes need a little extra love. Personally, this does not bother me because I would rather take the extra time knowing the recipe will turn out then have a crock full of tasteless mush after cooking all day.
This slow cooker Italian meatball soup needs some extra love. I understand because I am ½ Italian and could always use a little extra love too…just sayin.. I get it. I found the original recipe in my favorite slow cooker cookbook by America's Test Kitchen. They called for the meatballs to be microwaved until firm then placed in the slow cooker. The first time I made this soup I followed those instructions and did not think the soup had enough flavor. So this time I decided to skip the microwaving and browned the meatballs in a skillet before placing in the slow cooker. Then I sautéed the onions and garlic in the same pan, deglazed the pan with a little stock, and pour all those lushes juices and flavors into the slow cooker. Oh mama the flavor of this soup was out of this world. So good! I believe this extra step of browning meatballs and sautéing the vegetables added a ton of flavor to the soup.
I used ground beef and pork for my meatballs. In my opinion, this combination gives the best meatball flavor. However, if you want to use all beef go ahead. Or if you are thinking about ground turkey to lower the fat then you can do that too. But keep in mind ground turkey might change the flavor a bit.
The original recipe called for kale. The only kale I had was frozen for my green smoothies. I could have used it but I was afraid adding frozen kale to the soup would mess with the cooking time. Plus, I had a 5-ounce package of baby spinach that needed to be used up. The spinach worked great.
Orzo is the pasta of choice for this Italian meatball soup. Next time I make this recipe I will prepare the pasta on the side, place into individual bowls, then pour the soup over top. Adding the pasta to the slow cooker the last ½ hour, as the original recipe says, causes the pasta to get a little to mushy for my tastes. It was still delicious but I recommend keeping the pasta out of the slow cooker.
Overall, this slow cooker meatball soup recipe was a success and earned a spot in our dinner rotation. It does take a little extra time to prepare but well worth it. You certainly could make the meatballs, onion, and garlic ahead of time. After it is cooled place into a freezer bag or container and freeze till ready to use. When ready to eat put ingredients (they can still be frozen) into the slow cooker, add the rest of the ingredients, and continue with cooking time.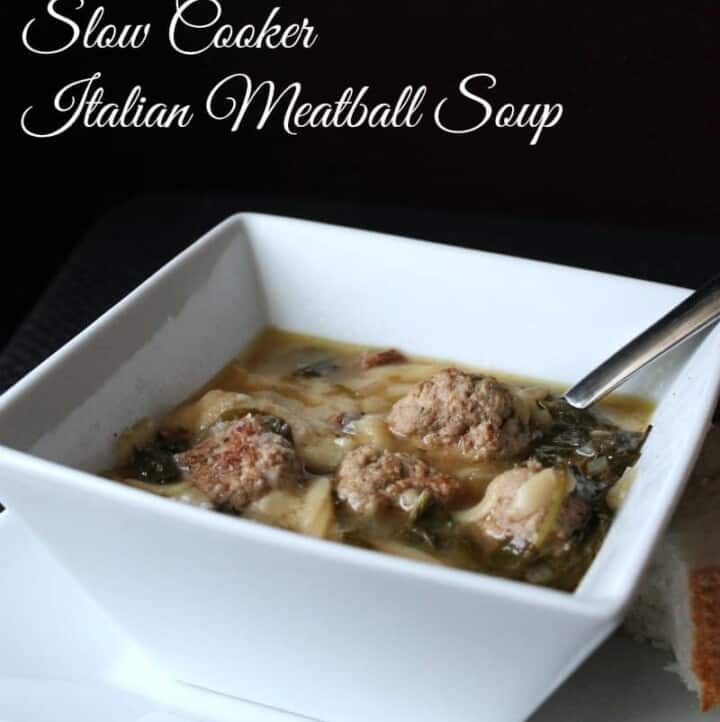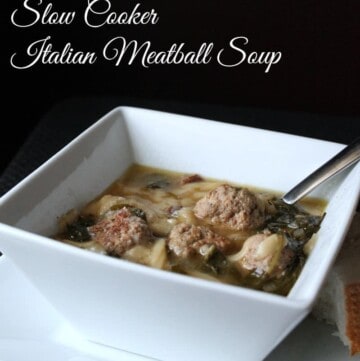 Ingredients
2

slices

whole wheat bread

1/2

cup

1% milk

3

tablespoons

chopped fresh parsley

1

large egg yolk

6

garlic cloves

divided

1

teaspoon

oregano

3/4

teaspoon

salt

1/2

teaspoon

pepper

1/2

pound

ground beef

1/2

pound

ground pork

1

tablespoon

olive oil

1

onion

minced

pinch

of red pepper flakes

8

cups

low-sodium chicken broth

5

ounce

about 3 cups baby spinach

6

ounces

about 1 cup orzo, cooked
Instructions
In a large bowl mix together bread and water till it becomes a paste. **Do not skip this step because it really is the secret to a perfectly moist meatball. Then add parsley, egg yolk, 3 garlic cloves grated or finely minced, oregano, salt, and pepper. Mix until ingredients are combined.

Mix in the beef and ground pork until paste mixture is evenly distributed throughout the meat.

Roll into 30 - 35 meatballs. Remember these meatballs should be small because they are going into a soup.

Heat oil in a medium to large frying pan and brown the meatballs on all sides. So you don't crowd the pan you will have to cook in batches. These meatballs are a little fragile so take care when turning them over. They don't need to be cooked all the way through just browned on the outsides. This should take 2-3 minutes on each side.

Place meatballs into the slow cooker. In the same pan sauté the onions and the last 3 of garlic. Garlic should be minced. Deglaze pan with a little chicken stock to get all the brown bits from the meatballs. Add in red pepper flakes. Pour everything into the slow cooker with the meatballs.

Pour in the rest of the chicken stock and cook for 7 hours on low.

Add in baby spinach and cook for 1/2 hour on high.

Serve over cooked orzo.
Notes
Make ahead tips
Meatballs and sautéed garlic/onions can be made ahead of time and frozen or kept in the refrigerator. When ready to eat add to to slow cooker with rest of the ingredients and continue with recipe.
Nutrition
Serving:
1
g
|
Calories:
268
kcal
|
Carbohydrates:
15
g
|
Protein:
24
g
|
Fat:
12
g
|
Fiber:
2
g
|
Sugar:
7
g