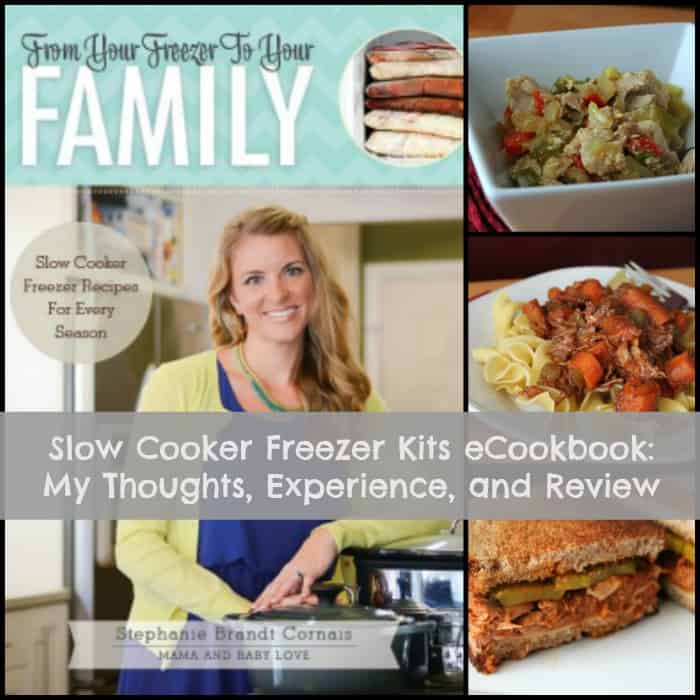 As a busy working mother I am always searching for new ideas to simplify getting healthy food on the table fast. Some ideas work great and others not so much. One of my goals with Organize Yourself Skinny is that once I discover and test out helpful new ideas and/or resources to share it with you as soon as possible. I want you to have the best information to create and organize a healthier lifestyle for yourself and family.
Two of the best tools a busy person can have in their healthy lifestyle repertoire are freezer cooking and a slow cooker. Freezer cooking lets you prepare lots of food when you have time so you can eat nutritious foods when you don't. And using a slow cooker does all the cooking for you when you don't have time to be chained to your kitchen all day or even a couple hours.
As amazing as both of these tools are alone combining them brings their awesomeness to a whole new level. Enter slow cooker freezer kits. I first learned about slow cooker freezer kits from Stephanie over at the blog Mama and Baby Love. Basically, one day as she was putting together a slow cooker meal she had a "light bulb" moment and realized she could prep all her slow cooker ingredients ahead of time, freeze, and then put in the slow cooker when ready to cook. Genius!
Her idea took off, went viral on pinterest, and people were then flocking to her blog looking for more slow cooker freezer kit recipes. Stephanie is now on the 2nd addition of her slow cooker freezer ecookbook "From Your Freezer to Your Family: Slow Cooker Freezer Recipes for Every Season". I was a big fan of her first ecookbook and even a bigger fan of the 2nd addition.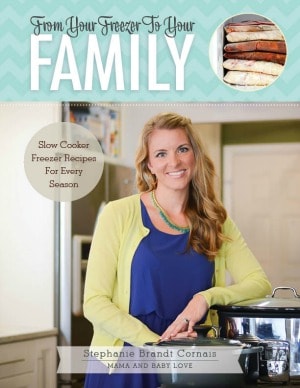 I received a copy of From Your Freezer to Your Family a few weeks ago. After reading through it and trying out a few recipes I am really excited to share my thoughts and experiences with you. I truly feel it is a beneficial resource for busy people who struggle to get healthy homemade food on the table.
From Your Freezer to Your Family has over 75 recipes to choose from. Stephanie includes instructions to make slow cooker freezer kits along with other cooking techniques should you want to branch away from the slow cooker. Also, all of her recipes are grain-free, gluten-free, and dairy-free. Of course, if this is not a concern you could certainly enjoy these recipes with rice, pasta, or other grains.
The three recipes I tested were the Thai Chicken Curry, Stephanie's Goulash, and Yummy Shredded Pork. All can be found in her ecookbook.
I made the pork and beef recipes during the week because each one slow cooks for 10 hours which is perfect when I am working all day long. There are few things more amazing then walking in the door to dinner being ready.
The yummy shredded pork was absolutely delicious. It was so tender and fell apart perfectly. I used it to make Cuban pork sandwiches. Oh mama these were so good. I put some shredded pork, swiss cheese, thinly sliced ham, and a pickle in between two slices of toasted wheat bread. My husband and I loved these. In fact we ate them again for lunch on the weekend.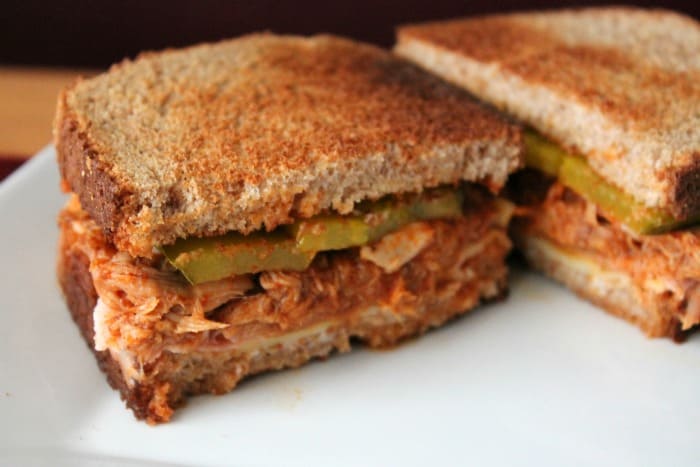 This recipe makes a ton of shredded pork so unless you are feeding about 8-10 people then plan on freezing leftovers. I froze the rest in 1-2 cup portions to use in future recipes. I plan to make more sandwiches but also use it on pizza, in a wrap, or just enjoy with some rice.
The second recipe I made was Stephanie's Goulash. I changed this recipe up a little bit. It originally called for beets, which I had every intention of using but forgot to purchase. Instead I used extra carrots. Again, this recipe was very tasty. I served it over some egg noodles. Like the shredded pork this recipe makes a lot but it freezes great for future meals.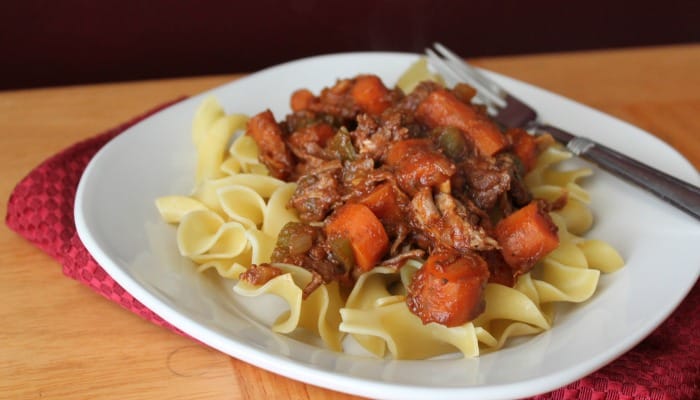 For both of these recipes I prepped the ingredients the night before, placed in the crock, and stored in the refrigerator overnight. In the morning, I place the crock in the slow cooker and turned it on.
The third recipe I made was the Thai Chicken Curry. Matt and I are real big curry fans so I was looking forward to making this recipe. I prepped this recipe during the week, froze it, then made it on the weekend. Chicken slow cooker recipes only need to cook for about 4-6 hours and I did not want to risk the meat drying out by cooking it all day when I am at work. I did leave the potatoes out of the recipe because 1. I am not a big potato person and 2. I forgot to purchase them. I did serve this recipe over brown rice and we loved it. Adding the lime and cilantro at the end is a must. It really balances out the ginger and adds brightness to the meal. Again, you will get many servings from this recipe. I froze half then packed the other half for lunches. Delish.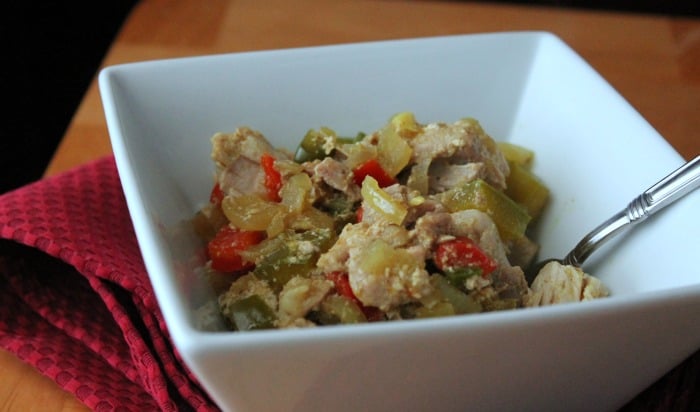 Prepping slow cooker recipes the night before or creating freezer kits for later use is a real time saver in the kitchen and allows you to experience the true benefits of your slow cooker.
From Your Freezer to Your Family is such a great resource filled with many delicious healthy recipes. I also found that after making these recipes and reading the others I was able to adapt some of my other slow cooker recipes into freezer kits. I highly recommend Stephanies ecookbook. You can purchase it here.
If you think you want to try some recipes before purchasing the ecookbook then head over to her website and check out the different ones she has listed there.
Stephanie also has other ecookbooks on her blog that you can purchase separately or as part of a ecookbook bundle deal.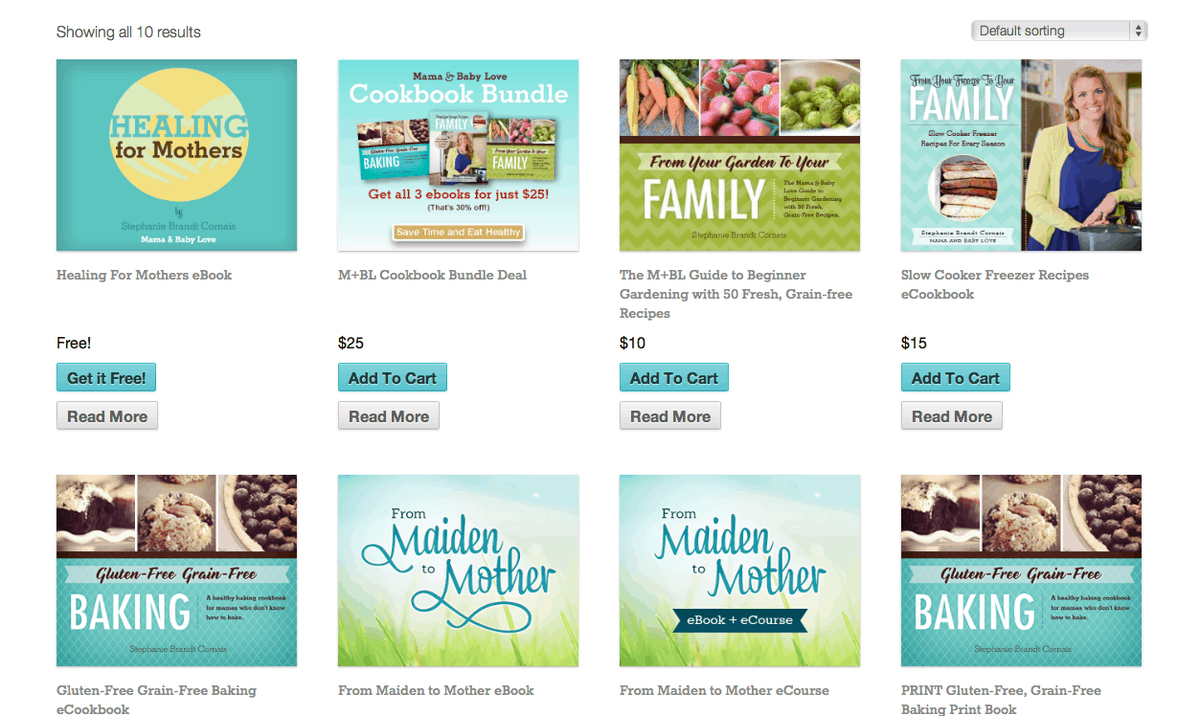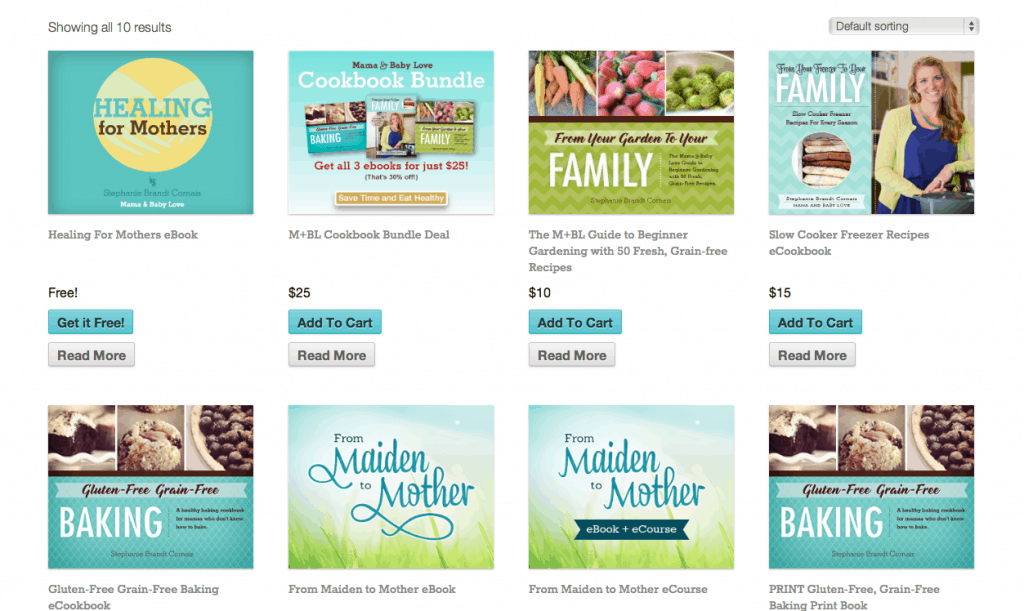 Disclosure: I am a Mama and Baby Love affiliate, which means I get a percentage of each sale. Please note that I never recommend a service or product that I have not tried or wholeheartedly believe in. Thank you in advance for your support of this site.