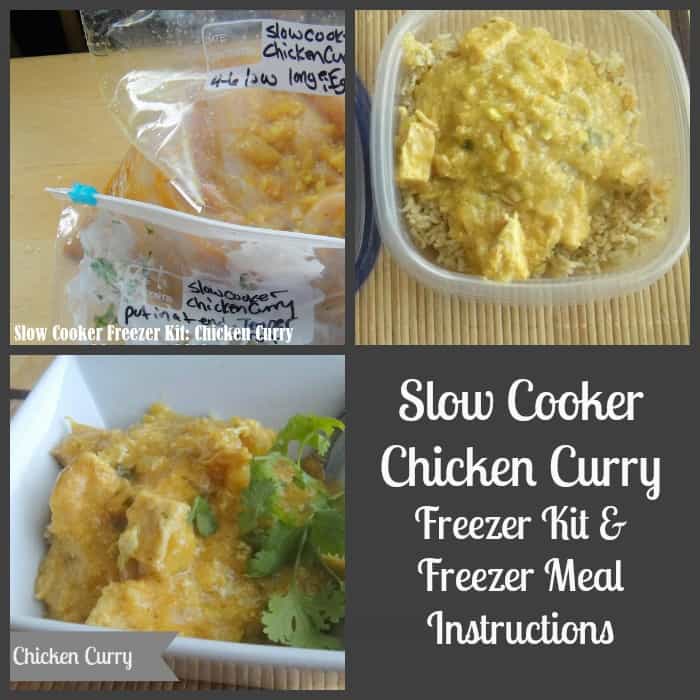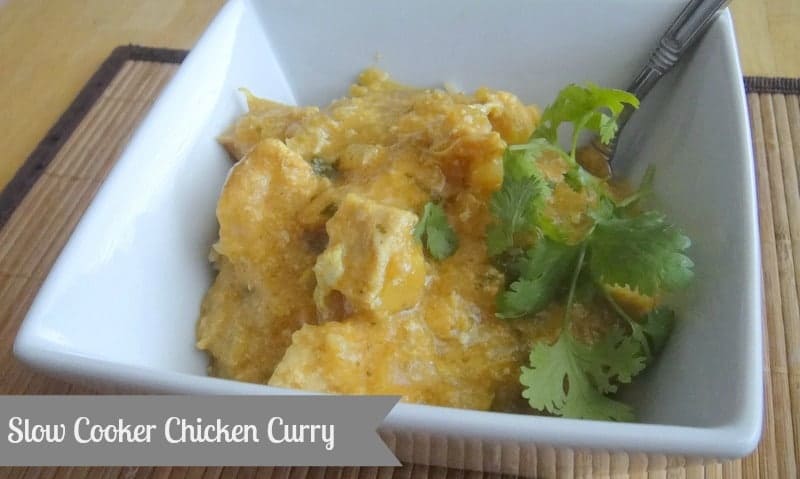 Chicken curry is one of our favorite Indian recipes. If we are not ordering it from our favorite local Indian restaurant we are making it at home. We have a go to chicken curry recipe but I am always looking to try others.
I came across this slow cooker chicken curry recipe in my Slow Cooker Revolution cookbook a year ago. I have wanted to make it, but for some reason never got around to it. Well I finally did and could kick myself for not making it sooner. It was so delicious and Matt swore it was better than take out – aww isn't he sweet.

Before I get into the recipe I just wanted to briefly talk about two ingredients this recipe uses – quick cooking tapioca and 1 tablespoon of tomato paste.
Tapioca is used in many slow cooking recipes as a thickening agent. Because the slow cooker does not release steam some recipes don't cook down and thicken on their own. Using tapioca is the solution for this. Having a box of quick cooking tapioca in your pantry is good to have on hand. I found quick cooking tapioca in the baking section by the puddings.
As for the 1 tablespoon of tomato paste I must say I used to hate when recipes called for that. Mostly because I would open up a full can, use a tablespoon, put the rest in the refrigerator, only to never use it again and throw it out. My solution to this is to purchase a tube of tomato paste. This way you can use what you need without having to open up a full can. I found the one I use in the Italian foods aisle by the pasta and sauces.
Lastly, I adapted the recipe slightly and created it as a slow cooker freezer kit. The instructions are below. If you like the idea of having a recipe ready to go for your slow cooker then you will love having this as a slow cooker freezer kit. It came out perfectly and was so easy to prepare.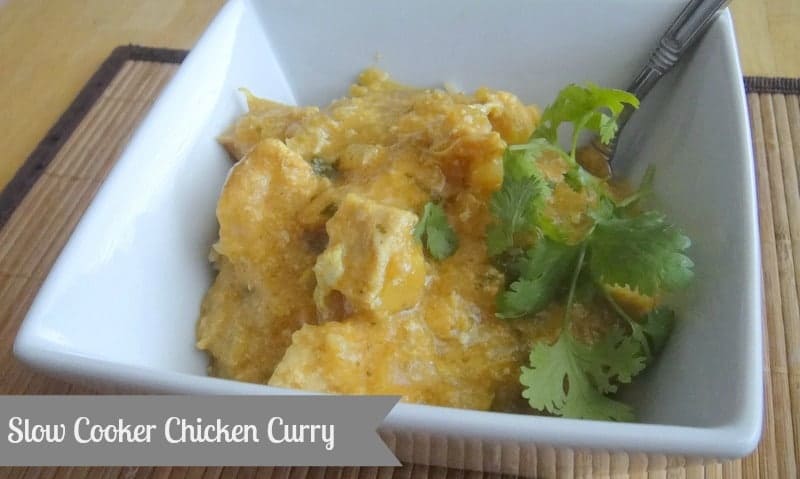 Ingredients
2

medium yellow onions

minced

6

garlic cloves

minced

2

tablespoons

grated ginger

1

tablespoon

tomato paste

4

teaspoons

curry powder

1

tablespoon

canola oil

3

tablespoons

minute tapioca

1

cup

chicken broth

4

medium chicken breasts

½

cup

plain greek yogurt

2

tablespoons

fresh cilantro
Instructions
In a medium microwave safe bowl mix together onions, garlic, grated ginger, curry powder, tomato paste, and canola oil and microwave for 5 minutes. Stir once at 2 ½ minutes. Onions will be translucent and the mixture will have a nice aroma. Place mixture in the slow cooker. This technique is used to bloom the aromatics before heading into the slow cooker. It helps to keep the flavors from washing out during the slow cooking process.

Stir the tapioca and chicken broth into the slow cooker.

Lightly season the chicken breasts with salt and pepper then place them into the slow cooker with the rest of the ingredients. Make sure the chicken is covered with liquid. Cover and cook 4 – 6 hours on low. **I used a 6 qt slow cooker for this recipe and it was done after about 4 ½ hours. It would probably cook longer in a smaller slow cooker.

Remove chicken, one piece at a time, and cut into bite size pieces.

In a small bowl, take 1 cup of the liquid and combine with Greek yogurt and cilantro. Stir mixture back into the slow cooker.

Stir chicken back into the slow cooker until all pieces are evenly coated. Serve over brown rice.
Nutrition
Serving:
1
g
|
Calories:
374
kcal
|
Protein:
37
g
|
Fat:
8
g
|
Fiber:
3
g
|
Sugar:
9
g
Make Ahead and Freezer Cooking Instructions
This chicken curry recipe can be made ahead a frozen a couple different ways. First, you could cook it completely then portion it out and freeze. You can also freeze the rice separately or you can freeze the chicken curry and the rice together for a homemade fully prepared freezer meal. I actually made a few of these with the leftovers.
The second way to freeze this recipe is to create a slow cooker freezer kit. Do this by completing step one then adding the tapioca and chicken broth to the bowl. After it cools, in the bowl, place the mixture into a large freezer bag or container then put in the chicken breasts. Freeze the Greek yogurt and cilantro separately in a smaller bag. Label and freeze both bags together as a kit. I usually put kits together into a shopping bag so they stay together and don't get misplaced in the freezer.
To thaw, take the complete kit out of the freezer and let it thaw in the refrigerator for 24 hours. It is fine if the kit is still a little frozen when you put it in the slow cooker you will just need to adapt the cooking time. You don't want it to go in the slow cooker completely frozen because then it will be difficult to make sure, if you are not home, that the chicken is fully covered by liquid as it cooks. When chicken cooks without liquid covering it in the slow cooker it can cook faster and then dry out.
After the chicken curry is done cooking continue with steps 4 -6. Don't worry about the texture of the Greek yogurt and cilantro after it thaws because it is going to be stirred into the recipe anyways.
I encourage you to make it as a slow cooker freezer kit. I found it very helpful to have this recipe ready to go.
Kitchen Essentials
For this recipe I used the Hamilton Beach Set 'n Forget 6-Quart Programmable Slow Cooker. The recipe is adapted from the Slow Cooker Revolution cookbook.