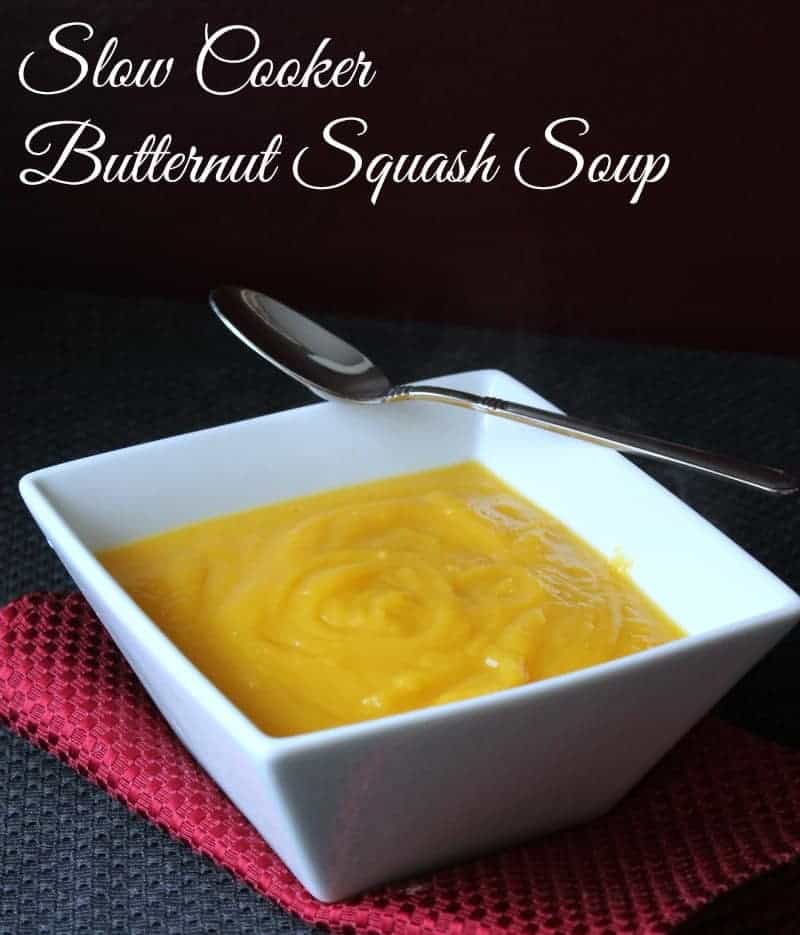 Butternut squash is one of my favorite winter vegetables. It is delicious, nutritious, and super filling. The thing that I don't like is how difficult butternut squash (or really any squash) is to cut and chop up. Well at least they are for me. Seriously, I almost lost a couple of fingers once when I was trying to make a simple soup. That experience led me to always purchase pre chopped squash. However, it is much cheaper to purchase a whole squash so I decided to figure out a way to easily cook squash without losing my hands.
A couple months ago I cooked sweet potatoes in the slow cooker and felt like I invented electricity. This was a big deal for me! Up until then I would purchase sweet potatoes and they would go to waste because I never had the time after work to bake them. I know I could just throw them in the microwave but they never turned out right for me. Cooking them in the slow cooker was the perfect solution.
Anyway, I thought if I cooked sweet potatoes in the slow cooker I could probably cook a whole butternut squash. Well it just so happened the recipe I was using – from Not Your Mother's Slow Cooker Cookbook– suggests cooking the squash whole in the slow cooker. Yippee! So I went and bought a big ole butternut squash to make a batch of butternut squash soup.
The butternut squash I purchase was 5lbs. It was huge and just barely fit into my slow cooker. If it were any bigger I would have been in trouble. My advice is to measure your slow cooker so you don't end up with a squash that doesn't fit.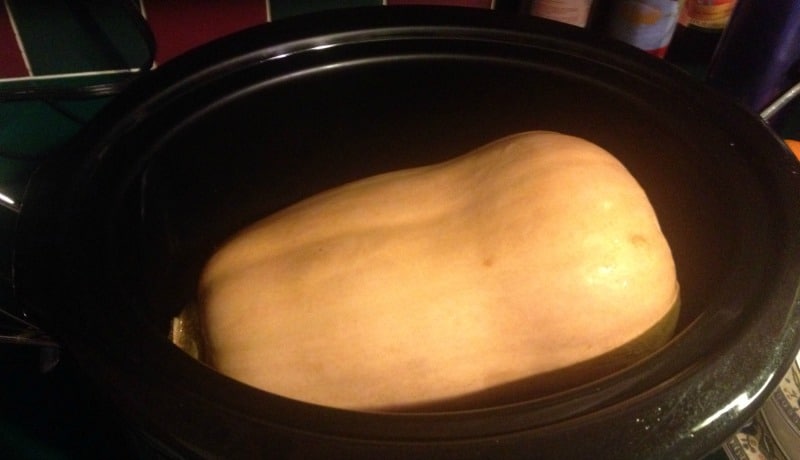 All I needed to do was add a couple tablespoons of water to the bottom of the slow cooker, place the butternut squash on top, put the lid on, and cook on low for 7- 9 hours. Mine cooked perfectly around 8 hours.
After it was cooked I removed it from the slow cooker. This was a little tricky because the squash is very soft. I used two bigger spoons and that worked fine. Then I cut it open and scooped out all the flesh. Super easy! Keep in mind the squash is HOT so you need to be careful when handling it.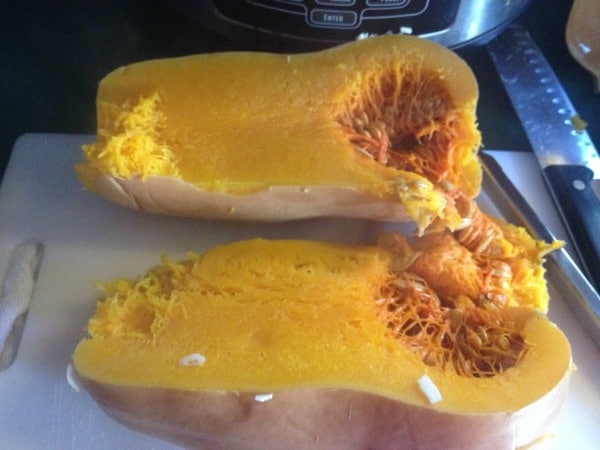 Then I put the scooped out squash back into the slow cooker added the chicken broth and onion mixture, pureed with a immersion hand blender, and let it cook on high for another hour. Seasoned with some salt and pepper and finished each bowl with a sprinkle of parmesan cheese. Delicious!
If you don't have a hand bender then you can use a regular blender or food processor. Just work in batches.
This recipe is very basic so experiment with spices and flavors. It also freezes great so if you have a lot left over then freeze in single serving portions for easy lunches and dinners.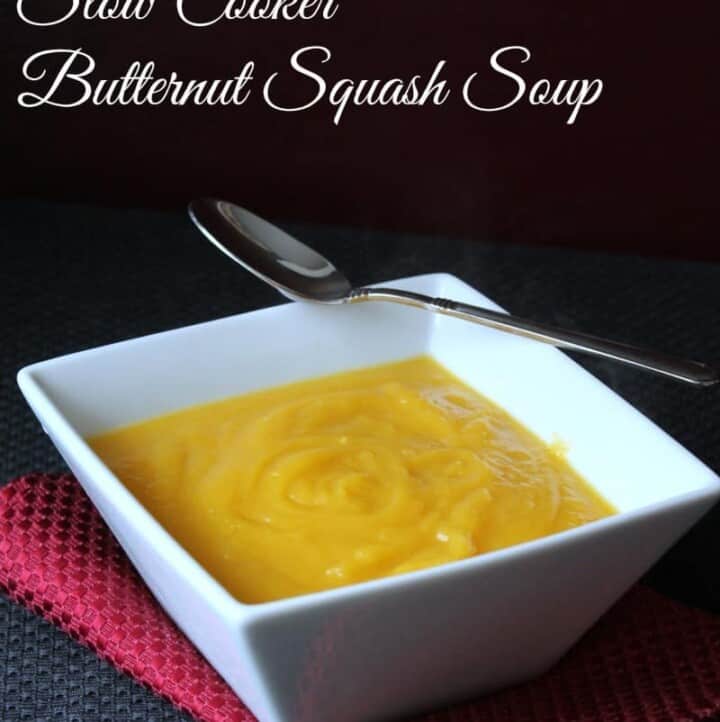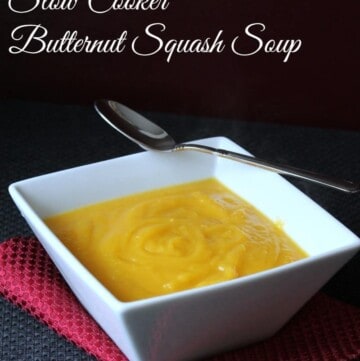 Ingredients
1

butternut squash

mine was 5 lbs but use whatever size fits into your slow cooker

2

tablespoons

water

1

tablespoon

olive oil

1

large yellow onion

chopped

3

garlic cloves

chopped

1

quart

chicken broth

or 4 cups, you can also use vegetable broth to make this vegetarian. Also, depending on the size of your squash you might need more or less broth.

salt and pepper to taste

parmesan to sprinkle on individual bowls
Instructions
Place whole butternut squash and 2 tablespoons of water into the slow cooker. Put lid on and cook for 7-9 hours on low. Mine cooked perfectly at 8 hours.

Heat olive oil in a medium pan on high. Cook onions and garlic until translucent, about 7 minutes. Set aside.

After the squash is done remove from the slow cooker, cut in half, remove the seeds and skin, and scoop out the flesh and place it back into the slow cooker. You can discard the seeds and skin.

Pour the onion mixture and chicken broth in with the squash. Using a hand blender, blend the ingredients until blended and smooth. Cook on high for another hour.

Add salt and pepper to taste. Serve with a sprinkle of parmesan cheese.
Notes
Make ahead tips
This soup can be made completely ahead of time and frozen into individual servings for easy lunches and dinners. Reheat on the stove or in microwave.
Nutrition
Serving:
1
g
|
Calories:
200
kcal
|
Carbohydrates:
41
g
|
Protein:
7
g
|
Fat:
3
g
|
Fiber:
6
g
|
Sugar:
5
g