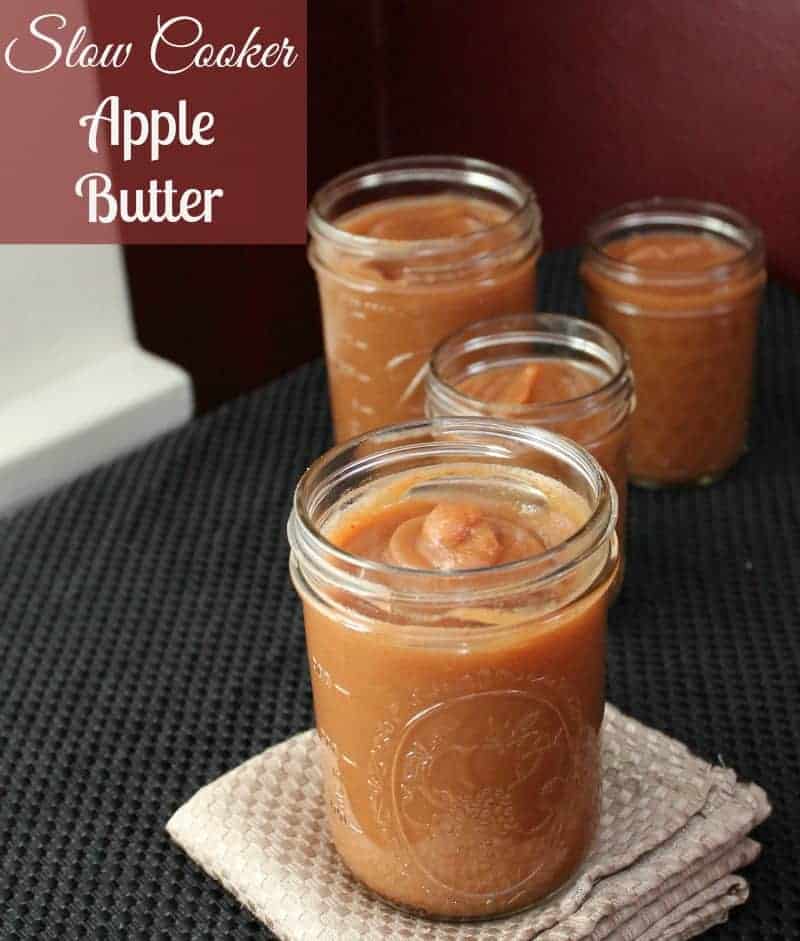 Making apple butter in the slow cooker is one of fall's great gifts. It is so incredibly easy to make and makes your home smell amazing. Just close your eyes and imagine coming home after a long draining day to the smells of slow cooked apples and cinnamon flowing through the air. Seriously, people pay big money for candles that smell this good.
Making apple butter has been on my cooking bucket list for a while now. Every year, around this time, I see Pinterest flooded with lots of apple butter recipes. Well, this year, I finally decided to make it.
First, let's talk about the difference between applesauce and apple butter. It can get a little confusing because essentially they are cooked the same way and apple butter doesn't actually have any "butter" in it. The difference is the length of cooking time. Applesauce is cooked just long enough for the apples to get soft so they can be mashed into applesauce. Here is my slow cooker applesauce recipe here. With apple butter, once the apples become applesauce, you blend until the sauce is smooth then continue the cooking process until it produces a very thick rich flavorful spreadable sauce or "butter". The texture is not thick like butter but it is much thicker than applesauce. The flavor still resembles applesauce but in a deeper more concentrated way. Apple butter is like applesauce's older mature sister. Now that I think about it apple butter is the grown up version of applesauce. Anyway, it is delicious.
Apple butter can be made on the stovetop but I opted to make mine in the slow cooker. I love my slow cooker and if I have the option to stand over the stove or "set it and forget it" guess which one I am picking? Yep! Now this recipe is not exactly a "set it and forget it" recipe. You do need to check on it every now and then, mostly during the second phase of cooking. But don't worry this is still a very easy, and fun to make, recipe.
The type of apple I used were gala. Gala apples are sweet so I did not need to use a lot of added sugar. Most apple butter recipes called for 1 or 2 cups of sugar. I am not opposed to sugar in recipes but that just seems like a lot of sugar to me. I only used ¼ cup of packed brown sugar and that did the trick. If you use a tart apple (ex. Granny smith) you might want add more sugar. The great thing about apple butter is it is very versatile. You can use any apple you want and play around with spices. For the spices, in my recipe, I used cinnamon and a little nutmeg.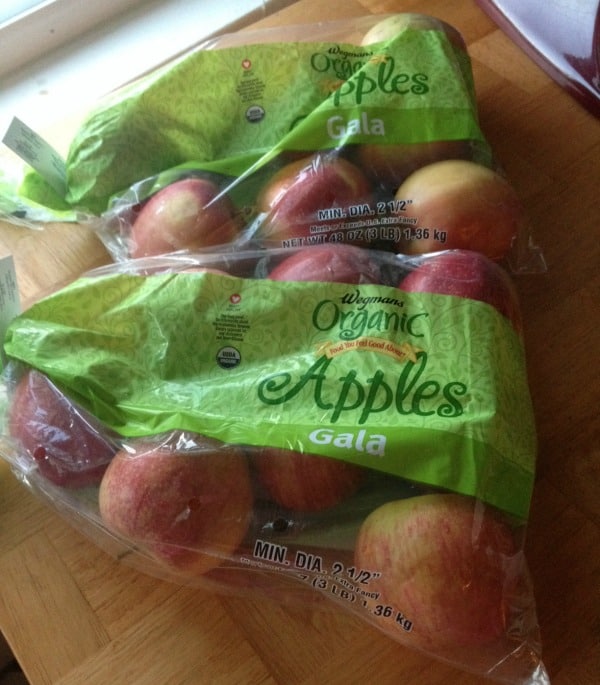 I think you will be happy to know that my recipe does not require you to peel the apples. Your welcome! I think one of the reasons I waited so long to make apple butter is I had no desire to peel 6 pounds of apples. I know I can get an apple peeler but that requires me to remember to buy one. As a result, I still use a hand peeler. So I decided to keep the skins on.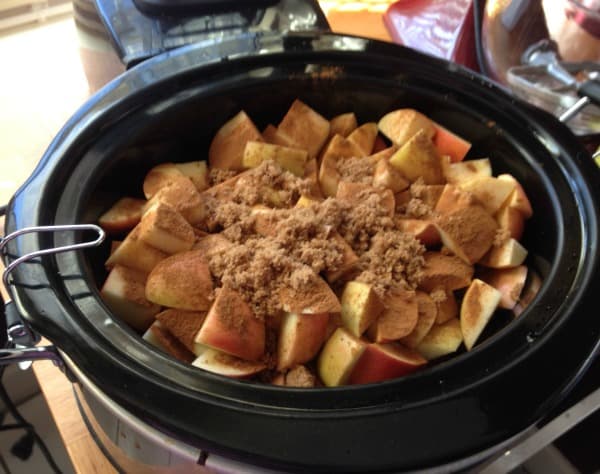 Apple skins are good for you anyway. They hold all the fiber and nutrients of the apple so leaving them on makes the apple butter more nutritious. Plus, all the apples get blended into a smooth puree so no one will ever know the skins were left on.
See no skins!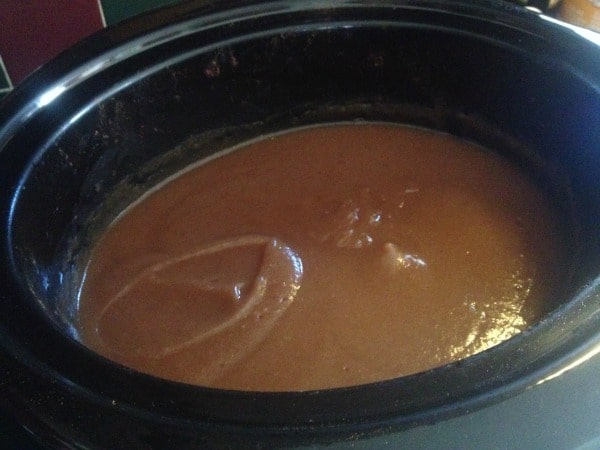 So how do I eat apple butter? It taste wonderful in oatmeal, on toast, in yogurt, or with a spoon right out of the jar. I am even thinking about using it in cinnamon rolls. Not sure how that will turn out but doesn't that sound awesome?!
YUM!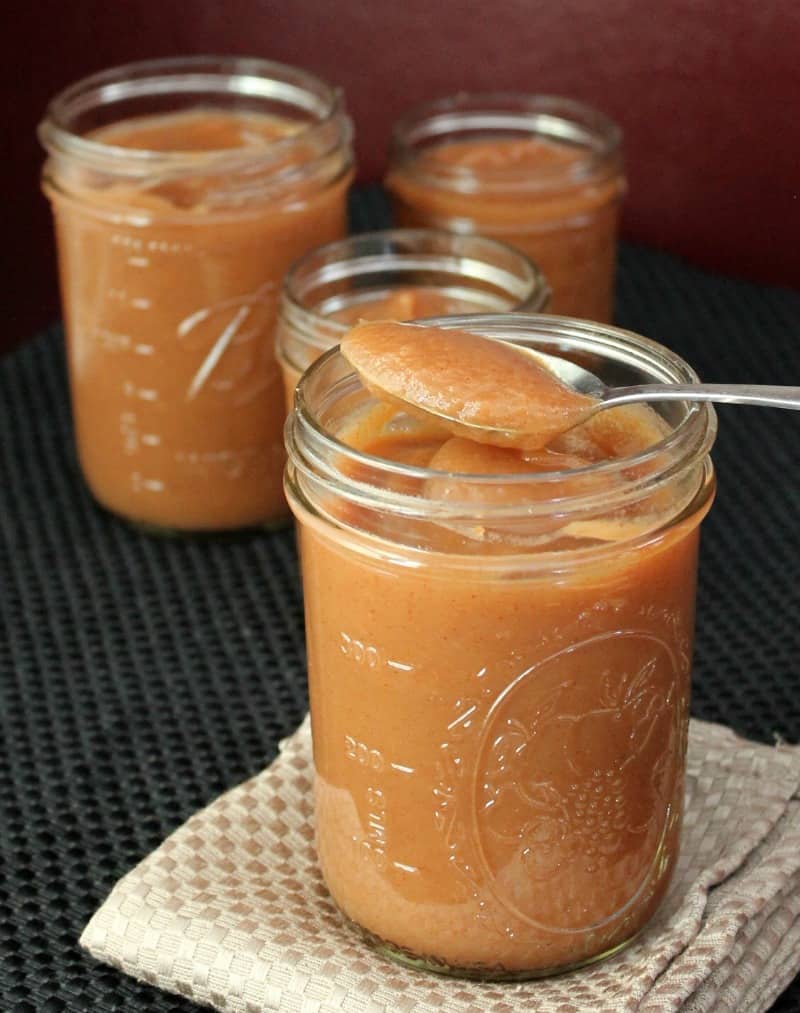 Apple butter can be stored in the refrigerator for up to a week. You can also freeze it up to 6 months.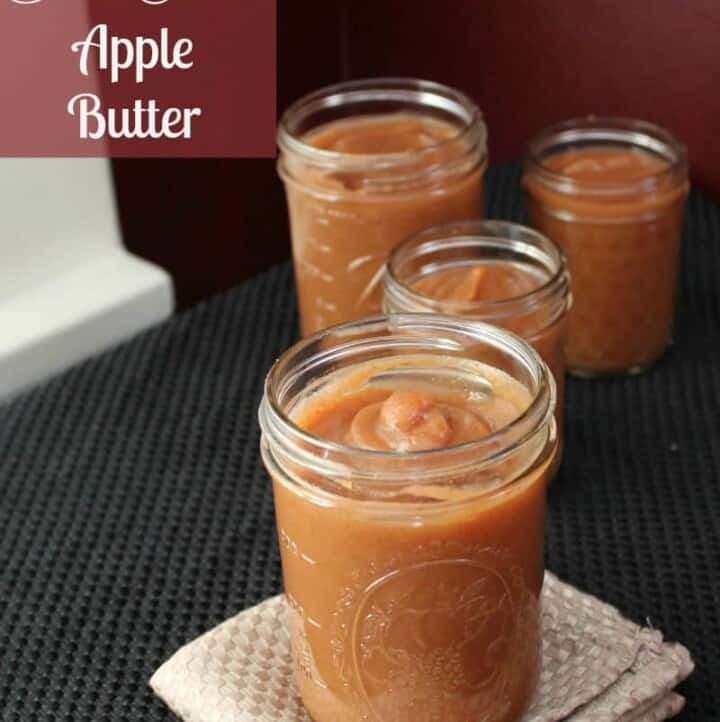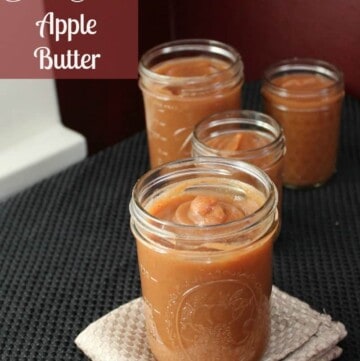 Ingredients
6

pounds

apples

I used gala, chopped with skins left on

½

cup

apple cider

¼

cup

packed brown sugar

1

tablespoon

cinnamon

¼

teaspoon

nutmeg *optional

1

teaspoon

vanilla
Instructions
Place apples, cider, brown sugar, cinnamon, nutmeg, and vanilla into the slow cooker. Toss around a couple time to mix up ingredients.

Place cover on and cook for 4 hours on high.

Using an

immersion blender

or hand blender blend apples until smooth. Be careful because the apples are hot. if you don't have a hand blender you can use a regular blender but again be careful.

With lid off cook on high an additional 2-3 hours, or until you get desired consistency. This is the cooking phase you need to pay a little more attention to. You want to keep an eye on the consistency. Mine cooked for 3 hours. Pour into jars and cool. Store in fridge up to a week or in the freezer.
Nutrition
Serving:
1
g
|
Calories:
71
kcal
|
Carbohydrates:
18
g
|
Fiber:
3
g
|
Sugar:
2
g