This post is by OYS contributing writer Melissa. To see more of her posts please click here.
It seems like so many American traditions now revolve around the food.  Case in point, the Superbowl.  Unfortunately, the food usually associated with this event is not the healthiest.  Think deep-fried chicken wings dunked in blue cheese, and greasy pizza dripping with cheese.  Sound good?  Sure it does, and it's okay to have these foods in moderation, but it seems like we are constantly bombarded with food temptation every day.  I would never suggest banning pizza and wings from your Superbowl party, but having a few lighter options around is the goal.  Whether you are hosting a party or attending one, knowing that there is at least one food item that fits into a healthy lifestyle should help you enjoy the party, the game, and the food.
I scoured the web and found three recipes for appetizers on skinnytaste.com that I thought were Superbowl-worthy.  These are lightened versions of familiar favorites.  I decided to test these recipes out on the biggest football fan and pizza and wing eater I know: my husband.  I figured why not go right for the toughest critic?
First up, Buffalo Cauliflower Bites.  My husband loves all things spicy, so I knew these would be a good one to try with him.  These were so super simple to make and he liked the kick the hot sauce added.  My grocery store sells this awesome blue cheese dressing made with yogurt.  If you can't find it, regular blue cheese dressing works too.  Next we tried Asian chicken lettuce wraps.  These were my favorite of the three and my husband agreed.  He mostly liked them because "they contain meat," being the carnivore that he is.  But he also agreed that these had a really nice flavor.  There were some ingredients in the original recipe that I didn't have so I substituted and omitted as needed, and they were still delicious!  Finally, I made a batch of baked mozzarella sticks.  These were melty and yummy, but you have to eat them right away or the cheese hardens.  Also, you really have to watch these guys in the oven.  One minute too long and you'll have melted cheese all over the place.
The final verdict from me: easy, delicious appetizers that are health-conscious.
The final verdict from my husband: tasty, and manly enough for the Superbowl!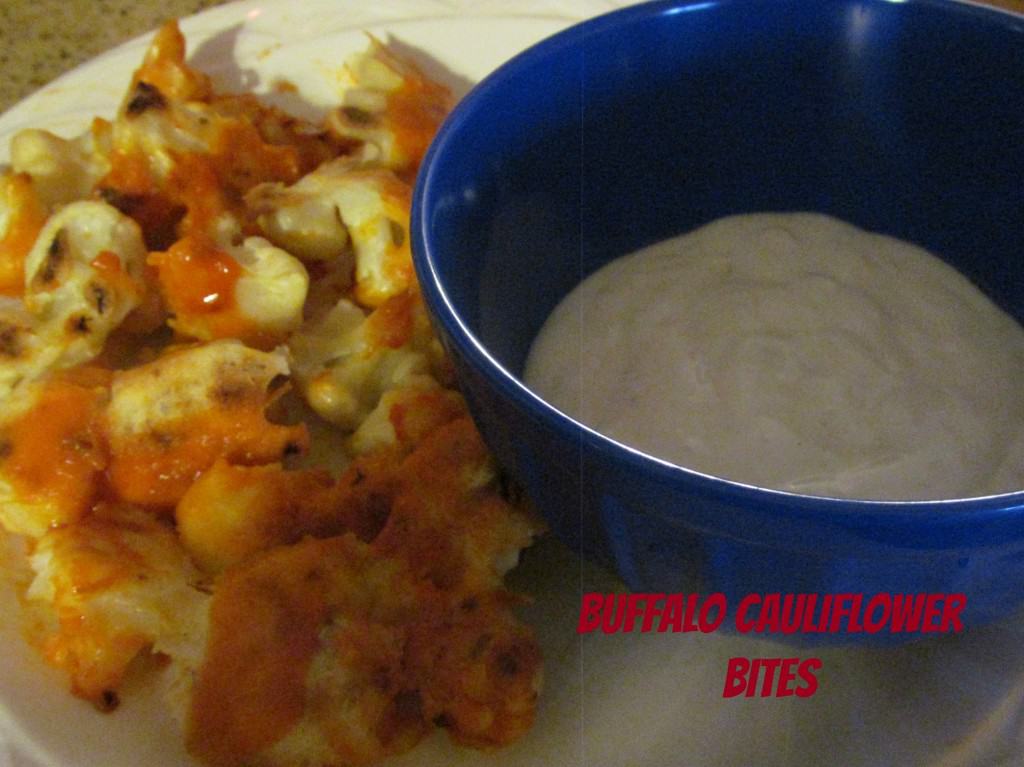 Buffalo Cauliflower Bites
see original recipe here.
1 head cauliflower, cut into florets
1 cup flour
1 cup water
3/4 cup hot sauce (if you're from Buffalo, use Frank's!)
1 T. butter, melted
yogurt blue cheese dressing
In a small bowl, mix the flour and water together with a whisk.  Stir cauliflower into batter.  Spoon onto a baking sheet coated with cooking spray.  Bake at 450 for 20 minutes.
Mix the hot sauce and butter.  Pour it over the cauliflower and bake for 5 more minutes.
Serve immediately with the dressing for dipping.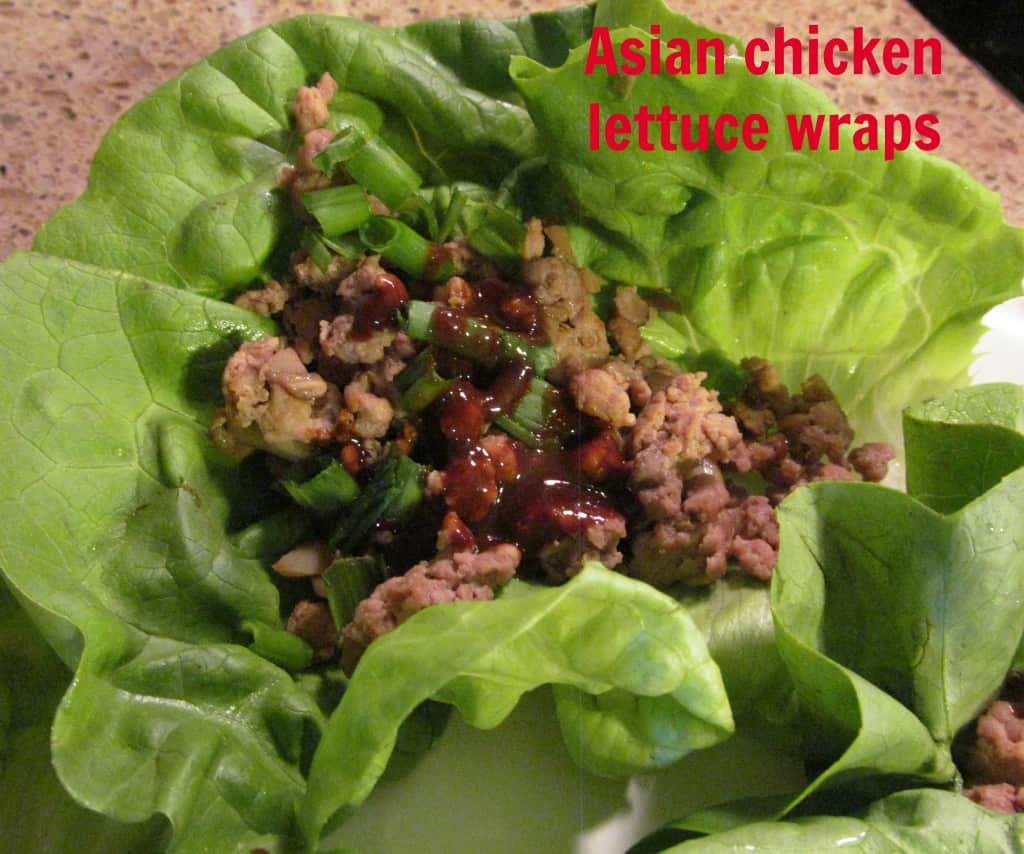 Asian Chicken Lettuce Wraps
see original recipe here.
1/2 lb. ground chicken
1/4 cup water chestnuts, chopped fine
1/4 cup shiitake mushrooms, chopped fine
1 1/2 tbsp reduced-sodium soy sauce
1 1/2 tsp sesame oil, divided
1 tbsp rice wine vinegar
1⁄2 tsp sugar
freshly ground pepper, to taste
2 cloves garlic, finely chopped
6 Boston or Bibb lettuce leaves, rinsed (careful not to break)
2 tbsp diced scallions
4 tbsp hoisin sauce
1/2 tsp hot sauce
1 tbsp warm water
In a small bowl, combine soy sauce, 1/2 tsp. sesame oil, vinegar, sugar, and pepper with a whisk.  In a medium bowl, combine ground chicken, water chestnuts and mushrooms.  Pour the sauce over the meat mixture and let sit for 15 minutes.
In a small bowl, combine hoisin, hot sauce, and warm water.  Set aside.
In a large skillet, heat the remaining sesame oil over medium-high heat.  Add garlic and cook for 10 seconds.  Then add meat mixture.  Cook until meat is browned, stirring to break it up.
Arrange lettuce leaves on a plate.  Divide meat mixture among leaves.  Top with scallions and hoisin sauce.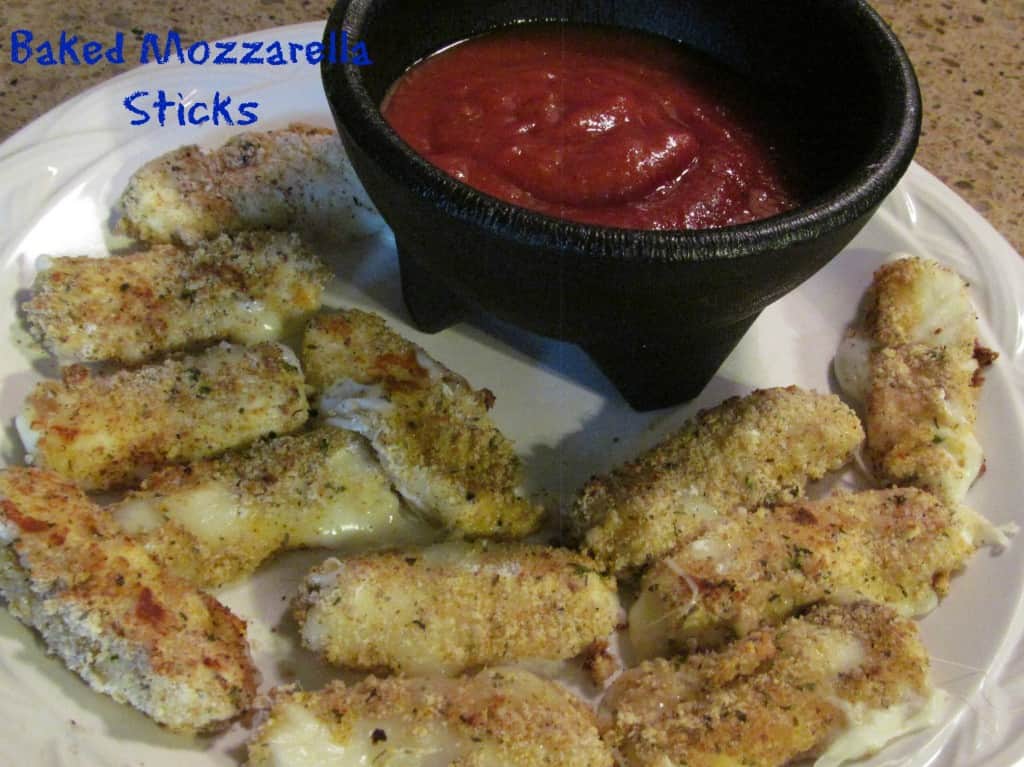 Baked Mozzarella Sticks
12 sticks low-fat mozzarella string cheese
1 large egg, beaten
2 tbsp flour
5 tbsp Italian seasoned breadcrumbs
5 tbsp Panko crumbs
2 tsp parmesan cheese
1 tbsp dried parsley
Cut cheese sticks in half and place in the freezer for 30 minutes.
In a small bowl, beat the egg.  In another shallow dish, place the flour.  In a third shallow dish, mix the breadcrumbs, Panko, parmesan cheese, and parsley.
Roll the cheese in the flour, then dip in the egg, then roll in the breadcrumb mixture.  Place cheese sticks on a baking sheet covered in wax paper.  Place in the freezer for 15 minutes.
Preheat oven to 400.  Place cheese sticks on a baking sheet covered in aluminum foil coated with cooking spray.  Bake for 3 minutes.  Turn over and bake an additional 3 minutes.  Watch carefully so the cheese doesn't melt. Serve immediately with marinara sauce.
What are some of your favorite "skinny" Super Bowl recipes?
Get Instant Access to My Best Weight Loss Tips & Strategies!
Sign up now for a free step-by-step 7-day email course that I created exclusively for my email subscribers! That's you. I will teach the best habits, strategies, and insider tips so you can enjoy a lifestyle that encourages and supports weight loss! Stop relying on willpower and take control back over your life! You can do this. Let me help!