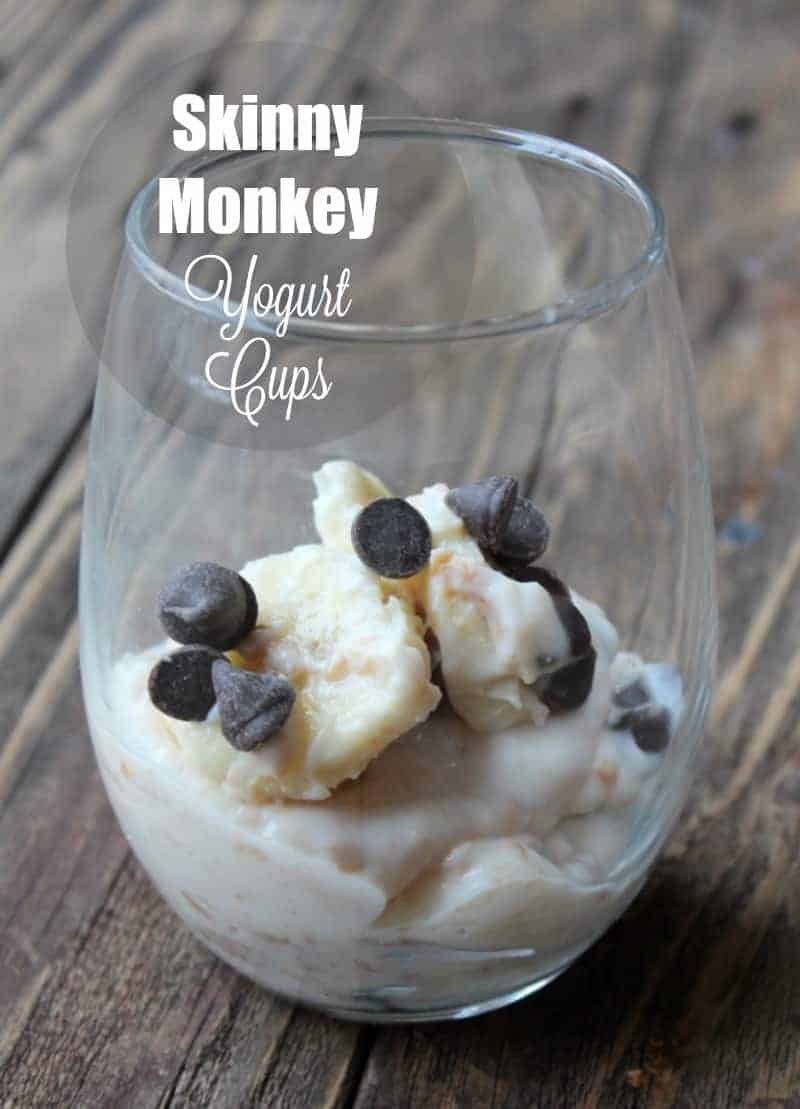 Thank you Yoplait® for partnering with me on today's Skinny Monkey Yogurt Cup recipe. Bananas + peanut butter + chocolate + Yoplait Original French Vanilla Yogurt = pure joy! Check out their website and Pinterest board for more recipe ideas.
---
Every healthy lifestyle needs sweet treat options. It's a must for me! Just the thought of getting into a bikini for spring break or the summertime makes me want to eat chocolate and peanut butter. Yes, I know that sounds strange. But it's just the way my brain and body works. As soon as I think "bikini season" my brain starts to rebel by sending sweet tooth cravings throughout my body. It's not fair but I've accepted it's the way I'm wired.
The best way for me to keep moving forward with my weight loss and fitness goals is to keep sweet snacks and treats a part of my lifestyle instead of trying to adapt to a life of kale and water. I'm positive most of you can relate.
I do this by getting creative with snacks.
Yogurt is one of my "go to" snacks. I like yogurt on it's own but most of the time I stir in extras to "fancy" it up a bit. My favorite extras to stir into yogurt are nuts, granola, fruit, and chocolate chips. A little goes a long way so you can curb many cravings with just a tablespoon or so of an ingredient.
The Yoplait® "1-Up Your Cup" campaign is all about taking your yogurt to the next level by upping your cup with delicious extras. I was super excited to create a recipe for this campaign because I think it's a great way to add a sweet treat to your day while still focusing on your healthy lifestyle goals.
For this simple recipe I used Yoplait Original French Vanilla flavor. I purchased it at Walmart.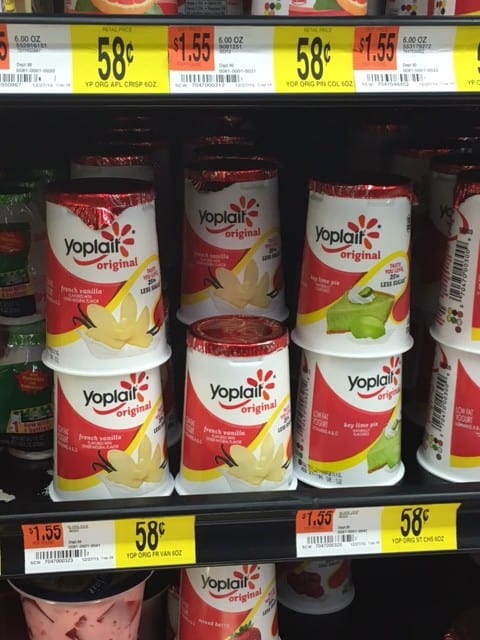 French vanilla is a great base for many sweet creations. It has a subtle vanilla flavor that compliments everything from peanut butter to fruit.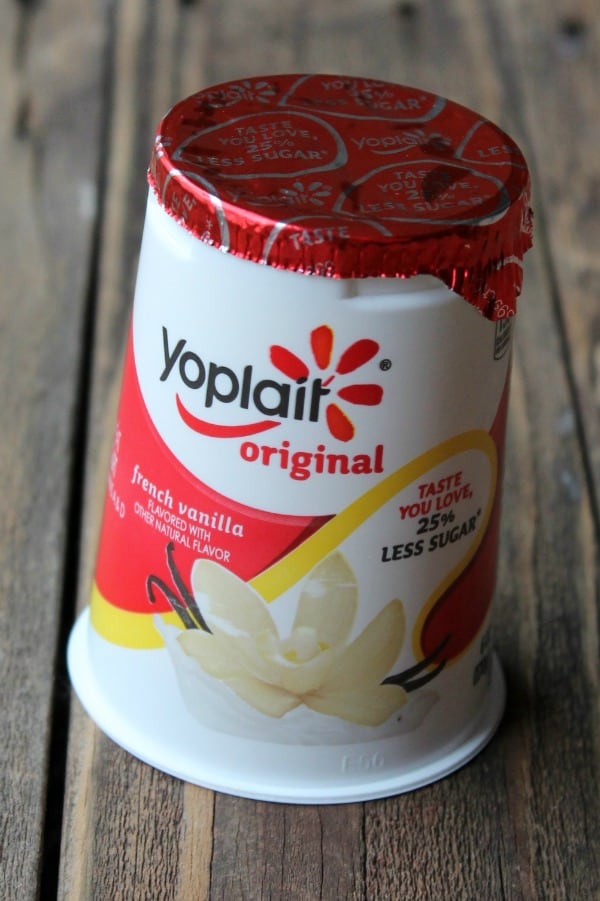 I'm training for a ½ marathon so I've been running a lot lately. All that running is making me hungry. Honestly, it seems the more I run the more I want to eat.  Is that normal? Again, I don't know if it's in my head or not but around 2:00pm or 3:00pm I am craving something sweet and satisfying. Obviously, I don't want to ruin my workout by gorging on candy bars – that wouldn't be good. It's also important to eat a snack that will hold me over until dinnertime. Candy bars keep me satisfied for about 10 minutes.
I need something that has protein, fiber, and more importantly it needs to taste good. Actually, taste good should go first. With all that in mind I decided to stir peanut butter, bananas, and chocolate chips into a Yoplait® Orginal French Vanilla yogurt.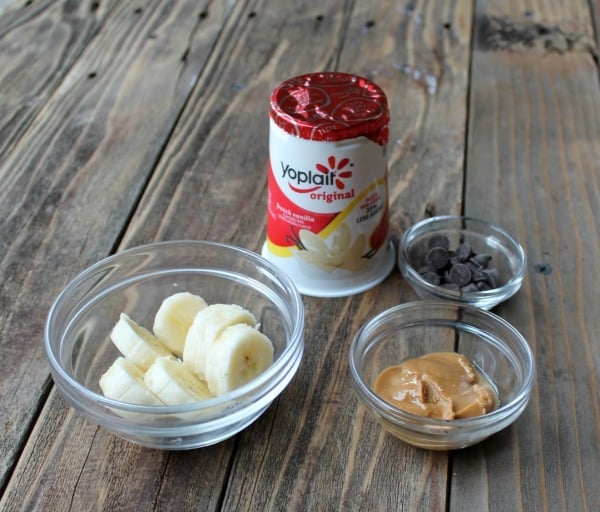 Oh mama!
I'm calling this skinny monkey instead of chunky monkey because with the right ingredients and portion control you can certainly enjoy a sweet mid afternoon snack without guilt. You're welcome.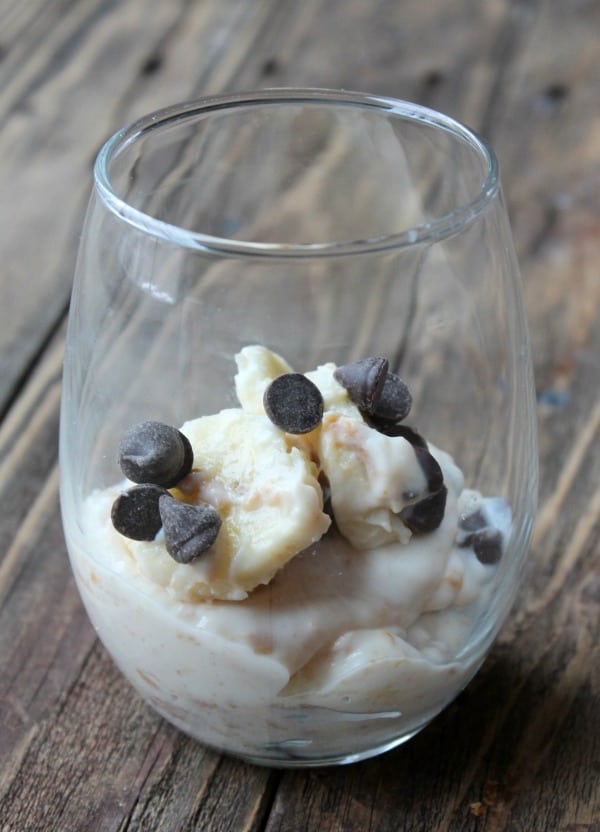 All I did was pour the vanilla yogurt into a glass and then stir in 1 tablespoon of real peanut butter, 1/2 of a banana, and 1 teaspoon of chocolate chips. Okay 2 teaspoons. Don't judge 🙂 Don't worry about the extra banana just throw it in the freezer to use for smoothies or other recipes. Or better yet make 2 Yoplait 1-Up Your Cup Creations.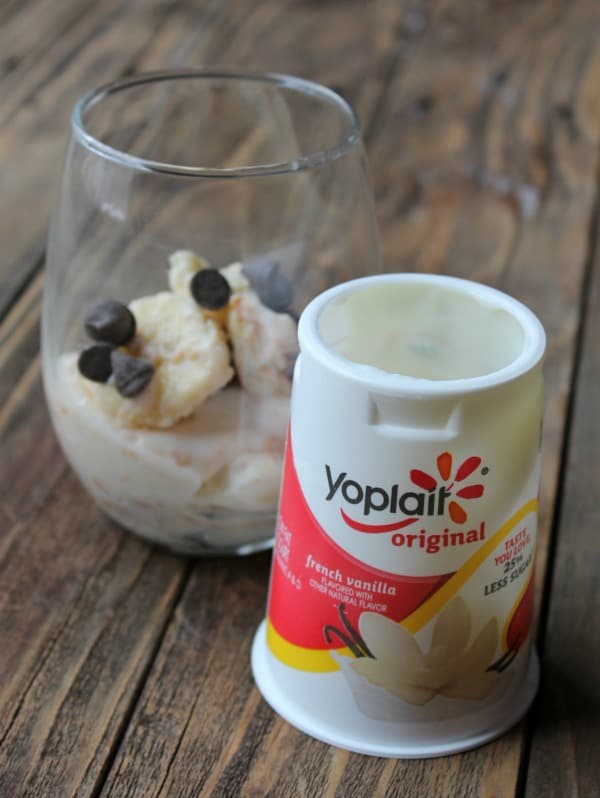 THIS WAS AMAZING. Everyone knows I go gaga for chocolate and peanut butter but add some yogurt and banana and I was in heaven. This is hearty and can easily be enjoyed for breakfast (yep!) or lunch. It satisfied my sweet tooth craving but the peanut butter satisfied my salty craving too. Win win!
Here a quick video I put together to bring this recipe to life.
Skinny Monkey Yogurt Cup
Author:
Organize Yourself Skinny
Ingredients
1 (6-ounce) Yoplait Orginal French Vanilla Flavor Yogurt
1 tablespoon natural peanut butter
½ of a banana
1 teaspoon chocolate chips
Instructions
Mix all ingredients together in a bowl and enjoy!
This is a sponsored conversation written by me on behalf of General Mills. The opinions and text are all mine.