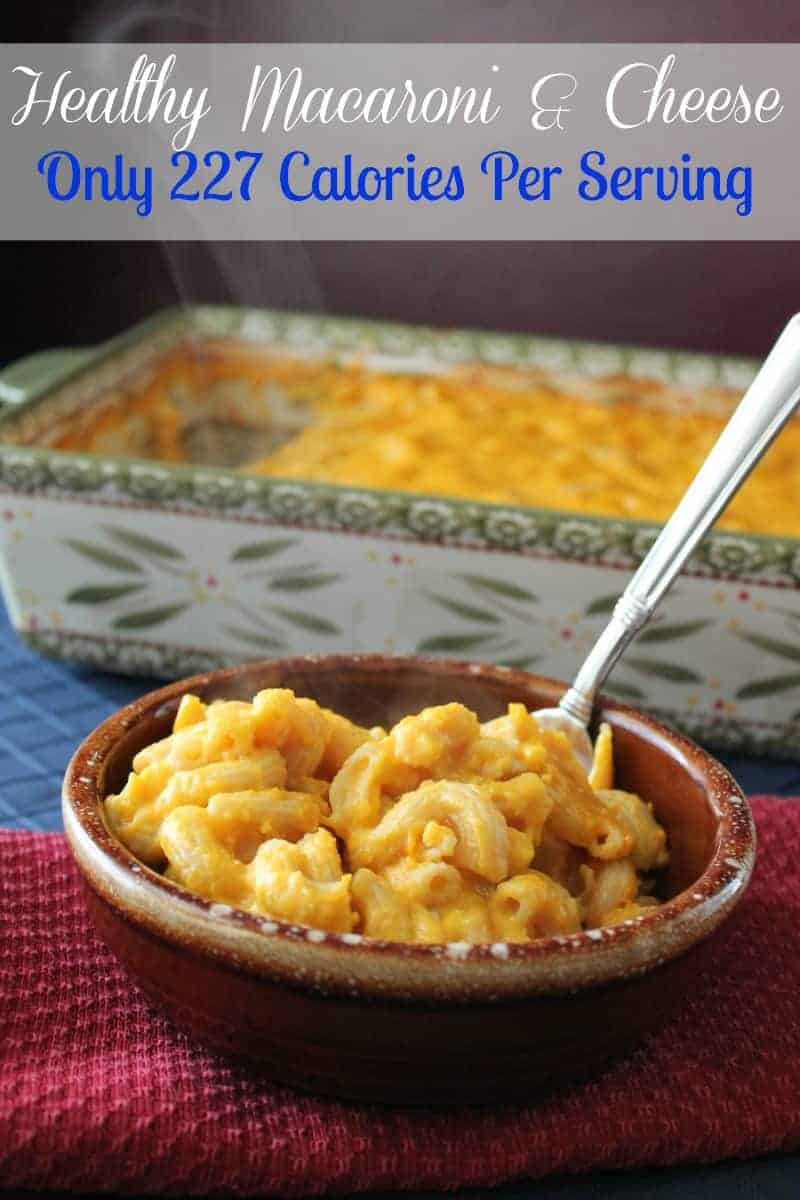 Healthy macaroni and cheese, can it be done? Maybe. Possibly. Yes I think it can. Now of course no matter how you slice it macaroni and cheese is always going to be a pasta dish with cheese as the star so it will be higher in carbs and fat than a basic chicken salad in a lettuce wrap. Just sayin.
I am really excited to bring you this healthy macaroni and cheese recipe. I have been making and remaking it for a few months now trying to get it just right. By just right I mean creamy, tasty, healthy, AND approved by kiddos and hubby. After a few tweeks I must say think I got it just right.
There are definitely ways to lighten up your favorite comfort food and still have it just as tasty and satisfying as the original. Let me tell you what I did.
First, let's start with the macaroni. Instead of using white pasta I went with whole grain elbow pasta. This type of pasta is less processed and adds more fiber and protein. You could give low carb pasta a try by I find I prefer using whole grain pasta instead. The key to non-mushy pasta is to barely cook before you bake it. I only boil the pasta for about 3 minutes no more than 5. It will fully cook in the oven. When it is done I drain and put the macaroni in an 11 x 13 casserole dish. Then I use the same pot I cooked the pasta in to make the sauce. Yep that's right minimal dishes.
Onto the sauce…
Instead of using butter, cream, and lots of milk I used ½ 1% milk and ½ chicken stock. When I first started making this I used all milk but found it was not necessary to the consistency or flavor and it added a bunch of extra calories. Then I added in ½ cup of plain greek yogurt. This adds creaminess and a little tang.
After that simmers for a little I whisk in the spices. The spices are key to this dish as it adds a lot of great flavor. I use 1 teaspoon of onion powder, granulated garlic, and salt. Along with ½ teaspoon ground mustard and a few turns of ground pepper. I tried using regular garlic and onion but for me I love the flavors of the dry spices better.
Next I stir in the secret ingredient – 1 package of winter squash. I purchase a frozen 12-ounce package and thaw it in the microwave. Then I slowly stir it in. You will see the sauce start to turn a beautiful orange color reminisce of many old school mac n cheese dishes from your past. I love the frozen winter squash because it has a nice mild flavor that does not distract from the cheese or spices.
Now for the cheese. Because what is mac n cheese without the cheese, right? I use 4 cups of shredded sharp cheddar cheese. I highly recommend shredding your own but package will do fine too – I have used both. 4 cups might seem like a lot of cheese but this recipe has 15 servings so in reality it is not. I also include ½ cup of grated parmesan.
Once the cheese is melted I pour it over the macaroni. I give it a couple stirs to make sure all of it is evenly distributed. Let me point out that the sauce may seem thin and that there is a lot of it. But it will thicken up and get nice and creamy as it bakes in the oven.
After about 50 minutes you will have a delicious healthy homemade baked macaroni and cheese that is only 227 calories per serving. YUM!
Besides this recipe being healthy and delicious it is also very versatile. You can switch it up or add to this basic recipe to create many different versions. I have stirred in cook ground seasoned hamburger for a hamburger mac n cheese or 1-2 cups shredded buffalo chicken for a buffalo chicken mac n cheese. I have also used taco meat and some taco seasoning for a…you guessed it…taco mac n cheese. As long as you keep the milk, stock, and amount of cheese the same you can switch it up however you want. I plan to offer many different variations of this recipe in the future but I wanted to start you out with a basic version first.
Oh I should also state that it freezes great. I froze it two ways. First you can prepare the pasta and sauce and freeze before baking it. Make sure to cool the sauce first before pouring it on the pasta. Then freeze. You can freeze in a large baking dish or break it up into smaller pans. Keep in mind it will have to cook longer if cooked frozen or partially frozen. The second way I freeze it is to cook completely, freeze in individual portions, then warm up on stove or microwave. This is actually my preferred way to freeze it cause then it is ready when I need it.
I hope you love this recipe as much as my family does. Enjoy.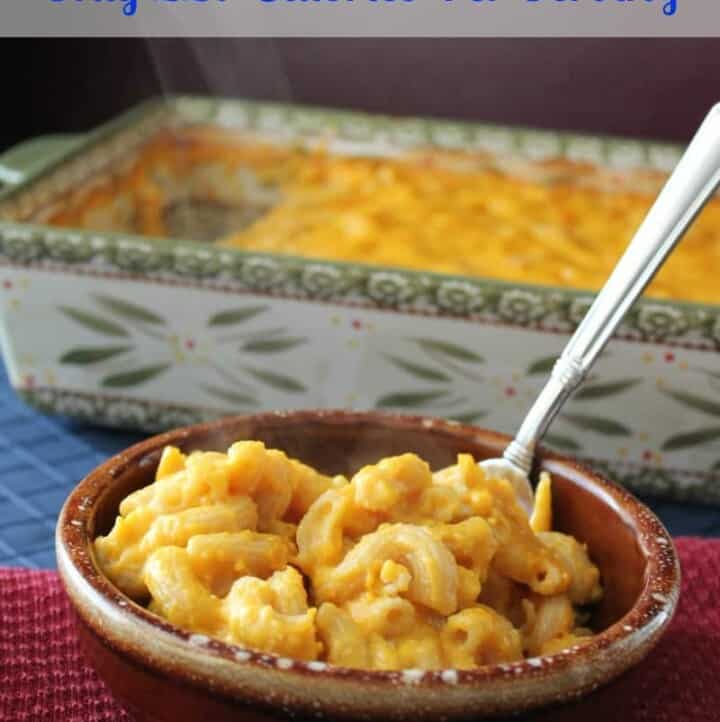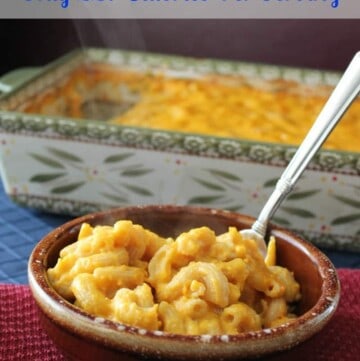 Ingredients
1

16 ounce package whole wheat elbow macaroni

2

cups

1% milk

2

tablespoons

whole wheat flour

2

cups

chicken stock

1/2

cup

plain greek yogurt

1

teaspoon

onion powder

1

teaspoon

granulated garlic

1

teaspoon

salt

1/2

teaspoon

dried mustard powder

ground pepper

1

12 ounce package frozen pureed winter squash (butternut or acorn squash), thawed

1/2

cup

grated parmesan

4

cups

shredded extra sharp cheddar cheese
Instructions
Preheat oven to 350 degrees.

Cook pasta in boiling water for 3-5 minutes. No more than 5 minutes. You want the pasta to be barely cooked. After the pasta is done drain and pour into a 11 x 13 casserole dish.

Whisk together milk and flour in the same pot you cook pasta in. Add in chicken stock and cook over medium low heat until it starts to steam. This takes about 5-7 minutes, sometimes longer.

Add in greek yogurt, spices, and squash. Cook for another 5 -7 minutes or until heated through.

Add in both cheeses and cook until completely melted, about 3-5 minutes.

Pour sauce over pasta and stir until sauce is evenly distributed.

Bake for 50 minutes or until bubbly and browned on the sides.

Let sit for 5 minutes then cut into 15 squares and serve hot or save for later.
Notes
Make ahead instructions
This recipe can be prepared up until baking step and frozen. To make, thaw overnight in refrigerator, and continue with baking directions.
Or cook completely, portion out, and freeze for future meals. Reheat in microwave or on stove.
Nutrition
Serving:
1
g
|
Calories:
227
kcal
|
Carbohydrates:
24
g
|
Protein:
15
g
|
Fat:
8
g
|
Fiber:
4
g
|
Sugar:
6
g