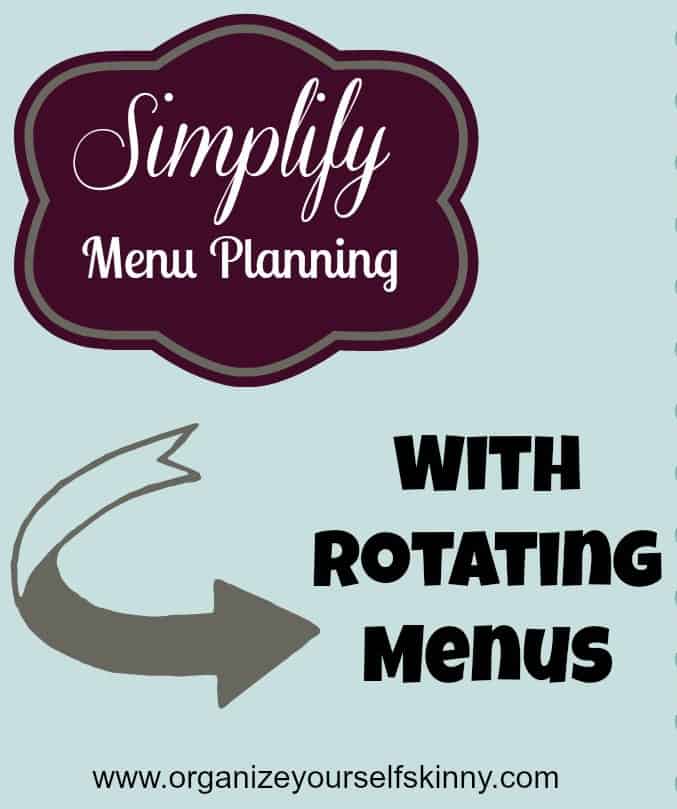 Most of us started menu planning because we want to save more money, eat healthier, and quite frankly we want to bring the dinner chaos to an end. We all know that menu planning helps to do all of these things (and more) however often times we throw in the towel because we find ourselves short on time to plan.
I remember many times I would head into the weekend (when I do most of my grocery shopping) without thinking once about my menu plan. Then I would try to quickly throw a menu plan together and head to the grocery store. Well, I am sure you can already predict what happens next. My impromptu list would lead me to forget ingredients, purchase food I did not need, and always impulse shop. Basically, I was defeating the whole purpose of a menu plan.
There is no denying that creating a menu plan does take time but there is an answer. If your time is limited each week to plan out meals but you still want to have that structure then implementing a rotating meal plan may be your solution.
Rotating menu plans is basically what the name implies. You have a certain number of completed menu plans that you rotate week after week. This style of menu planning simplifies the process because your menus and grocery lists are created ahead of time eliminating the need to carve out time each week to research and plan out your menus.
The number of rotating menu plans is up to you. It really depends on the amount of time you want to put in upfront and how often you want to repeat the same menu. I have seen some people put together 16 week rotating menus while others are fine with 4.  Again, you need to find what works for your family.
Even if you like to try new recipes each week a rotating menu plan can still work for you. Simply create menu plans leaving 1-2 meals open for experimentation. This is what I have been doing lately. During the week my meals include family tested and approved recipes. The weekends are when I test out new recipes. This way I don't have to stress or worry about making a new recipe during the week when my time is very limited.
Who would benefit from a rotating menu plan system?
Short on time
If your schedule is packed with after school activities and other commitments then this type of menu planning system would really work in your favor. Let's be honest, during the week it is all about just getting food in our system fast! Without a menu plan this can lead to boxed meals or most likely fast food and take out. With a rotating menu plan you are able to plan ahead of time and rotate through menus that meet your busy "on the go" lifestyle. After your menus are planned out the only thing you need to do each week is pick up groceries and prep meals.
Picky eaters
If your family is limited in the foods they will eat then a rotating menu plan will serve them well. Of course, you want to try to introduce new foods on a regular basis but you can still keep menu planning simple by rotating menus you know they will eat. This can actually work in your favor because if they see more foods they "like" then they might be more apt to try foods they "don't like".
Dietary restrictions
If your family has dietary restrictions this menu planning system could help alleviate meal time stress – especially if these restrictions are new for you. Create a few menu plans with meals and snacks you know your family can eat. As you experiment with recipes and discover new family favorites simple add them to the rotation.
How to create rotating menu plans
Create a list of  recipes
Depending on the number of menus you want to put together and how often you want to cook new recipes will determine the number of recipes you will need. For example, if you want to create a 4 week dinner menu rotation with 5 dinner recipes a week you will need a total of 20 recipes. The same would go for breakfast and lunch – I usually keep it to 1 no more than 2 options for these meals.
I would first start with your tried and true family favorites. These are recipes that you have made before and you know everyone will eat. Next plug in recipes that are simple and you are pretty confident your family will like. Again, I advise sticking to recipe experimentation on the weekends.
If your family favorite list is a short one then commit to trying 1-2 new recipes a week. Soon enough you will have many family favorites to choose from. Try not to stress about it though you just want to start somewhere and if that is only with 5 family favorites then so be it. Take it slow.
Using this list put together as many menus as it allows
Each menu should include the full recipes and grocery list. I recommend including all three meals and snacks that way there is no confusion about what to eat during the week. The reason I suggest having the full recipes available is because when it comes time to cook you don't want to waste time searching out the recipes. Trust me it is easier to have it all readily available. To see what my menu plans look like click here.
If you are just starting out it might be easier to just menu plan every week for 4 or so weeks then rotate those menus when done. This way you don't have to sit down and pound out 4 -8 complete menu plans at once. Do what works best for you.
Keep your weekly schedule in mind when preparing your menus.
If there are days you need easy grab and go meals then be sure to include that. For example, Tuesdays are very busy nights for us. Usually, I try to put tacos or sandwiches on the menu for that night because that is all we can handle making.
Keep your menu plans on your computer
This kind of goes without saying but I thought I would mention it anyway. You want your menu plans saved and easily accessible  For example, all my menu plans are listed on my blog but I also have them saved in a menu plan folder on my computer. When you are ready to shop all you need to do is print and go.
Rotating menu plans is another way you can fit the structure of menu plans into your lifestyle without having to sit down week after week to plan. At first , it takes a little work but once you have them all set you will begin to feel relief from the "what's for dinner" stress.
Have you ever used a rotating menu plan system? What suggestions or tips do you have?
Get Instant Access to My Best Weight Loss Tips & Strategies!
Sign up now for a free step-by-step 7-day email course that I created exclusively for my email subscribers! That's you. I will teach the best habits, strategies, and insider tips so you can enjoy a lifestyle that encourages and supports weight loss! Stop relying on willpower and take control back over your life! You can do this. Let me help!