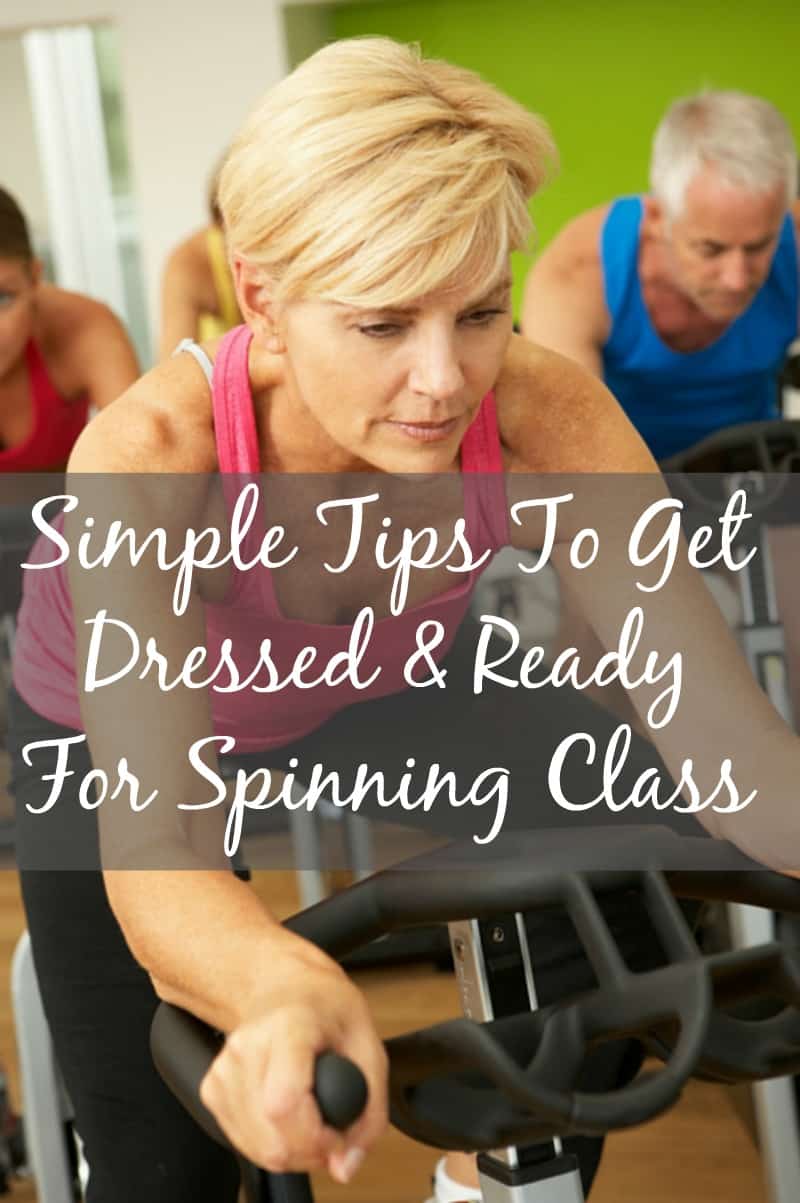 Last month, I wrote about the importance of investing in workout clothes. If you missed it, check it out here. I also wrote a post that gives some tips for buying workout clothes for running outside in the cold weather. You can read it here. If you are getting serious about exercising, then it's time to start thinking about buying specific pieces of workout clothing to match a certain type of workout. Today I am going to talk about what you should buy and wear to a spinning class.
If you have never tried a spinning class, what are you waiting for??? You are missing out on a super fun way to burn tons of calories. Check out this post I wrote about what to expect in a spin class.
When you are on a spin bike, you definitely want two qualities in your clothing: snug-fitting and moisture-wicking. Let's break it down.
Spin bikes have moving parts, and you are not just sitting on the seat the whole time, so you want your workout clothes to be snug-fitting. Baggy clothes will get in the way and could possibly get caught in the bike parts. This could not only be really embarrassing, but could cause you injury. You want a pair of tight fitting pants, capris or shorts, a well fitted sports bra, and a snug fitting top. This way your clothing isn't moving around as you move. It will be much easier doing those jumps and climbs without waiting for your baggy pants to catch up to you.
With any workout, you want to avoid cotton clothing, but with spinning especially. If you are a regular spinner, then you know that you are going to sweat like a beast on that bike. Cotton does not absorb that sweat. It will just stay wet and leave you feeling sticky and heavy. Not a fun way to work out. If you haven't gotten into moisture-wicking exercise clothes yet, you must do so now! The fabrics in these clothes are made to draw the sweat away from your body and keep you dry throughout your workout. This leaves you more comfortable and able to focus on what you are doing. They make tops, bottoms, and even socks out of these materials. It is totally worth it to invest in these pieces, so that you enjoy your workout as much as possible. Being drenched in sweat and feeling gross will only make you want to end your workout sooner. Feeling dry and light will make you want to continue your workout longer. It's a no-brainer!
Everyone always asks me about what type of footwear to wear for spinning class. You can most certainly use your regular cross-training sneakers. Spin bike pedals have two sides to them. One side has a cage for your sneakered feet to slide in, and are then secured with straps. If you are new to spinning, or only plan to do it once in a while, then I suggest just using your regular sneakers. If you really get into it, and plan to spin more often, then I do highly recommend a set of spin shoes. The other side of the bike pedals has clips that these special shoes snap into. The purpose for wearing special spinning shoes is to make for a smoother, easier ride. Your feet do not move and shift as you pedal, which means your legs can just do their job. I swear, once you wear spin shoes, you will never go back to regular sneakers. One time I forgot my spin shoes and had to wear regular sneakers, and it felt so weird. Spin shoes range in price just like regular sneakers, anywhere from $50 to $150. I am a big fan of the Pearl Izumi brand, but they are really all I have tried. It might be helpful to go to a bike shop the first time and get measured for spin shoes. The great thing about spin shoes is that they are sturdy and last forever. I have had my current pair for four years, and they are still going strong. So even if you opt to spend a little more on them, it will be worth it.
Lastly, don't forget the little things. Tie your hair back in a ponytail and wear a headband to keep it off your face. Also, bring a towel to class for mopping sweat off your face, chest, and hands. You don't want slippery hands on a spin bike. Have a full water bottle ready to chug too because you will need it.
What are your must haves for spinning class? Do you have any spinning questions?