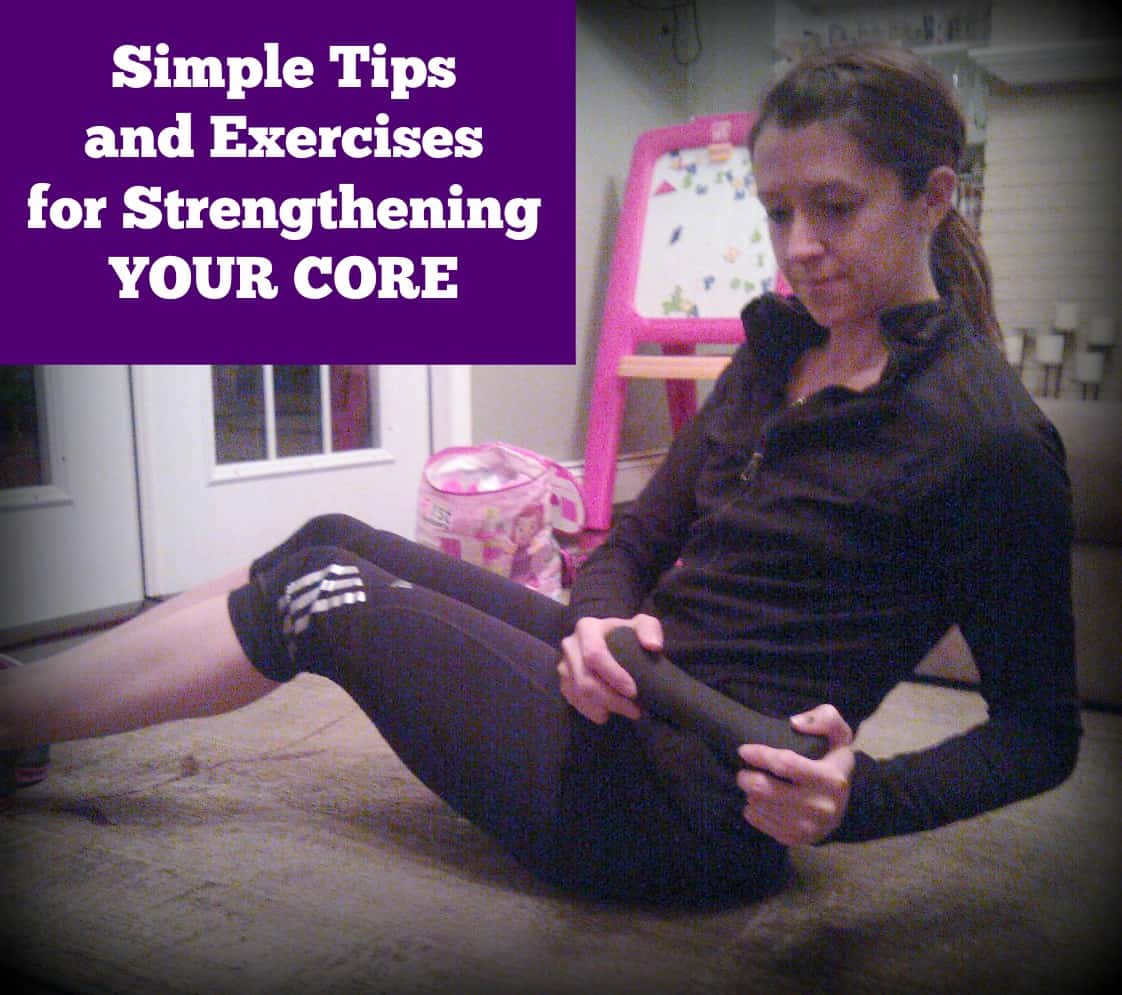 When people talk about your core, it refers to the middle part of your body, which includes your abdominal muscles and back muscles.  It is the part of your body that stabilizes the rest of you.
Core Strength Test
How do you know if your core is strong?  A really simple test is to stand on one foot.  Bring the other foot behind you and hold it with your hand.  Are you wobbling and flailing your arms?  Your core might need some work.  If you are pretty stable, that's good, but it doesn't mean you have abs of steel.  There are much more challenging core strength tests that you will see in my ab exercises below.
Why is a strong core important?
Your core is engaged in almost every physical activity you do.  Let's forget about exercise for a minute and just talk about everyday activities that you do.  Do you lift bags of groceries?  Do you pick up a child?  Do you sit in a chair?  Do you walk?  I'm guessing we all do most of these things a lot.  A strong core can make lifting easier and less likely for you to injure yourself.  Your posture is also affected by the strength of your core.  When you sit and walk, your core muscles hold you up.  If you have a tendency to sag or slouch, your core muscles might be weak.  We all know that when you have good posture, you look taller and leaner.  Finally, your core helps with your balance.  This is more important than you think, even if you're not a professional tightrope walker.  Now, let's turn to exercise.  Just as with regular daily movements, your core will help you perform any type of exercise with better form, give you more endurance to exercise longer, and will just plain make you feel stronger.
Best Core Exercises For Abs
Usually, people perform crunches to strengthen their abdominal muscles.  This is okay, but is not going to get deep down to the muscles that really make a difference.  Below you will find 3 exercises that I find really work your ab muscles in ways that will change your body and make a noticeable difference in the way you feel and carry yourself.
1. The Plank – Planks are a full-body exercise with an emphasis on the core.  To do a basic plank, you get down on the floor face down.  Come up on your forearms and toes and hold the position.  Now, it is really important that you pull your abs in tight and keep your back flat.  Don't let your butt pop up.  Also, make sure you don't hold your breath.  If this is your first ever plank, you might only be able to hold this pose for 10 seconds, and that's okay.  Every day, make it a goal to hold it just a little longer.  Try to work up to a minute within two weeks.  This one really works, my friends.  Once a regular plank gets comfortable, you can add all sorts of variations to it to challenge yourself.
2. The Russian Twist – Sit on the floor with your knees bent and feet flat on the floor.  Lean back a little bit.  Clasp your hands together and twist right and left, touching your elbow to the floor. Repeat the right and left movements 8 times, then rest.  Repeat twice more.  This will really fire up your deep abdominal muscles, especially the obliques.  Once this becomes easy, do it holding a weight or medicine ball.
3. The Walk Out – Bend over so your hands are near your toes.  Slowly walk your hands out one at a time as you let your legs lengthen.  Walk out four times.  The goal is to get down to plank position, but you may have to work up to that.  Then walk your hands back four times.  Repeat walking out and walking back 8 times.
Many people work hard to tone their abdominal muscles, but forget about the back muscles, which is part of what makes up your core.  Every time you do ab exercises, you should be doing back exercises.  If not, it would be like doing strength moves for just one leg, which is just plain silly.  The back exercises below will still work your abdominal core muscles, but also engage the back muscles to make sure your core is strengthened evenly.
Back Exercises
1. Supermans – Get down on the floor face down with your legs extended long and your arms extended in front of you.  Lift your right arm and left leg at the same time.  Hold for a few seconds then switch.  Repeat on each side 8 times.  This one really targets your lower back.
2. Glute Lifts – Lie on your back with your knees bent and your feet flat on the floor.  Lift your butt off the floor, squeeze and hold for a few seconds.  Slowly lower.  Repeat 8 times.  When this gets easy, try it with one leg in the air.
3. Side Plank – Lie on your side with your legs stacked.  Push your hips off of the floor, pull your abs in and hold.  Just like with the plank exercise mentioned in part 1, work up to holding this pose for one minute.  Switch sides and repeat.
Do you find that you need to work on your core more? What tips do you have?
Get Instant Access to My Best Weight Loss Tips & Strategies!
Sign up now for a free step-by-step 7-day email course that I created exclusively for my email subscribers! That's you. I will teach the best habits, strategies, and insider tips so you can enjoy a lifestyle that encourages and supports weight loss! Stop relying on willpower and take control back over your life! You can do this. Let me help!