Shrimp pesto and tomato salad meal prep bowls are the perfect summer recipe to stay on track all week!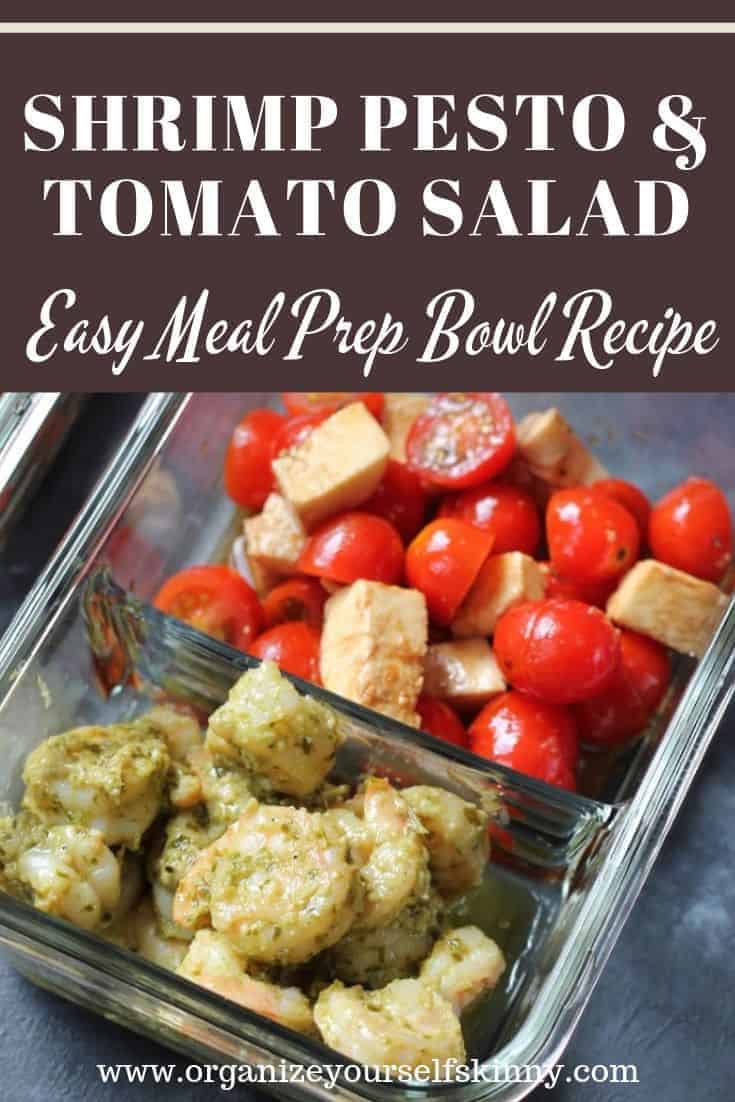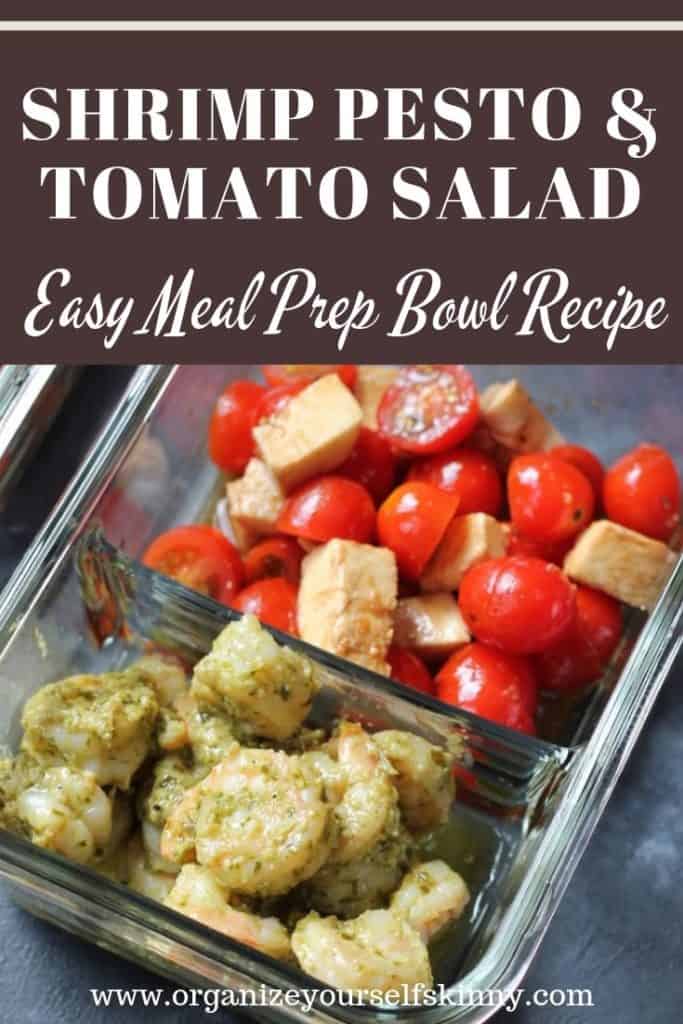 Today I want to share with you one of my favorite super easy meal prep recipes. Honestly, it's another one of my recipes that's actually a non-recipe because it's just so simple to prepare. When I first started blogging I didn't like sharing recipes like this because I thought readers wanted more "complicated" recipes.
But I was wrong.
Some of the most popular recipes on my blog are my super simple "non-recipe" recipes. Sooooo, I decided to share another one with you.
Since this isn't really a recipe I figured I go over the basics and offer some tips.
Let's start with the shrimp…
I always purchase frozen shrimp. Of course, you can use fresh shrimp but I like to purchase a big 2lb bag of frozen shrimp from BJ's wholesale. It's cost about $16 for 2lbs and you get 31 – 40 shrimp per pound. This way I can stick the bag in my freezer and just use what I need.
To thaw the shrimp, I put the amount I'm using in a mesh strainer, or colander, and put over a bowl to thaw over night. Once it's thawed you can use in any recipe. Every shrimp recipe on this blog uses frozen shrimp.
Beside this pesto shrimp recipe these are my favorites:
Sheet Pan Garlic Parmesan Shrimp
Now onto the pesto…
Pesto is actually very easy to make. All you need is fresh basil, pine nuts, garlic, olive oil, and grated parmesan. Throw it into a food processor and you have yourself some homemade pesto. In the summer, basil is abundant in Buffalo, NY so I tend to make pesto homemade buuutttt during our tundra winters I turn to jarred pesto.
Just like I'm not above jarred sauce, I'm also not above jarred pesto. My only stipulation is it needs to be good quality. Not any only pesto will do. My favorite jarred pesto brand is Delallo. It's pricey at about $6 a jar but it's worth it and one jar will get you 5 meals or more. My second favorite is Wegman's brand. This is a little bit cheaper but still tasty.
You can also get prepared pesto from the olive bar at Wegmans, Whole Foods, and other grocery stores. This will be pricey but it's about as close as you'll get to homemade without making it yourself.
The last ingredient I want to mention is the salad dressing. I've made this with a simple homemade olive oil and balsamic dressing. I use 1/4 cup olive oil, 2-3 tablespoons balsamic vinegar, 1 garlic clove grated, 1 -2 teaspoons of honey, and salt and pepper. However, when I don't feel like making it homemade then I'll use Newmans Own Balsamic Vinegar Dressing. Any balsamic dressing will work just fine.
Here are the supplies you'll need to make this shrimp pesto recipe.
Glass mixing bowls – I LOVE this cheap Pyrex set of 3.
Mesh strainer or colander – this is to thaw the shrimp in. You don't want the shrimp to thaw in its juices because it gets all mushy.
Large pan – this is to cook the shrimp in. I have this one by Cuisinart.
2 compartment glass meal prep containers – I use this set from Prep Naturals. I prefer the 2 compartment over the 1 compartment for this shrimp pesto recipe because it keeps the salad dressing from mixing in with the shrimp. You can see all the glass meal prep containers I use in this post.
Shrimp Pesto and Tomato Salad Recipe
Don't blink.
The first thing you want to do is put together the tomato mozzarella salad. I use a pint of grape tomatoes and 4 ounce of fresh mozzarella cut into small cubes. Mix it with the balsamic vinegar dressing and then set aside.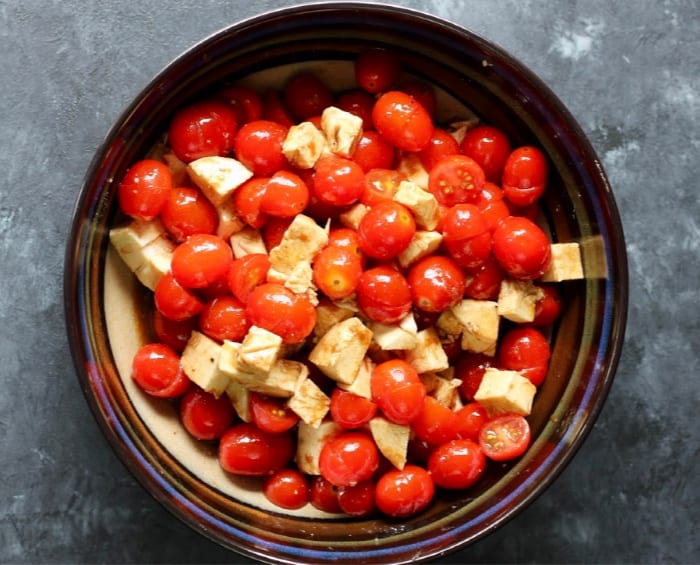 To prepare the shrimp all you need to do is cook the thawed shrimp in about 1 tablespoon of olive oil over medium heat. Once all the shrimp are opaqued and pink then remove the pan from the heat and stir in the pesto.
See, easy peasy!
By the way, if you're not swearing off carbs then this taste amazing with some linguini stirred in too. Just add a few splashes of the pasta water in with the pasta, shrimp, and pesto. Serve it hot or warm. OMG, it's soooo good! Then just serve the tomato salad on the side. So easy but, believe me, your friends will be impressed!
Now all you need to do is put together the shrimp pesto meal prep bowls.
Divide the shrimp and salad among the glass meal prep containers. I try to get about 10 – 11 shrimp per bowl.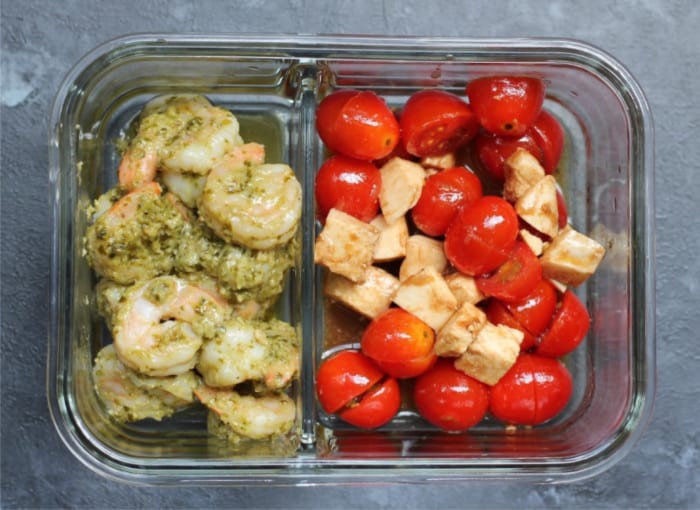 These meal prep bowls will last all week. I made these on Sunday and enjoyed my last one on Friday and it was delicious!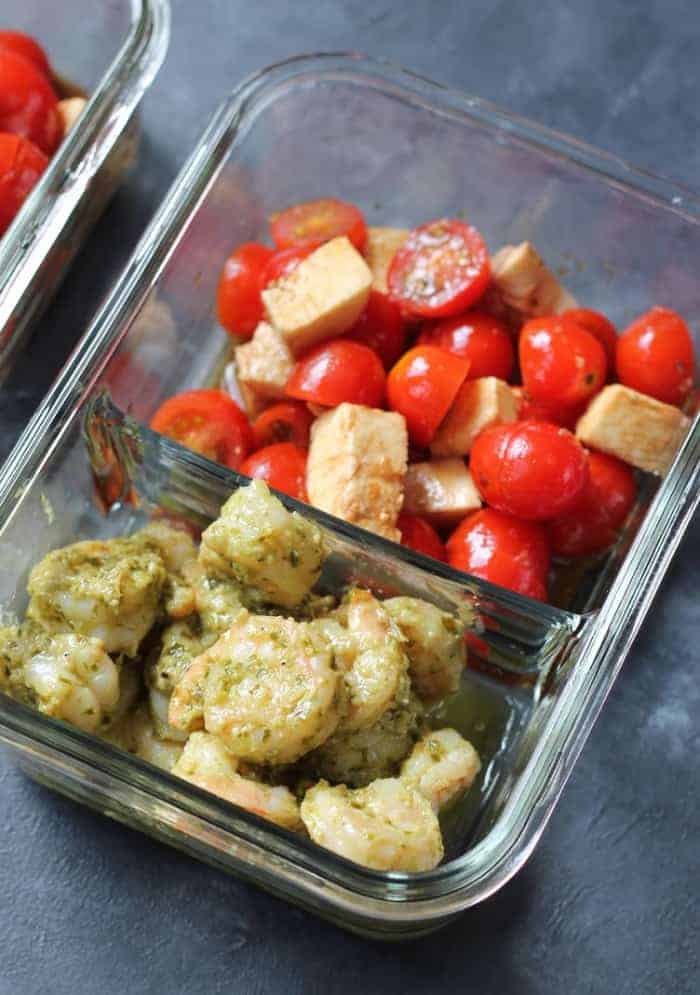 If you're looking for a quick meal prep recipe to make on Sunday then this shrimp pesto recipe would work great. It's also on the low-carb side for those of you watching your sugars.
Also, these shrimp pesto meal prep bowls are higher in fat because of the cheese, nuts, and olive oil in the pesto. It's not necessarily bad fats but fat nonetheless so just something to keep in mind.
If you make these shrimp pesto tomato salad meal prep bowls tag me on Instagram @organizeyourselfskinny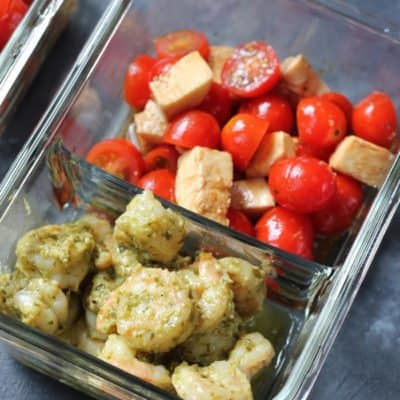 Shrimp Pesto & Tomato Salad Meal Prep Bowl
Shrimp pesto and tomato salad meal prep bowls are the perfect summer recipe to stay on track all week!
Print
Pin
Rate
Ingredients
1

pint

grape tomatoes

halved

4

ounces

fresh mozzarella

cut into small cubes

1/3 - 1/2

cup

balsamic vinegar dressing

40 - 45

medium shrimp

1

tablespoon

olive oil

1/3

cup

of prepared pesto

5

2-compartment glass meal prep containers
Instructions
In a medium bowl mix together the tomatoes, fresh mozzarella, and balsamic vinegar dressing. Set aside.

In a large pan heat 1 tablespoon olive oil over medium heat. Place shrimp in the pan and cook until opaqued and pink, about 5 minutes.

Remove shrimp from heat and stir in pesto.

Divide shrimp and tomato salad among meal prep containers. Cover and refrigerate for up to 5 days.
Notes
Meal prep instructions:
These meal prep bowls can be made up to 5 days ahead of time.
Nutrition
Serving:
1
g
|
Calories:
444
kcal
|
Carbohydrates:
22
g
|
Protein:
30
g
|
Fat:
23
g
|
Saturated Fat:
3
g
|
Fiber:
3
g
|
Sugar:
13
g